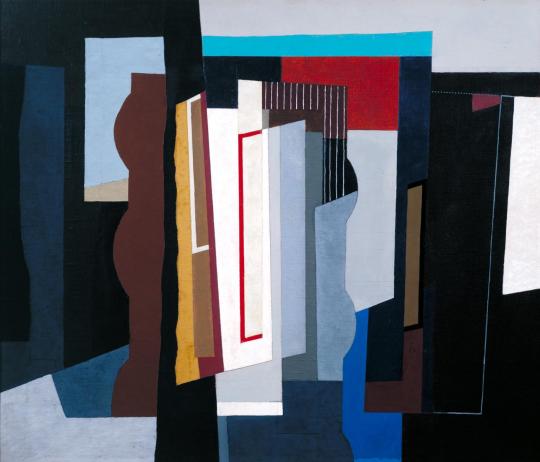 John Piper – Abstract I, 1935
It is always interesting looking back at an artists work in retrospective books, the early works and the friends around them to how they sailed on into life and the work progressed. This post is about the work of John Piper and how I look at his pictures.
Piper's art education would have been set in a landscape were the tectonic plates of traditional art education of the last 200 years met with post-impressionism and modernism from the exhibitions in 1910 and 1912 by Roger Fry and other movements like Futurism (1912), Vorticism (1914), Cubism (1910-late 20s) and Surrealism (1921-50s).
But these shocks would have been picked up and absorbed by the young artists to come and change British art in the twentieth century, people that John Piper surrounded himself  whom were both artists and collectors; Henry Moore, Cedric Morris, Ben Nicholson and Barbara Hepworth where in the Seven and Five Society with Piper (he was the secretary), but also collectors and writers like Jim Ede, John Betjeman, Osbert Lancaster and Benjamin Britten and John Rothenstein.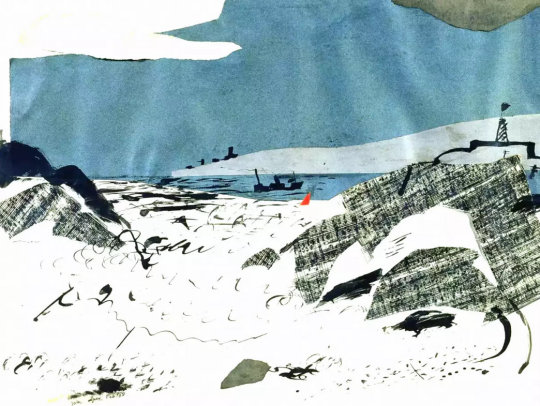 John Piper – Beach at Donegal, 1937
In the 1930s Piper was mostly active in two areas of art, collage and abstraction. The Seven and Five Society would give him a platform to showcase these works alongside other artists investigating both modernism in abstraction but form and function:
The Seven and Five Society was an art group of seven painters and five sculptors created in 1919 and based in London. The group was originally intended to encompass traditional, conservative artistic sensibilities. 
However, in 1924 Ben Nicholson, one of the pioneers of abstract art in Britain, joined the Seven and Five. He was followed by other modernists including Barbara Hepworth, Henry Moore and later, John Piper. They effectively hijacked the group, expelling the non-modernists. In 1935 they renamed it the Seven and Five Abstract
Group and held the first all abstract exhibition in Britain at the Zwemmer Gallery in London.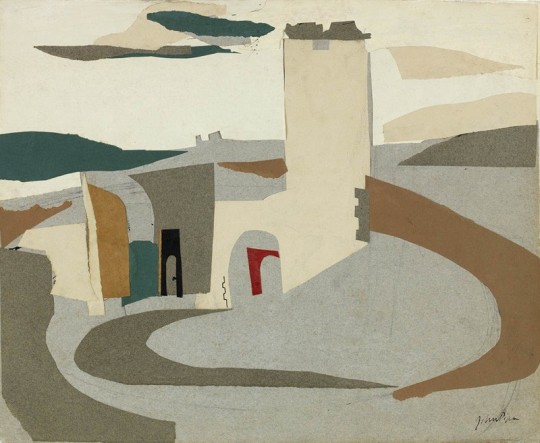 John Piper – Knowlton, Dorset, 1936
In these blocks of colour, objects could be simplified to their basic
form. A really good example of this would be Piper's collage of
Knowlton, Dorset. With almost no ink lines it is just colour and
form. From these types of collage you get more ink washes and
drawings over the top.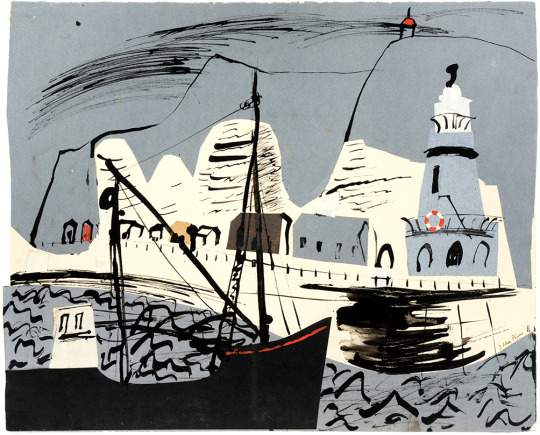 John Piper – Newhaven Harbour and Cliff, Sussex, 1936
Then when it came to returning to painting I always think that this is how Piper approached subjects, first with the base of colours and form, then the black line drawing, as if it were a trade illustration, much in the same way Raoul Dufy paints.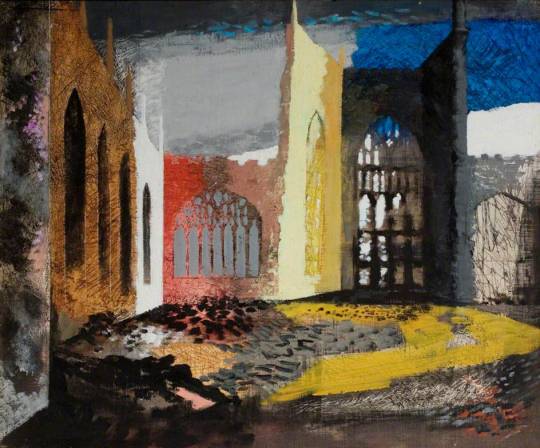 John Piper – Interior of Coventry Cathedral, 15 November 1940
It's a technique that Piper mastered when painting in the ruins of Coventry Cathedral. – the colour in blocks with black paint for texture. It would also be the way he approached printmaking and lithography.
He also used wax resists in his paintings to keep some of the bold colours and put chalk and pastels over the paintwork too. In time he would work out the form of a painting and the resist rubber gum would leave white lines over his many washes of colour.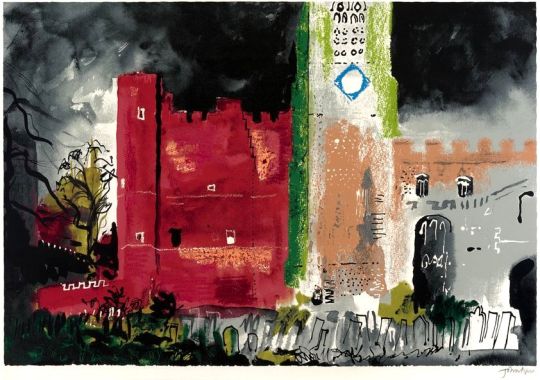 John Piper – Buckden in a Storm, 1977
 John Piper – Eastnor Castle, 1983