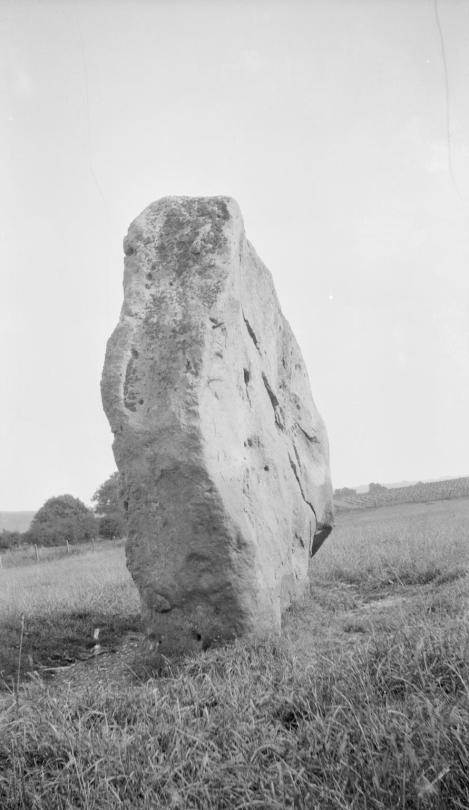 Paul Nash – Black and white negative, stone personage, Avebury, 1933
Paul Nash is one of the most distinctive and important British artists of the 20th century. He is known for his work as an official war artist during both WW1 and WW2. He also was one of the most evocative landscape painters of his generation. Nash was a pioneer of modernism in Britain, promoting the avant-garde European styles of abstraction and surrealism in the 1920s and 1930s.
This post is about the printing process and how the Landscape of the Megaliths lithograph was made, showing each of the layers that were printed to make up the final image.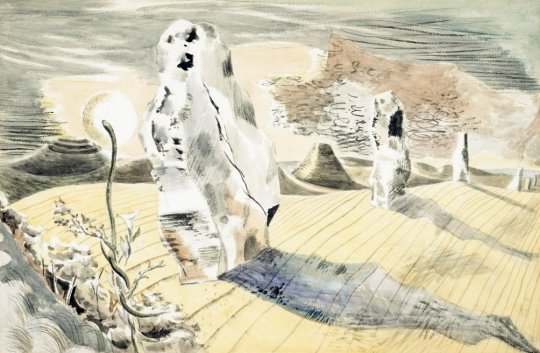 Paul Nash – Landscape of the Megaliths – Watercolour, 1937
Last summer I walked in a field near Avebury where two rough monoliths stand up, sixteen feet high, miraculously patterned with black and orange lichen, remains of an avenue of stones which led to the Great Circle. A mile away, a green pyramid casts a gigantic shadow. In the hedge, at hand, the white trumpet of a convolvulus turns from its spiral stem, following the sun. In my art I would solve such an equation. ‡
This lithograph by Nash is the bridge between romantic and surrealist art of the 1930s. Looking like a desert landscape by Dali the monoliths are both alien and familiar as Nash notes in the quote above. The convolvulus plant is a pernicious weed, I remember it covering a water-pump in the village I grew up in.
It is odd to consider that in my design I, too, have tried to restore the Avenue. The reconstruction is quite unreliable, it is wholly out of scale, the landscape is geographically and agriculturally unsound. The stones seem to be moving rather than to be deep-rooted in the earth. And yet archaeologists have confessed that the picture is a true reconstruction because in it Avebury seems to revive. ♠
Above is the original watercolour that Nash and the printers would have worked from. The colours have replaced and layered over shadow and texture. Below are many colour layers from the print showing the levels of tone and texture Nash would have used to put into the print. The main tones are printed one-by-one and then variations of tone are printed and layered, and the colours adjusted until the print is final. All the prints came from the V&A archive.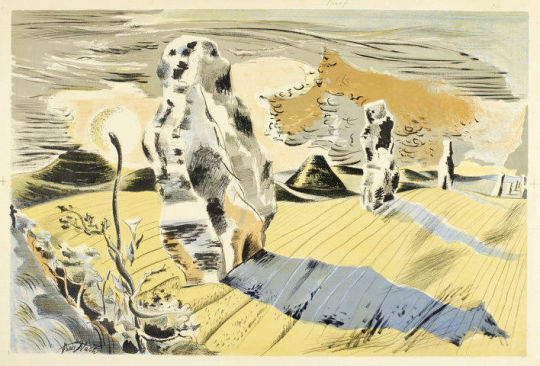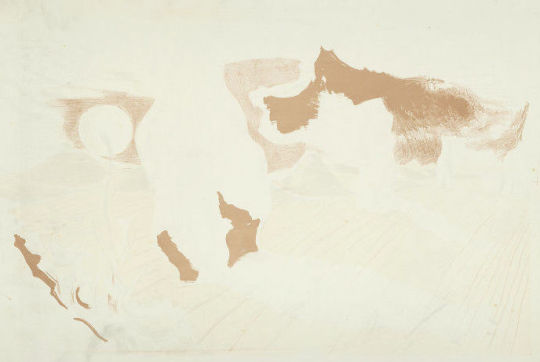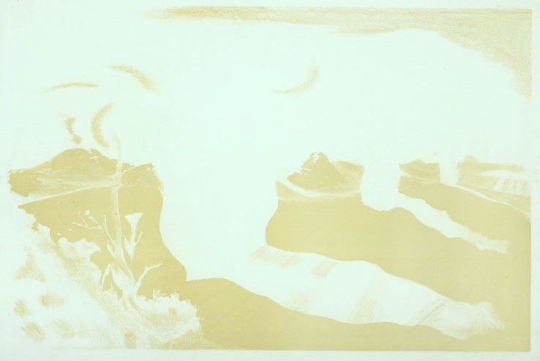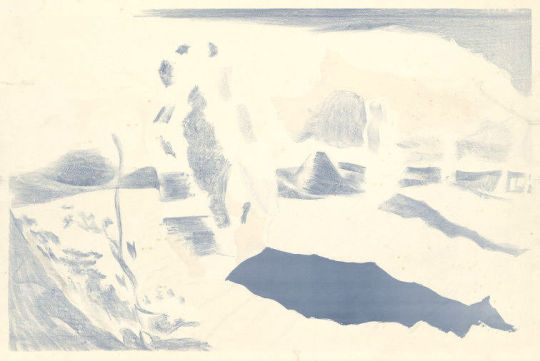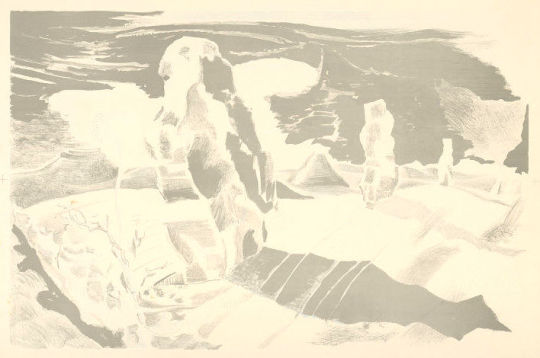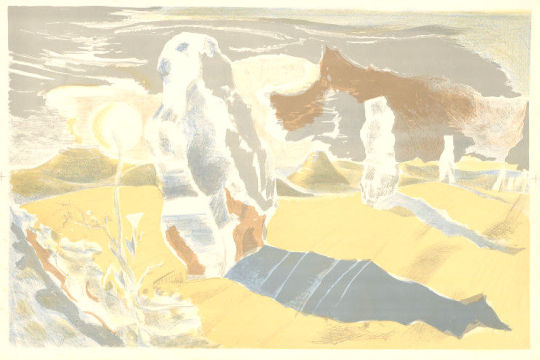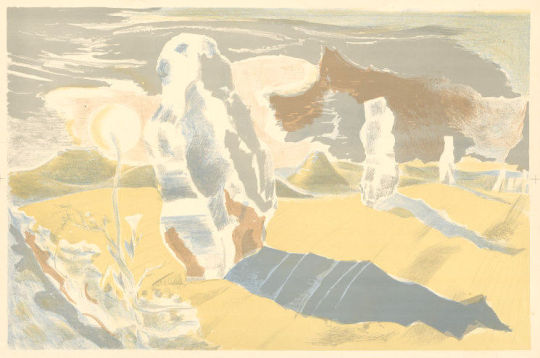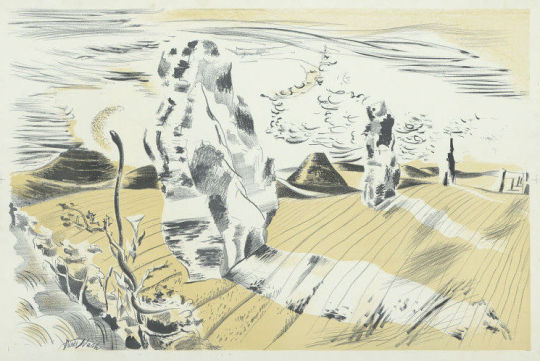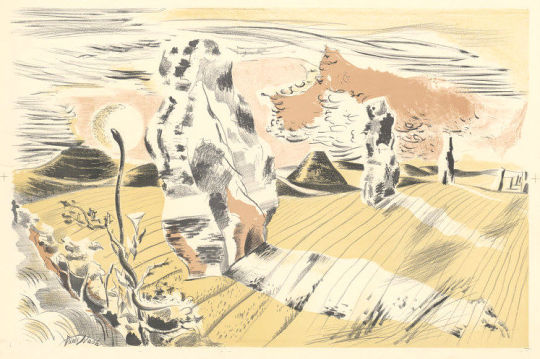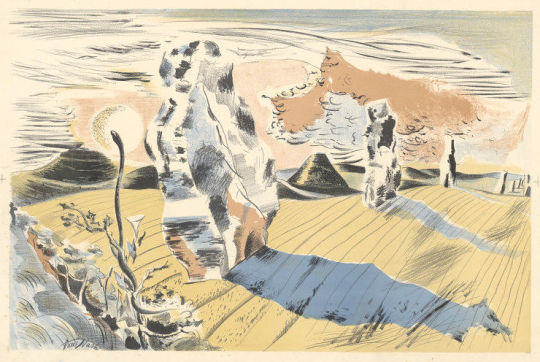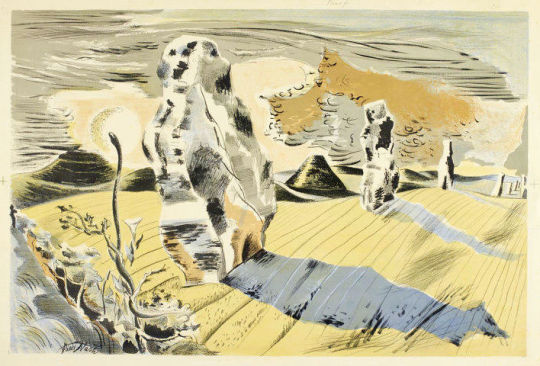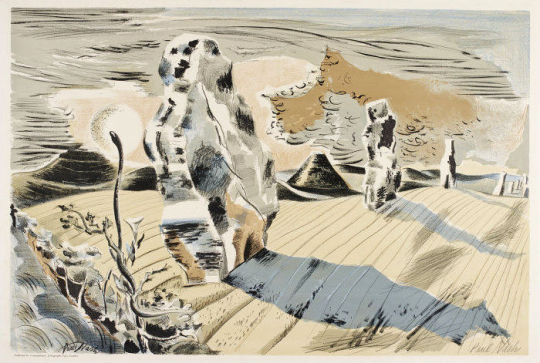 † Paul Nash by Emma Chambers, 2016
‡ The Oxford History of English Art, Volume 11 – Dennis Farr, 1979
 ♠ Paul Nash writing in Art and Education – March, 1939