This is a small post, based on a little business card for the A.I.A. Gallery just because I liked it. It is designed by Edward Bawden. I have posted some text from the book on the A.I.A Gallery below. It sums up the organisation far better than I could.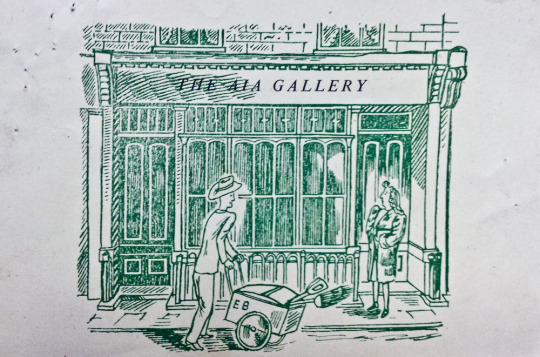 The A.I.A was also known as the Artists' International Association
An exhibiting society formed in 1932 by a number of left-wings artists and writers who wanted to publicise, through their art, their commitment and resistance to the 'Imperialist war on the Soviet Union, Fascism and colonial oppression'. Its aim was the 'Unity of Artists for Peace, Democracy and Cultural Development'. The Association originally termed 'Artists International' provided a forum for regular discussions on communism, and its membership included Clifford Rowe, brothers Ronald and Percy Horton, Peggy Angus, Pearl Binder, James Boswell, Edward Ardizzone, Hans Feibusch and Misha Black the first Chairman. Most of the group's early exhibitions were held at galleries in the Soho area of London, such as Charlotte Street, Frith Street and Soho Square. Its inaugural exhibition was entitled 'The Social Scene'. In 1935 'Association' was added to its title. A subsequent exhibition in that year called 'Artists Against Fascism and War' included works by Robert Medley, Paul Nash and Henry Moore.

The AIA supported the left-wing Republican side in the Spanish Civil War (1936-39) through exhibitions and other fund-raising activities. It attempted to promote wider access to art through travelling exhibitions and publicly available mural paintings. In 1940 it published a series of lithographs known as Everyman Prints in large and consequently low-priced editions. By the end of World War II, membership numbered over a thousand and in 1947 a gallery, founded by Claude Rogers was established at 15 Lisle Street, Soho, London which flourished until the lease expired in 1971. Initially it pursued an obvious Marxist programme, with its affiliates producing satirical illustrations for the magazine Left Review but by 1951 the Association was showing non-figurative work and in 1953 a new constitution abandoned its left-wing commitment and it continued solely as an exhibiting society. Distinguished foreign artists occasionally exhibited work at the later exhibitions: these included Fernand Léger and Picasso.

The Artists' International Association should not be confused with the International Artists' Association which was established in 1952 and was an affiliated organization of Unesco.
It tried to promote wider access to art through travelling exhibitions and public mural paintings. In 1940 it published a series of art lithographs titled Everyman Prints in large, and therefore cheap, editions.
A.I.A.: Story of the Artists' International Association, 1933-53 by Lynda Morris and Robert Radford, 1983