Following my Post on the John Nash 'Harvesting' Schools Print I thought I would present another unravelling of prints from my collection of books.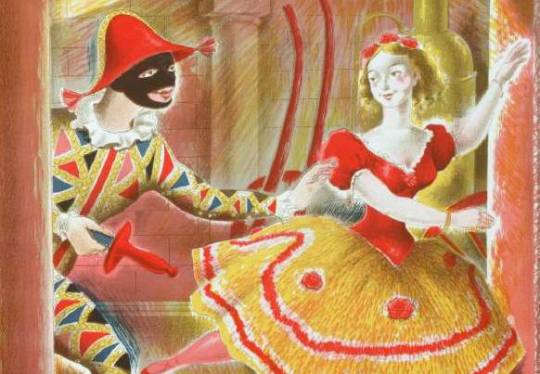 A detail of Harlequinade by Clarke Hutton, 1946.
Stanley Clarke Hutton was born in Stoke Newington, London, on 14 November 1898, son of Harold Clarke Hutton, a solicitor, and his wife Ethel, née Clark. In 1916 he became assistant stage designer at the Empire Theatre. About a decade later he took a trip to Italy, which inspired him to become a fine artist.
In 1927 he joined A.S. Hartrick's lithography class at the Central School of Arts and Crafts in London, after Hartrick retired he taught the class himself until 1968. He experimented with the technique of auto-lithography with the aim of developing a way of printing affordable full-colour children's books, and worked with Noel Carrington at Penguin Books to develop the Picture Puffin imprint. With Penguin he also illustrated Popular English Art by Noel Carrington, for King Penguin Books, in 1945.
He used the auto-lithography techniques he developed for the Oxford University Press' Picture History series. Other notable publications where for The Folio Society. He illustrated about 50 books in all, for publishers in the UK and USA.
His paintings, figures and landscapes, were widely exhibited. His later work took on a surrealist influence. He died in Westminster in the second quarter of 1984.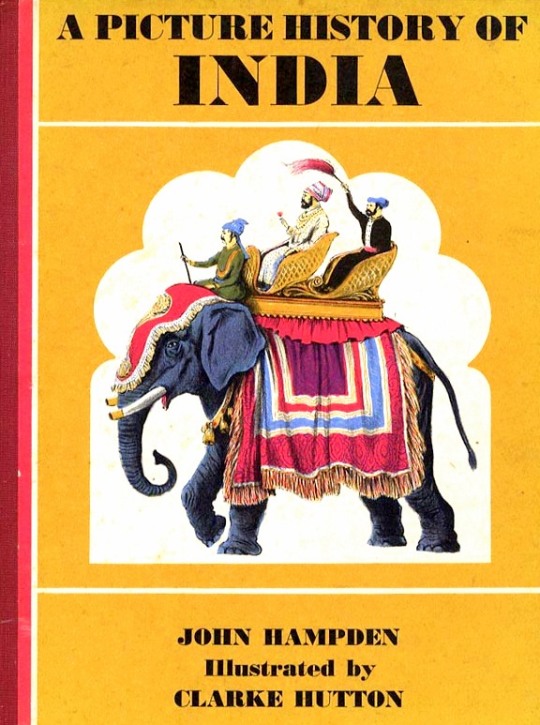 A Picture History of India by John Hampden – Oxford University Press, 1965
Illustrated by Clarke Hutton
It was his illustrations for Noel Streatfeild's 'Harlequinade' that the link to the Schools Print lays. It's remarkably similar. Most of the figures are all represented, the harlequin, the ballet dancer and the policeman in the corner. Again under the same street light the clown, dog and jester appear.
The book was published in 1943 and the Schools Print was produced in 1946. So rather like the case of the John Nash 'Harvesting' the Schools print is made from recycled earlier sketches and ideas, in my opinion, to great effect – these days it would be considered good marketing for the book.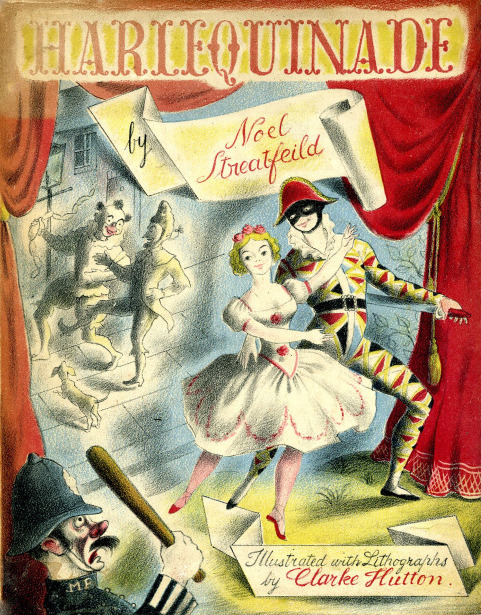 Noel Streatfield – Harlequinade. Chatto and Windus, 1943.
Illustrated by Clarke Hutton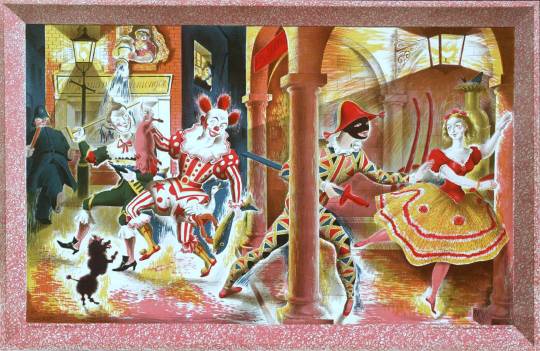 Clarke Hutton – Harlequinade – A Schools Print, 1946.
About The Schools Prints:
Set up in 1945 by Brenda Rawnsley, the School Prints scheme commissioned well-known artists to create lithographs, which would then be printed in large numbers and sold cheaply to schools for display in classrooms. The aim was to give 'school children an understanding of contemporary art'. Each lithograph had a drawn frame so that the print could be pinned to the wall. 
In the spirit of post-war optimism, artists responded enthusiastically. The scheme was a unique attempt at giving children access to original works of art in a period of austerity but ended in 1949 because of financial problems.