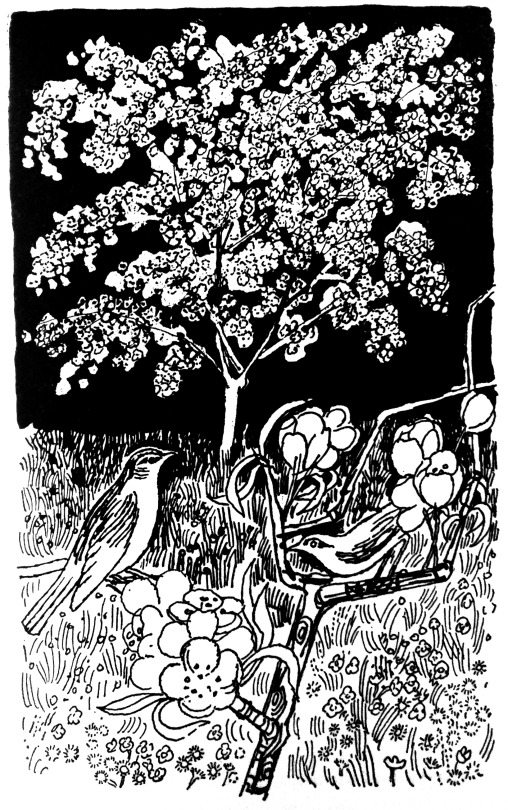 Walter Hoyle – May, 1963
The BBC Book of the Countryside came out in 1963 and was edited by Arthur Phillips. It featured illustrations from the Great Bardfield artists Walter Hoyle and Sheila Robinson. There are also illustrations from John Nash and Ralph Thompson. It is a book packed with beautiful illustrations that is so often overlooked due to the title.  
A while ago I bought all six of the Walter Hoyle original ink illustrations from the book. I got them because they have illustrations made while Hoyle was in the Bardfield area and it's important to see an artist while they are riding a creative peak.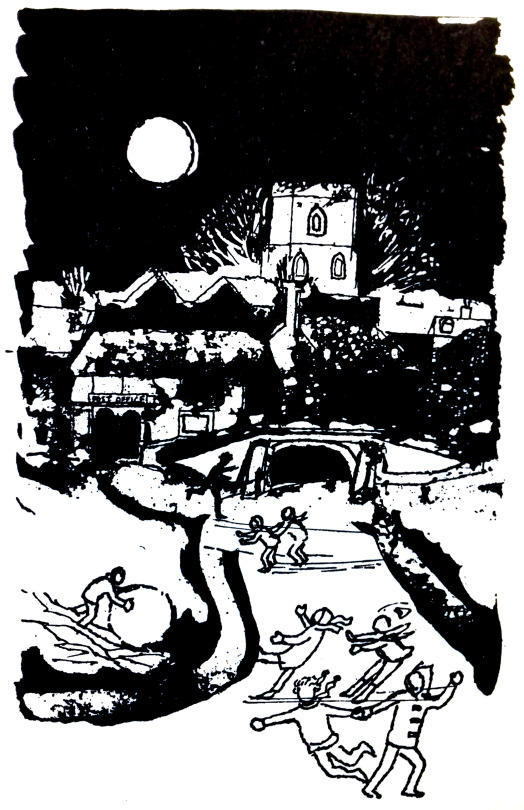 Walter Hoyle – January, 1963
Walter Hoyle is in danger of being one of the forgotten Great Bardfield artists due to the lack of information on him. He was born in Rishton, Lancashire in July 1922. Hoyle's artistic education started at the Beckenham School of Art in 1938,
I persuaded my local art school to accept me, and presented as evidence of my serious intent, a series of drawings much influenced by Walt Disney. †
From Beckenham, Hoyle gained a place as a student at the Royal College of Art from 1940-42 and again from 1947-48 after serving in the Second World War. During Hoyle's time at the RCA one of his tutors was Edward Bawden, who encouraged him to develop watercolours and printmaking.
It was 1940, the phoney war was about to end and the college was evacuated from London to Ambleside in the Lake District, famous for poets rather than artists. It was here that I was first introduced to printmaking – lithography – by a friend called Thistlethwaite, a fellow student from Oswaldtwistle (although these names are true, I mention them only because I like the sound they make). He prepared a litho stone for me with a beautiful finely ground surface and instructed me how to draw in line and wash. †
In 1948, During the RCA Diploma show a visitor was so impressed by Hoyle's work that he was offered seven months' work in the Byzantine Institute in Istanbul. Hoyle accepted, the work he saw there made a strong impression. Italian art and architecture also influenced him at that time.
Early in 1951 when Bawden was commissioned by the Festival of Britain to produce a mural for the Lion and Unicorn Pavilion on the South Bank, it was Hoyle that he chose to assist him on account of his great talent. During that summer Bawden invited Hoyle on a holiday to Sicily.
Edward asked to see my watercolours. He looked very carefully and quizzed me about them, and in general was complimentary and encouraging. I felt I had passed some kind of examination. ♠
It was this holiday together that Hoyle would scribe into a limited edition booklet of 10 in 1990 and into a book in 1998 – "To Sicily with Edward Bawden" a limited edition of 350 copies with a forward by Olive Cook.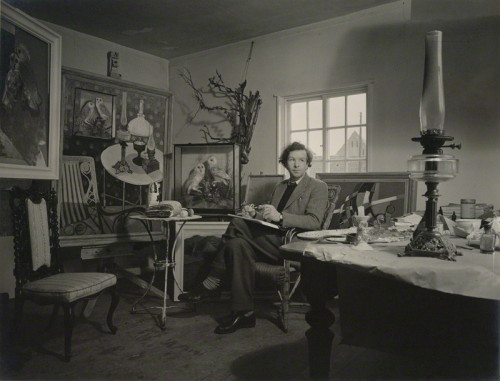 Geoffrey Ireland – Walter Hoyle at home in Great Bardfield c1955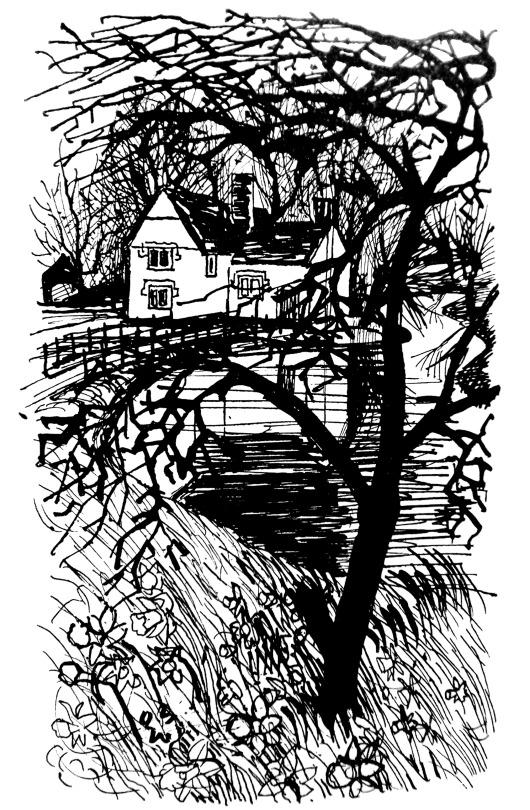 Walter Hoyle – March, 1963
March I think is Hill Farm in Great Sampford, Essex.
The BBC Book of the Countryside features articles by different nature writers and journalists from the BBC from farming to wildlife. It comes from The Countryside radio show.
Selected from over five hundred scripts and sixty-seven hours of broadcasting, this anthology depicts life and activity in the British countryside as seen through the eyes of some of the contributors to the BBC's monthly Countryside programme during the past eleven years. 

C. Gordon Glover, whose narrative sets the scene for each chapter, lives in an Essex village and the changing face of the countryside from month to month is portrayed as he sees it, from his kitchen window — from the bridge over the village
Claude Gordon Glover was a BBC Radio Broadcaster (you can hear him present an edition of The Countryside here) and he lived in Arkesden, a few miles West of Saffron Walden. He was also for a time, the lover of Barbara Pym. His broadcasts consist of a Betjeman like prose over classical music and the song of birdsong likely to be heard that month. Below is a selection of October.
October: Lovely October of the half-way days, the wayward pause between the certainties of summer and winter – the one is well over, the other not yet begun. For the countryman everywhere this is the month of the great tidying up – the sweeping, the burning, the cleaning, the digging, the transference upon dry days of apples from tree to store. The suns of summer have done their work, the land has given forth and the harvest is home.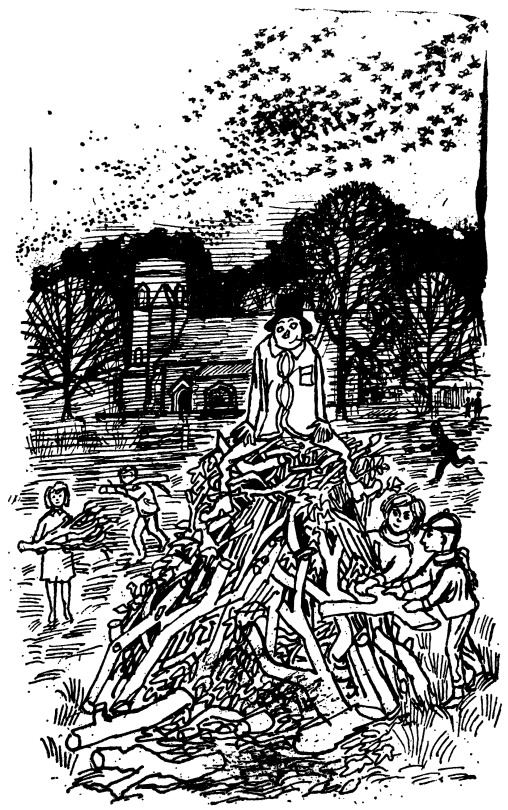 Walter Hoyle – November, 1963
Above is a picture for November by Hoyle and in the background is Bardfield Saling church. It is always good to prove that pictures are relevant to artists lives and the history of Great Bardfield. Curiously enough, the artist Celia Hart suggested that the guy might be a self portrait of Walter himself. 
The photograph below was taken by John Piper in the late 40s or early 50s when he was working on the Shell Guides and just finished three of the Murray's Guidebooks with John Betjeman.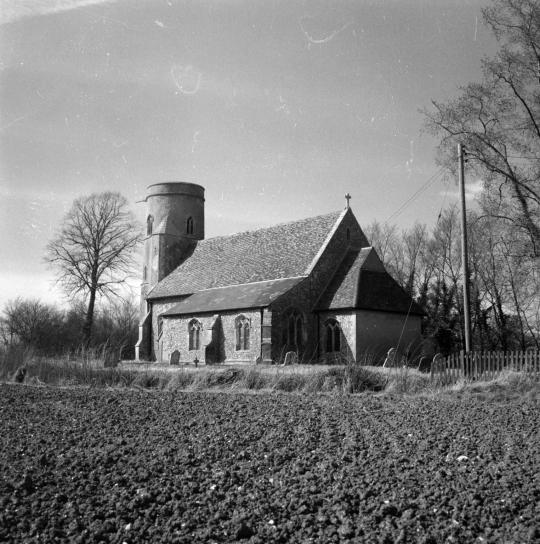 John Piper – Photograph of St. Peter & St. Paul's church, Bardfield Saling, c1950
A poem for May:
A branch of May I have bought you
And at your door we shall stand
It is but a spout but it's well spread about
By the words of our Lord's hand. 

Fair Maids look out of your window so high
To view the May-Bush fair,
it was cut down so late last night
To take the fresh morning air.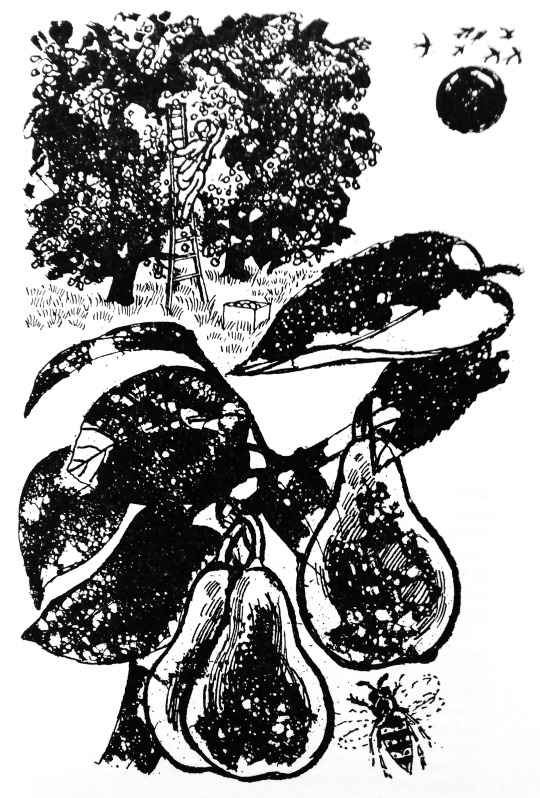 Walter Hoyle – September, 1963
In 1969 Walter Hoyle illustrated the 'Women's Institute book of Party Recipes'. This series of little illustrations are some of his best in my opinion.
They form a curious set of mixed media works that I believe to have been printed by Hoyle in lithograph then sent off to the book printers to be mass-printed, with the look of being a lithograph, but without it being so. Clearly the book was designed to be cheaply printed, for one it is spiral bound – but this is rather helpful in a cookery book. The other indicator of cheapness is that it has a very limited colour palette of orange, red and black. It was printed by Novello & Co Ltd, who mostly make sheet-music scores.
Below is an illustration from the cookery book of a man picking apples in an orchard and, above is almost the same drawing made four years later for the BBC Book of the Countryside by Walter Hoyle in 1963. As the WI book illustration have been drawn on to printing plate the image would have been reversed – so the ladder, man and fruit crate are a mirror image to the figures below. I know the picture from the Countryside book isn't mirrored as it came from an ink drawing and I own those drawings.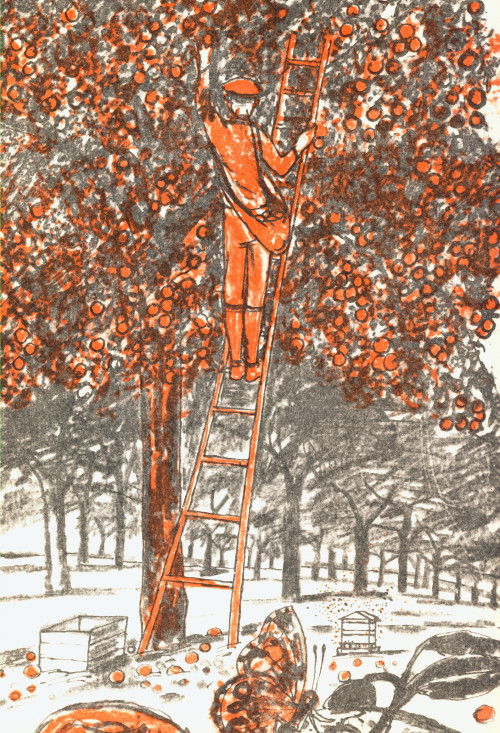 † Printmaking Today, Volume 7, 1998. page 9-10.
‡ https://en.wikipedia.org/wiki/St_Mary_Abchurch
♠ To Sicily with Edward Bawden, Previous Parrot Press, 1998.
The Great Bardfield Exhibition by Gerald Marks, Realism, August – September, 1955
♣ http://www.fryartgallery.org/the-collection/search-viewer/691/artist/15/Walter-Hoyle–/22