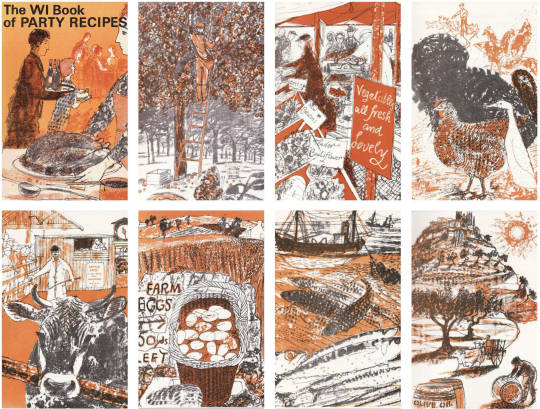 As part of this series of posts looking at the illustrations of Great Bardfield artists in cookery books, here is Walter Hoyle's contribution. In a previous post I have noted Hoyle's biography.
 Geoffrey Ireland – Walter Hoyle, 1956
In 1969 Walter Hoyle illustrated the 'Women's Institute book of Party Recipes'. This series of little illustrations are some of his best in my opinion.
They form a curious set of mixed media works that I believe to have been printed by Hoyle in lithograph then sent off to the book printers to be mass-printed, with the look of being a lithograph, but without it being so. Clearly the book was designed to be cheaply printed, for one it is spiral bound – but this is rather helpful in a cookery book. The other indicator of cheapness is that it has a very limited colour palate of orange, red and black. It was printed by Novello & Co Ltd, who mostly make sheet-music scores.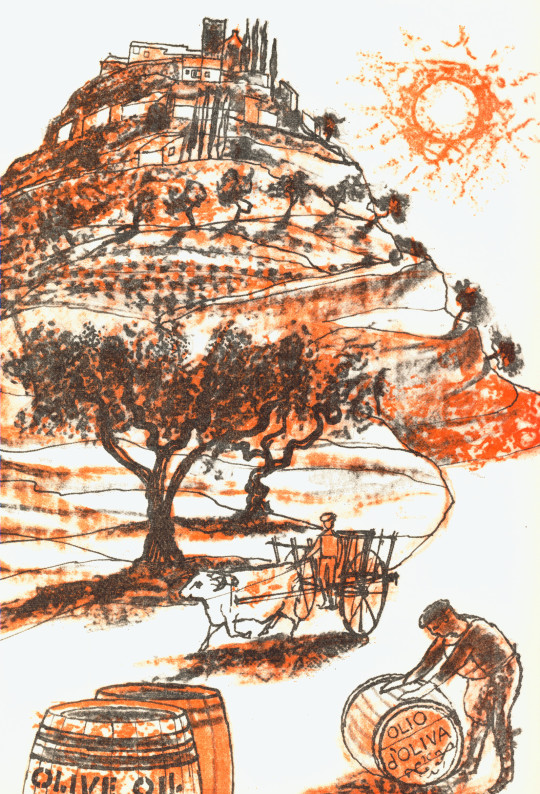 Walter Hoyle – Sauces, 1969
The illustrations are pencil and ink drawings with colour overlays in orange and red. I love the way that either the printer or Hoyle flood-fill the backgrounds of some of the drawings with pure colour. The method of printing used at this time was called 'Simulated Lithography', where any drawing could be put onto a printing plate and printed in one colour tone by using plastic films and scans of the original drawings. This process was easier than using lithographic stones and artists can line up the plastic films and work at a print to get the coloured edges correct.
Instead of drawing on lithographic stones or plates the artist drew on a transparent sheet of plastic grained like a lithographic plate. The advantages were that any opaque material, chalk, pencil, ink etc. may be used, because the sheets of plastic are not transferred but are used in the same way as a photographic positive would be. That is, placed in a printing frame against a lithographic machine plate and then exposed to light. By this means an offset printing plate capable of a hundred thousand run can be produced. Also machine plates can be duplicated from the plastic original without any deterioration in quality, for the artist can superimpose one sheet on another. It is possible that the use of plastic sheets came to be common with the scarcity of metal, being used for ammunition in wartime. †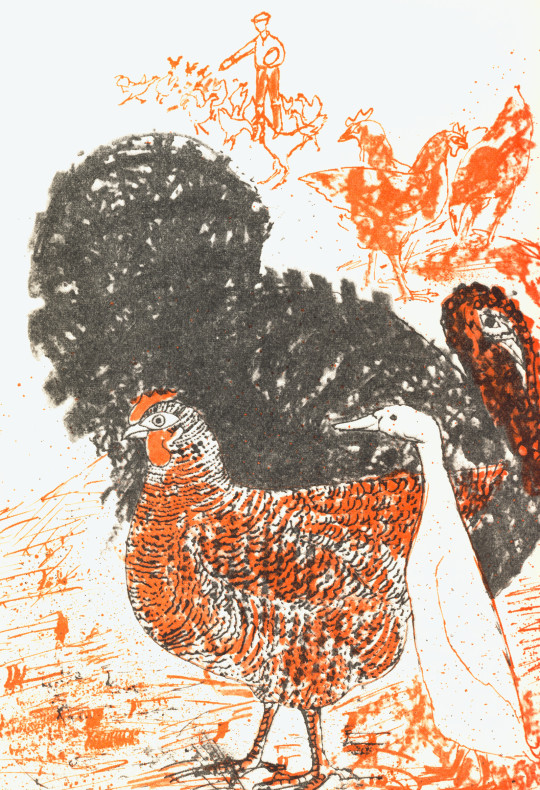 Walter Hoyle – Poultry, 1969 
Below I have separated two layers into Colour and Black (K), the chicken, duck and turkey picture above. What I like about this print is the colour layer is a mixture of line drawing and flicked ink splats to give texture. The black layer has a fine line children and the outline of a white duck using the almost scrubbed brush black turkey design.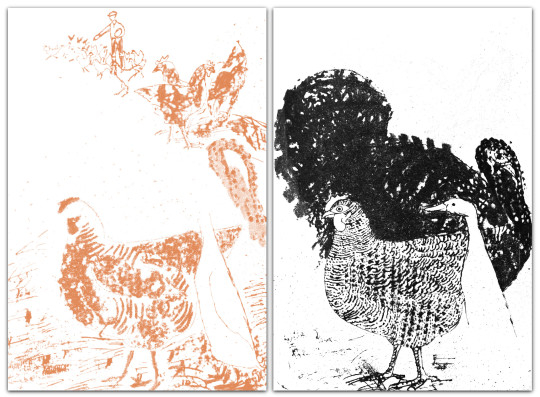 Left: The Colour. Right: The Black overlay.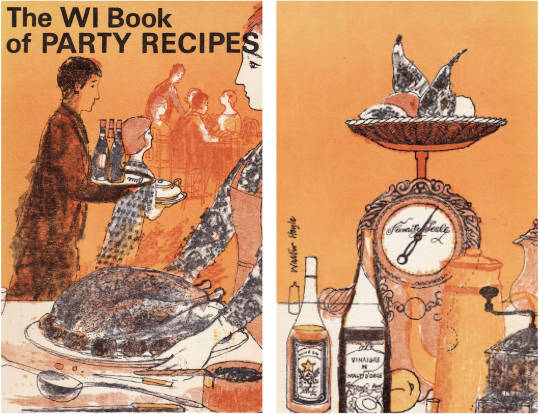 Walter Hoyle – Front and Rear Covers, 1969.
Below are a set of illustrations that in 1969 would have been more familiar than today's shopping life. The picture of the antiquated scales is beautiful.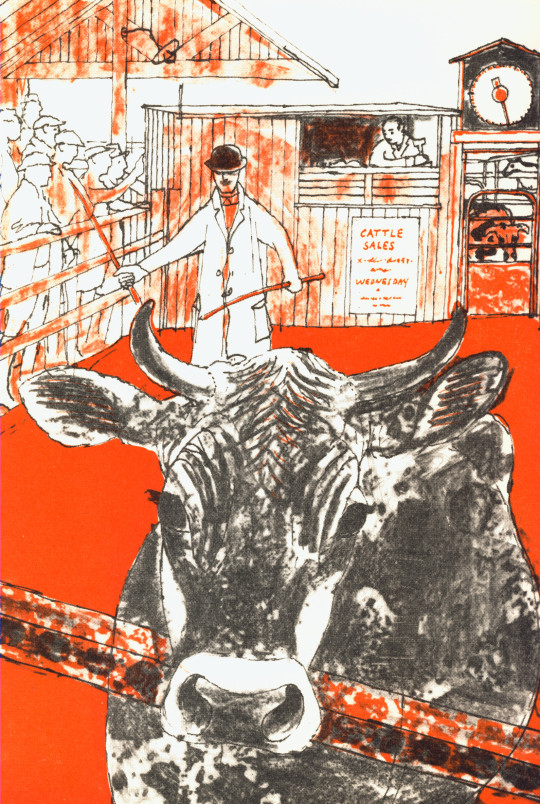 Walter Hoyle – Meat, 1969
Above is a drawing of the Cattle Market and although it could have been Braintree (closest to Great Bardfield) it is impossible to know. Below is Braintree Cattle Market by Walter Bayes in 1940 from the Recording Britain project, but this type of market was common all over Britain as many towns had their own cattle markets. I thought it would be nice to point out the scales and auctioneer's hut next to the ring.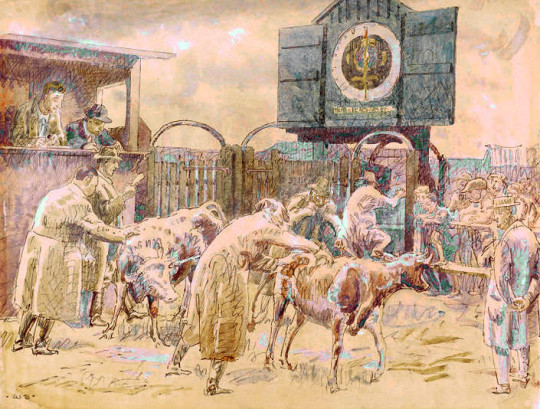 Walter Bayes – Braintree Cattle Market, 1940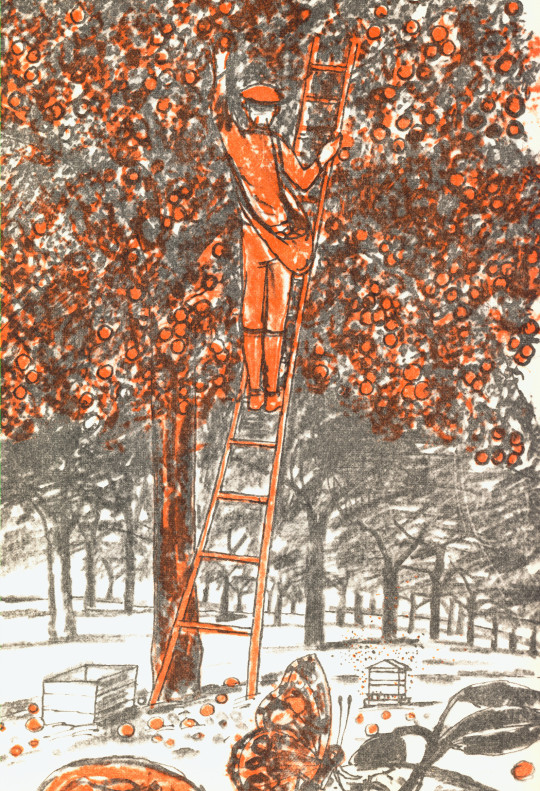 Walter Hoyle – Sweets, 1969
Above is an illustration from the cookery book of a man picking apples in an orchard and, below is almost the same drawing made four years later for the BBC book of the Countryside by Walter Hoyle in 1963. As the WI book illustration have been drawn on to printing plate the image would have been reversed – so the ladder, man and fruit crate are a mirror image to the figures below. I know the picture from the Countryside book isn't mirrored as it came from an ink drawing and I own those drawings.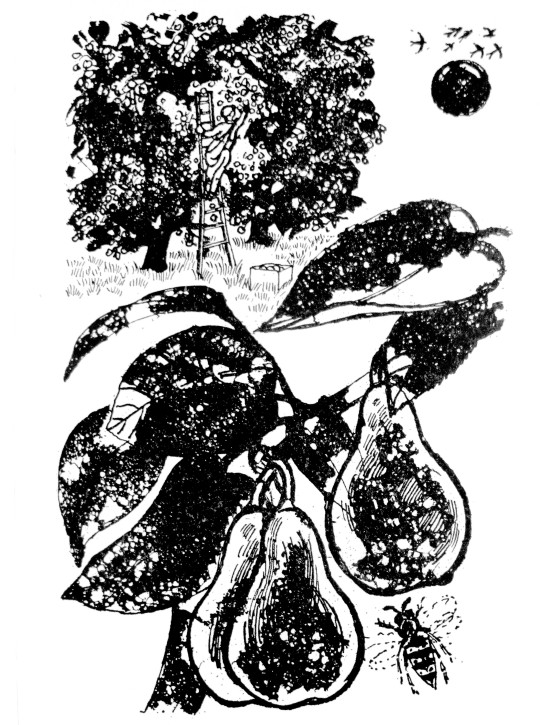 Walter Hoyle – September, 1963
The rest of the illustrations I present below I can find nothing too remarkable to say other than Hoyle is cunning about the use of a soup tureen in an antique auction reminded me of the Cow for 'Meat' in an auction, rather than illustrating the food stuffs. There is a bit more imagination going on here.
Some of the scenes like Eggs and Sauces have a French and Italian flare, but it is likely because Hoyle and his French wife Denise spent many holidays there. The Sauces location looks like Civita di Bagnoregio but it's very hard to know.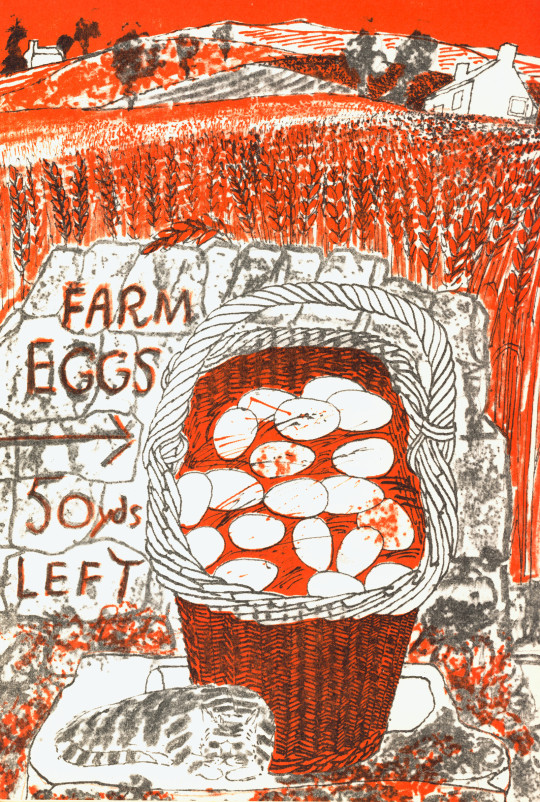 Walter Hoyle – Eggs, 1969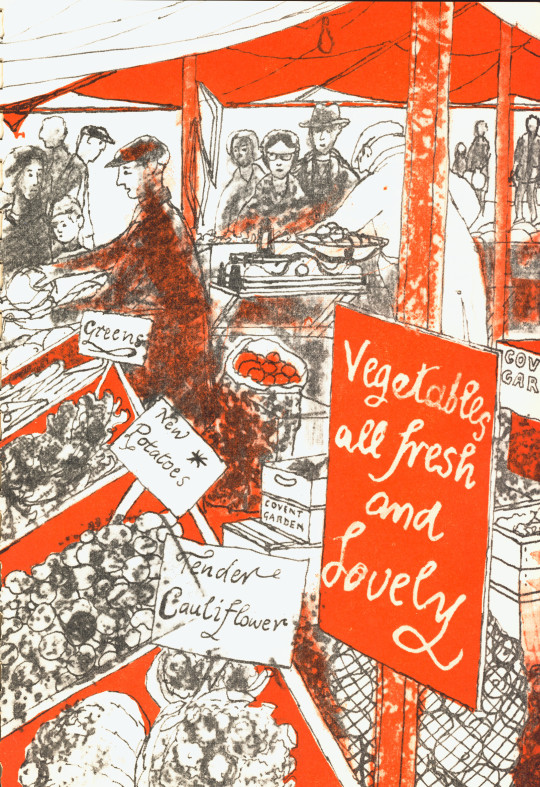 Walter Hoyle – Vegetable, 1969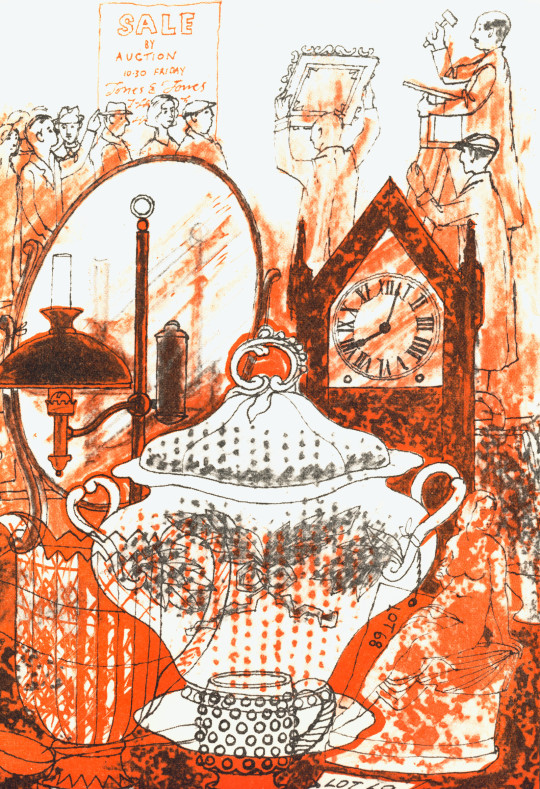 Walter Hoyle – Soup, 1969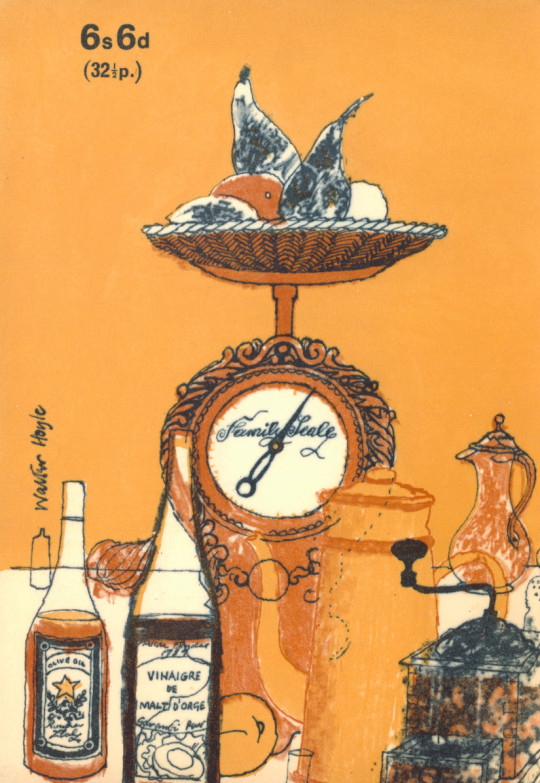 Walter Hoyle – Rear Cover, 1969
† Ruth Artmonsky – The School Prints – A Romantic Project – 2006, p98