There are three villages in a remote area of north Essex which, for different reasons, attract attention: Thaxted for its magnificent church, Finchingfield as a near perfect example of a picturesque English village, and Great Bardfield, which in the immediate post-war period attracted artists as a place to live and work. The coming together in one area, of several artists happened by chance, rather than design. †
Hoyle moved first to Great Bardfield in 1952, living for a time in a farm cottage on the outskirts of Bardfield near Great Lodge Farm.
The farm was once part of a royal estate belonging to Anne of Cleves with large barns to hold hay to feed deer and other animals. In the 1950s some of the barns were pulled down but there is a brief visual record of the time the farm was working, rather than the wedding venue it has become today.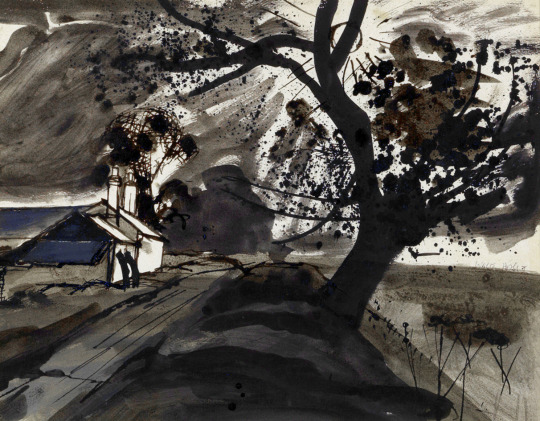 Walter Hoyle – Great Lodge Farm, 1955 (Fry Art Gallery)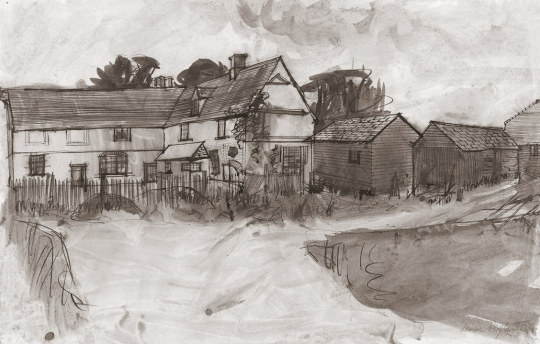 Denise Hoyle – Great Lodge Farm, 1955 (Fry Art Gallery)
The view out of the front window of Walter and Denise's home overlooked barns and the main farm house. Some of the sheds to the left of the house have gone now. Above Denise must have drawn the picture standing with her back to the barn, whereas Walter's painting has a wider viewpoint and was done inside the house, with the oil lamp, staffordshire dog and the milkman. The workmen and people of the village made it in to many of the paintings Hoyle made. A lot of the machinery is painted in red too.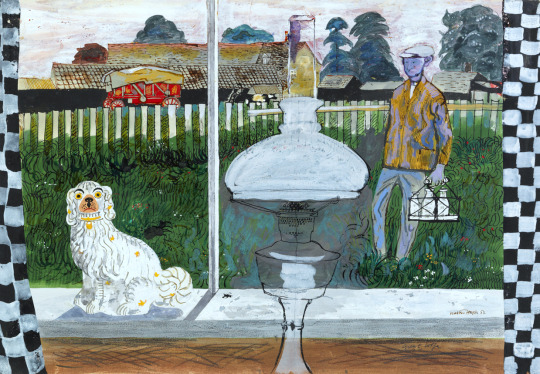 Walter Hoyle – Great Lodge Farm Cottage, 1952 (Fry Art Gallery)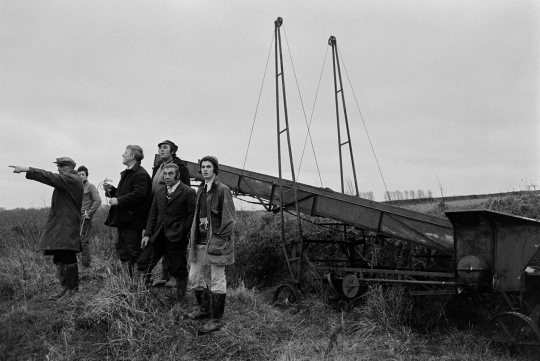 Above is a photograph by James Ravilious (son of Eric) and was taken in Devon, but I include it because the painting below has the same item in it. The painting by Hoyle depicts a grain elevator, designed to get grain or hay into the higher windows of a barn. Again it is painted in bright red, maybe because it was iron and was rusting, or it might have been a motif of his at the time.
The figure with the shotgun and dog may actually be a distant relative of mine on my mother's side who worked on the farm in this period. Most of the men usually had a gun about them to shoot down deer, pheasants or most commonly, rabbits.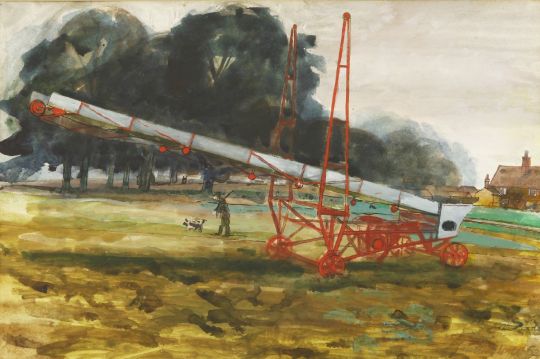 Walter Hoyle – Great Lodge Farm, 1952 (In My Collection)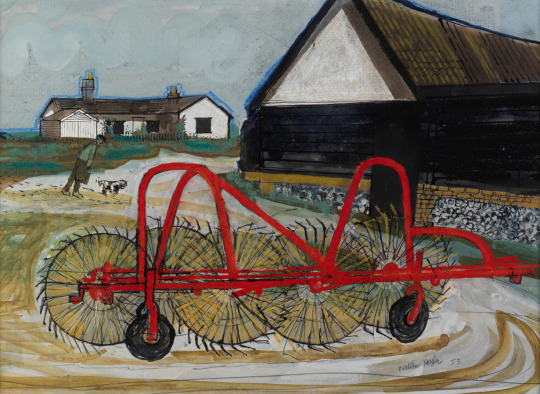 Walter Hoyle – Great Lodge Farm, 1953 (Fry Art Gallery)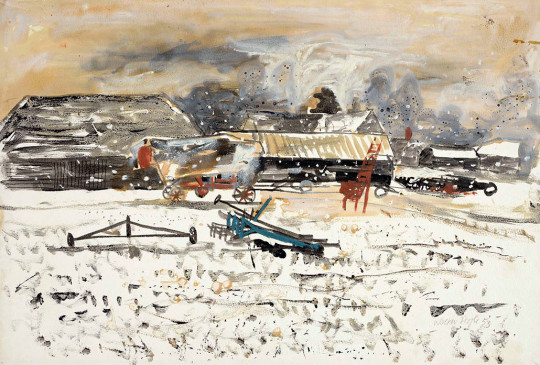 Walter Hoyle – Winter – Great Lodge Farm, 1953c
From what I can understand of the area, this painting above is also taken out of the Hoyles house window in the winter time.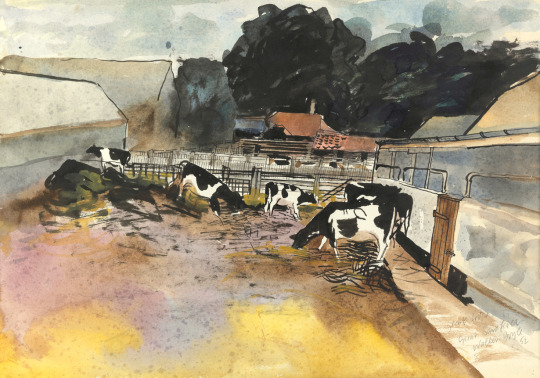 Walter Hoyle – Great Lodge, 1952 (Fry Art Gallery)
† Printmaking Today – V6#2 – Great Bardfield Artists, 1997