This by Henry Holzer looked familiar. I found that it was the original painting to a print he made. The print is reversed due to the nature of printmaking, so when he was drawing the image to the plate, he was making an abstracted copy of the print.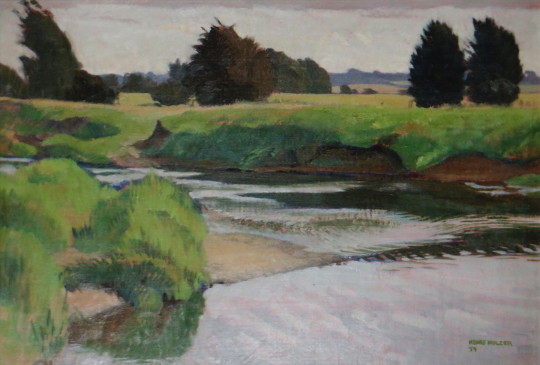 Henry Holzer – Nr Eisey Bridge, River Thames, Cricklade, Wiltshire, 1954

The difference between the two I find is remarkable. Holzer was a war artist and would paint with such detail. The painting I have above has all the hallmarks of quality and the water has a lovely motion to it. The trees are fluffy and fully formed, what I admired is how he translated it into abstract forms for the print, it's not an easy task to do with so few colours.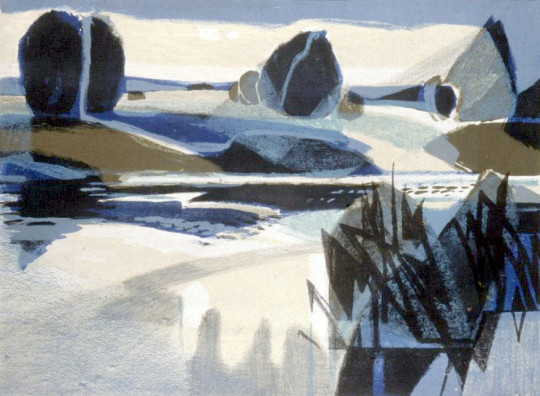 Henry Holzer – River at Evening, 1958 (Lithograph)
Born in Tottenham, London. His Viennese born father was a lithographer. Henry studied at the Central School of Arts and Crafts before taking up at teaching post at Hornsey College of Art. During the Second World War he was posted to India and towards the end of the war produced camouflage work. He was Head of Printmaking at Hornsey until he retired in 1968. In later life he moved with his family to Norfolk. He was registered blind in 1993 but continued to paint and draw. † 
War service saw a posting to peaceful northern India, where he spent most of his time painting the spectacular scenery. He ended the war as a second lieutenant in the Royal Artillery producing camouflage work and, in the weeks after VE Day, lithographs of anti-doodlebug defences on the Suffolk coast while stationed at Walberswick. ‡
Below is another example of an oil painting and then a lithograph from 1958, but this time the lithograph would have been drawn backwards so it looks like the painting and not a mirror image.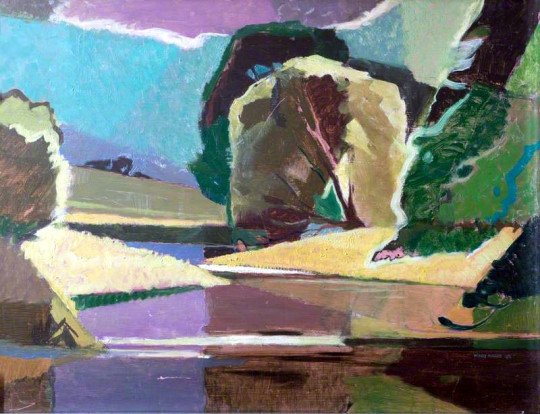 Henry Holzer – Sun over Willows, 1948 (Oil)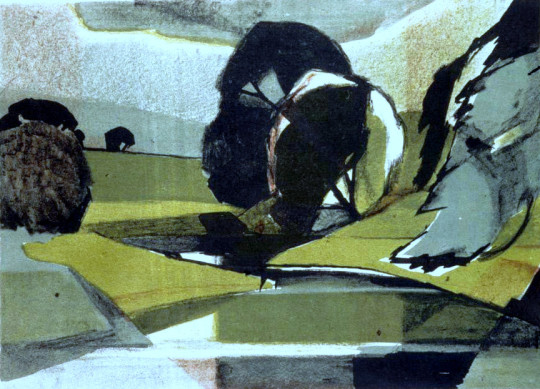 Henry Holzer – Sun on the River, 1958 (Lithograph)
† Henry Holzer – Southwark Heritage Guide
‡ Ian Collins – Henry Holzer Obituary