Following on from my post on Pictures for Schools last week I thought I would post one on a single painting and the artist. In this case there is very little on her but I enjoyed digging out what I could.
Madeleine Elizabeth Anderson was born in Belvedere, Kent on September 18th, 1910, the daughter of Harry Percival Harvey Anderson. He was an engineer and invented 'the Anderson condensing system' for improved thermal efficiency and reduced water consumption in trains. The family must have moved up to Glasgow as her father's office is in the city and Madeleine attended the Airdrie Academy, Lanarkshire.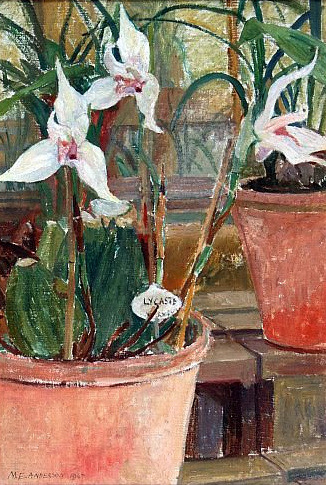 Madeleine E Holtom – Lycaste Orchid, 1947.
(In My Collection / Hertfordshire Pictures for Schools)
In 1931 Madeleine moved to London to study art at the Kingston School of Art where Reginald Brill was principal with other teaching from Anthony Betts, William Ware and John Platt. In 1932 she was awarded a scholarship to study at the Royal College of Art, there she won the painting prize in 1934. She painted in oils and watercolours under William Rothenstein and Gilbert Spencer.
Leaving the RCA she became a professional artist and also worked making advertisements. She married and divorced G. H. Holtom and they had two sons and two daughters, they moved to Northwood near Watford, North-West London. She also exhibited with the New English Art Club.
Her work was bought for the Hertfordshire Collection of Pictures for Schools. The county council's collection was started in 1949 as part of the School Loan Collection, a post-war project by Sir John Newsom, the Hertfordshire Chief Education Officer at the time. He bought artworks from contemporary British artists so that schools could borrow them for the benefit of pupils' art education. Painted in 1947 it is likely this is a very early piece bought for the Hertfordshire Collection.
The collection was begun in the late 1940's by Sir John Newson, the then Chief Education Officer.  It complemented Hertfordshire's radical post-war schools building programme and sat alongside the art works being commissioned for the new schools.

Newson wanted all pupils in Hertfordshire schools, to have the opportunity to see, use and be inspired by original works of art. Early purchases for the collection included work by artists who are now recognised as very important in post-war British art and craft such as Keith Vaughan, Anne Redpath, Michael Ayrton, Edward Bawden, Josef Herman, Walter Keeler and Michael Brennand.  The collection also has work by notable Hertfordshire artists such as John Akers and the sculptor John Mills. As well as these famous names the collection holds many fine pieces by newer and less well known artists and makers. †
Her work is represented in the collections of: Friendship House, Moscow. Queen's College, Oxford. The Cuming Museum. Cheltenham's Art Gallery. The Government Art Collection, British High Commission, Accra, Ghana.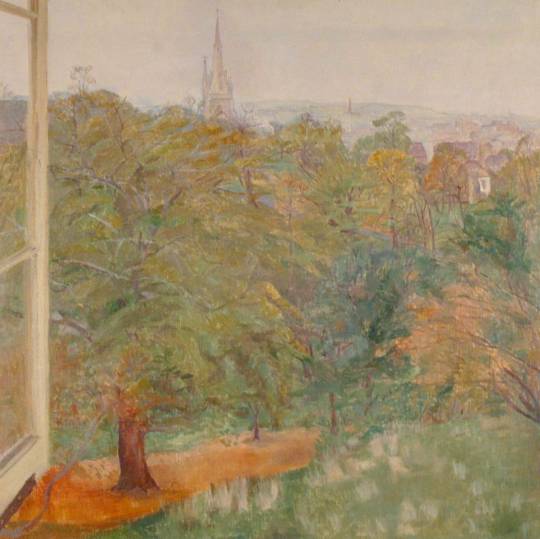 Madeleine E Holtom – View from Flamsteed House, Greenwich Park, 1959
She exhibited at the Royal Academy 1951, 1958, 1960, 1961, 1964, 1972. Holtom died in 8th November 1976. She was living at St. John's Coach House, St. John's Street, Lechlade, Gloucestershire, formerly Grosvenor House, Twickenham, Middlesex.
† Herts Memories – The Hertfordshire County Art Collection – 14th May 2009