In Hertfordshire the County Council's collection of pictures for schools was started in 1949 as part of the School Loan Collection, a post-war initiative by Sir John Newsom, the Hertfordshire Chief Education Officer at the time. The aims of Pictures for Schools were to provide education for children, show children contemporary art rather than reproductions of masters and to liven up classrooms that in post-war Britain would have needed modernisation.
Many of the pieces were purchased from reputable dealers, artists and the 'Pictures for Schools' exhibitions which took place from the 1950s and 1960s. I thought I would show some of the pictures I now own and put the biographies of the artists.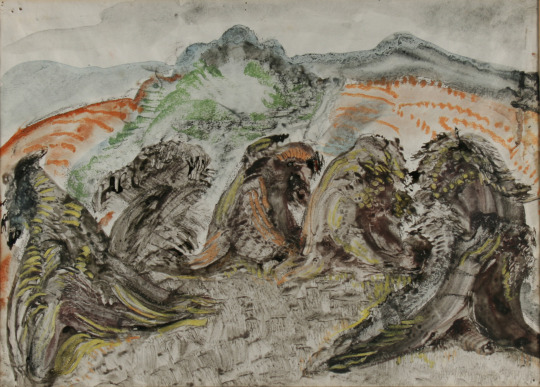 Vera Cunningham – 'Stooks'

Born in Hertfordshire of Scottish parentage, Vera studied painting at the Central School of Arts and Crafts. She began exhibiting with the London Group in 1922. With Matthew Smith, she exhibited in Paris at the Amis de Montparnasse and the Salon des Indépendants in 1922. Her first one-man show was held at the Bloomsbury Gallery in 1929. She produced a number of theatre designs at the end of the 1930s, but returned to easel painting. During WWII she was involved in the Civil Defence Artists' shows at the Cooling Galleries. After the war her Paris dealer, Raymond Creuze, mounted three exhibitions in 1948, 1951 and 1954. She lived in London. The Barbican Art Gallery held a retrospective exhibition in 1985. Her work is held in the Manchester City Art Gallery; the Guildhall Gallery, London and at Palant House, Chichester.
Cuningham modeled for and had relationships with fellow artists Bernard Meninsky and Matthew Smith.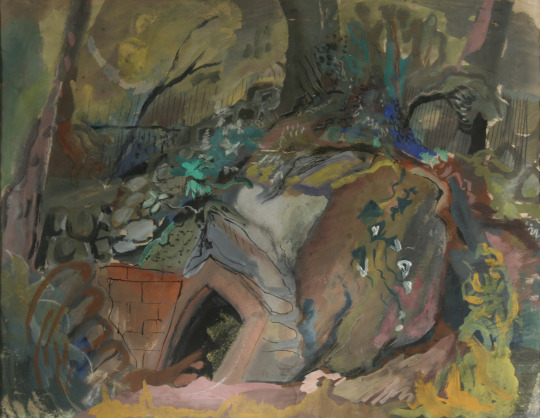 Vera Cunningham – 'Garden Scene'

 Thomas William Ward – 'Charmouth Manor'
Thomas William Ward, was born at Sheffield. Studied part-time with Eric Jones (Harold Jones's twin brother) at Sheffield 1937-1939. After service during the Second World War, Bill continued his studies at the Royal College of Art 1946-1950, winning a silver medal in 1949. He married at Kensington, London in 1949, sculptor Joan Palmer Ward. He taught at Harrow College of High Education 1950-1980, finally as principal lecturer, retiring to Suffolk in 1980. Elected a member of the Royal Society of Painter Etchers in 1953 and the Royal Society of Painters in Watercolour in 1957. This painting was bought from Whitworth Art Gallery, Manchester in 1957.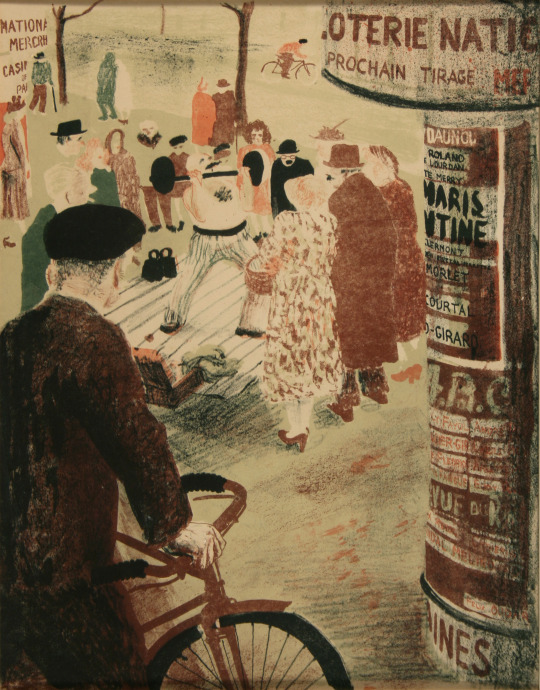 Alistair Grant – 'The Weight-lifter'
Although best known as a printmaker, Alistair Grant also painted throughout his career and in the 1980s he adopted an expressionist style using vibrant colours. He was born in London and studied at Birmingham College of Art (1941-43). After serving during the war, Grant returned to art school and the Royal College of Art, where he was taught by Carel Weight and Ruskin Spear. Grant was to work in the printmaking department of the Royal College for 35 years (1955-90), ending his career as Emeritus Professor of Printmaking at the RA.
The Weight-lifter was bought from the Whitechapel Art Gallery at their Pictures for Schools exhibition: 8 October – 29 October 1949. It is likely 'Eva's House' came from a similar exhibition.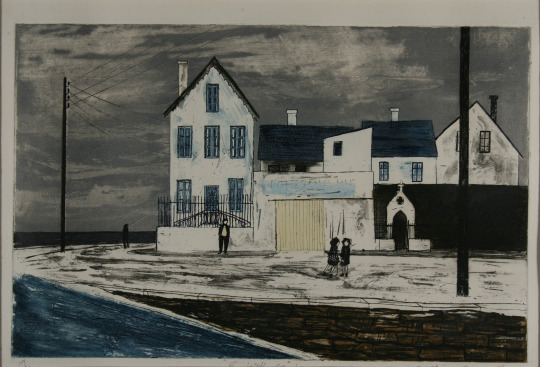 Alistair Grant – 'Eva's House', 1955
 Vincent Lines – 'Old Hereford Wagon'
Vincent Lines was awarded a scholarship to the Royal College of Art in 1928. The principal, William Rothenstein described him as 'one of the best students of the painting school'. While only in his twenties, he was appointed principal of Horsham School of Art and later became principal of Hasting School of Art. Lines was a prolific and talented topographical watercolourist, with an intimate knowledge of the countryside, which he recorded on the spot, in the open air.
He was chosen as an artist for the Recording Britain project, to which he contributed twenty watercolours. He was a close friend of Thomas Hennell and the pair often painted together in the countryside around Hennell's home at Ridley, near Meopham in Kent.
Lines survived the war and went on to become Vice-president of the Royal Watercolour Society. He wrote the biography of Mark Fisher and Margaret Fisher Prout, illustrated Rex Waites 'The English Windmill'
The war years brought deepened friendships in particular with Mildred Eldidge and Thomas Hennell, both fellow watercolourists of the R .W .S . Through contact with Hennell he became fascinated by country crafts and together they hunted out the potter and the cooper, wheelwright and blacksmith, hurdlemaker and charcoal burner.

During 1943-4 he painted a series of eight watercolours recording the avenues of elms in Windsor Park, before the trees were felled. The pictures are now in the Royal collection. A further commission for Vincent during these years was the contribution to Arnold Palmer's four-volumed Recording Britain, published in association with the Pilgrim Trust.

Due to Thomas Hennell's death in 1945 the illustration of Rex Wailes's book The English Windmill, which would certainly have been done by him, passed instead to Vincent Lines. Wailes's definitive survey presents English windmills in their history, construction and mode of working. †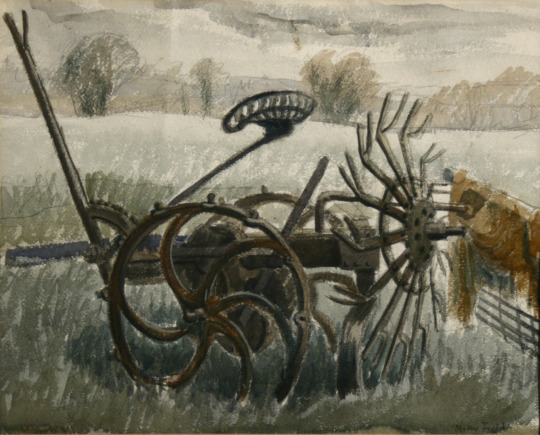 Molly Field – 'Farm Implements'
Molly Field was born in Keighley, Yorkshire. She originally worked under the name Molly Clapham but then married the artist Dick Field. Attended Leeds College of Art (1932-33) then the Royal College of Art (1934-38), with Ernest Tristram. Showed at the Royal Academy, Women's International Art Club and the Wakefield. She was married to Dick Field ARCA and they had one daughter.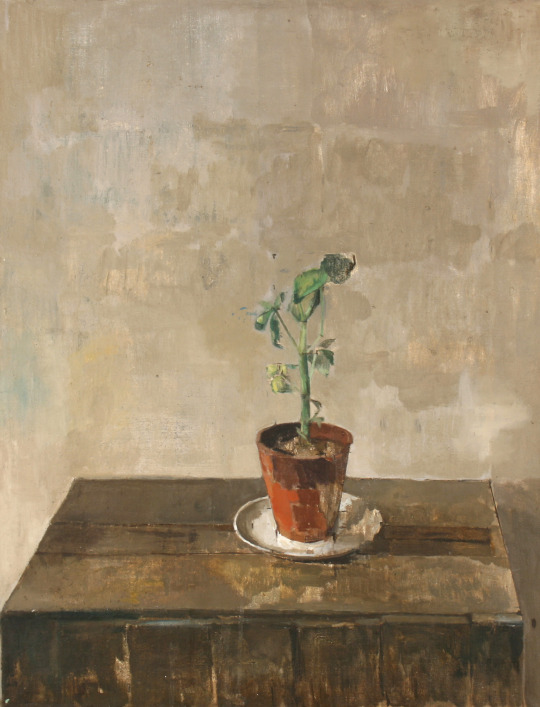 Carolyn Sergeant – 'Geranium'
This is a mystery as it is one of the best paintings in the collection but there is no detail in the archives about who it is by.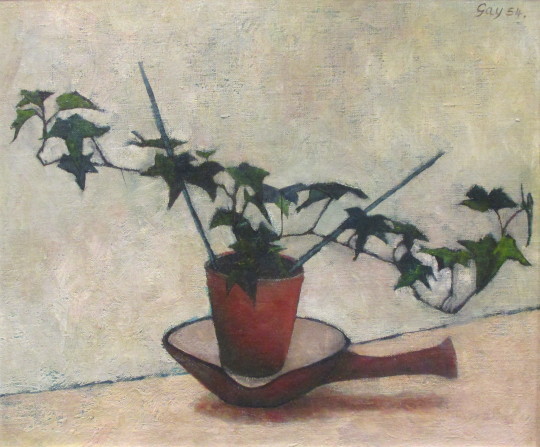 Bernard Gay – 'Ivy Plant'
Bernard left school at the age of 14 and after various jobs, just before the Second World War joined the merchant navy. In 1947 that he returned to education, studying textile part-time at the Willesden School of Art (1947-52) and changed course to fine-art under Maurice de Sausmarez and Eric Taylor. He began drawing classes at St Martins School of Art and quickly established himself as a painter. It may have been in the Pictures for Schools exhibition 23 January – 14 February 1954.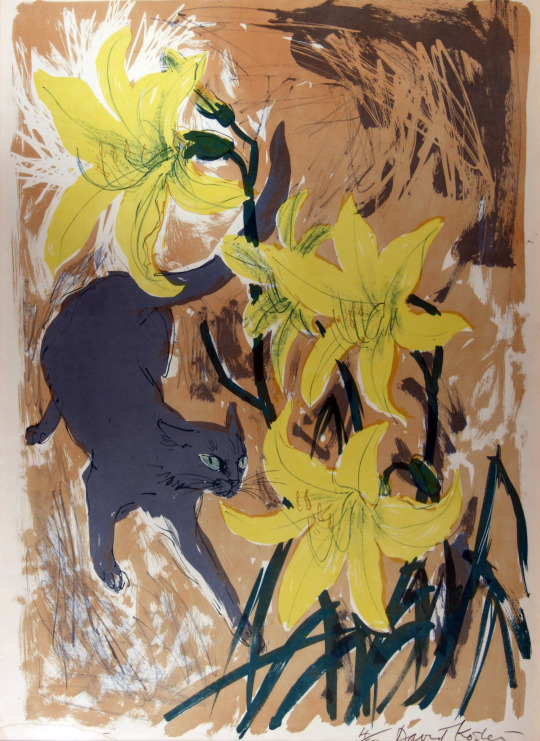 David Koster – 'Cat and Lilies'
Koster studied at the Slade School of Art (1944-47). Taught drawing and print-making at Medway College of Design. One-man shows at Everyman Foyer Gallery (1958, 60, 62, 64, 66, 68, 70); Glasgow Citizen's Theatre (1965); Stable Theatre Gallery, Hastings (1967). Taken several illustration commissions including work for the RSPB and a front cover for their 'Birds' Magazine.
David Koster was born in London and attended the Slade School of Fine Art from 1944 to 1947. He was a founder Member of the Society of Wildlife Artists in 1964.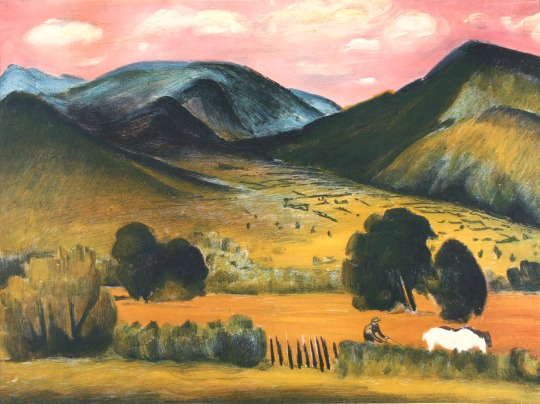 Raymond Croxon – 'View in the Lake District'
Raymond Coxon enrolled at the Leeds School of Art, and the Royal College of Art. While he was there, between 1919 and 1921, he not only met his future wife but also became friends with a fellow student, Henry Moore. In 1922 Moore and Coxon visited France and met a number of artists there, including Pierre Bonnard and Aristide Maillol. Coxon continued his studies in London at the Royal College of Art between 1921 and 1925 under Sir William Rothenstein.  Coxon took a teaching post at the Richmond School of Art in 1925 and in 1926 he married Edna Ginesi, with Moore acting as his best-man. Coxon would later perform the same service for Moore when he married Irina Radetsky in July 1929. He became a member of the London Group in 1931 and of the Chiswick Group in 1938.
During the WW2 he became a war artist and was commissioned to produce some paintings of Army subjects in Britain. Then working for the Royal Navy as a war artist. The painting of this print is in the collection of Palant House. The lithograph made for the Contemporary Lithographs Ltd. Other artists in the series were Eric Ravilious, John Piper, Vanessa Bell, Barnett Freedman and so on.
 Julia Ball – 'East Coast Storm'
Julia Ball is a Cambridge artist and this woodcut came up for sale with the Cambridge collection of Pictures for Schools but due to a cataloguing error on the auctioneers I didn't win it as they had labeled it as a different lot. For years I smoldered about that. But when the Hertfordshire sale came up, I had to have it. Made in the 1960s this woodcut is of a storm over the east coast. Her painting are mostly abstract and works can be found in Kettles Yard and in the New Hall art collection. This picture was bought from the Royal Academy Diploma Galleries, 1967.
 Joseph Winkelman – 'Winter Morning'
Joseph Winkelman has specialised in intaglio printmaking since 1975 after completing the Oxford University Certificate course in Fine Art at the Ruskin School of Drawing. As an active member of the Royal Society of Painter-Printmakers (RE), he served as President from 1989 to 1995 and was recently artist in residence at St John's College, Oxford.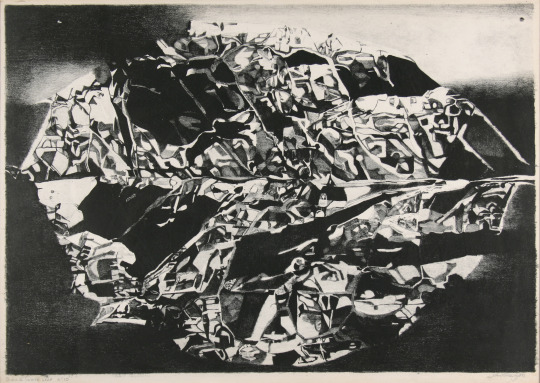 John Sturgess – 'Black and White Leaf'
A student at the Royal College of Art in the 1950s. He would have been taught by Julian Trevelyan, Edwin La Dell, Edward Ardizzone and Edward Bawden. He worked with John Brunsdon as a printer, printing other artists work, rather than going into teaching. They set up a press in Digswell Art Centre and that is likely how his work ended up in the Hertfordshire Collection. This work of a leaf looks more like foil, it is rather beautiful and a lithograph on stone. Though I haven't photographed it the frame is a John Jones frame made of aluminium and is as beautiful as the print.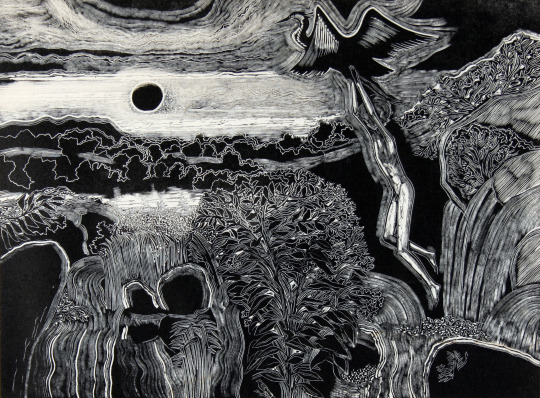 John O'Conner – 'Boy and the Heron'
John O'Connor A.R.C.A. R.W.S, is today best known for his woodcuts, but during his lifetime he was also celebrated as a watercolourist. In 1930 he enrolled at Leicester College of Art before moving on to the Royal College of Art in 1933. His teachers at this time were Eric Ravilious, John Nash and Robert Austin. He graduated in 1937.
On a visit to Eric Ravilious's home at Bank House, Castle Hedingham in Essex, O'Connor was captivated both by the directness of the wood-engraving technique, and by the simple domestic scene in which Ravilious engraved by a lamp in one corner of the room while his wife Tirzah played with their small son by the fire in another. It was due to Ravilious that O'Connor got his first commission of work aged 23, illustrating Here's Flowers by Joan Rutter for the Golden Cockerel Press in 1937.
He taught at Birmingham and Bristol before serving in the Royal Air Force form 41-45. On being demobbed he illustrated two books for the Golden Cockerel Press and taught in Hastings for two years before moving to Colchester to become the head of the School of Art in 1948. He was affectionately known as 'Joc' to his students, using his initials. His colleagues included Richard Chopping, who designed dust jackets for the James Bond novels, his own former teacher John Nash, and Edward Bawden, one of the finest British printmakers.
He saw his favourite painting places in Suffolk – the ponds, willows, briars and honeysuckle – disappear beneath the bulldozer and combine harvester. In 1964 O'Connor retired from teaching full time at Colchester, to concentrate on painting and engraving. He wrote various 'How to' books and taught part time at St Martin's School of Art. In 1975 he and his wife, Jeannie, went to live by Loch Ken in Kirkcudbrightshire, where his love of light and water inspired his many watercolours and oil paintings. He took up a post teaching at Glasgow School of Art from 1977 to 1984.
In the 1950s and 60s, O'Connor exhibited at the Zwemmer Gallery, in London, and had many exhibitions throughout Britain. His work was purchased by the Arts Council, the Tate Gallery, the British Museum and the Contemporary Art Society, as well as by several local education authorities; it can also be found in the Oslo Museum, the Zurich Museum and at New York central library. He was elected to the Royal Society of Painter-Etchers and Engravers in 1947, and, in 1974, to the Royal Watercolour Society. He was an honorary member of the Society of Wood Engravers.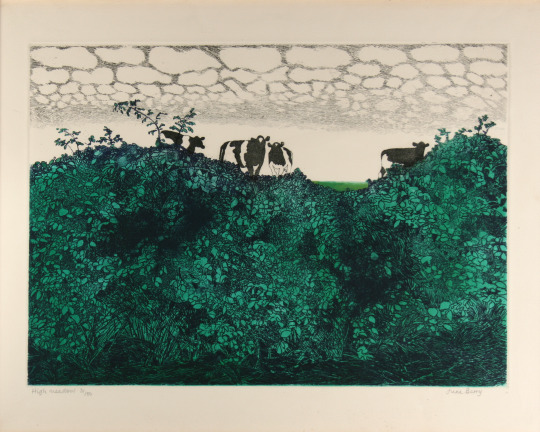 June Berry – 'High Meadow'
June Berry studied painting at the Slade School of Fine Art, London. She has had nineteen solo exhibitions including a retrospective at the Bankside Gallery, London in 2002. Her paintings have been exhibited frequently at the Royal Academy Summer Exhibition, London since 1952. Berry was Vice-President of the Royal Watercolour Society from 2001 to 2004.
Her work is included in the collections of HM the Queen, the British Government Art Collection, the Victoria & Albert Museum, London, the National Museum of Wales, the Royal West of England Permanent Collection, the Graphothek, Berlin, Germany and the All Union Society of Bibliophiles, Moscow, Russia. Her work has also been purchased by many private collectors in the UK, USA, Germany and Russia. She is a Member of the Royal Watercolour Society, the Royal Society of Painter-Printmakers, the New English Art Club and is a Royal West of England Academician.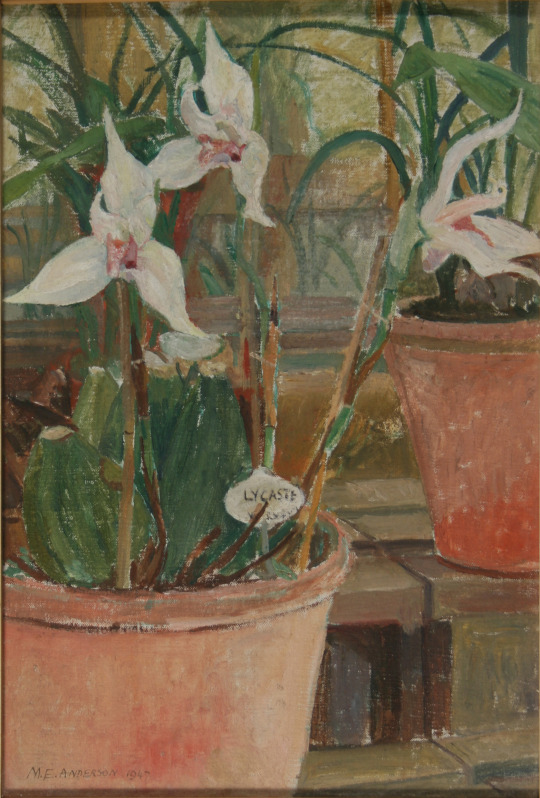 Madeleine Holtom – 'Orchids'
Madeleine Elizabeth Anderson was born in Belvedere, Kent. She studied art at the Kingston School of Art where Reginald Brill was principal with other teaching from Anthony Betts, William Ware and John Platt. In 1932 she was awarded a scholarship to study at the Royal College of Art, there she won the painting prize in 1934. She painted in oils and watercolours under William Rothenstein and Gilbert Spencer.
Leaving the RCA she became a professional artist and also worked making advertisements. She married and divorced G. H. Holtom and they had two sons and two daughters, they moved to Northwood near Watford, North-West London. She also exhibited with the New English Art Club.
Her work is represented in the collections of: Friendship House, Moscow. Queen's College, Oxford. The Cuming Museum. Cheltenham's Art Gallery. The Government Art Collection, British High Commission, Accra, Ghana.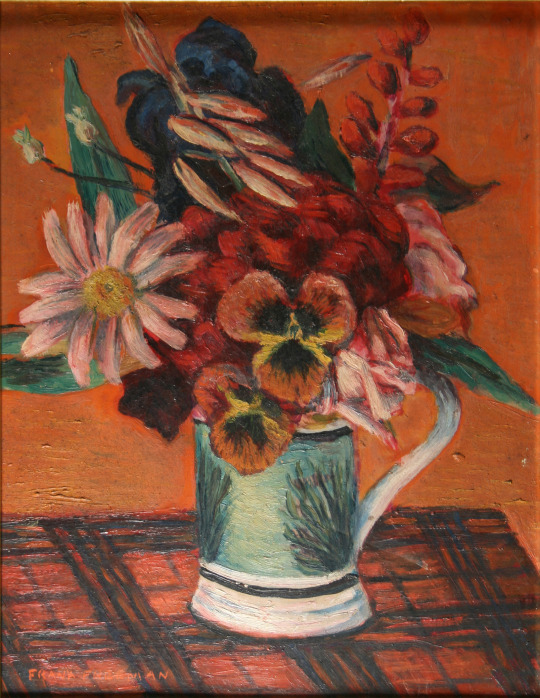 Frank Freeman – 'Flower Piece', 
Frank Freeman is a bit of a mystery to me at the moment. I can find mention of him in a few places but sadly due to the blitz and poor archiving many are the lost. What is known is he was supported for a while by Lucy Carrington Wertheim and he was based in the Manchester area. One flower painting is mentioned in her book Adventure in Art.
Visitors who came to see me about this time. Among these were Frances Hodgkins, who stayed for months at a time at my flat, Henry Moore and his lovely Russian wife, John Skeaping, Barbara Hepworth, Cedric Morris, Lett Haines, John Alford, William Plomer, Leon Underwood, John Gould Fletcher, Pavel Tchelitchew, Komisarieysy, David Fincham and his wife Sybil, Jim Ede and Frank Freeman. ‡
 John Wynne-Morgan – 'Christmas Roses'
John Wynne-Morgan was born in Harrogate, Yorkshire and enrolled at the Heatherley School of Fine Art in London in 1945.
In a 1962 London catalogue foreword, Wynne-Morgan is described as 'primarily a portrait painter' (though the show contained scenes of Paris, Ibiza, Venice and London, and he also painted many Bonnard-ish nudes). His studio was in Hampstead and he was the author of three books for aspiring artists. In Oil Painting as a Pastime: A Complete Course for Beginners (Souvenir Press, London, 1959), he evokes how hard it is to embark on a portrait: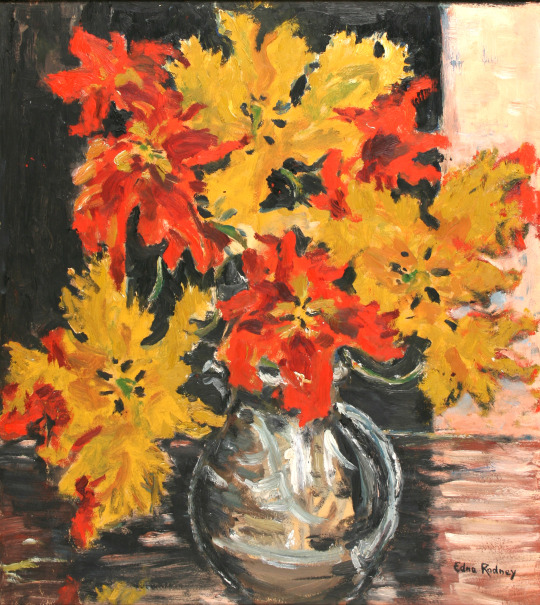 Edna Rodney – 'Parrot Tulips'
Of all the artists I bought Edna Rodney eludes me, I can not find her anywhere and it might be she was an art student who gave up art for a family or she might have been one of Hertfordshire's pupils that ended up in the collection as sometimes happened. It is rare to find nothing however.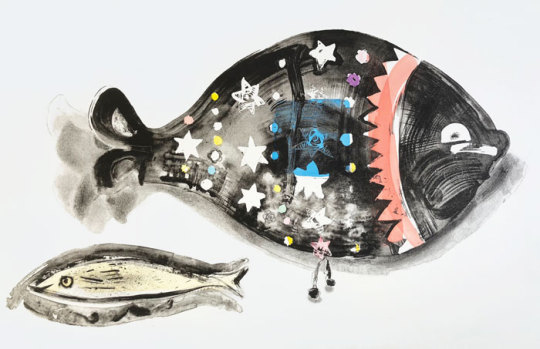 Chloë Cheese – 'Lucky Fish', 
Chloë's childhood was spent in the Essex village of Great Bardfield observing the printmaking of her mother Sheila Robinson and she remembers in particular often visiting the studios of fellow printmakers Edward Bawden and Michael Rothenstein.
She has contributed to a recent book Bawden, Ravilious and the Artists of Great Bardfield published by the V&A. Chloë studied at Cambridge Art School from 1969 and the RCA from 1973 to 1976.
She has lived in South London since the 70s, investigating her home and surroundings first through drawing which is then used as a basis for the creation of monoprints, lithographs and etchings. Her engagement with still life subjects has widened to include figures against the palimpsest of an urban life.
Chloë has exhibited widely and her work is held in various public collections including The V and A Museum London and The Arts Council of Great Britain.
Bio via St Judes.
 Chloë Cheese – 'Pink Carnations'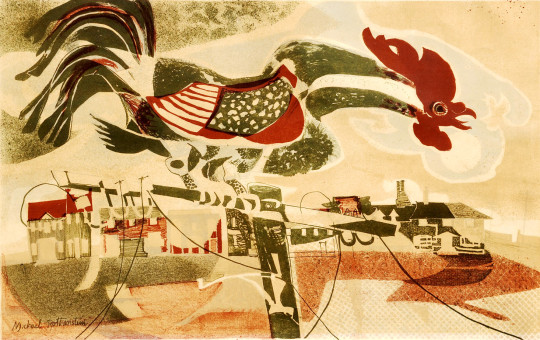 Michael Rothenstein – 'Coronation Cockerel'
Born in Hampstead, London, on 19 March 1908, he was the youngest of four children born to the celebrated artist, Sir William Rothenstein and his wife Alice Knewstub. He studied at Chelsea Polytechnic and later at the Central School of Arts and Crafts. Affected by lingering depression, Rothenstein did little art making during the late 1920s and early 1930s. Despite this, he had his first one-man show at the Warren Gallery, London in 1931.
During the late 1930s the artist's output was mainly Neo-Romantic landscapes and in 1940, like Vincent Lines, he was commissioned to paint topographical watercolours of endangered sites for the Recording Britain project organised by the Pilgrim Trust. In the early 1940s he moved to Ethel House, in the north Essex village of Great Bardfield.
At Great Bardfield there was a small resident art community that included John Aldridge, Edward Bawden and Kenneth Rowntree. In the early 1950s several more artists (including George Chapman, Stanley Clifford-Smith, Audrey Cruddas and Marianne Straub) moved to the village making it one of the most artistically creative spots in Britain. Rothenstein took an important role in organising the Great Bardfield Artists exhibitions during the 1950s. Thanks to his contacts in the art world (his older brother, Sir John Rothenstein, was the current head of the Tate Gallery) these exhibitions became nationally known and attracted thousands of visitors.
From the mid-1950s Rothenstein almost abandoned painting in preference to printmaking which included linocut as well as etchings. Like his fellow Bardfield artists his work was figurative but became near abstract in the 1960s. Although little known as a painter, Rothenstein became one of the most experimental printmakers in Britain during the 1950s and '60s.
Rothenstein was elected an Associate of the Royal Academy (ARA) in 1977 and a Royal Academician (RA) in 1984. Near the end of his life there was a retrospective of his work at the Stoke-on-Trent City Museum and Art Gallery (1989) and important shows followed at the Fry Art Gallery, Essex.
The print I have (The Cockerel) was made for the Festival of Britain series of prints in 1951 and is signed under the mount. Likely bought from Redfern Galleries.

My blog of some of my pictures from the Cambridgeshire Collection of Pictures from Schools is here.
For areas of research I am indebted to Catherine Davis and Natalie Bradbury.
† Resurgence Magazine Issue 141, Jul 1990.
‡ Lucy Carrington Wertheim – Adventure in Art, 1947 p10-11