This is a short little post but a fun on about a book that was published.
Olive Cook and Edwin Smith, to those who didn't know, were husband and wife. Edwin is famous for his photography books and Olive penned a lot of the text. They had moved to The Coach House, Windmill Hill, Saffron Walden in 1966. Originally completed in 1865, it was part of the Vineyards Estate, a large victorian house built for William Murray Tuke, the tea merchant, and designed by William Beck, a local architect in Saffron Walden who specialised in Gothic Revival.
When Olive died the old coach house was being sorted for an auction to take place outside the property with various clusters of her possessions arranged into lots inside. The papers were sorted by friends, one of whom was Philippa Pearce, author of Tom's Midnight Garden. She found a typed up manuscript and Dennis Hall of the Inky Parrot Press assumed it was a short story Olive Cook had been due to send him.
This manuscript was typeset and printed with illustrations commissioned by John Vernon Lord.
When copies were distributed at Olive Cook's memorial service it was recognised by Mark Haworth-Booth as a story written by his daughter, Emily Haworth-Booth, who had sent it to Olive Cook for comment.
So though the book circulates still as Olive Cook, Emily Haworth-Booth's story was published before the Inky Parrot Press, 2002 copy; in Varsity Cherwell May Anthologies: 2001: Short Stories, 2001.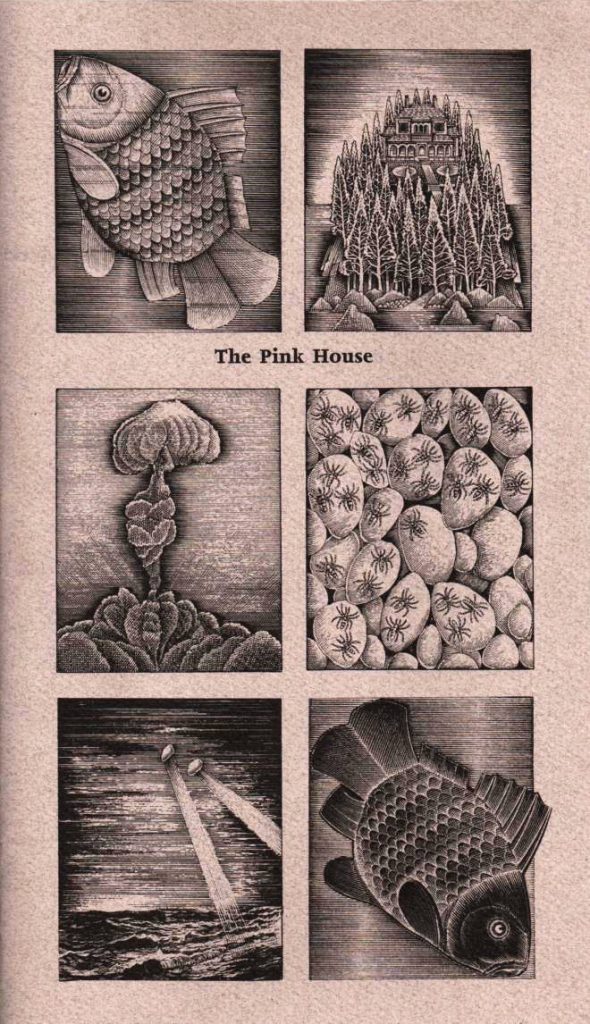 'Olive Cook' – The Pink House, 2002, Inky Parrot Press