Nov ‒ Dec 1915. Goupil Gallery, London
I thought this review of the London Group Show was of note as it features so many wonderful painters. I have found some of the paintings on show to illustrate it. Originally published in the magazine, Colour, 1915.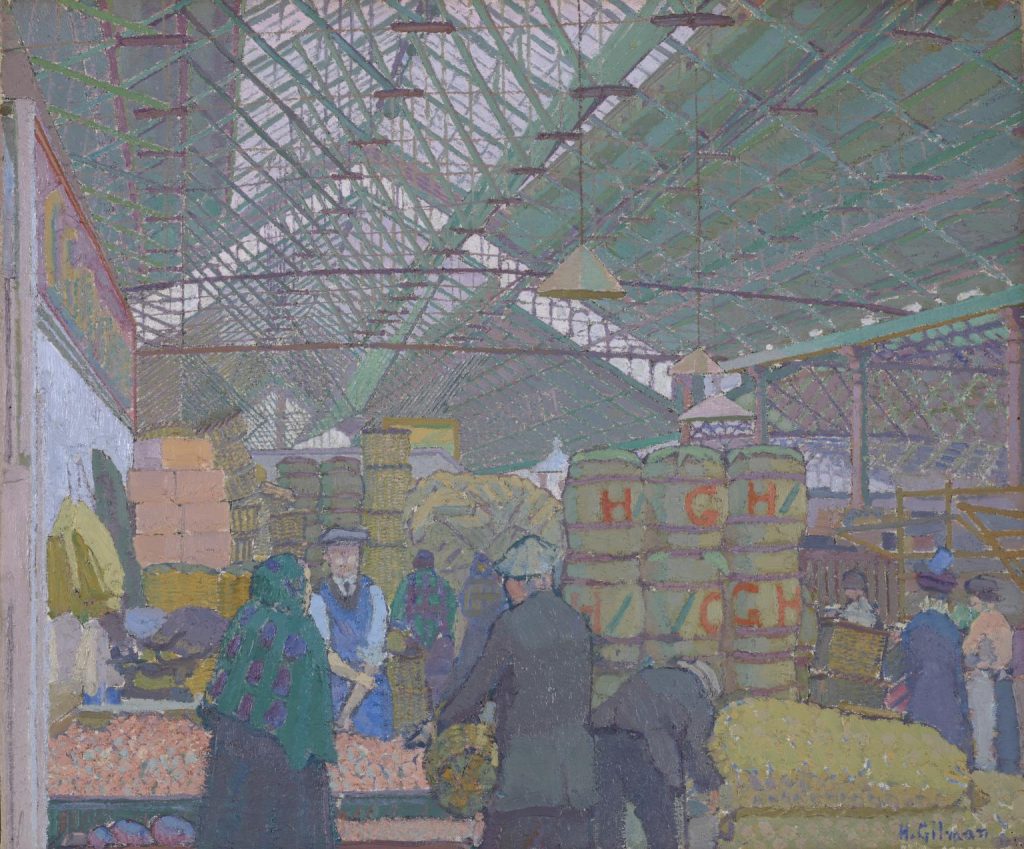 Harold Gilman – Leeds Market, 1913
London Group – The third Exhibition of this group is now on exhibition at the Goupil Salon is one of in which a certain sense of gaiety and experiment is to be seen. The spirit of adventure is also alive, and the group being one where members are not subject to the tyranny of a selecting committee, one notices that with a free hand these artists can give liberal expression to their point of view. There is much good painting in various Styles, and Little that is bad add, while a high level of excellence is in evidence throughout the show. W. B. Adeney show several canvases in which the design is obviously the first aim of the artist. In most cases he is successful. Thérèse Lessore is also greatly interested in the designing of her canvases, but colour also plays an important part. Harmonies of Pale colours, that always good colours, together with a simplified rendering of the figures which people her canvases, make for a series of distinguished works. As decorations they are complete.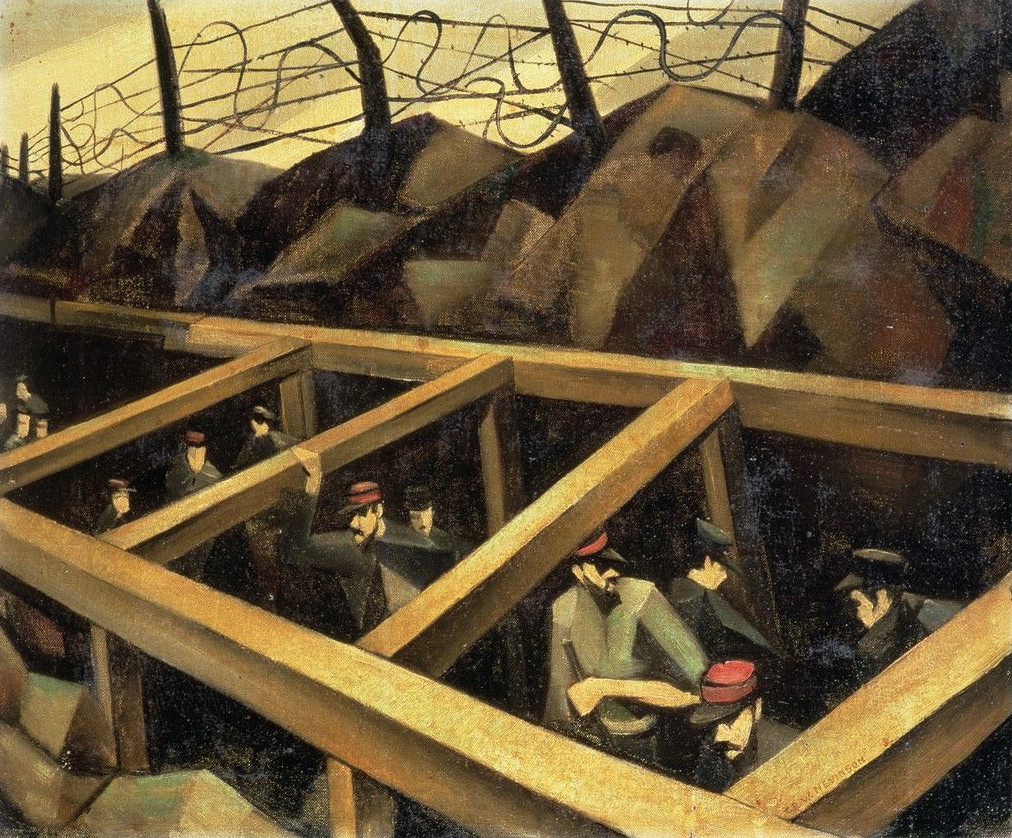 Christopher R. W. Nevinson – Les Guerre de Trous, 1914
Figure work and portraits at this exhibition are few, and of the latter nana satisfactory. Of the former, Thérèse Lessore, who we have already mentioned, Mary Godwin, and Horace Brodzky, contribute. The last mentioned painter shows a decoration in which three nudes energetically struggle with a large stone. This work is evidently a sketch for a mural decoration to be painted on a large scale. Mary Godwin's subjects display a searching after luminosity and texture.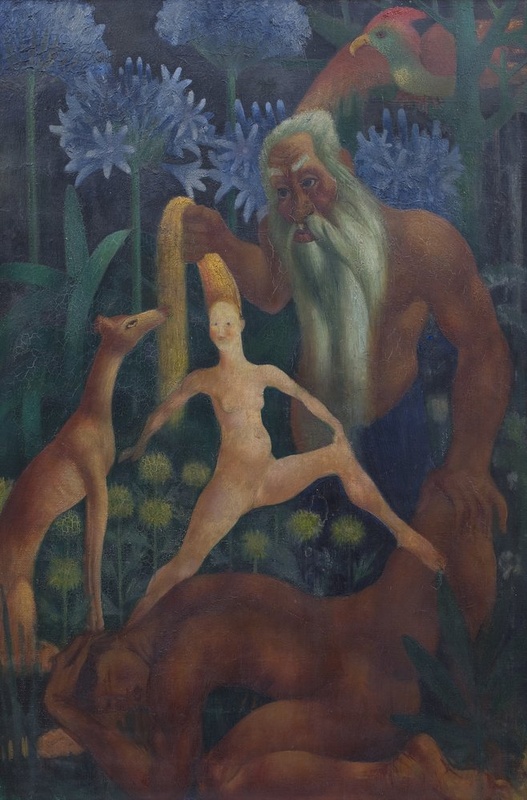 Mark Gertler – Creation of Eve
R.P. Bevan sends a fine landscape "The Corner House," which shows that he has learnt match from Cezanne without losing his own individuality. The excessive pink and mauve of his earlier work now makes place for dignified colour. His design has significance and weight. Harold Gillman's best picture here, the interior of a fruit market, is a beautiful harmony in greens, whilst Charles Ginner expresses the greyness of things in a fine painting of Leeds Canal. Mark Gertler shows two intoxications of colour which we are sure were painted in the true spirit of joie de vivre. One piece of sculpture alone is on view, and that by C.R.W. Nevinson.
For the nation – A marble statue by Henri Gaudier-Brzeska has recently been presented to the South Kensington Museum, together with a number of this sculptors drawings.
Frederick Porter, a young painter at present residing in London and a New Zealander by birth, is a colourist of considerable merit. Porter studied at the Academy Julian in Paris from 1907 to 1910. He has also painted with success the landscape of Barbizon, particularly Moret, made famous through the paintings of Tisely, and he has painted for some time in Etaples. In 1911 Porter came to London, where he has exhibited on several occasions at the London Salon. Here his work received considerable attention from discriminating critics, and as he is still a young man and intensely serious, we may expect to find augmented interest in his new work.
Two cartoons, entitled "A Place in the Sun" and "A Controller of Traffic" by Will Dyson, have been purchased by the Felton Bequest for the Melbourne National Gallery.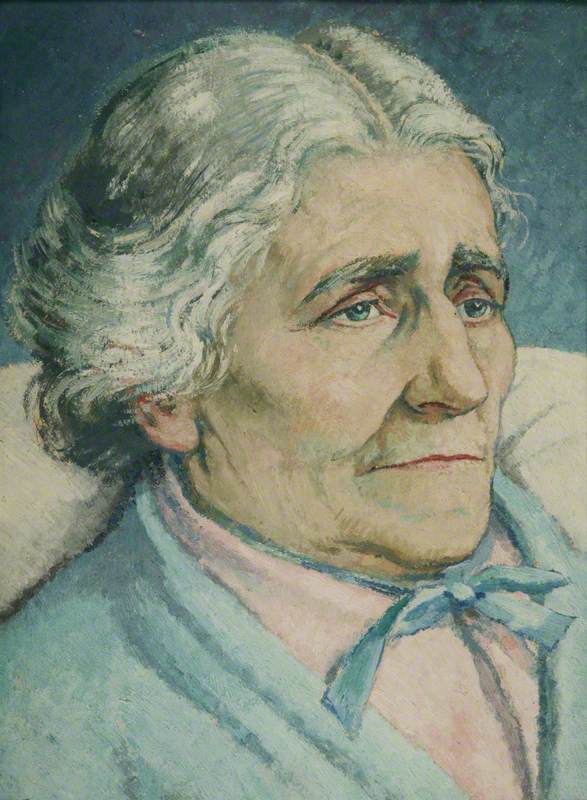 Randolph Schwabe – Head of an Old Woman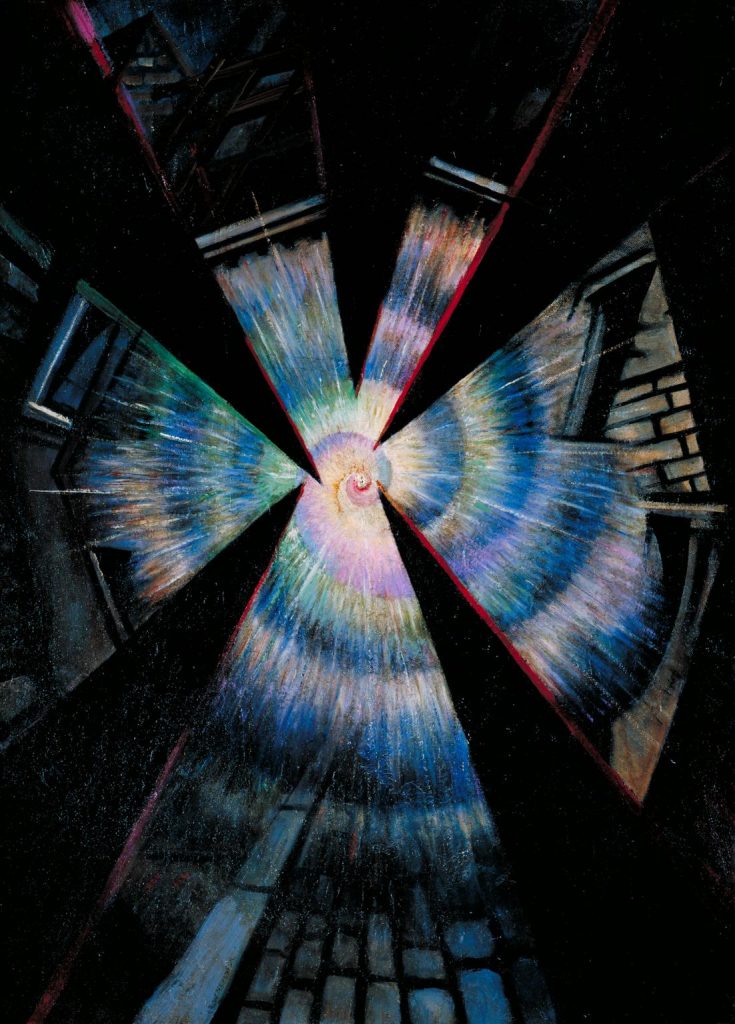 Christopher R. W. Nevinson – Bursting Shell, 1915
Artists on show:
William Ratcliffe – The Old Mill
Charles Ginner – The Angel, Islington
Adrian Paul Allinson – Casino de Paris
Adrian Paul Allinson – Mauve and Green
Christopher R. W. Nevinson – The Bridge at Marseilles
William Ratcliffe – The Mill Stream
William Bernard Adeney – The Spruce
William Ratcliffe – Interior
William Bernard Adeney – The Road through Woods
Mark Gertler – Swing Boat
William Bernard Adeney – Man and Horse
Charles Ginner – From Trinidad
Thérèse Lessore – An Old Woman
Stanisława de Karłowska – White Paintings
Thérèse Lessore – The Cyclist
Stanisława de Karłowska – Still life
Harold Gilman – Portrait
Harold Gilman – Interior
Harold Gilman – Still Life
Adrian Paul Allinson – Queen´s Hall
Stanisława de Karłowska – Woodlands
Horace Brodzky – The Little Mourner
Christopher R. W. Nevinson – A Deserted Trench
Thérèse Lessore – King Street
Robert Polhill Bevan – A Hillside, Devon
John Northcote Nash – Pine Woods
Horace Brodzky – Portrait
Mary Godwin – The Bedroom
Mary Godwin – Fish
Walter Taylor – Brighton
Walter Taylor – The Boat House
Randolph Schwabe – Mrs. Randolph Schwabe
Paul Nash – Tree Tops
Paul Nash – A Sunset
Paul Nash – Moonrise over Orchard
Paul Nash – Tryon´s Garden
Mary Godwin – Ways and Means
Douglas Fox Pitt – Brighton Front
Douglas Fox Pitt – Shoreham
Randolph Schwabe – Portrait
Charles Ginner – Surrey Landscape
John Northcote Nash – Landscape
John Northcote Nash – Steam Ploughing
Horace Brodzky – Expulsion
Sylvia Gosse – Versailles
Sylvia Gosse – The Toilet
Sylvia Gosse – Busch Bilderbogen
Sylvia Gosse – The Answer that turneth away Wrath
Sylvia Gosse – Sussex Meadows
Randolph Schwabe – Landscape in Devonshire
William Bernard Adeney – Dividing Roads
William Bernard Adeney – House and Trees
Thérèse Lessore – The Canal Bridge
Stanisława de Karłowska – The Lane
Stanisława de Karłowska – From an Upper Window
Mary Godwin – Still Life
Mary Godwin – Ewelme Alms House
Robert Polhill Bevan – The Corner House
Robert Polhill Bevan – Tattersall´s
Harold Gilman – My Lonely Bed
Thérèse Lessore – The Confectioner´s Shop
Adrian Paul Allinson – Cotswolds, Spring
Walter Taylor – Interior
Charles Ginner – The Timber Yard, Leeds
Charles Ginner – Crown Point, Leeds
John Northcote Nash – Threshings
John Northcote Nash – Woods
Adrian Paul Allinson – Still Life
Horace Brodzky – Decoration
Horace Brodzky – Cefalu
Mark Gertler – Fruit Stall
William Ratcliffe – London
Douglas Fox Pitt – In the Dome, Brighton