I find I can spot the illustration work of Edward Ardizzone across a room if I am in a bookshop, it is so iconic in style. He is most famous these days for the illustrations to Puffin children's books like 'Stig of the Dump' by Clive King and BB's 'The Little Grey Men' as they have been reprinted now for over forty years with his illustrations; but it's nice to see his 'Tim' series of books have also been reprinted and revived again.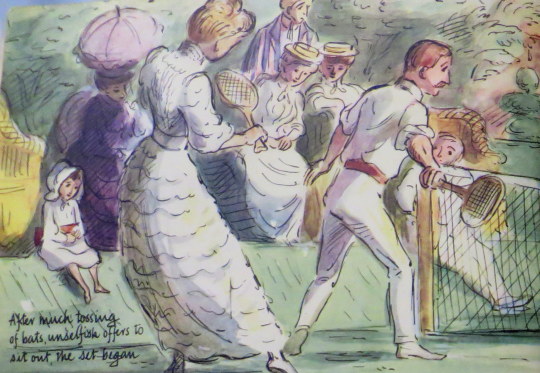 This post is really about his illustrations found inside 'The Housewife Magazine'. I can find very little information on the history of the magazine itself, but the issues I own run from 1950 to 1970. As you can see from below, some of the illustrations are full colour and one of them is half colour and black and white. Without having looked in every magazine, so far I have found five stories illustrated by Ardizzone, but each edition had a prominent illustrator inside, sometimes Ronald Searle, sometimes Barnett Freedman.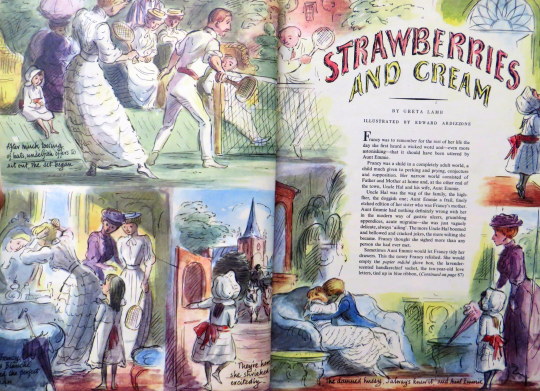 Strawberries and Cream illustrated in full storyboard style by Edward Ardizzone.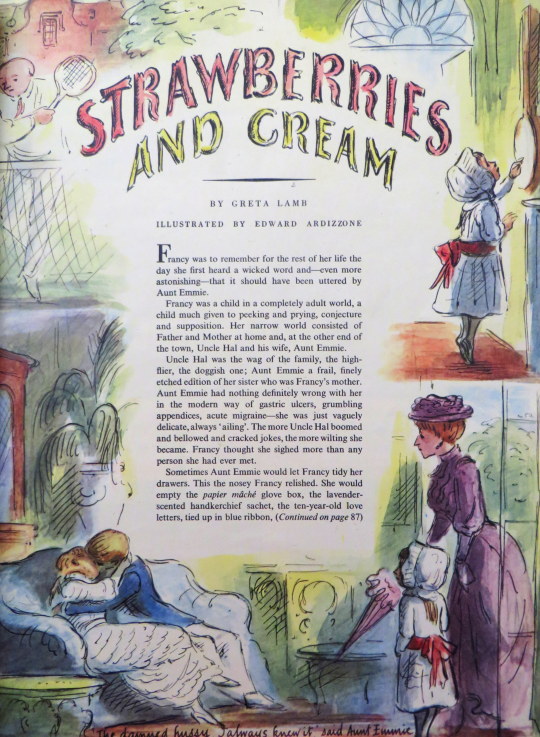 Born Edward Jeffrey Irving Ardizzone, he was born in Tonkin on 16 October 1900 and died in Rodmersham Green in Kent, England on 8 November 1979. His father was a naturalised Frenchman of Italian descent, who was born in Algeria. His mother, Margaret, was English.
In 1905, Margaret Ardizzone returned to England with her three eldest children. They were brought up in Ipswich, Suffolk, largely by their maternal grandmother, whilst Margaret returned to join her husband in the Far East. 
Ardizzone left school in 1918 and twice tried to enlist in the British Army but was refused. After spending six months at a commerce college in Bath, Ardizzone spent several years working as an office clerk in both Warminster and London, where he began taking evening classes at the Westminster School of Art, which were taught by Bernard Meninsky. In 1922 Ardizzone became a naturalised British citizen.
Ardizzone's first major commission was to illustrate an edition of 'In a Glass Darkly' by Sheridan Le Fanuin 1929. He also produced advertising material for Johnnie Walker whisky and illustrations for both Punch and The Radio Times.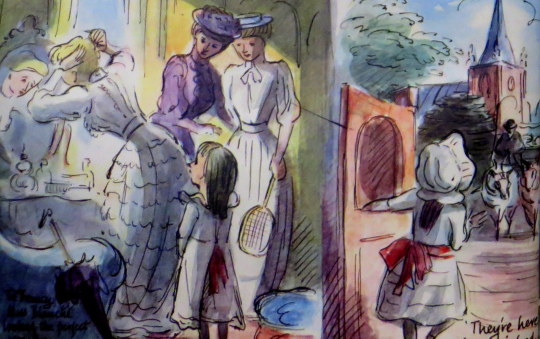 He became a war artist. With an Italian name he was often found drawing British installations and getting arrested as troops struggled to understand his role as a 'war artist' and suspected him of being an Italian spy. 
Post war his credits of illustrations are so numerous they have become listed as part of a 300 page book of Illustrative works by Brian Alderson 'A Bibliographic Commentary Hardcover', a book listing hundreds of books and magazine covers.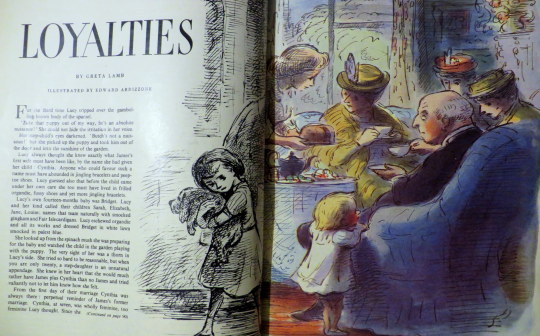 Here is a colour and black and white printing. Magazines where still on a budget after the war and colour printing was reserved as a decorative feature to be dispersed over the magazine. Here is an unusual view of this. In Ardizzone's 'Tim' books it is common for one page to be colour and the other in black and white.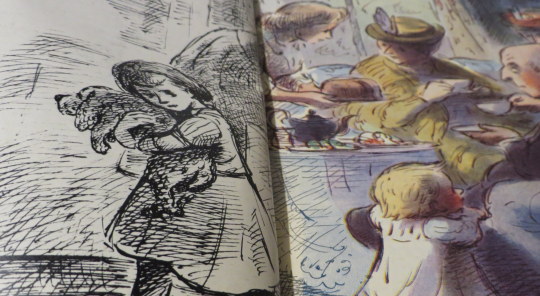 Below are the black and white printed line drawings by Ardizzone. One of the loveliest features is the illustrations incorporate the text and flow around it.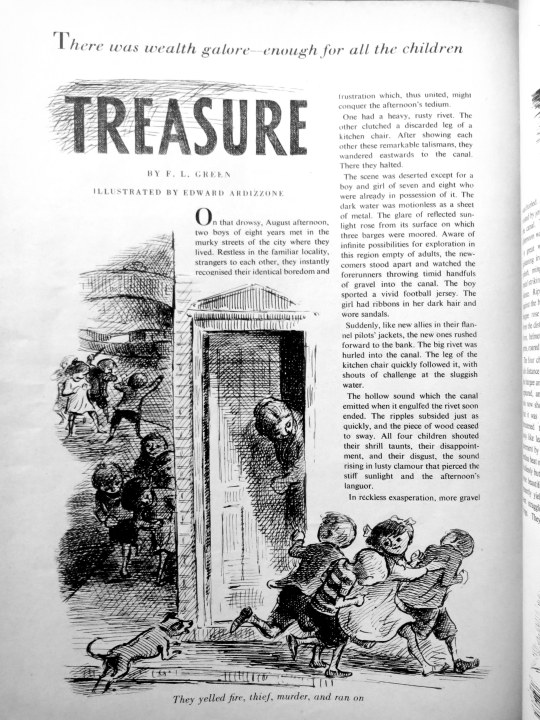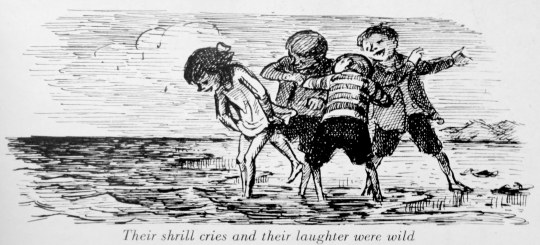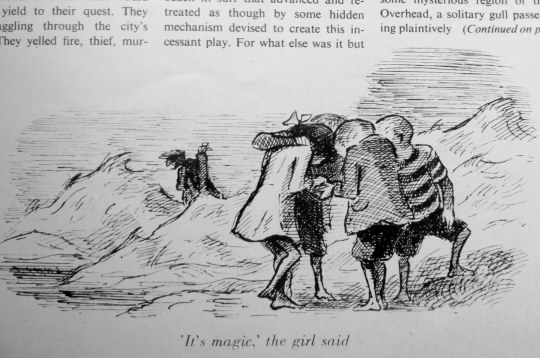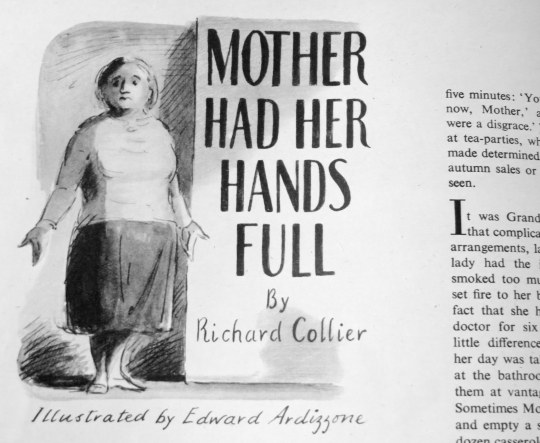 The last image below I love best of all. It shows he could illustrate anything.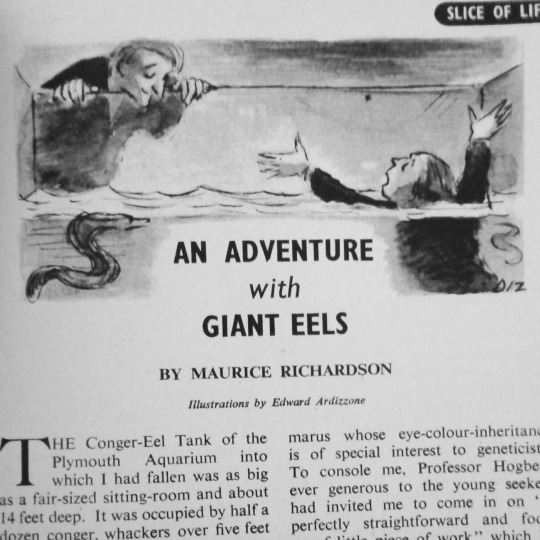 Strawberries and cream – Greta Lamb – Housewife September 1951
Treasure – F. L. Green – Housewife September 1952