Some years ago I bought a print called 'Harvesting' by John Nash. Years later I would buy a book illustrated by John Nash and start to see the links.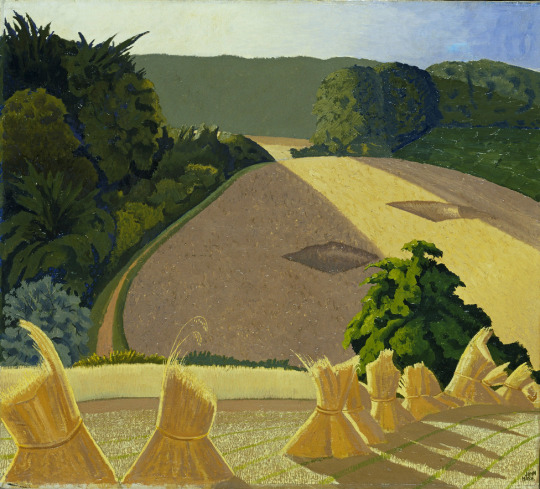 John Nash, The Cornfield, 1918
John Nash was born in London in 1893 and is the younger brother of Paul Nash. He was a very accomplished wood engraver and lithographer and served as an official war artist in both the World Wars. On one occasion in 1917, Nash was one of eighty men ordered to cross No-Mans-Land at Marcoing near Cambrai. Of these, only Nash and eleven men returned.
From 1924 to 1929 he taught at Ruskin School of Art in Oxford, and from 1934 to 1940 taught at the Design school at the Royal College of Art. In 1951 he was elected to the Royal Academy. After the Second World War he moved to Wormingford on the Suffolk and Essex border.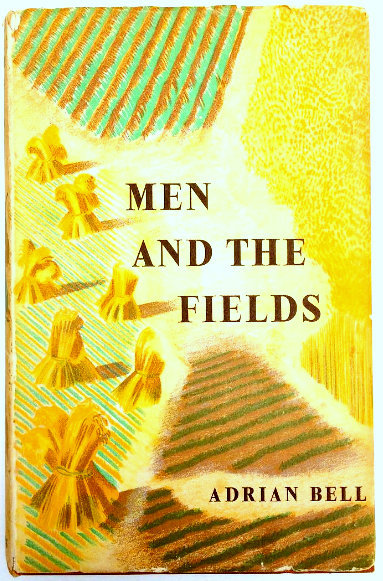 Adrian Bell – Men and the Fields, 1939.
It was in a local bookshop that I found a copy of a John Nash illustrated book called 'Men and the Fields' by Adrian Bell. It seemed to me that the lithographic cover of the book looked like his painting 'The Cornfields', so simple in yellow patterns. It also has a set of coloured lithographs inside too that people have been cutting out and framing.
Inside the book there are a lot of line drawings and it's one of them that is the curiosity. Below is the Schools Print by Nash called 'Harvesting'. It shows a typically Suffolk scene but with an unusual amount of people in the picture compared to other paintings (normally his pictures are landscape only).
As in 'The Cornfield' there are the hay-bails and a beautiful landscape but here the surplus farmhands are poaching for rabbits with the dogs and a couple sit romantically waiting for the threshing machine to finish, so they can bail the corn up onto a cart.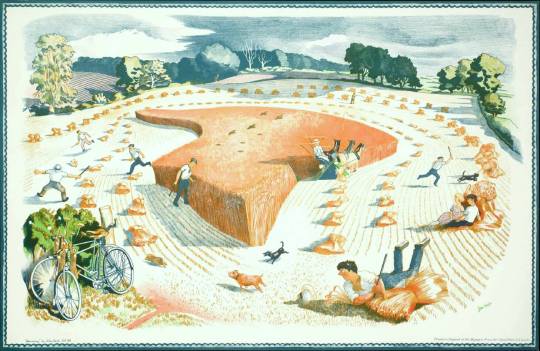 John Nash – Harvesting, 1948

Being a large lithograph it has a beautiful texture to the printing and only a limited number of colours could be used to print it, so it becomes rather harmonic; the men's trousers and the skyline.
But below are some of the drawings from the 1939 'Men and the Fields' nine years earlier. You likely notice they are almost the studies for the schools print, the men with the dogs, the rabbit. It's an extrapolated version that makes up the Schools print but the elements are all to be found.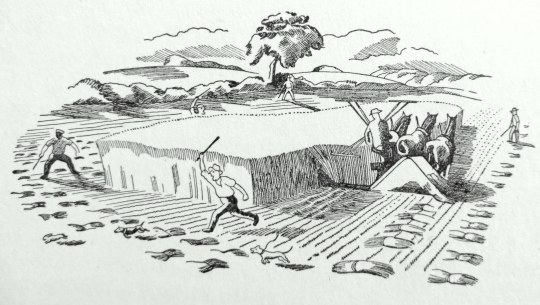 John Nash's illustration for Adrian Bell's 'Men and the Fields', 1939.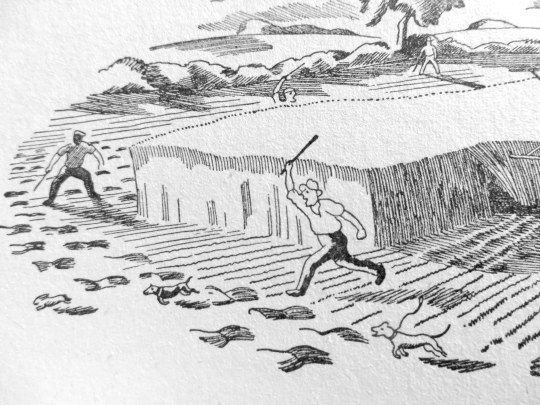 Detail of above
The link is undeniable. But to go full circle, the reissue of 'Men and the Fields' in paperback by Little Toller books, has 'The Cornfields' as the cover! Ronald Blythe also inherited John Nash's home, Bottengoms Farm in Wormingford.