Both beautiful and inspiring, the artwork that Shell used on their posters was a shift in advertising for two reasons: They were selling the ambitions of the motorist beyond commuting; a generation of day-trippers without trains. Also they were presenting modern art to the public in an era when museums charged admission. The posters were pasted on the sides of petrol stations, lorries and billboards with that simple line "You Can Be Sure of Shell".
Shell Mex Limited appointed a new Publicity Director in 1932, Jack Beddington. His insight turned the British Shell advertisements of the 1930s into one of the classic campaigns of the twentieth century. The genius of the campaign was to let artists depict Britain in their own styles, they would paint an image and whatever their style, it was surrounded by text. There would be no need for product placement, for models holding petrol cans, it was a campaign exposing the beauty and wonder of Britain and modern art.
Some of these posters were exhibited at the New Burlington Galleries in 1934. Below are two quotes from different reviews on the exhibition that show the surprise of critics to Beddington's use of modern artists in poster design.
It is now a good many years since, under the able directorship of Mr Frank Pick, some of our best designers were encouraged to show their works in public – using the expression in its broadest sense. People who never though of going to picture galleries could, for the first time find delight in good pictorial art even in an Underground station and in the street. –
Apollo, January to June, 1934, p322 †
If it can be hoped that big firms like Shell-Mex are really going to patronize art as intelligently as this, we shall expect to be seeing in a few years' time at Christie's, not the sale of the collection of the Duke of Frumpshire, but of the Gas Light and Coke Company. If the princes of commerce are going to behave like princes we shall have some fun. ‡
The Everywhere You Go series is one of the more curious for it is before the typographic design for the posters had settled down, a range of typefaces, colours and sizes are used. The first offering by W J Steggles has the tag line in lowercase. Steggles was part of the now fashionable, East London Group of artists, he painted various scenes for Shell posters, as did his brother Harold and
Elwin Hawrhorne.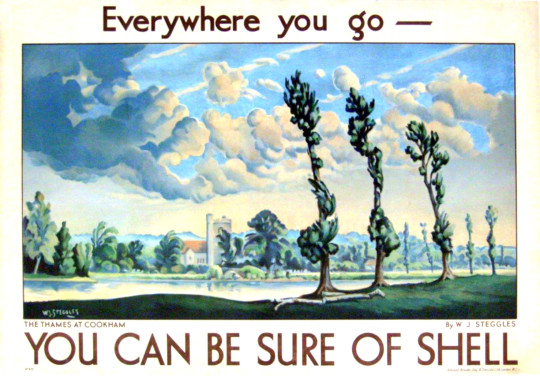 Walter James Steggles – The Thames at Cookham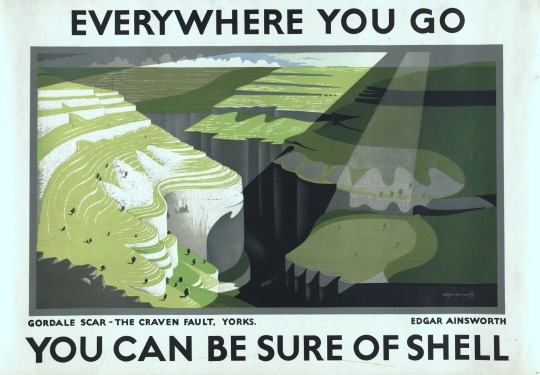 Edgar Ainsworth – Gordale Scar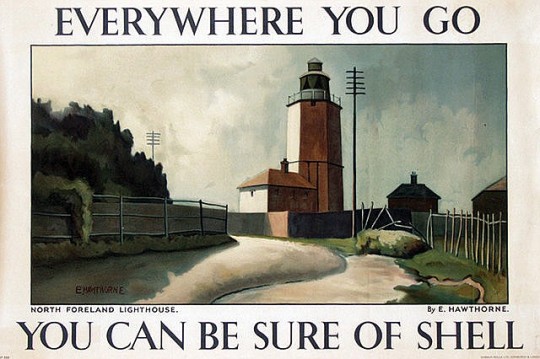 Elwin Hawrhorne – North Foreland Lighthouse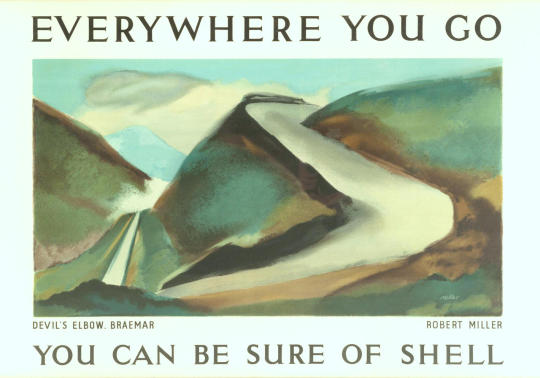 Robert Miller – Devil's Elbow, Braemar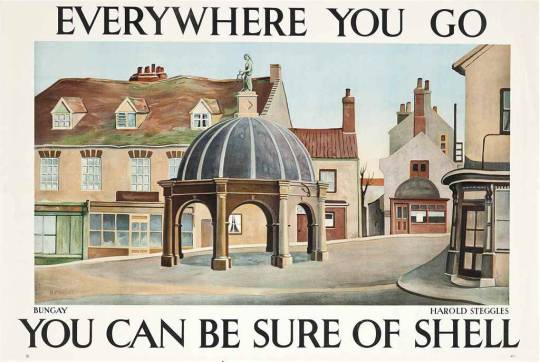 Harold Steggles – Bungay
 Rosemary and Clifford Ellis – Lower Slaughter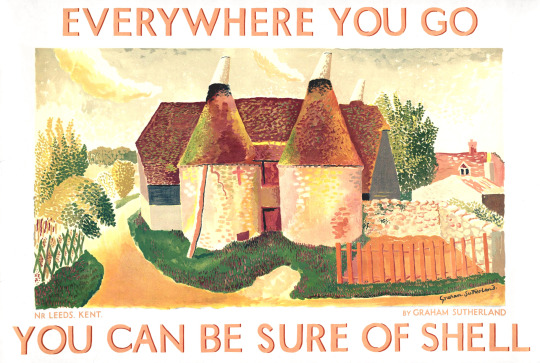 Graham Sutherland – Oust Houses nr Leeds, Kent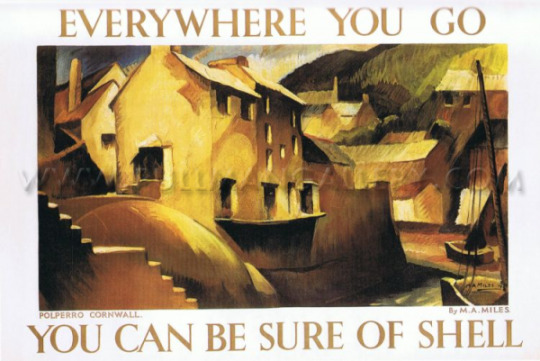 M. A. Miles – Polperro Cornwall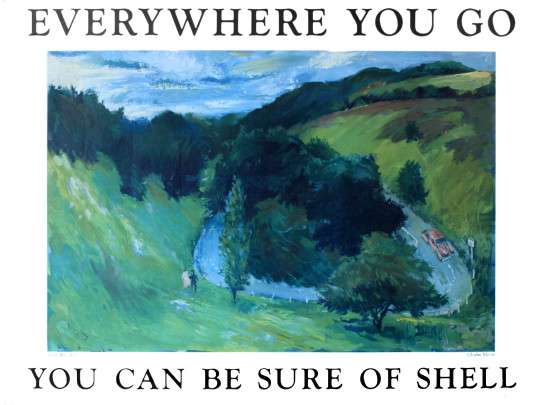 Charles Mozley – Boxhill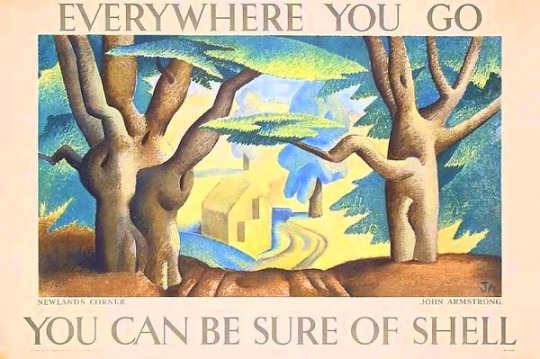 John Armstrong – Newlands Corner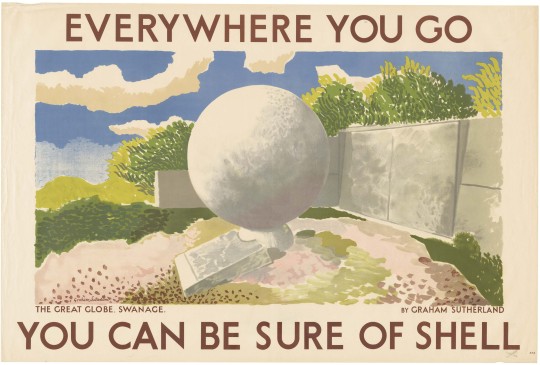 Graham Sutherland – The Great Globe, Swanage
 George Hooper – Kintbury Berks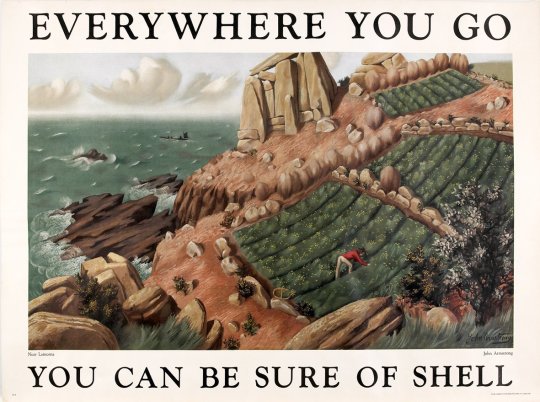 John Armstrong – Near Lamorna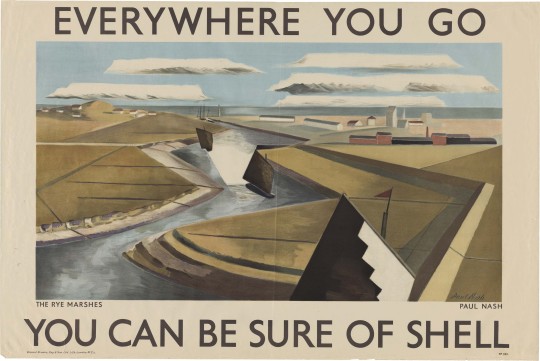 Paul Nash – Rye Marshes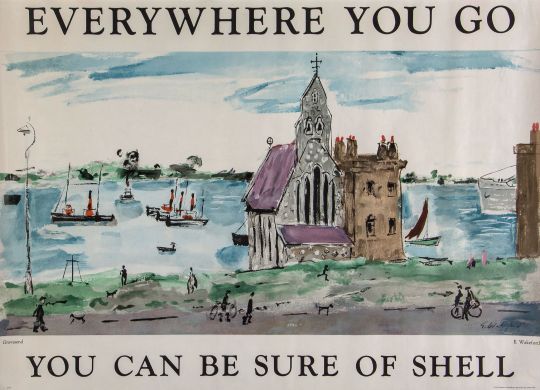 Edward Wakeford –   Gravesend
† Apollo, January to June, 1934, p322
‡ W.W.Winkworth – The Spectator –  29 JUNE 1934, p15

Catherine McDermott – Design Museum Book of Twentieth Century Design, 1998, p319