Edward Bawden went on a working holiday to Iron Bridge with the War Artists John Aldridge and Carel Weight. John Nash went with them, but I couldn't find any records until the artist Celia Hart found some for me! Here I have collected some of the pictures all of them made from that trip and likely finished off in their studios at home. Although the John Nash works don't have dates I am confident they are from the same trip.
I was at Ironbridge for about six weeks in September and October 1956 and was joined by John Aldridge, John Nash and Carel Weight. Each of us in turn painted the famous bridge'. 'Houses at Ironbridge was almost the last painting I was able to do during my stay'. ‡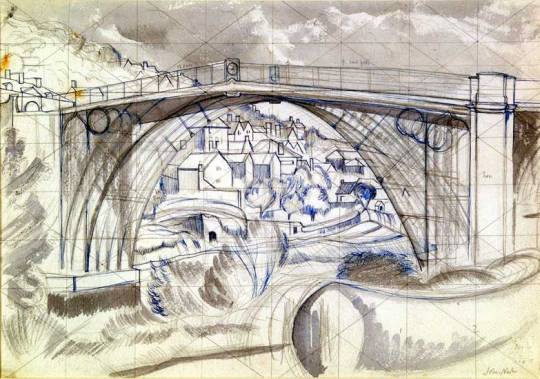 John Nash – Ironbridge through the Bridge, Gridded study.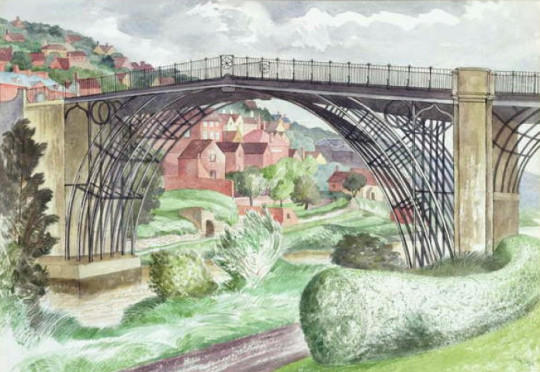 John Nash – Ironbridge, (Exhibited in 1960)
The Iron Bridge is very handsome but a teaser to draw with three upright supports and five curved spans to every three so that a sideways view is very complicated…. We dodge between the showers and somehow I've done three drawings and a bit – but Carel has done an oil painting every day it seems while Edward keeps his work secretly in his rooms and does not divulge progress. Carel and I play bar billards every night, but Bawden will not join these simple diversions. ‡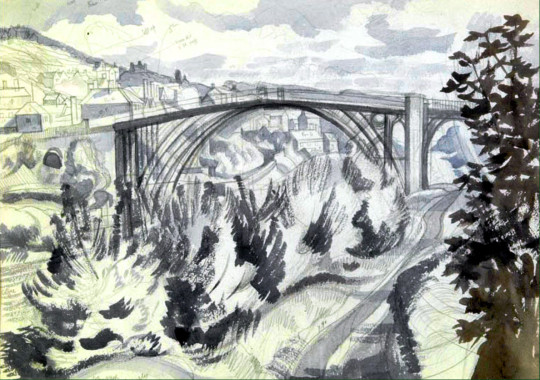 John Nash – Ironbridge, Shropshire.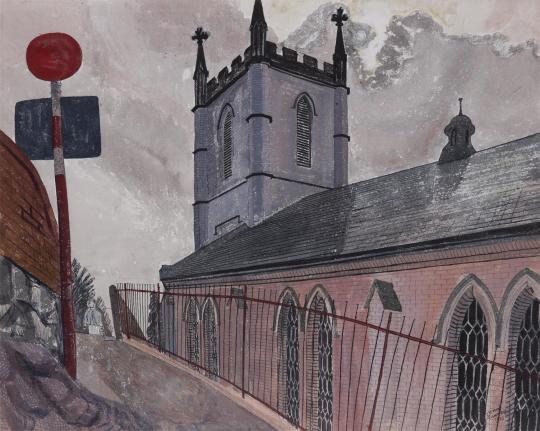 Edward Bawden – Ironbridge Church, 1956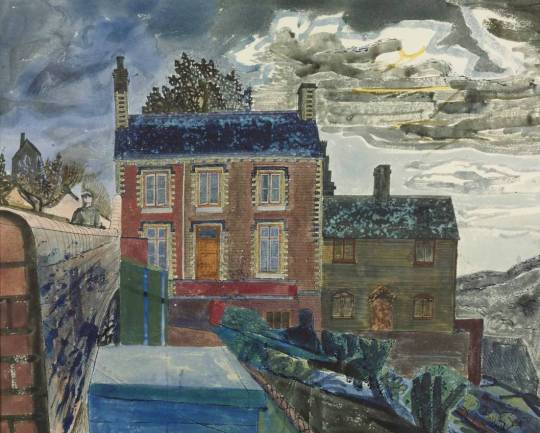 Edward Bawden – The House at Ironbridge, 1956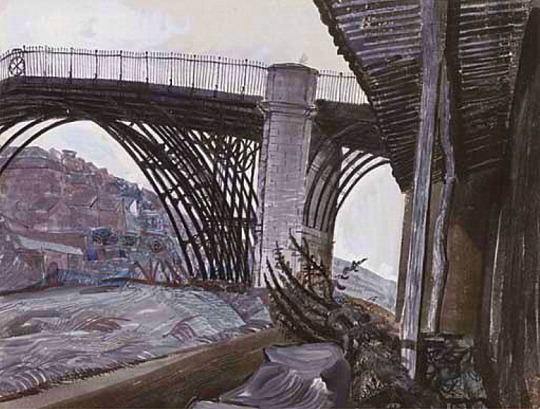 Edward Bawden – Iron Bridge, 1956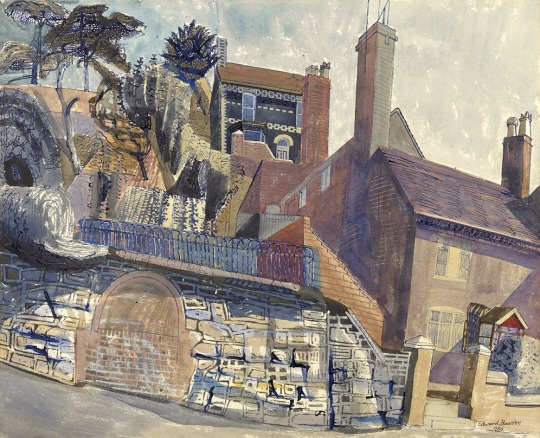 Edward Bawden. Houses at Ironbridge, 1956
The Bawden paintings above all share the same palette leading me to think he painted them on location and touched them up later. The wall of Houses at Ironbridge is a layering of paint and grease to make a watercolour batik over the drawing of the wall.
The paintings of John Aldridge show a quickly sketched oil painting that I would say was done on location and then an Italian looking Ironbridge in a brighter series of colours and much more control that I suspect would have been finished off in Great Bardfield.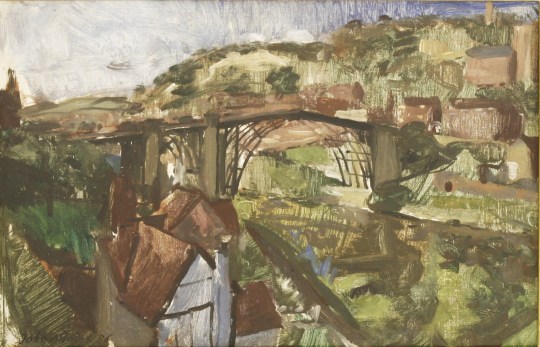 John Aldridge – Ironbridge, 1956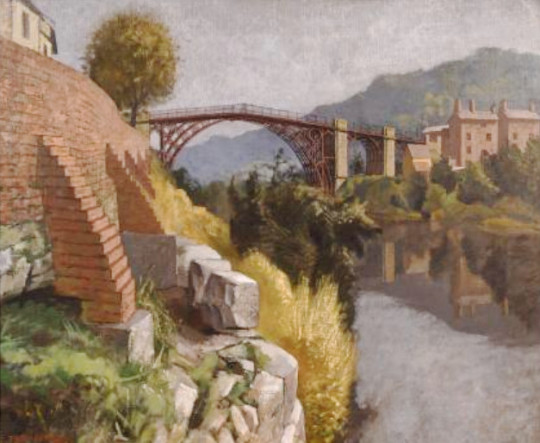 John Aldridge – Ironbridge III, 1956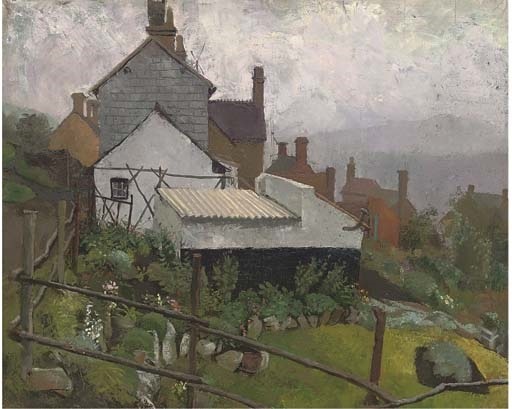 John Aldridge – Garden in Ironbridge, 1956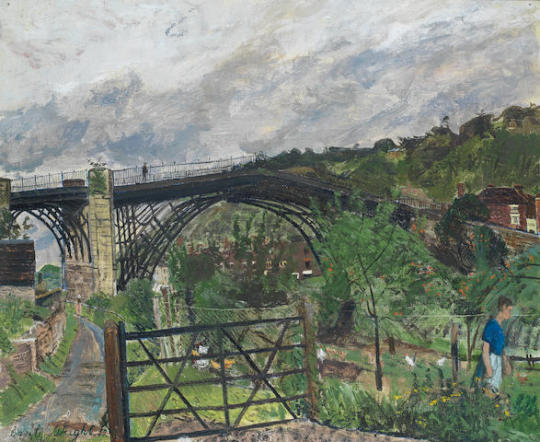 Carel Weight – Ironbridge, 1957
‡ Tate – T00206
‡ Letter from John Nash to John Lewis