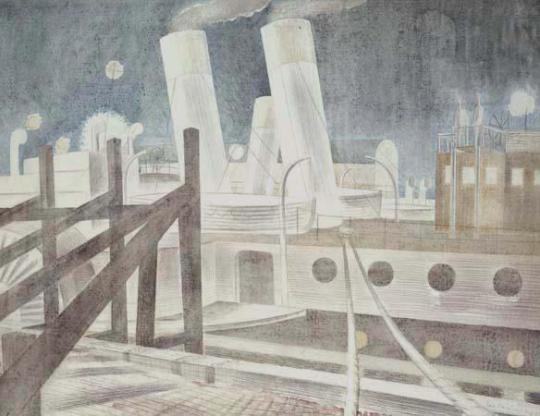 Eric Ravilious – Brighton Queen at Night, 1935
The problem with book publishing is the rights to images and the expense of paying various people for them, thankfully the internet has a different code of conduct so when I make these posts, I can use pictures that have been lost, even from the world of Pintrest. I try hard to find as many relevant images as I can per topic. I say because someone suggested it was an easy blog to write, but the art of it is the research of quotes and images and though a topic ploughed before this post took a while to compile.
There is a lot on Eric Ravilious in Newhaven in print but very little on Edward Bawden and his feelings of the town other than a few letters back and forth. I start with how both Edward and Eric came to be in Newhaven. But the dates of the Bawden pictures are all over the place as he made visits to Newhaven alone apparently without Eric.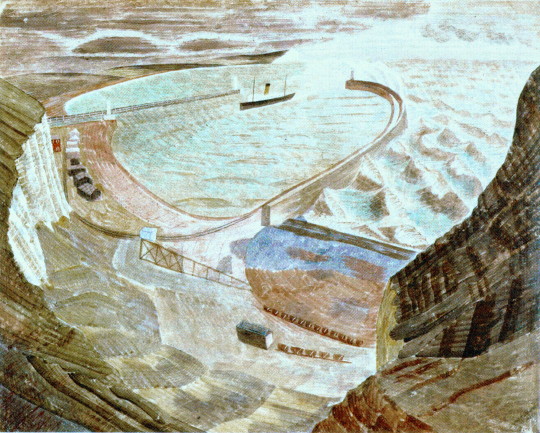 Edward Bawden – Ferryboat Entering Newhaven Harbour, 1935
Ravilious grew up in Sussex, in Eastbourne, where his parents had an antiques shop, studying first at the Eastbourne School of Art (1919-22) and then the Royal College of Art (1922-25), where he met his life-long friend Edward Bawden. ‡
At this time in Edward Bawden and Eric Ravilious lives they were living and painting together with their wives in Brick House, Great Bardfield, they were using the local area of Essex as a source of work but they both wanted some variety. In the summer of 1935 the pair went out to scout painting locations for trips. Harwich was location that didn't delight.
Earlier in the summer Edward had suggested going to draw at Harwich with Eric, but when they went to look round it, they didn't like it enough, and planned instead to go again to Newhaven, and stay at the Hope Inn. They would go at the beginning of August, after they had put up the end of year students' exhibition in the design room at the college.†
His (Eric) childhood association with Sussex was reignited by an invitation in 1934 from the artist and polymath Peggy Angus to stay in her shepherd's hut, Furlongs, on the South Downs. ‡
From Furlongs Ravilious could easily meet up with Bawden for their trip to Newhaven as Ravilious was spending a lot of time at Furlongs painting watercolours for an exhibition later that year.
Newhaven was distinguished by a distinctive breakwater and seawall with lighthouses perched at each end. Ravilious's predilection for the nautical was shared by many of his contemporaries. ‡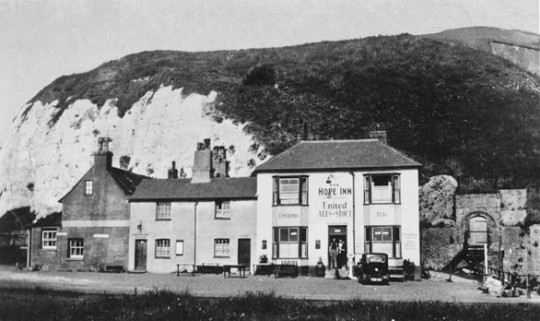 The Hope Inn, Newhaven, 1935
As in a previous post, I mentioned that for Ravilious, Sussex was convenient as a location, as he was lodging in two old caravans at Furlongs. For Bawden it would have been less convenient, it's likely he came direct from Essex and met Ravilious in Newhaven. They lodged at the Hope Inn, a pub on the side of the cliffs and with a sea view on the edge of the town.
While Eric set to work painting 'close up shots' of boats and the edges of piers, Bawden's work looked more widescreen and panoramic. The works Bawden were painting was rather playful and modern, a range of odd perspectives seamed to challenge him, the boat at a strange angle, looking down a hillside and the litter of boats and yardware made for a really interesting series of works.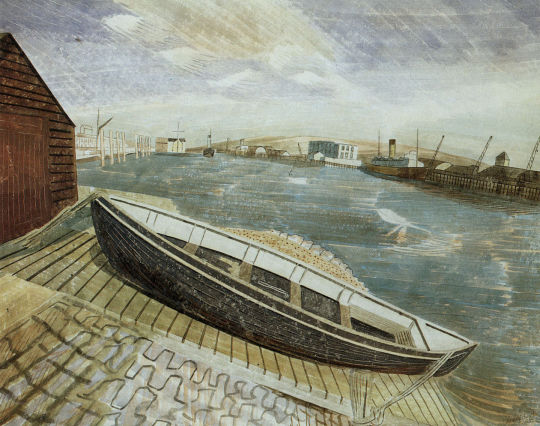 Edward Bawden – September Noon Newhaven, 1935
From Furlongs, Ravilious made trips to paint at Newhaven, spending a slightly gruelling August and September at the Hope Inn with Bawden in September 1935. Bawden painted a stormy sea breaking over harbour moles, but Ravilious preferred the Victorian paddle steamers and dredgers with fine names like 'Brighton Queen', 'The James' and 'The Foremost Prince' which worked from Brighton Pier in the summer and were laid up at Newhaven out of season. ♥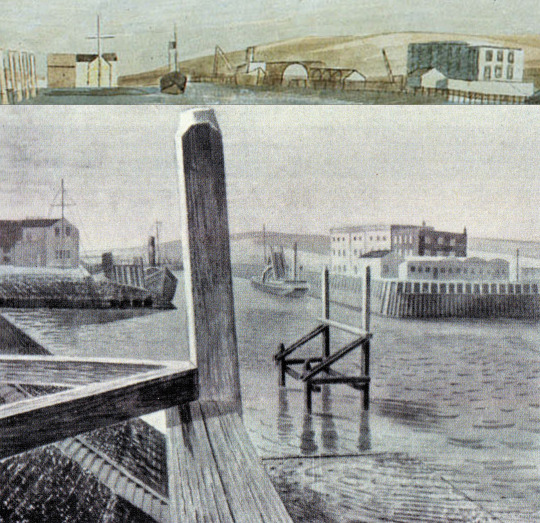 A montage of Edward Bawden's picture and below a 'lost' Eric Ravilious painting of Newhaven, Dredgers, 1935.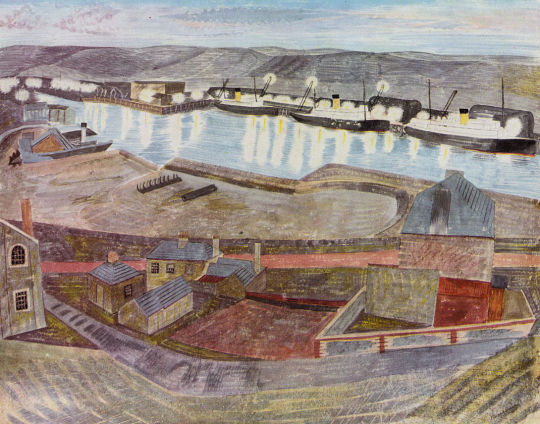 Edward Bawden – September: 8:30pm (Newhaven), 1935
Directly Eric got to Newhaven, a terrific storm blew up, the worst for years. He walked to the end of the jetty to look at the lighthouse: 'The spray from the breakers crashing on the weather-side of the breakwater was a quite extraordinary sight – I got very wet and think now it was almost a dangerous walk out there, but worth it. †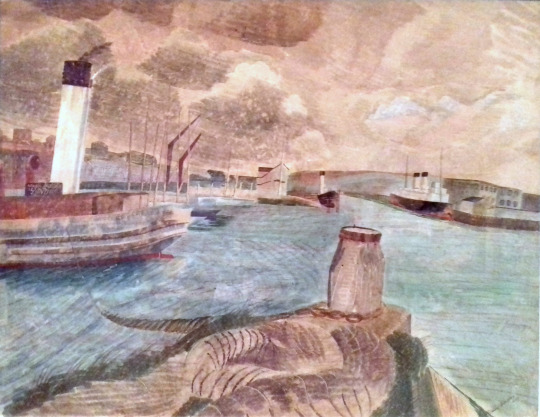 Edward Bawden – September: 11am, 1937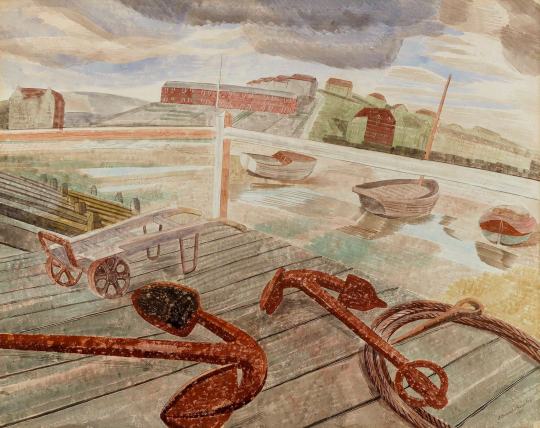 Edward Bawden – September: Noon 1937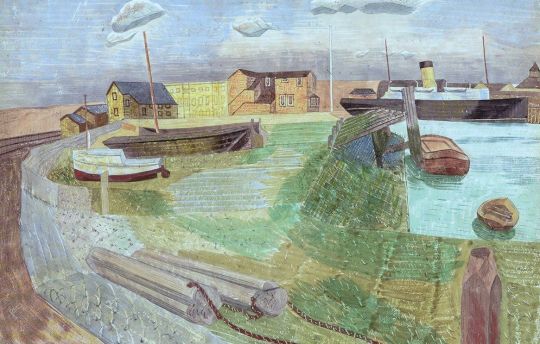 Edward Bawden – Newhaven No. 2, 1935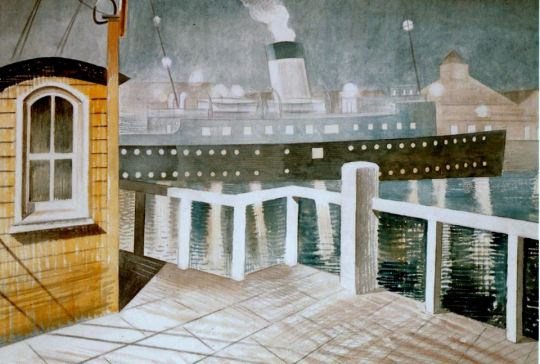 Eric Ravilious – Channel Steamer Leaving, 1935
Below are a few views form old photographs and postcards of Newhaven around the same time and showing the things Eric painted below.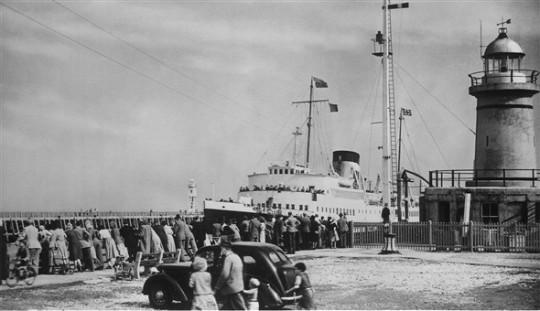 Photograph of Newhaven Harbour, c1930.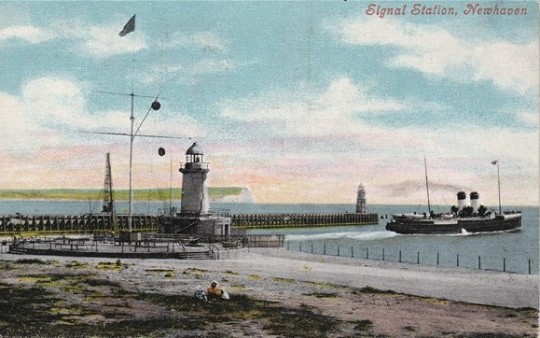 Postcard of Newhaven Harbour, c1900.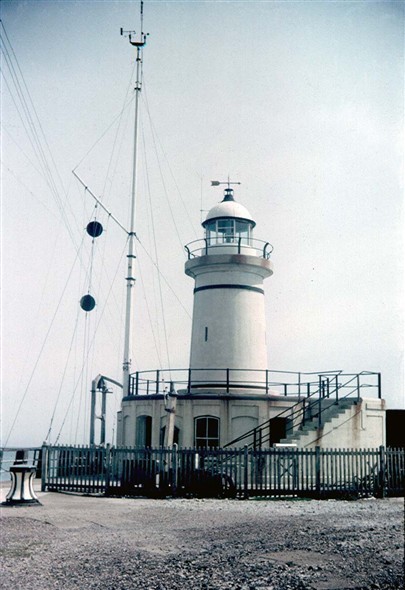 Photograph of the Signal Station and Lighthouse on Newhaven Pier, c1960
These photographs above have various views around the watercolour, lithograph and woodcut below. It would show Ravilious again using and cycling the same subject matter for various commissions.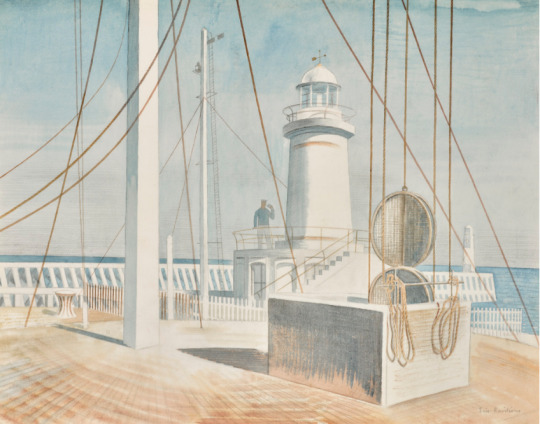 Eric Ravilious – Newhaven Harbour, 1935
The painting above was bought from the Zwemmer Gallery by Beryl Sinclair, nee Bowker. She studied with Edward and Eric at the Royal College of Art. She was known as Bowk. Ravilious painted her twice that we know, once into the Colwyn Bay Pier Murals by Ravilious in the kitchen with a plant and then again in one of the 'lost' Ravilious oil painting – 'Bowk at the sink', 1929-30.
Newhaven Harbour is everything you would want from a 1930s watercolour. The buildings look like Oliver Hall modernist houses in white with cubes and curves but in fact is Victorian. The lighthouse was built in 1885 and pulled down in 1976. It looks like a stage set design. The rigging and black circles where part of a semaphore signal that shows when the tide is in and out to boats wanting to enter or leave the harbour.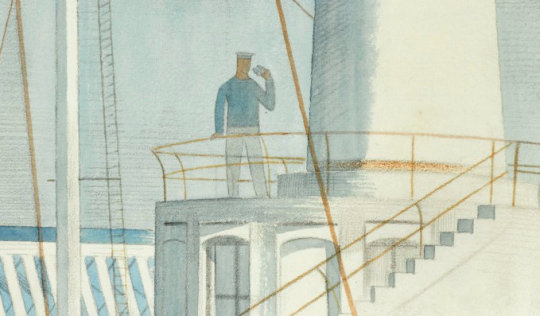 Eric Ravilious – Newhaven Harbour (detail), 1935
When asked to produce a print for Contemporary Lithographs, Ravilious made what he called a Homage to Seurat, a print made of a spongy sky and the typical halftone lines of colour over layered.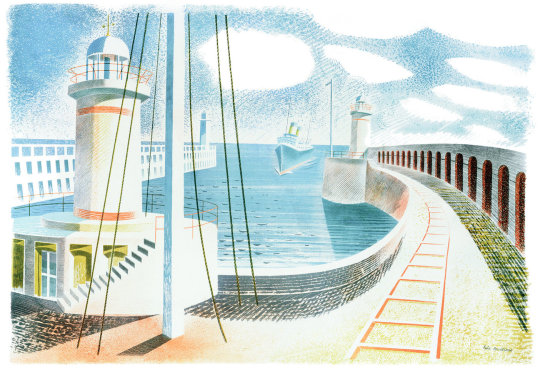 Eric Ravilious – Newhaven Harbour, 1937 – Contemporary Lithographs.
When approached to illustrate the Country Life Cookery Book in the same year of the Lithograph above, Ravilious took the details of his previous works and added seafood and a basket of fish emblazoned with the name of the town.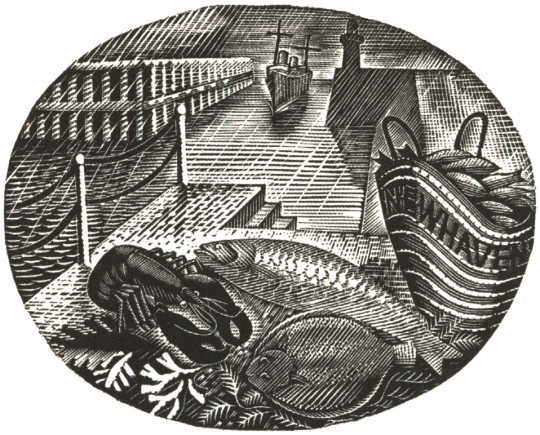 Eric Ravilious – February, Wood-engraving for the Country Life Cookery Book, 1937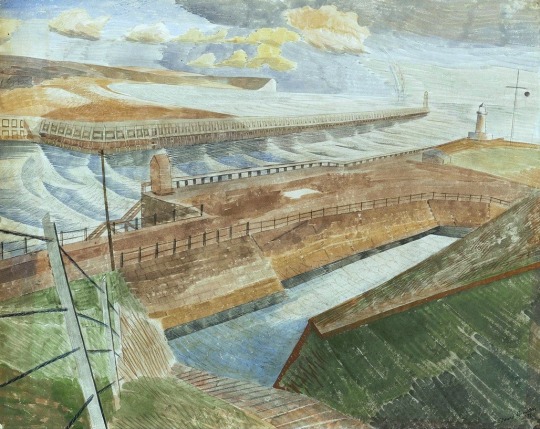 Edward Bawden – September: 7PM, 1937
Staying at The Hope Inn in 1935 must have been a bit dull. But the next year the building would be pulled down and in it's place a totally modernist building put up.
Eric Neve K.C., on behalf of the Ports-all United Breweries, made an application for the approval plans of proposed alterations to the Hope Inn, Newhaven. He said this was a desire to improve the accommodation of the existing house. ♣
In a letter to Eric, Edward writes:
Meals and service have brightened; gone are those soft, stale oyster-eyed eggs and there is is less water and more gravy with the meat. ♦
Below is a picture of the then, new Hope Inn. White and modernist. At the time Newhaven was a popular way of crossing the channel to France.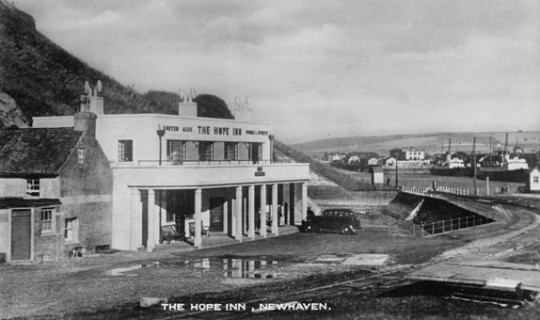 The Hope Inn, Newhaven, 1936
During the Second World War Ravilious became a War Artist and he found himself in Newhaven again to sketch and paint the coastal defences.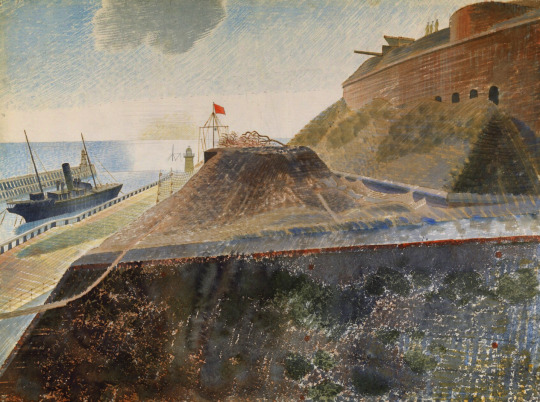 Eric Ravilious – Coastal Defences, 1940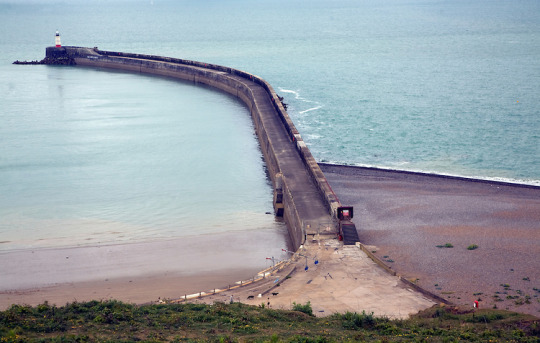 Newhaven – Harbour Breakwater today. Closed from public access.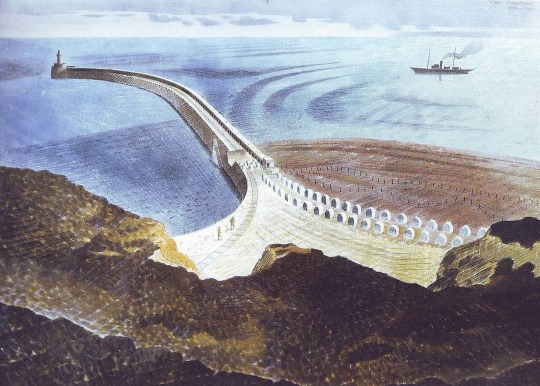 Eric Ravilious – Coastal Defences, Harbour Breakwater, 1940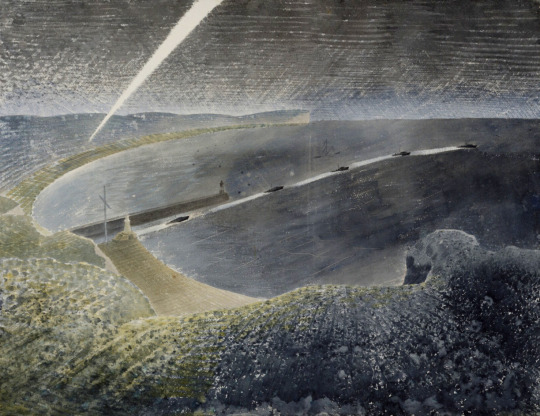 Eric Ravilious – Coastal Defences, Convoy Leaving Harbour, 1940
† Helen Binyon – Eric Ravilious: Memoir of an Artist, 1983
‡ Sothebys – Eric Ravilious
♥ Alan Powers – Eric Ravilious: Imagined Realities, 2012
♣ Sussex Agricultural Express – Friday 07 February 1936
♦ Letter from Edward Bawden to Eric Ravilious, 1936