Jane Vestey was born in 1928, at Virginia Water.  The earliest incentive to visual art was given to her as a child by Derek Hill, who showed her how to paint dolls' furniture. In 1946 she studied life drawing at the Heatherley School of Art, and her apprenticeship continued with landscape and still-life painting at the Camberwell School of Art. It was not, however, until 1949 that the Cezanne's in the Louvre thrust into this young artist's hand the instrument with which to start expressing her own vision.
It is evident that Miss Vestey's pictures of Brazilian and West Indian subjects were painted while the impression made by Cezanne was still beneficently strong. By comparison, her earlier canvases are exercises in elimination that, while showing aesthetic gifts, do not quite succeed in filling out the picture space with interesting paint. Much more lively and appealing-at least to my eye are the southern compositions, which their tented palm fronds, their gaiety of sea and sky: here the painter's delight in the vivid surprises of the landscape has lent assurance to both hand and eye.
No extravagant claims need to be made for so young a painter at this stage of her career. It is enough to point out that she is the kind of artist who responds to the poetry of nature in a specifically painterly manner: none of her pictures leads me to suspect that she would be better employed in writing novels. 
Edward Sackville-West
This blog post is about the painting Guaraja Beach by Jane Vestey from 1950. But also it's about me trying to find more out about her. She is an artist from a rich family. She was good enough to be exhibited at the Redfern Gallery twice, but very little evidence on her art exists online and it was only in an old newspaper that I found a record of her exhibiting.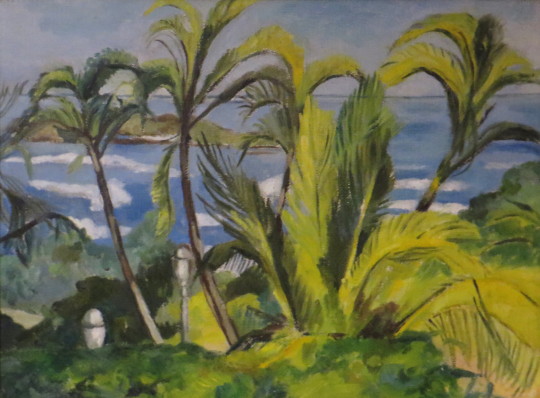 Jane Vestey – Guaraja Beach, 1950
Jane McLean Vestey lived at Thurlow Hall, Great Thurlow, Haverhill, Suffolk. The daughter of Ronald Arthur Vestey and Florence Ellen Vestey (nee McLean Luis). Jane was born on the 8th April 1928 into the famous Vestey family of Blue Star Line Shipping, her father being a Director. At the age of 10 Jane named and launched the Blue Star line ship the 'Adelaide Star'.
She travelled to Brazil on 13th April 1950 on a temporary visa. In Brazil her family had a fleet of ships. The Painting 'Guaraja, Brazil' would have been painted at this time. It is assumed that because her family owned a shipping line, travel for her was less of an issue than it might have been for other people at the time.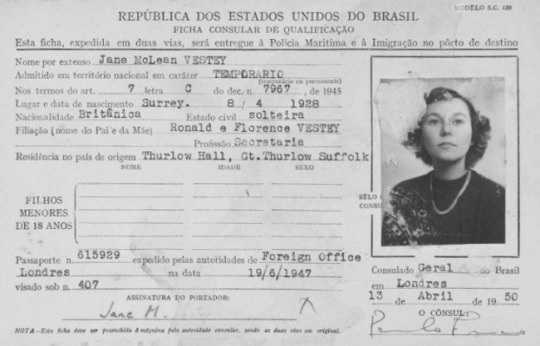 Brazilian Copy of Jane's Visa in 1950.
'Guaraja Beach' was exhibited in the Redfern Gallery in 1951, Catalogue Number 124. It was bought by S.J.Dale Esq on 2nd May, 1951. Other artists showing at the exhibition were: Thomas Buford Meteyard, Roy Hobdell and Gordon Crook.
Redfern Gallery, 20 Cork St, W.1. – 2-26 May 1951 – Paintings by the American Impressionist Thomas Buford Mcteyard; Roy Hobdell; Jane Vestey; hand-woven tapestries by Gordon Crook. Exhib. closes May 26. ‡ 
Vestey exhibited again at the Redfern Gallery as the painting Les Baux was sold at an exhibition in June, 1952. Jane Vestey married John Richard Baddeley (son of a Solicitor) on 23 June 1956. They had three children, Mark, Melissa and Edward.
Mr. R.A. Vestey, on behalf of the Blue Star Line, acknowledged and then proposed the toast of "The Builders."At the ceremony which followed, Sir Allan Grant, a director of John Brown & Company, presented an antique diamond feather brooch of 1800 to Miss Jane Vestey, who had named and launched the Adelaide Star. †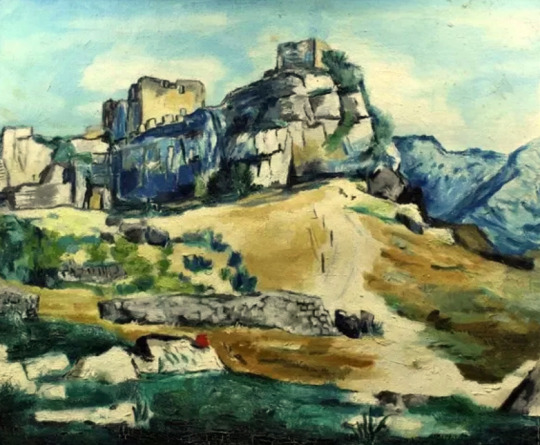 Jane Vestey – Les Baux
Vestey died on the 22nd June 1999.
† Shipbuilding and Shipping Record – 1950 – Volume 76 – Page 188
‡ New Statesman – 1951 – Volume 41 – Page 548