Thorpeness is a curious place on the Suffolk coastline. Between Aldeburgh and Sizewell, it is a toytown. There are some old properties in the village but many of them are 20th century.
In 1910, Glencairn Stuart Ogilvie, a Scottish barrister who had made his money building railways around the world, increased the family's local estates to cover the entire area from north of Aldeburgh to past Sizewell, up the coast and inland to Aldringham and Leiston.

Most of this land was used for farming, but Ogilvie developed Thorpeness into a private fantasy holiday village, to which he invited his friends' and colleagues' families during the summer months. A country club with tennis courts, a swimming pool, a golf course and clubhouse, and many holiday homes, were built in Jacobean and Tudor Revival styles. Thorpeness railway station, provided by the Great Eastern Railway to serve what was expected to be an expanding resort, was opened a few days before the outbreak of World War I. It was little used, except by golfers, and closed in 1966.

For three generations Thorpeness remained mostly in the private ownership of the Ogilvie family, with houses only being sold from the estate to friends as holiday homes. In 1972, Alexander Stuart Ogilvie, Glencairn Stuart Ogilvie's grandson, died on the Thorpeness Golf Course. Many of the houses and the golf course and country club had to be sold to pay death duties.

In many ways Thorpeness reminds me of Frinton-On-Sea, a protective elite of housing owners, but Frinton (though also hellish) has some fantastic art deco properties. Thorpeness is a poorly maintained theme park of some strange Tudor England. It reminded me of the home-made houses for tri-ang train sets and early dolls houses.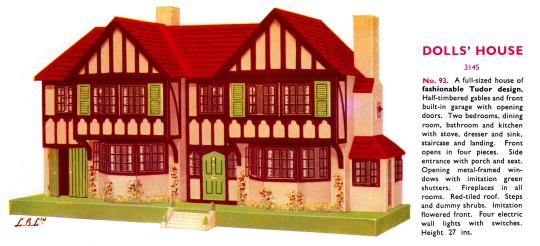 Tri-ang dollhouses #93 
While walking around I kept thinking of the quote below by Linda Smith on golf courses vs the countryside. To me Thorpeness is fake architecture vs historical homes.
People say 'it's out in the countryside', a golf course is not the countryside – it's the countryside tidied up, it's the countryside for people who wished the countryside had wipe clean surfaces, it's the countryside for people whose gardens are full of conifer and heather.