Painted by John Sell Cotman and his son, Miles Edmund Cotman, this is a hypothetical scene of protest and anger.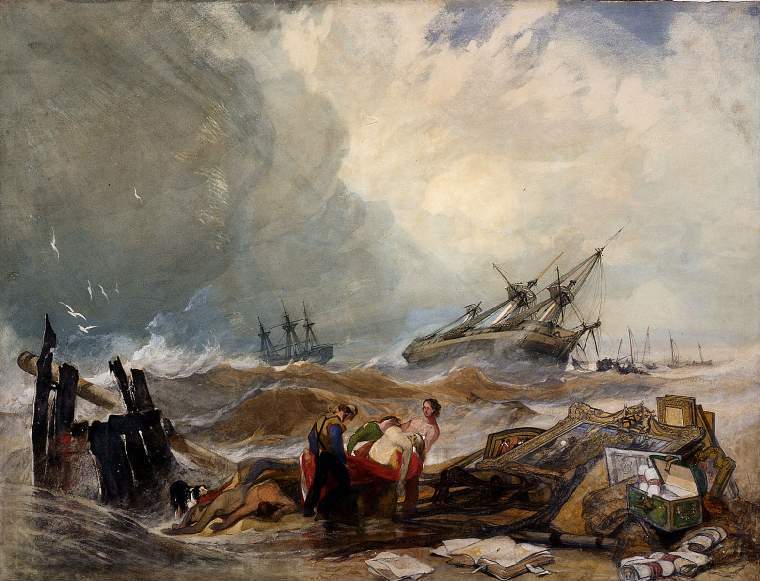 Robert Walpole had been made a prime minister under George I. He was from a wealthy family and had invested in the South Sea Company when stocks were cheap and sold them at a profit before the company's collapse of an inflated share price. They traded in slaves, mahogany and rum. He used the money to build Houghton Hall. Over the years he collected good furniture and paintings, filling his home with the spoils of wealth. He died leaving massive debts and his estate to his son, who sold some of the works to keep afloat, however he only survived his father by six years and the estate and debts passed to his son George.
Described as "the most ruined young man in England" George Walpole was frivolous with what money was left to him, gamling most of it away. In a scheme to make money he decided to sell his grandfather's collection of furniture and art. In a deal negotiated by James Christie, founder of the auction house, the collection was sold to Empress Catherine the Great.
Their sale was seen as a public scandal as they collection included works such as: Rembrandt, Van Dyck, Teniers, Rubens, Poussin, Claude Lorrain, and Murillo.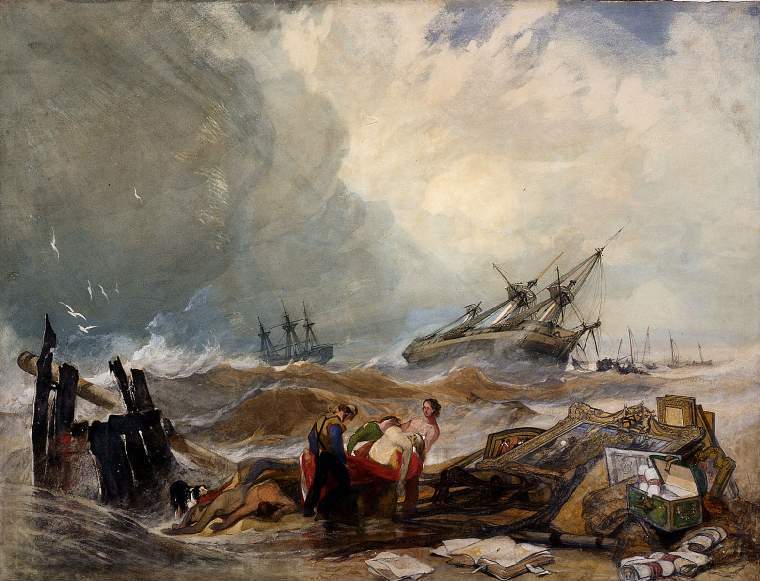 Following the outrage of the works sale, the painting was made by John Sell Cotman and his son, showing the bodies of dead sailors and works including the large Rubens washed up on the shore in ruins with other plunder from the estate. Though no misfortune ever happened in real life and the boats made it to Russia complete, there was an anger felt by the upper classes in Britain of the loss of such a collection that showed a different style of "lost treasure". The boat had set sail from Kings Lynn harbour for Russia and as the Cotman's were Norfolk artists this might be why they felt a betrayal of their fellow countryman, George Walpole.