With the sad news of Ronald Blythe's death comes an interesting question. What happens to Wormingford's Bottengoms Farm? Blythes estate has been settled up and I am now the owner of some of Christine Nash's works.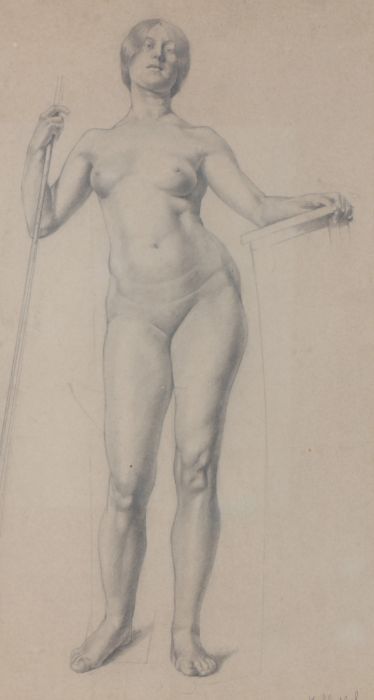 Christine Kuhlenthal – Standing Nude, 1913
I find her work so significantly because of her early links with Dora Carrington and the Slade but also her affect on John. This drawing was for the Slade Figure Prize in 1913. The images below show that the drawing is from the Prize as it's the same model used for Dora Carrington's winning entry. Alongside Carrington in her class would be Mark Gertler, Paul Nash at the Slade.
Christine also worked in the Omega Workshops for the Bloomsbury group, mostly sewing Vanessa Bells fabrics into dress designs.
She met and married painter John Nash. 'One artist in the house is enough'… that's what Christine told Ronald Blythe. However history lost a good artist when she gave up art for acting and country dancing so not to upset John. During the end of her time at the Slade School of Fine Art she discovered she had glaucoma. It was too difficult to paint sometimes and she needed glasses to work, but she still could.
When Tirzah Garwood was dying it was Christine Nash who found her a nursing home in Copford and went to visit her with art materials most days. When she died John and Christine picked flowers from their Wormingford garden for her grave. She has been anonymous in so much history.
The nude drawing is also featured in Blythe's book First Friends, published first by the Fleece Press and then Viking. Pictures like this are rare and to be cherished.