John O'Connor A.R.C.A. R.W.S, is today best known for his woodcuts, but during his lifetime he was also celebrated as a watercolourist. He was educated between the wars at the Royal College of Art in London under John Nash and Edward Bawden.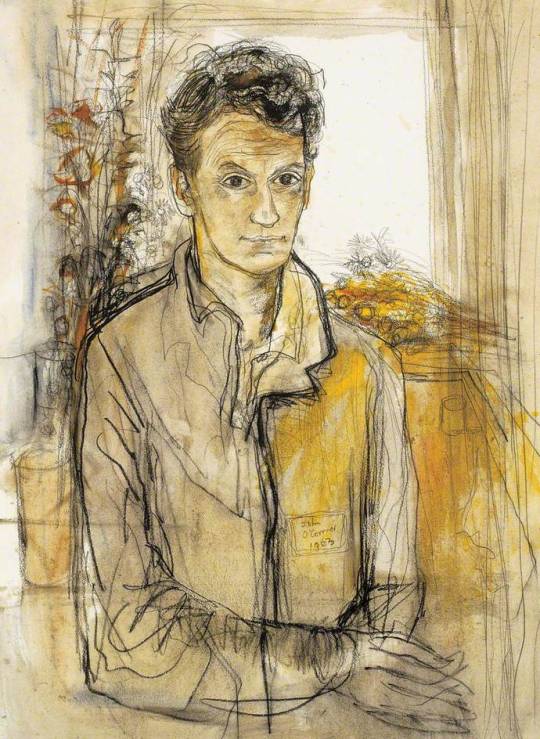 John O'Connor – Self Portrait, The Ruth Borchard Collection
A quote about Ravilious mentions O'Connor: Through his work and his teaching he became a very real influence both in design and wood engraving. One of his
students was John O'Connor. As an engraver O'Connor is an illustrator and very sensitive draughtsman. In style he is influenced by the Ravilious manner, with an emphasis on pattern and book design techniques. He has made a valuable contribution to book design through his technical experiments which include colour. O'Connor has
also brought wood engraving and other media together in the same work. These are essentially book designing experiments rather than experiments in engravings as such. †
John O'Connor was was born in Leicester in 1913. In 1930 he enrolled at Leicester College of Art before moving onto the Royal College of Art in 1933. His teachers at this time were Eric Ravilious, John Nash and Robert Austin. He graduated in 1937.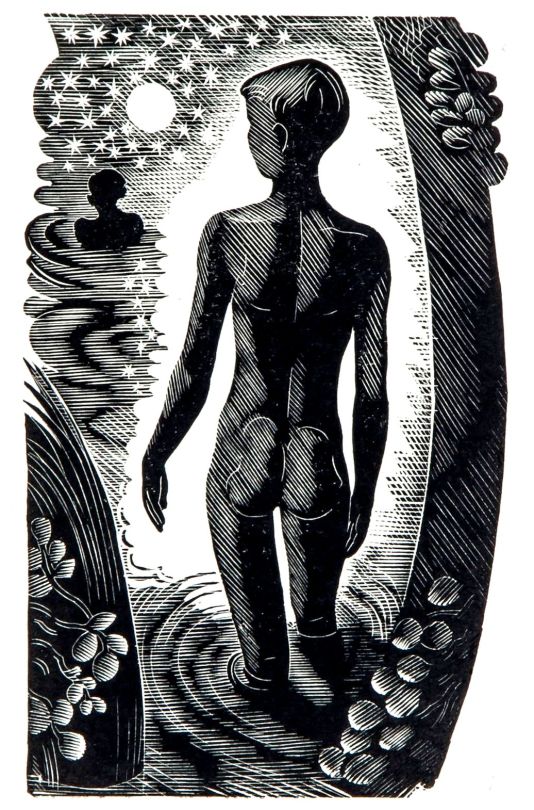 On a visit to Eric Ravilious's home at Bank House, Castle Hedingham in Essex, O'Connor was captivated both by the directness of the wood-engraving technique, and by the simple domestic scene in which Ravilious engraved by a lamp in one corner of the room while his wife Tirzah played with their small son by the fire in another. It was due to Ravilious that O'Connor got his first commission of work aged 23, illustrating Here's Flowers by Joan Rutter for the Golden Cockerel Press in 1937.
He taught at Birmingham and Bristol before serving in the Royal Air Force form 41-45. He arrived with the allied troops during the fall of Berlin, and sketched the ruined city. Back in England, but still in his flight lieutenant's uniform, he met his future wife, Jeannie Tennant, who was a teacher, in Filey, North Yorkshire. They married in 1945, and spent their honeymoon cycling around the Yorkshire dales.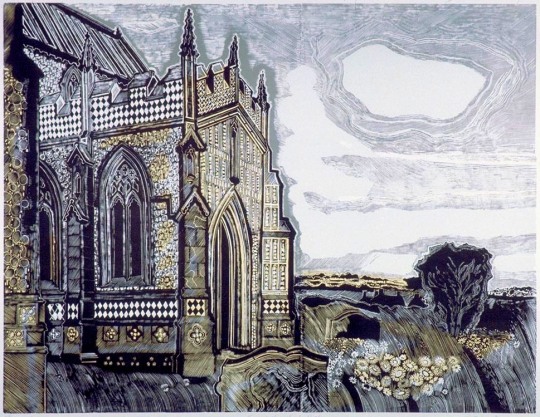 John O'Connor – Kersey Church, Suffolk

On being demobbed he illustrated two books for the Golden Cockerel Press and taught in Hastings for two years before moving to Colchester to become the head of the School of Art in 1948. He was affectionately known as 'Joc' to his students, using his initials. His colleagues included Richard Chopping, who designed dust jackets for the James Bond novels, his own former teacher John Nash, and Edward Bawden, one of the finest
British printmakers.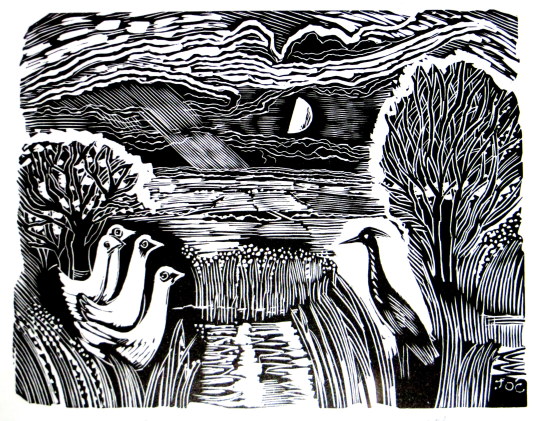 John O'Connor – Heron and Ducks
In 1950, O'Connor wrote and illustrated 'Canals, Barges and People'. The book had colour illustrations; wood-engravings by overprinting coloured linocuts. This was something of a revolution, as wood-engraving had till then been largely considered a black-and-white process.
The book also stood out as part of a Folk-art scene looking into the artistic past of Britain. Other writer/artists to be doing this would be Enid Marx, Barbara Jones and Noel Carrington. 'Canals, Barges and People' was an immediate success, but only 1,000 copies were printed by Shenval Press and the colour made a reprint impractical and too expensive.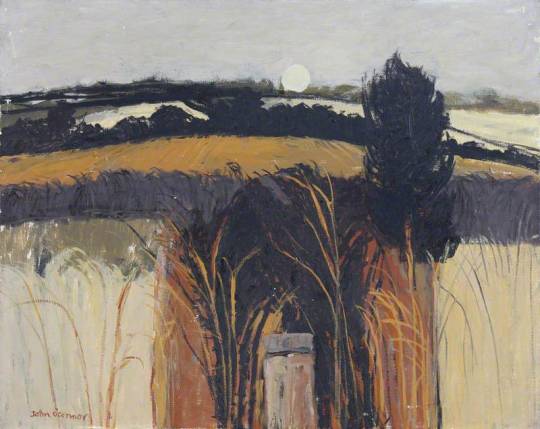 John O'Connor – Orange Field. Clare College, University of Cambridge

He saw his favourite painting places in Suffolk – the ponds, willows, briars and honeysuckle – disappear beneath the bulldozer and combine harvester. In 1964 O'Connor retired from teaching full time at Colchester, to concentrate on painting and engraving. He wrote various 'How to' books and taught part time at St Martin's School of Art. In 1975 he and his wife, Jeannie, went to live by Loch Ken in Kirkcudbrightshire, where his love of light and water inspired his many watercolours and oil paintings. He took up a post teaching at Glasgow School of Art from 1977 to 1984.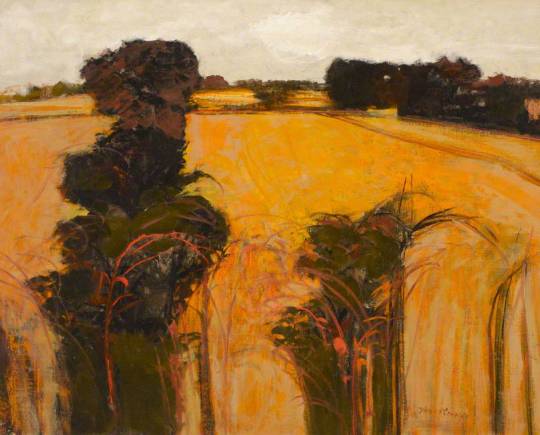 John O'Connor – Chestwood Meadows, Lewisham Local History & Archives Centre
His engraving continued into yet another decade with the imaginative commission from Richard Ingrams for O'Connor to produce a monthly illustration for The Oldie magazine. These pieces – 36 of which were preserved in hard covers in People and Places – have all the sparkle and wit of the early work, and he only laid down his tools in 2001, a 65-year span which is surely unique.
John O'Connor's last book of engravings, The Country Scene, a collection for the Whittington Press of his early and largely unknown work, was on the press when he died. As printing was about to begin, the instruction came from his hospital bed that colour was to be introduced wherever possible. Proofs were hurriedly made by his son, Mike, and taken to him, and delightedly approved days before his death.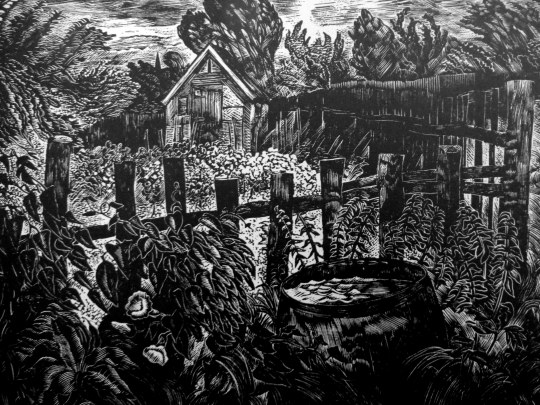 John O'Connor – Little Garden in the Evening, 1947
In the 1950s and 60s, O'Connor exhibited at the Zwemmer Gallery, in London, and had many exhibitions throughout Britain. His work was purchased by the Arts Council, the Tate Gallery, the British Museum and the Contemporary Art Society, as well as by several local education authorities; it can also be found in the Oslo Museum, the Zurich Museum and at New York central library. He was elected to the Royal Society of Painter-Etchers and Engravers in 1947, and, in 1974, to the Royal Watercolour Society. He was an honorary member of the Society of Wood Engravers. He retired to Stable Cottage, Danevale, Castle Douglas.
He died March 5 2004
Bibliography
1937 –  Here's Flowers by Joan Rutter. Golden Cockerel Press
1945 – Together and Alone by Christopher Whitfield. Golden Cockerel Press
1946 – We Happy Few by Owen Rutter. Golden Cockerel Press
1950 – Canals, Barges and People by John O'Connor, reprinted 2014
1951 – An Essex Pie by T.M. Hope
1959 – A Pattern of People by John O'Connor
1967 – Landscape painting, reprinted 1977
1973 – Introducing relief printing
1971 – The Technique Of Wood Engraving
1979 – A View of Kilvert by John O'Connor. Foulis Archive Press
1989 – The Wood-engravings of John O'Connor
1990 – The Four Elements by Seamus Heaney. Whittington Press
1991 – Wood Engravings From La Vida Breve
1991 – Twins (Came with Matrix 11) by John O'Connor. Whittington Press.
1999 – People and Places by John O'Connor. Whittington Press.
2004 – The English Scene by John O'Connor. Whittington Press. 
Selected list of Exhibitions
1954 Zwemmer Media Arts, London
1955 Royal Academy of Arts, London
1973 The Minories, Colchester
1976 The Minories, Colchester
1977 Graphic Work Retrospective, Glasgow School of Art
1990 Royal Watercolour Society, Bankside, London
† A History of British Wood Engraving by Albert Garrettv, 1978, 9780859360777 – p222
http://www.independent.co.uk/news/obituaries/john-oconnor-38138.html
https://www.theguardian.com/news/2004/mar/20/guardianobituaries.artsobituaries