I found a picture online by Kenneth Rowntree called 'A Welsh Chapel', painted in 1948. It was the same year Rowntree illustrated the King Penguin book 'A Prospect of Wales' so it maybe a study for that book, or it could have been work from the Recording Britain project. Either way, I thought it was sad to leave the picture without a location in the details, so I set about finding it.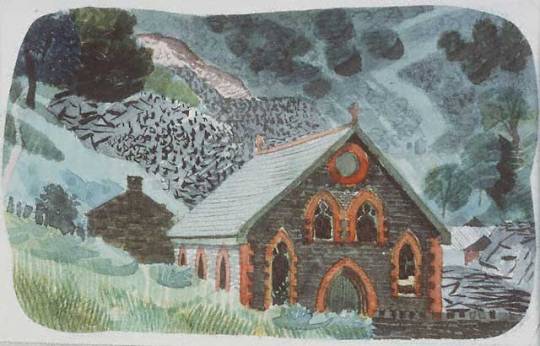 Kenneth Rowntree – A Welsh Chapel, 1948.
I searched on google images. After looking over pages and pages of 'Welsh Chapel' pictures on google I found a picture from a news report on the Daily Mail. (this has happened before with my picture of Downton) (I will add I hate the Daily Mail). The story was: Homeowners offer £1,000 reward for anyone who helps them to sell their £199,000 chapel through Twitter and Facebook. ‡
As you can see, the brickwork and windows match the paintings.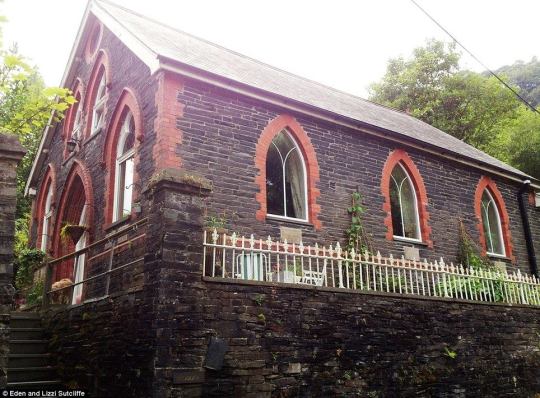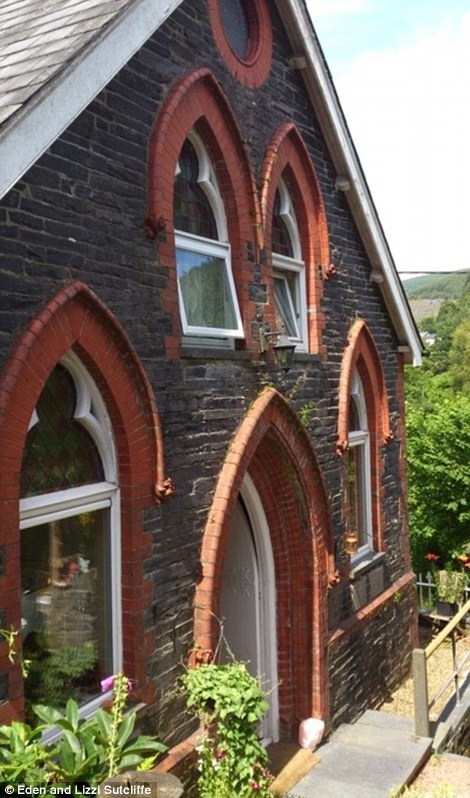 So next I wanted to make sure of the surroundings and I found a Street View picture on Google Maps of the Chapel, with the hills and houses behind it. I had it confirmed by proxy, by Peter Wakelin. The location is Corris, Merionethshire, off the A487.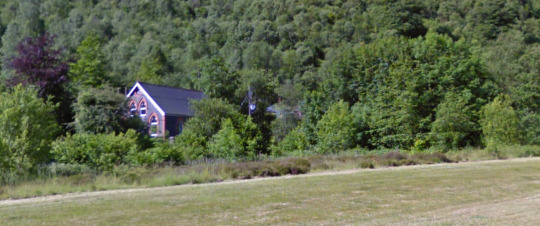 After looking in my copy of 'A Prospect of Wales' I found the picture below is featured as the 9th plate. It's a picture of the School in Corris.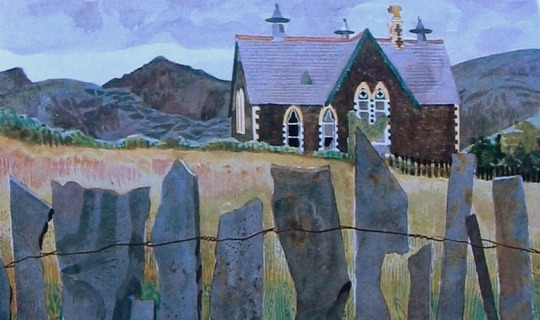 Kenneth Rowntree – School at Upper Corris, with Cader Idris, 1948.
Rowntree's Wales is a hard-edged world of slate and stone, of country chapels, miners' cottages, abandoned lead works, hill farms, remote schools and dry-stone walls. His eye for the ordinary and overlooked is as sharp as it is for the less familiar. Lettering, incised on tombstones or colourfully inscribed on shop fronts, is lovingly recreated; traffic signs, telegraph poles and other man-made structures become equally arresting elements in the composition. †
† http://www.independent.co.uk/news/obituaries/obituary-kenneth-rowntree-1271123.html
‡ http://www.dailymail.co.uk/news/article-2551620/Pray-quick-sale-Homeowners-offer-1-000-reward-helps-sell-199-000-chapel-Twitter-Facebook.html