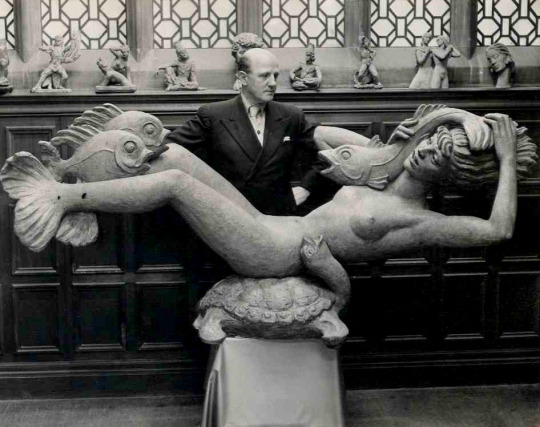 Arthur Fleischmann with his statue, Miranda, 1951
Arthur Fleischmann was a Slovak-born, London-based sculptor, who pioneered the use of Perspex in sculpture. He spent time in Bali, and in Australia, where he was at the centre of the Merioola Group, before settling in London in 1948. He married his wife Joy in 1959 and their son, the photographer Dominique Fleischmann, was born in 1961.
For the 1951 Festival of Britain, Fleischmann was commissioned to produce a sculpture entitled "Miranda". The larger than life-size Mermaid was sponsored by the Lockheed Brake and Clutch Company.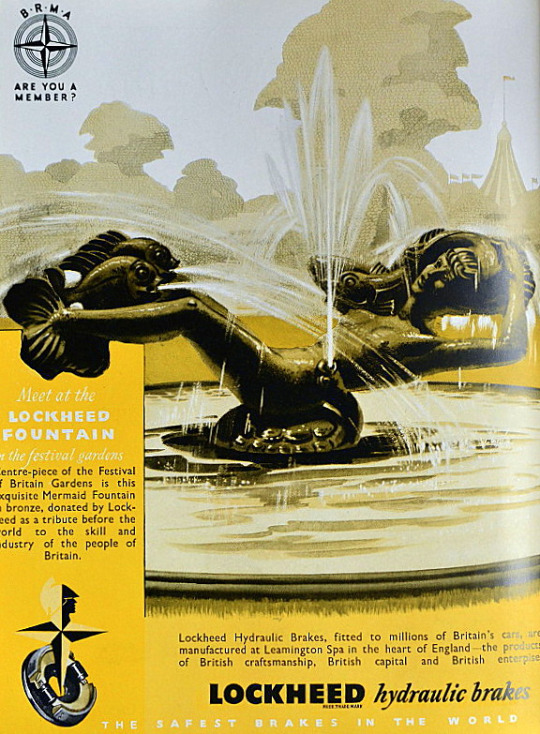 Miranda fountain in a press advert for the Lockheed Company, to the left the Festival of Britain and their logo's are combined, 1951.
Miranda graced the exhibition area in Battersea Park and, after the Festival closed, it was transported to the Lockheed headquarters in Leamington Spa.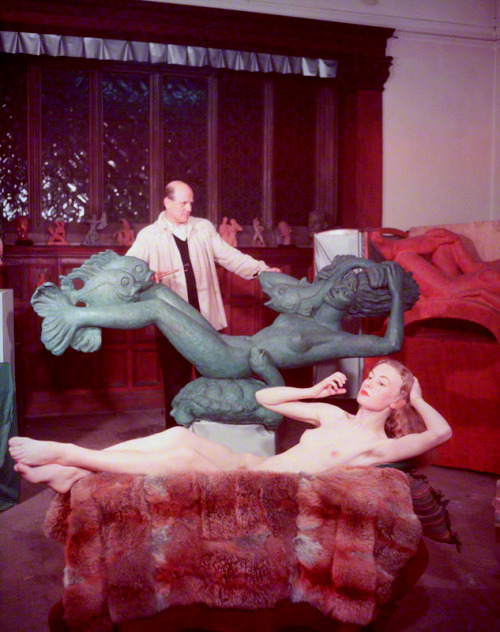 Arthur Fleischmann with the statue and on the sofa, the model Joyce Odiase (née Taylor). Photo by Russell Westwood, NPG, 1951.
The statue stayed at the Lockheed headquarters for nearly 50 years before "disappearing" mysteriously over the Christmas holidays of 2000. 
A historic bronze statue by sculptor Arthur Fleischmann has been stolen from its home in Leamington Spa. Miranda, a bronze sculpture 2.5m long and 1.2m high, was stolen some time between 14 and 17 December 2001 from the main entrance of the AP (Automotive Products) company in Tachbrook Road. 

The sculpture, commissioned by AP's predecessor, the Lockheed Hydraulic Brake Company, was created for the 1951 Festival of Britain and first displayed in London's Festival Gardens. A spokeswoman for Leamington Spa police put the value of the work at between £50,000 and £100,000. So far police have no idea as to its whereabouts or who might have stolen it.

Miranda attracted a great deal of press coverage during the Festival of Britain, in part for its unconventional portrayal of a mermaid with two legs instead of a fish's body, and fins instead of feet.

Mr Fleischmann said at the time: "I think that mermaids with fish tails are rather dull. "Why should not a beautiful mermaid have nice legs? She can still swim with her fins on her feet. At least that is how I imagine a mermaid."

The work, intended as a tribute to the skill and industry of the people of Britain, took three months to create and involved two models. The bronze was cast by Vincent Galizia foundry at Battersea, south London, and was returned to Leamington Spa after the Festival closed. It was set in a fountain and was listed as a Grade II building, and remained on its site until the theft. †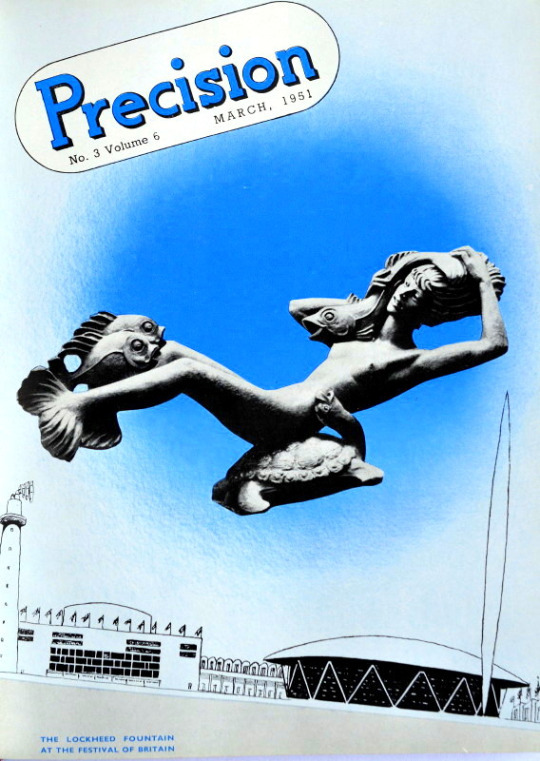 Front cover of Precision Magazine, 1951.
The Henry-Moore Institute acquired two terracotta maquettes of Miranda created by Fleischmann in around 1948 (at the same time that he did the portraits of the actor Trevor Howard) and these are on display in the Institute gallery space in Leeds. When a cheeky reporter quipped at Fleischmann during the Festival that everyone knows a mermaid has a tail and not two legs with fins, my father replied that he had never seen a mermaid and so couldn't comment.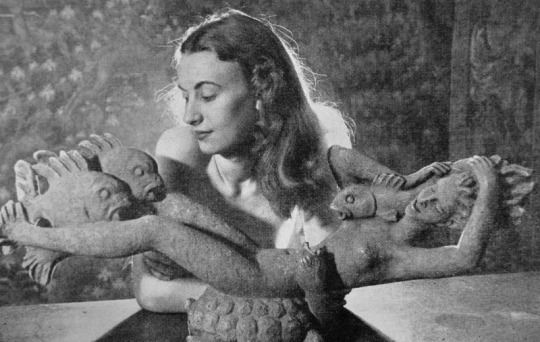 Joyce Odiase (née Taylor) in a riske shot with the maquette of Miranda. 
Sources:
† BBC News Website – 2002, Festival of Britain Bronze stolen http://news.bbc.co.uk/1/hi/entertainment/1749497.stm
The Courtauld Institute of Art and Archiecture. http://www.artandarchitecture.org.uk/stories/fleischmann_fleischmann/fleischmann_fleischmann3.html