Mainstream British wallpaper design regressed dramatically between the wars, bogged down in a sea of 'porridge'. But the artist Edward Bawden made a valiant attempt to redeem the medium. ‡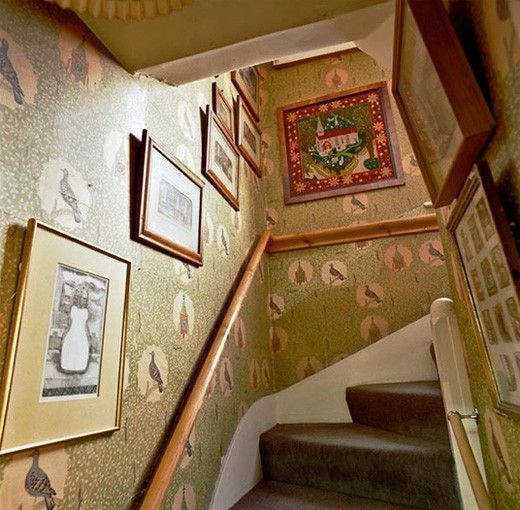 Roy Hammans photo of Edward Bawden's Saffron Walden House for the Fry Gallery.
Bawden, studied at the Cambridge School of Art (1919–1921), then moved on to the Royal College of Art. It was here where he studied alongside Eric Ravilious and both were tutored by Paul Nash.
Nash's connections to Harold Curwen meant that in 1928 when the Curwen Press published 'A Specimen Book of Curwen Pattern Papers' — (It was a book of patterned papers for bookbinding and shop wrap and boxes)… Bawden's work was included alongside Ravilious, Enid Marx, Paul Nash and Althea Willoughby.

 A Sample book covered in the Pattern Papers with 'A Specimen Book of Curwen Pattern Papers' behind, 1928
After his time at the RCA Bawden started to experiment with wallpaper designs. In his book 'Edward Bawden and His Circle' Malcolm Yorke describes the lino process:
After drawing the design in a soft pencil on thin paper it could be laid face down on a whitened sheet of lino and the design transferred by rubbing with a spoon. Cutting with a Japanese knife then began from the middle towards the edges, the knife becoming a drawing instrument as the hand became more skilled. Compared to cutting end-grain boxwood for wood-engraving, warmed lino sliced like butter.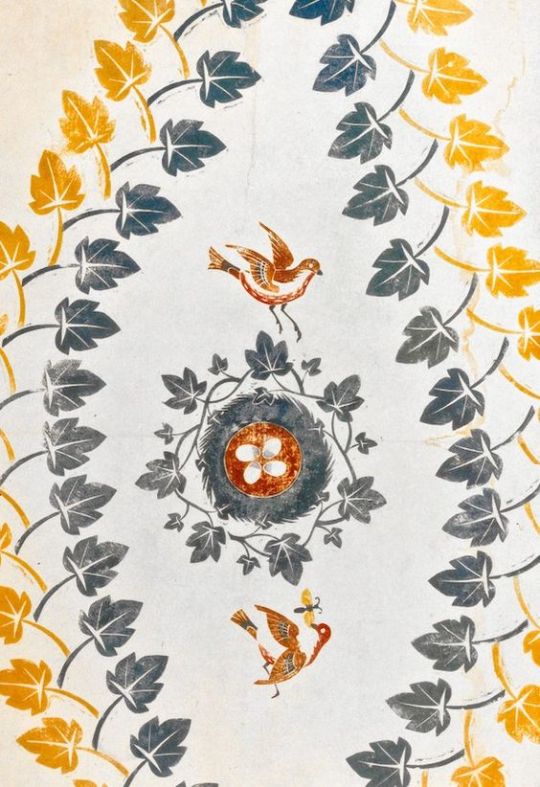 Edward Bawden – Bird Nest and Ivy Leaves, 1924
The first known work was never produced industrially, and exists only as a trial print called 'Bird Nest and Ivy Leaves' from 1924. Other designs by Bawden followed:
His approach to wallpaper was very much that of a graphic artist. Initially he used lino-printing to produce his own designs, but from 1926 the Curwen Press produced his patterns in the form of colour lithographs. †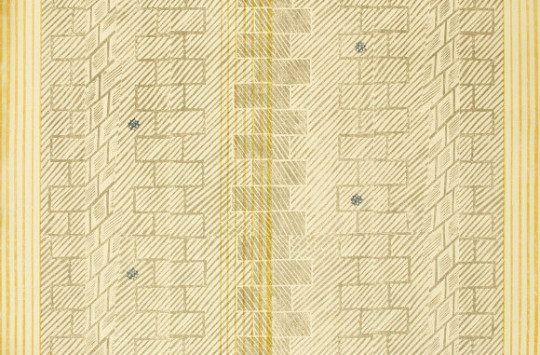 Edward Bawden – Ashlar, 1930
It was these designs from 1926 – 1933 that were produced in lithograph by the Curwen Press. Unlike most modern wallpapers, printed on long rolls of paper, the Curwen Press printed these wallpapers as sheets, in sizes up to about 34 x 22 ins. Very few of these sheets survive unused. The reason for printing in sheet form was that the lithographic machines could not support the long rolls of paper. The traditional way of printing wallpapers being to screen print the design or print direct onto the blank role from the woodblock.

 Edward Bawden – Sahara, 1928
The wallpapers printed by the Curwen Press were known as the Plaistow Wallpapers, as the press was based in Plaistow Place, London. With them being printed, "Paul Nash introduced Bawden to Elspeth Little and her 'Modern Textiles' shop in Beauchamp Place for a sales outlet, but his royalties over six years and sales of 507 sheets came to a miserly £2. 0s. Lod." Soon after other shops started to sell them, including: Heals, Fortnum & Mason and Gordon Russell's furniture shop.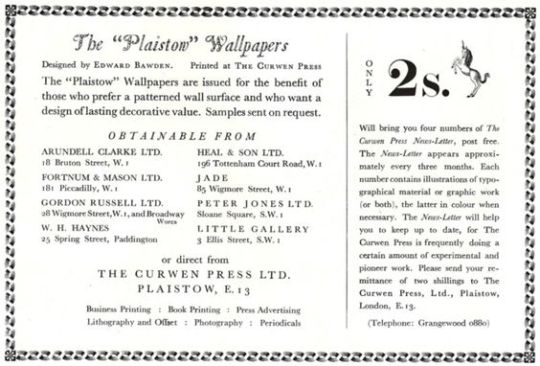 Plaistow Wallpaper Advert.

Façade sold a total of 3,899 sheets. While 'Façade' might be thought just a neutral title, is it possible that it could have been in the artist's mind because of the popularity around that time of William Walton's musical suites of that name, based on Edith Sitwell's poems. Frederick Ashton's ballet of Faade was premiered in 1931.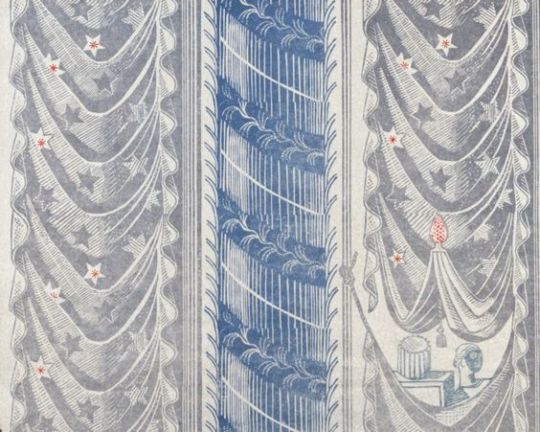 Edward Bawden – Façade, 1933
Bawden's approach of comic and country images was a shift in British wallpaper design. Some of them form geometric beautiful patterns and others make your walls into giant linocut pictures as you can see from Bawden's own home.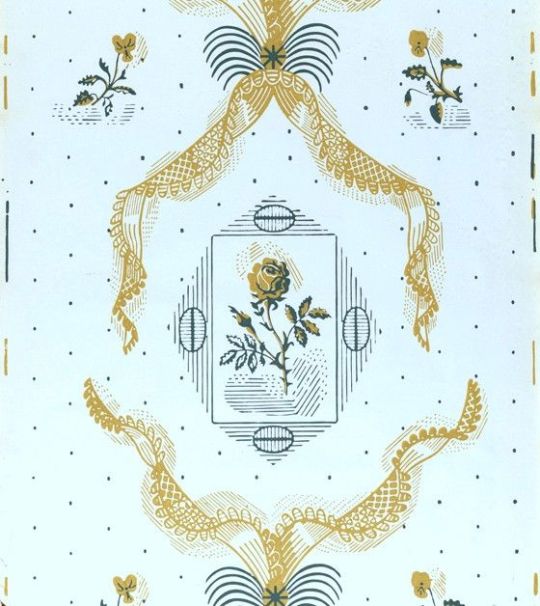 Edward Bawden – Rose & Lace, 1938

In the 1930's Bawden was given the chance to print wallpapers by the Roll and not sheets! This range was called the 'Bardfield Wallpapers', after the Great Bardfield artist community, these wallpapers where a range by Cole and Son, with designs by Bawden and John Aldridge. The designs were originally developed in 1939, but commercial production was interrupted by the war. The early versions were printed direct from the wood and lino blocks. Some of the designs were exhibited that year at The Little Gallery off Sloane Square in London, but they were not produced commercially until 1946, after the War.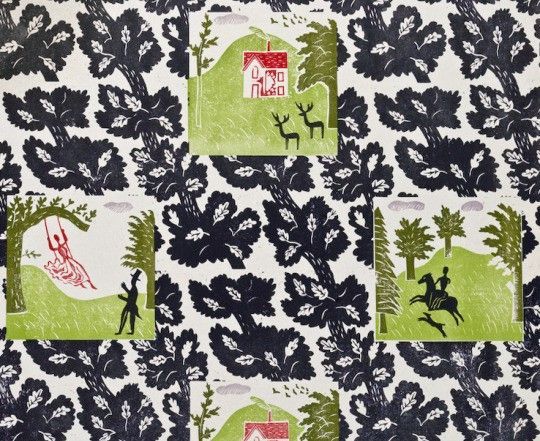 Edward Bawden – Knole Park, 1929

Although the designs were popular, and some were featured in the Festival of Britain in 1951, they were produced in limited quantities to order, and were relatively expensive.
Bawden's best-known design, Woodpigeon (1927), featured vignettes of birds and church spires emerging through windows in a "wallpaper" of leafy trees. Similarly, in Knole Park (1929) with primitive rural vignettes. These were initially lino-printed [sic] but the blocks were acquired by Cole & Sons in 1946. †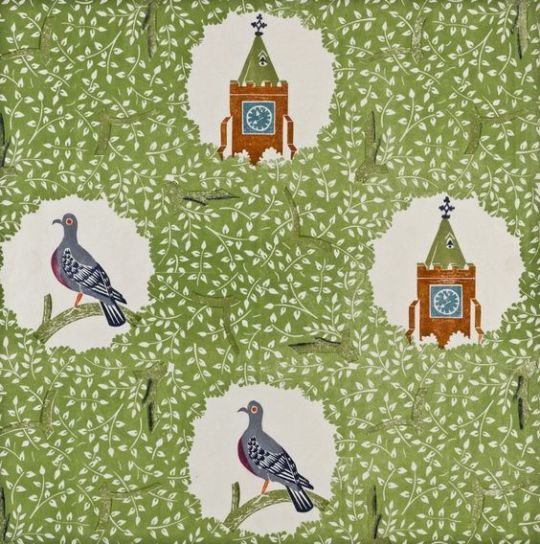 Edward Bawden – Wood Pigeon, 1927
List of Edward Bawden Wallpapers by Year:

1924 — Bird Nest and Ivy Leaves – Curwen Press
1926 –  Fruit and Napkin – Curwen Press
1927  – Deer and Leaf – Curwen Press
1927  – Pigeon and Clock Tower – Curwen Press
1927  – Tree and Cow – Curwen Press
1928  – Sahara  – Curwen Press
1928  – Mermaid (and Whale) – Curwen Press
1928 – Waves – Curwen Press
1929  – Knole Park Design – Curwen Press
1929  – Lagoon – Curwen Press
1929  – Riviera – Curwen Press
1929 – Conservatory  – Curwen Press
1930 – Waves and Fish – Curwen Press
1930 – Leaf or Seaweed – Curwen Press
1933 – Ashlar- Plaistow Wallpapers
1933 – Node – Plaistow Wallpapers
1933 – Façade – Plaistow Wallpapers
1933 – Salver – Plaistow Wallpapers
1938  – Flute – Bardfield Wallpapers
1938  – Waffle / Grid / Cross – Bardfield Wallpapers
1938  – Grid & Cross  – Bardfield Wallpapers
1938 – Stone Ivy – Bardfield Wallpapers
1938  – Grass & Swan – Bardfield Wallpapers
1938  – Rose & Lace – Bardfield Wallpapers
1938  –  Ogee (Gothic)  – Bardfield Wallpapers
1938  – Trellis (Periwinkle) – Bardfield Wallpapers
1946  – Quatrefoil  – Cole and Son
1950's  – Swan & Grass
1956 – Abstract Linear Design – for Sandersons
‡ Malcolm Yorke – Edward Bawden and his Circle  p.54
† Lesley Jackson – Twentieth Century Pattern Design  p.74