From Private View: The Journal from the Cambridge School of Art. Spring 1986.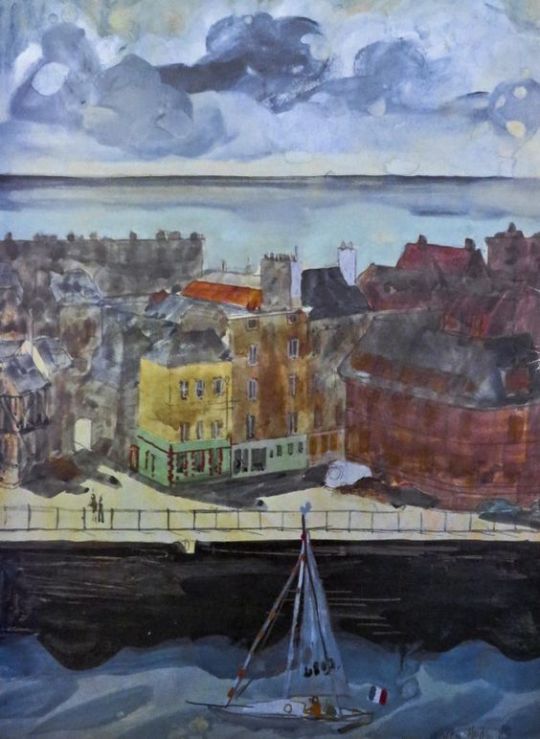 Walter Hoyle – Dieppe Harbour, 1986
I thought this letter was so colourful and a rare insight into the world of Walter Hoyle. Sadly little is known online of Hoyle as books are yet to be penned. But this is a rather funny view on his last days at the Cambridge School of Art and Hoyle's quest for a coast house.
First a brief biography of Walter Hoyle. Painter and printmaker, Hoyle was born in Lancashire. He studied at Beckenham School of Art from 1938 alongside Bernard Cheese, then moved on to the Royal College of Art in 1940. There he was mentored and educated under Edward Bawden, they became close friends and Hoyle later moved to Great Bardfield to live and work alongside Bawden. Hoyle wrote a book called 'To Sicily with Edward Bawden' with Olive Cook and also illustrated editions for the Folio Society. After moving to Bottisham, Cambridgeshire, he taught at the Cambridge School of Art, placing great emphasis on printmaking. Hoyle worked amassing the Collection of Original Works for Children in Cambridgeshire, an art project for City of Cambridge Committee for Education. Hoyle retired in 1985 to move to Hastings and Dieppe.
A personal note from Walter Hoyle.
The new editor of 'Private View' (Warwick Hutton) has requested a personal note on my activities since relinquishing my commitment to the Cambridge School of Art (and 'Private View') in July, 1985.
I spend most of the summer with my family in Dieppe where we have a flat in the old part of town, near the harbour. As usual, I enjoyed Dieppe and spent my time drawing, painting and recovering from the cool flatness of Cambridge. However, I think that it will take more than one summer to regenerate the energy I spent and lost over the years at Cambridge School of Art. I do not regret the time spent with students — that was very worthwhile — but I do regret the time and energy waster on trying to justify art to the almost blind administration and national authorities, and as somebody said — in the land of the blind the one-eyed is King — or something like that.
At the end of the summer I returned to Cambridge, my faith strengthened by Dieppe and my romantic ideals partially restored. We had decided to sell our Cambridge (Bottisham) house and move to the south coast — it would be easier to commute to Dieppe.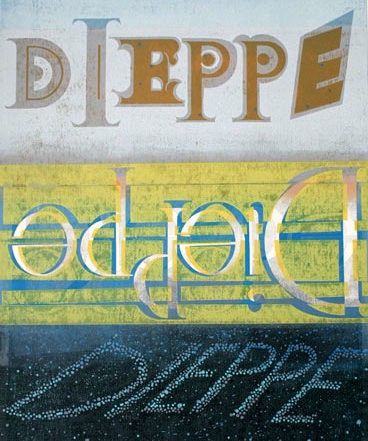 So we cleaned up the house and put it on the market and to my surprise it sold quickly, within three or four days. The prospective buyers who vied the house were fascinated by my studio and etching press — I do not wear a beret or smock, nor do I sport a beard but I think they also found me a curiosity and to top it all, my wife is French and they loved her accent — obviously the right combination for selling property.
We had to dash off to the south coast to look for a house. We started at Brighton — too brash, polished and pretty, Newhaven — a depressingly ugly place, Eastbourne — alright for Aunty, and then Hastings — interesting, rather shabby, a town that has seen better days, very hilly, amazing architecture and many charming Victorian houses for sale. So Hastings it is, a Victorian house with marvellous views above the Old Town.
From the Hastings house I can look out of the window at the sea, this same sea that fills the harbour at Dieppe, and yet Hastings and Dieppe could not be more different, and this variance I find interesting and entertaining. Also, the sky here in Hastings often looks like a Turner or Constable, but viewed from Dieppe it reflects French painters — however, my aim is to work on my own observations and ideas and make both sides of the channel look Hoylish.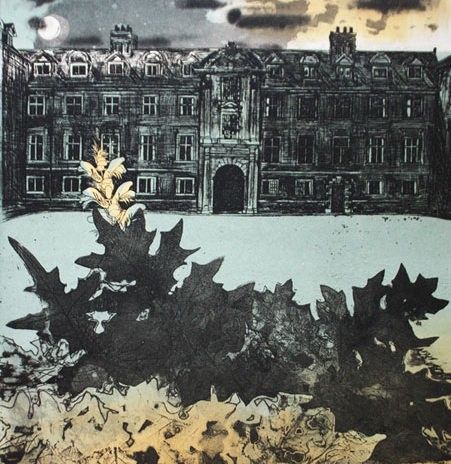 Walter Hoyle – St Catherine's with Acanthus ,  1966
This I found difficult to do in Cambridge, Its so complete and correct and no doubt the University and its architecture are partly to blame. There is a strong smell of education like sour wine and a lack of effervescence and creative activity, and a feeling prevails that education is the end product rather than the means.
I will now be crossing the channel frequently and I welcome the immediate stimulus of the two sides of La Manche.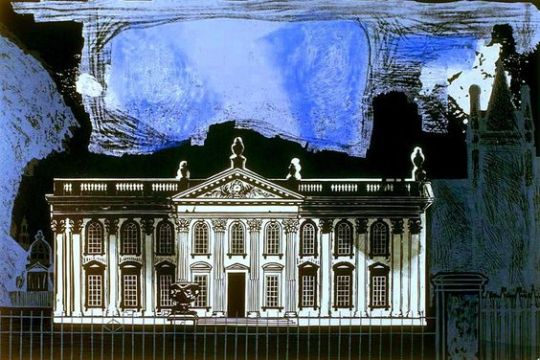 Walter Hoyle  – Senate House Cambridge , 1965