The Kennet and Avon Canal in Bath was built between 1796 and 1810. Before the age of steam with the railways, canals were the main super highways of Britain. This Canal enabled goods to be easily transported between London and Bristol.
Many of the pictures in this blog post are dated 1927. There are a few painted and listed as 1926. Dating works by John Nash can be tricky, he often spent the summers making watercolour sketches with colour notes in his sketchbook so the works could be painted in oil over the winter. There is another complication when artists date work and that is usually because they are only dated when exhibited – sometimes the date when sold becomes the date of the picture. Nash just signed his paintings and so dates are guesswork.
Many of these were sold at an exhibition at Goupil Gallery in March 1928 with Gilbert Spencer and Neville Lewis.
Nash had been advised to work at Bath and Bristol by
Edward Wadsworth when they were working together in 1920. Nash went in the summer of 1924 and again in 1925.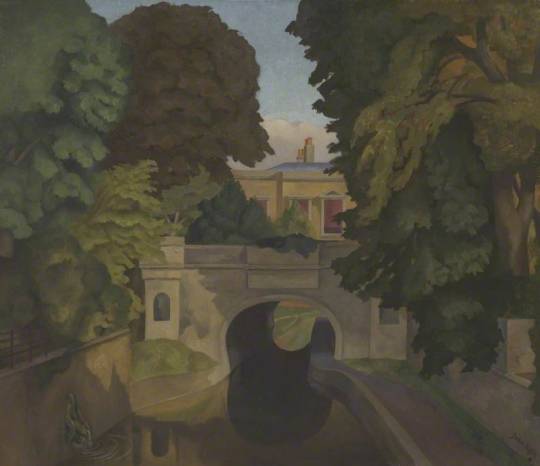 John Nash – Canal Bridge, Sydney Gardens, Bath, 1927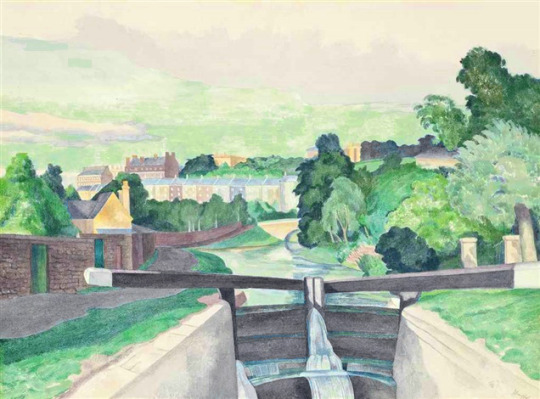 John Nash – Lock Gates at Bath, 1926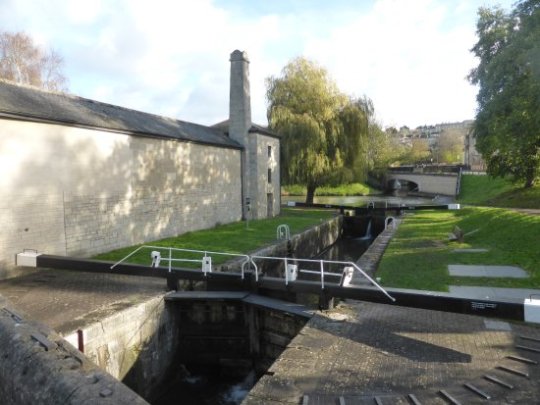 Above is the view today, of the picture below.
Roderick Jones suggested the picture below has a Cezzane feeling to it in the angles and lay out of the buildings but they miss Cezanne's gradient shading and the colours are very flat.  I think what I like about the picture below most is the canals were used and you can see the desire lines in the grass where people walked from lock to lock.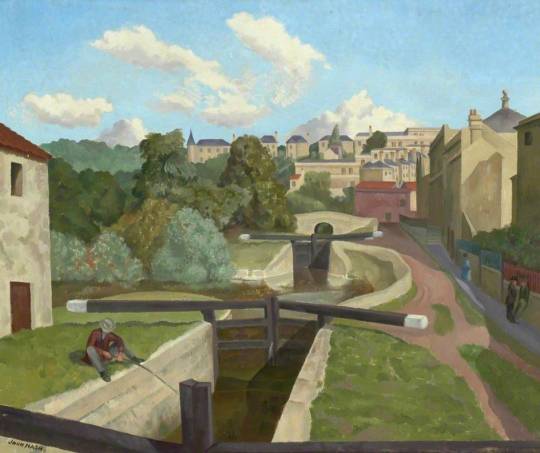 John Nash – The Old Canal, Bath, 1927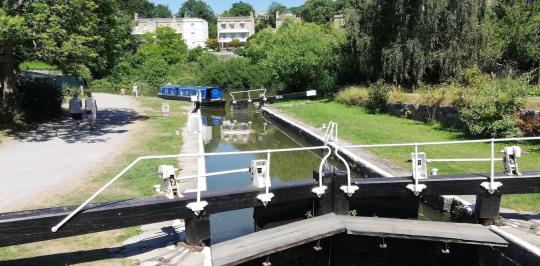 Another photograph above is of the view below. The watercolour below has the oil painting under that too.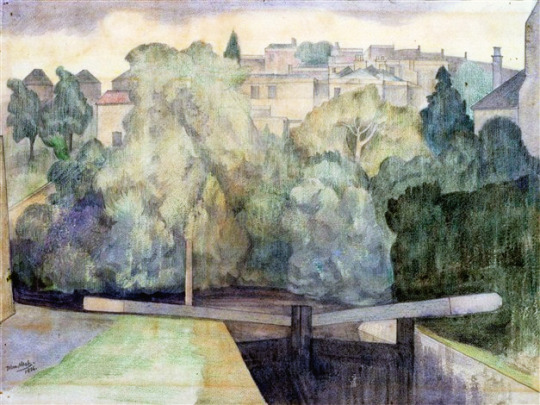 John Nash – Canal lock before a town, 1926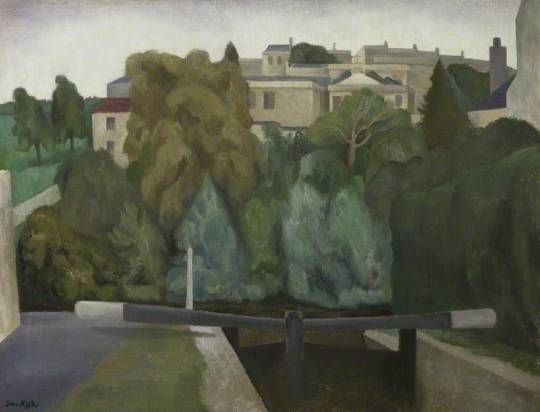 John Nash – Lock Gates, Bath, 1926

The bridge pictured below is the Grosvenor Suspension Bridge. It was demolished in 1929 and since then the area has been built over.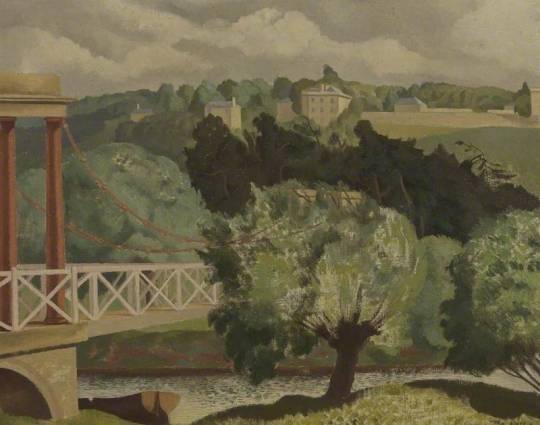 John Nash – Suspension Bridge, Bath, 1927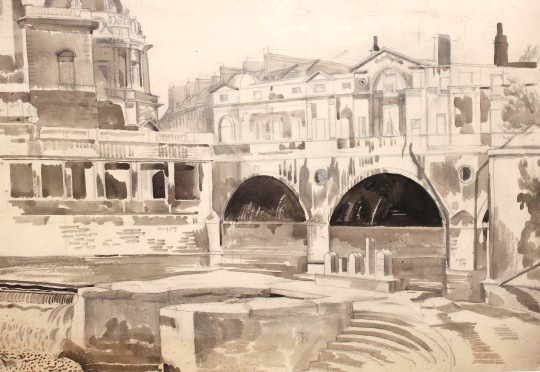 John Nash – Pulteney Bridge, Bath, 1926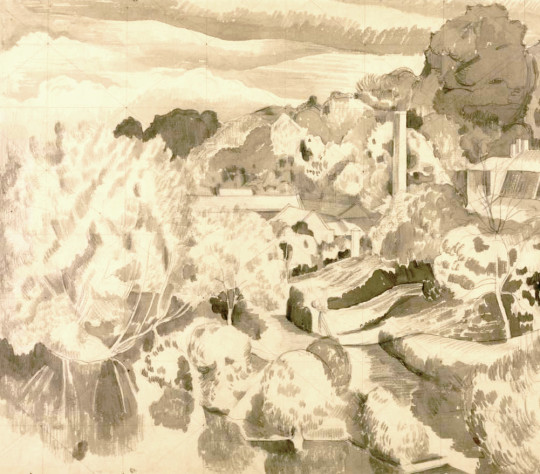 John Nash – Avoncliffe from the Aqueduct, 1926

Above is a wash painting by Nash. It has been gridded to Nash could work it into the oil painting below.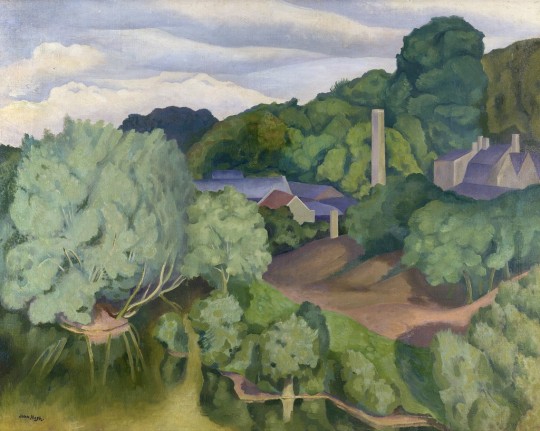 John Nash – Avoncliffe from the Aqueduct, 1926