Born in Scarborough, Kenneth Rowntree's father was the manager of the local department store who displayed his work in the shop, this may have been why Rowntree changed from training to be a cellist to becoming an artist. He studied at the Ruskin Drawing School, Oxford and went to the Slade School in London.
In 1941, Rowntree had moved to Great Bardfield, settling with his wife Diana (née Buckley) into the "a handsome draughty house" Town House. There they would be neighbours to Edward Bawden and Eric Ravilious lived in Castle Hedingham a few miles away.
The paintings Kenneth Rowntree made during war time are rather curious because they are not on the front line. Unlike many of the other official war artists, Rowntree was a Conscientious Objector. He did paint the domestic scenes of life during wartime, but not pictures of the war maneuvers.
The picture below is of a Polo Ground is a good example of his work. The pitch as been converted into growing produce and the people working for the war effort but making food.
The figure of the man signifying the every man worker to me says 'we are all in this together'. Below are five of his paintings for the War Artist Scheme.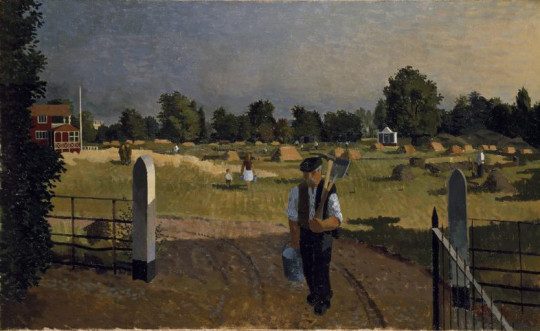 Kenneth Rowntree – A Polo Ground in War-time, 1940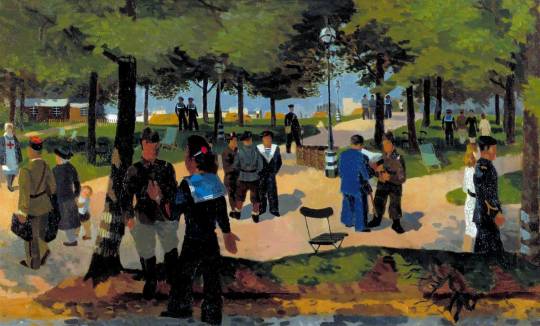 Kenneth Rowntree – Foreign Servicemen in Hyde Park: Early Summer, 1940
In the picture above, the mixture of uniforms is a good indication of how many parties are mixed up in the conflict. A subtle communication.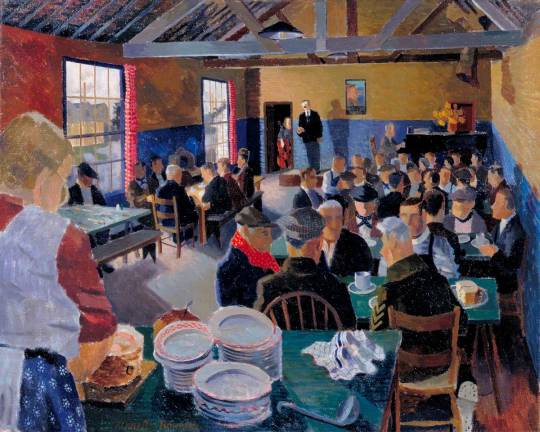 Kenneth Rowntree – The Council for the Encouragement of Music and the Arts Canteen Concert, Isle of Dogs, London, E14, 1940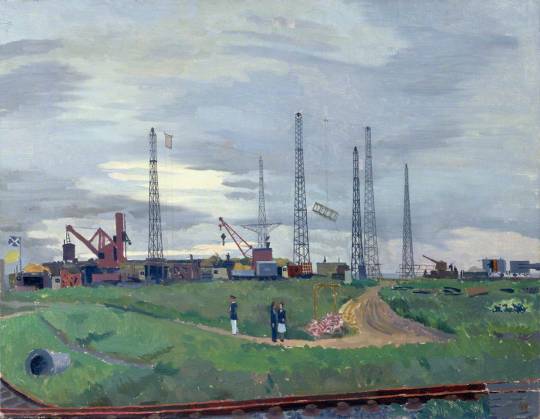 Kenneth Rowntree – The Experimental Establishment, Shoeburyness: Firing through Screens, 1945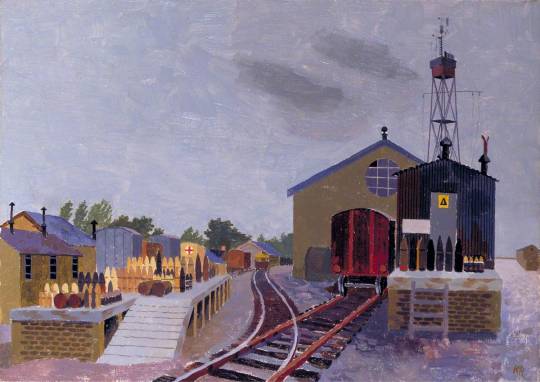 Kenneth Rowntree – Experimental Establishment, Shoeburyness, 1945

All the paintings below are part of the Recording Britain series.
In 1940, when the British landscape was under attack from the threat of German bombers, the Ministry of Labour, in association with the Pilgrim Trust commissioned many of Britain's artists to go out and paint a record of the changing face of the country before it was too late. †
I think part of the romance of the pictures below is the lack of cars in pictures. No High Street in Britain will ever look beautiful again until cars are stored back in their garages and not parked on the street. Other than the Old Toll Bar House all the places are without figures, an empty world of architectural curiosity. I also feel that there is something beautiful about those multi-layered telegraph poles and wires in the same picture.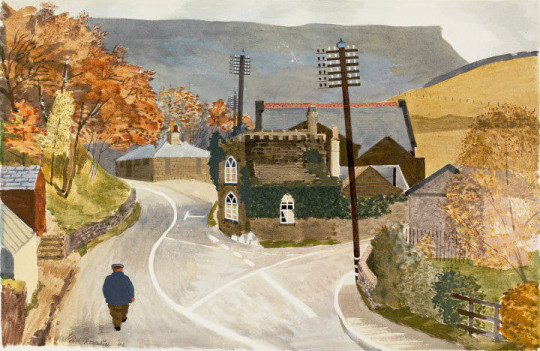 Kenneth Rowntree – Old Toll Bar House, Ashopton, 1940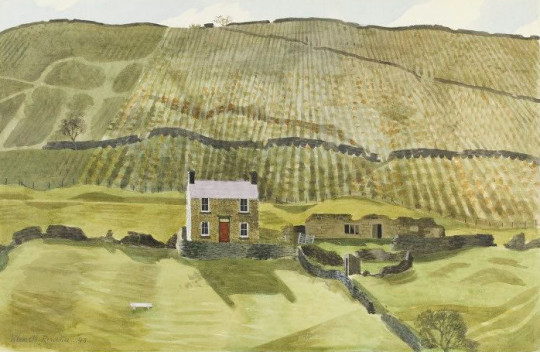 Kenneth Rowntree – Underbank Farm, Woodlands, Ashdale, Derbyshire, 1940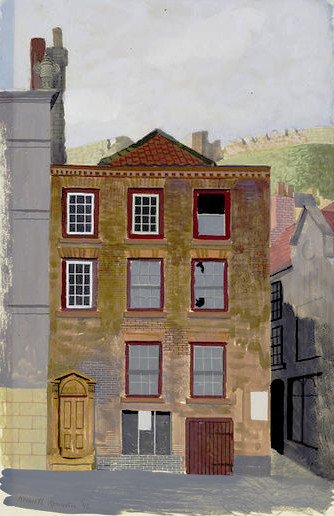 Kenneth Rowntree – Scarborough, 1940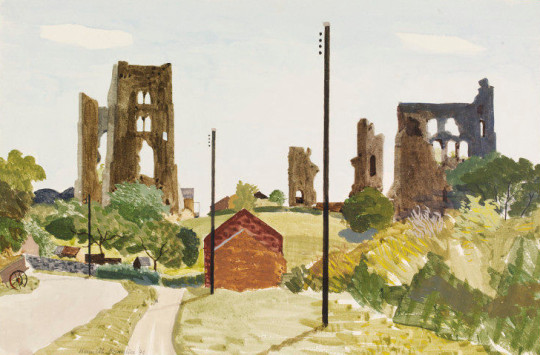 Kenneth Rowntree – The Castle, Sheriff Hutton, 1940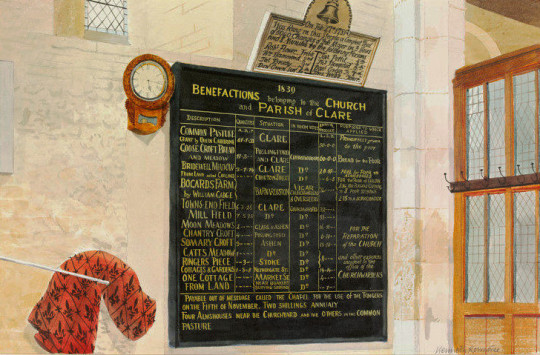 Kenneth Rowntree – The Bellringer's Chamber, SS. Peter and Paul Church, Clare, 1940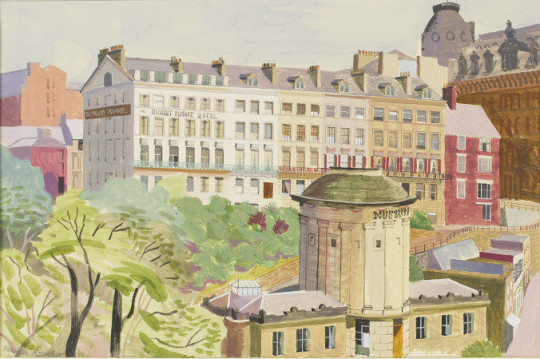 Kenneth Rowntree – Cliff Bridge Terrace and Museum, Scarborough, 1940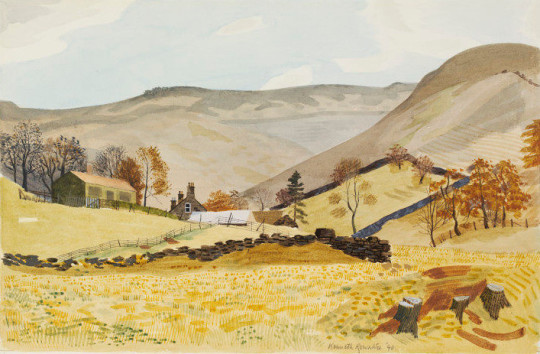 Kenneth Rowntree – Grainfoot Farm, Derwentdale, 1940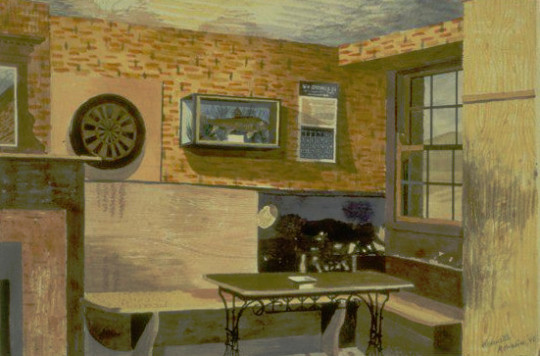 Kenneth Rowntree – The Smoke Room, Ashopton Inn, 1940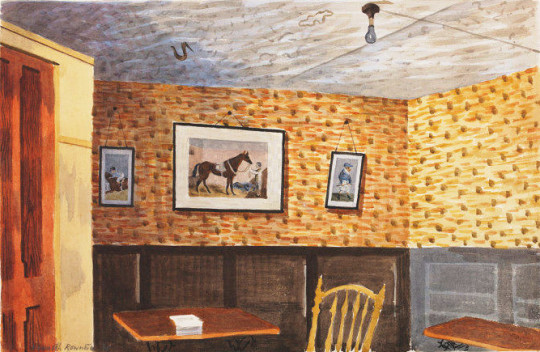 Kenneth Rowntree – The Smoke Room, Ashopton Inn, 1940
 Kenneth Rowntree – St. Mary's, Whitby – Exterior, 1940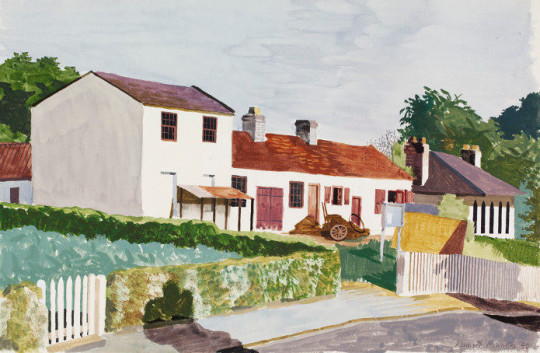 Kenneth Rowntree – The Smithy, Crathorne, 1940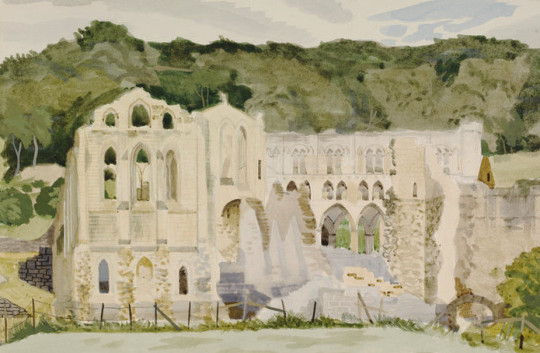 Kenneth Rowntree – Rievaulx Abbey, 1940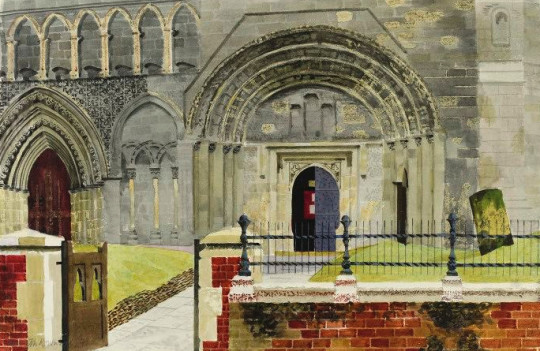 Kenneth Rowntree – West Front of the Priory Church, Dunstable, Bedfordshire, 1941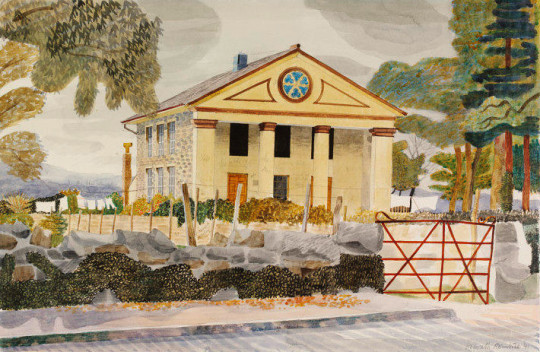 Kenneth Rowntree – Chapel Tremadoc, Caernarvonshire, 1941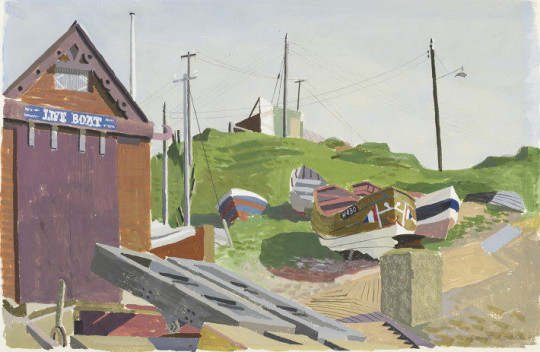 Kenneth Rowntree – North Landing, Flamborough, 1940
† David Mellor, Gill Saunders, Patrick Wright – Recording Britain , 1990