To me, the discovery of the Hobson Gallery, in Cambridge is rather surprising. Short lived, it opened in the late 1970s and was located at 44a Hobson Street, Cambridge, above where Reeds hairdressers are now. It was opened by Karen Wright, who ran it showing a surprising abundance of contemporary art, below is a list of all of the exhibitions I could find.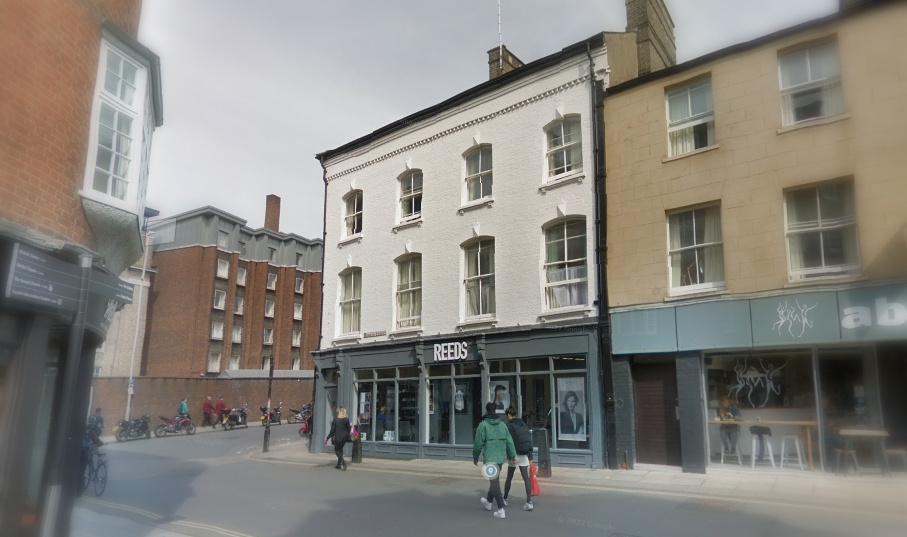 1978: February.
Ted Hughes reads from Moon Bells and other Poems, recorded by Norwich Tapes.
1978: 4 April-6 May
Chris Castle. Drawings, graphics, photos and paintings.
1978: 21 May-8 July.
Ivor Abrahams. Prints 1967-78, & selected sculpture, a retrospective exhibition.
1978: 18 July-19 Aug.
Malcomb Ryan
1978: 1 Oct-4 Nov.
William Tillyer. Paintings, watercolours and graphics.
1978: 10-27 October.
Gunter Grass. Drawings, Etchings, Lithographs
1979: 20 Jan-10 Feb.
John Lyall, David Spence, James Ward. Paintings
1979: 17 April-12 May.
Christine Fox. Terracotta sculptures.
1979: 22 May-16 June.
Giséle Celan-Lestrange Etchings
1979: 22 May-16 June.
Works by R.B. Kitaj, Jim Dine, David Hockney.
1979: 14 July-11 Aug.
Brian Shaffer. The Wordforms/Logmorphs Exhibition.
1981: 7-25 April.
Ivor Abrahams. Recent Prints & Works on Paper.
1981: 7-25 July.
Leonard Baskin. Prints.
1981: 13-31 October.
Zelda Nolte. Sculpture & Graphics. Poster.
1982: 5-23 October.
Paintings by Julia Ball and Ceramics by Elspeth Owen.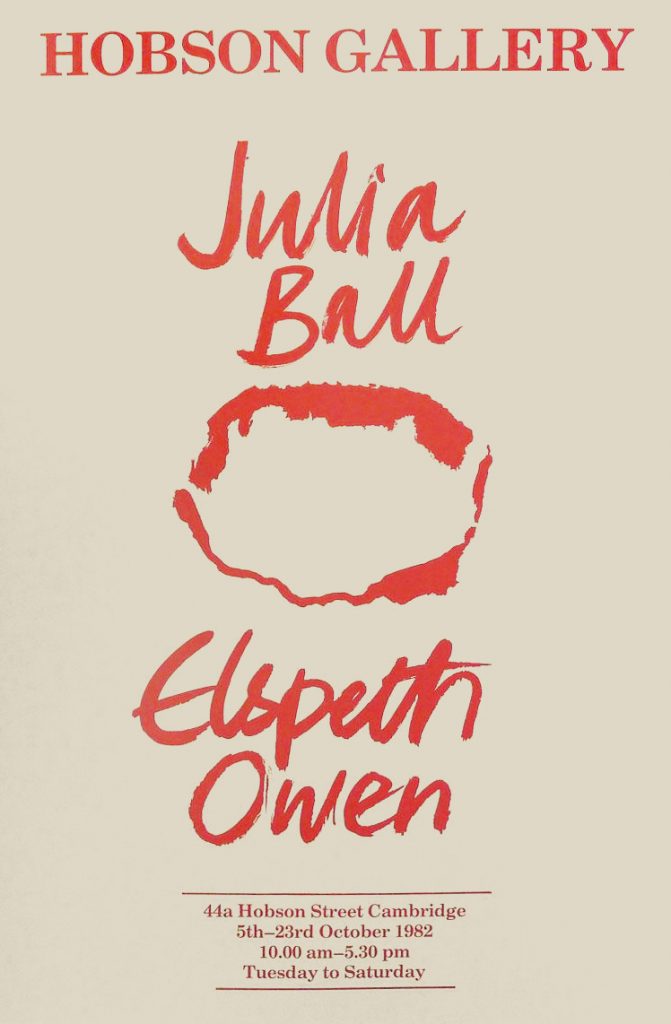 1982: 2 Nov-18 Dec.
Prints from the Eastern region : an exhibition selected from open submission.
1983:
David Kindersley Workshop. 12 Alphabets.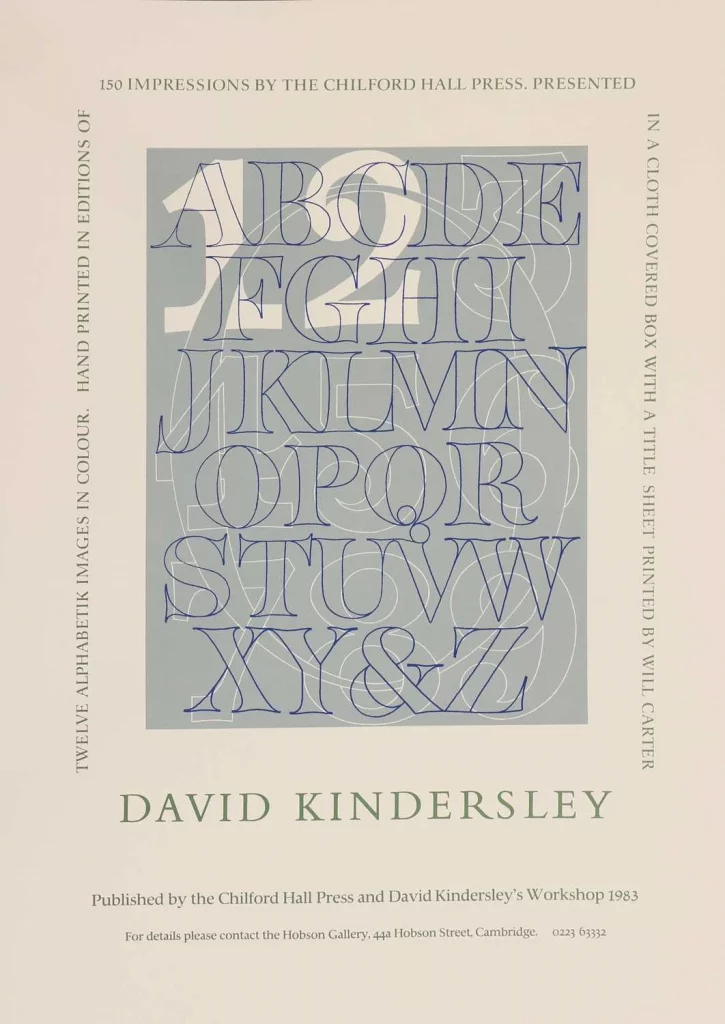 1983: 12 April-7 May
Michael Ayrton : sculpture, paintings, drawings, prints 1954-1975.
---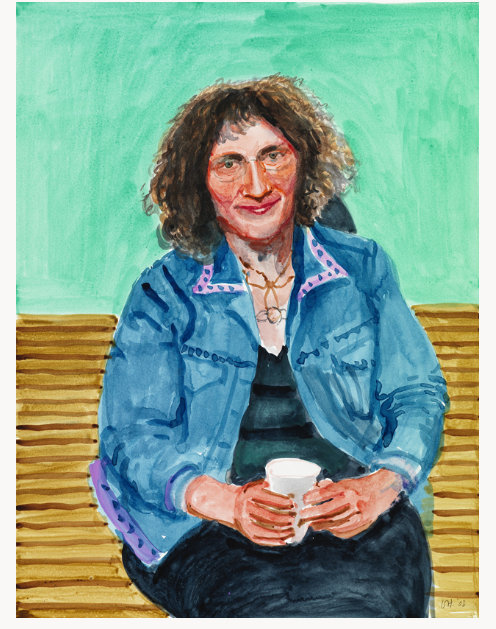 The owner of the gallery was Karen Jocelyn Wile Wright. An American editor and journalist. Born in 1950, in New York. She was educated at Brandeis University (BA), before coming to Great Britain to study History of Art at Cambridge University (MA), then moving to the London School of Business Studies (MSc).
As mentioned before, she was the founder of the Hobson Gallery, 44a Hobson Street, Cambridge, UK. This ran from 1975 to 84. In 1985 she worked for Bernard Jacobson's art gallery in Cork Street, freelanced helping with art shows at the Whitechapel Gallery and then in 1987 Wright became a co-founder of Modern Painters Magazine with the art critic Peter Fuller.
The magazine was backed by Bernard Jacobson and David Landau, founder and then editor Print Quarterly. However, three years into the magazine, aged 43, Fuller died while driving to Cambridge to see Wright in 1990. Wright bought Fullers share of the magazine and took over the editorship in the same year. In 1994, David Bowie was invited to be on the magazines board and accepted. Bowie's work writing for the magazine was interviewing artists (other than one response to the life of Jean-Michel Basquiat and reviewing the Johannesburg Biennale). Wright was the editor until the magazine was bought in 2004 by the American company LTB Media. In 1998 Wright published The Penguin Book of Art Writing with Martin Gayford, the colouring book Colour for Kosovo in 1999. The Grove Book of Art Writing in 2002 and Colour in 2004.
In 1998 Wright edited William Boyd's famously fake biography of artist Nat Tate (Named after the National Gallery and Tate). A joke on the art world that included Gore Vidal and David Bowie all providing endorsements and attending the launch party of the book.
She has been writing freelance for various newspapers, most lately, The Independent.