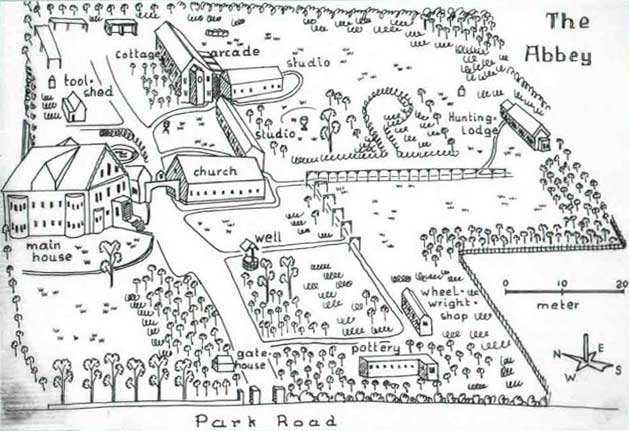 John Sebastian Marlowe Ward was a religious and spiritualist who set up a commune for the second coming of Christ at 89 Park Road, New Barnet. He had acquired the large property and land, and in 1934 he opened the Abbey Folk Park which by 1937 comprised 46 buildings, included historic shop fronts and a 17th-century smithy saved when East Barnet village was redeveloped and five old cottages relocated from Hadley Green. The park closed in 1940 and did not reopen as Ward sold it and moved his community to Cyprus in 1946 following legal difficulties in England that he had enchanted a young lady away from her family. The case went to court and the damages of £500 against Ward meant he had to sell the Folk Park. In looking for money he sold one of the cottages (said to have once belonged to a witch) on the estate to Gerald Gardner, a sensationalist Pagan. The cottage was exchanged for some land in Cyprus where the commune then moved.

The rest of the land and buildings was bought by William Ohly, a Jewish art dealer who had fled the Nazi persecution in Germany. Ohly was an art dealer who ran the Berkeley Galleries in Davies Street, London. His galleries dealt with mostly non-European art and ethnographic items. He set up the Abbey Arts Centre in 1946 at the Abbey. The Arts Centre consisted of one large three-storey building and a cottage set in about three acres of landscaped garden and orchard.

William Ohly turned the folk museum into one for ethnography in 1952 and it was opened by the director of the Arts Council. His "Primitive Art" exhibitions attracted collectors, socialites, and artists such as Jacob Epstein, Lucian Freud, Henry Moore, Francis Bacon, Duncan Grant and Vanessa Bell. He also housed many expatriate artists during the post war years 1947–1951. It became an early base of operations for artists, trying to gain a foothold in London's contemporary art industry but unable to afford the cities rents.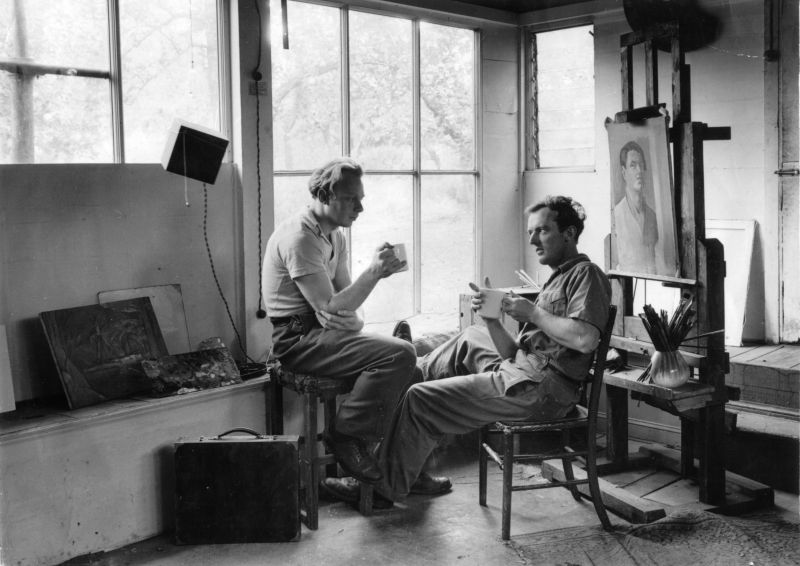 Other artists who visited the centre include the Scottish painter Alan Davie, the Irish painter Gerard Dilon, the English painter Phillip Martin, and Helen Grunewald and Inge Neufeld from Austria and Germany respectively. Animation pioneer Lotte Reiniger and her husband Carl Koch (director) lived and worked at the centre for about 25 years.
William died in 1955 and his son Ernest inherited his love of art, but was a more reserved character.
Ernest Ohly's death provoked a ripple of excitement at the lucrative top end of the ethnographic art world. He was rumoured to have an extensive collection. His statues from Polynesia and masks from West Africa were auctioned in 2011 and 2013. And that, dealers assumed, was that.

But his children knew otherwise. In old age, he had told them he had one more sculpture. It was in a Barclays safe box and not to be sold, he specified, unless there was another Holocaust. In 2016 matters were taken out of the children's hands. Barclays on Park Lane was closing its safe boxes; it told customers to collect their belongings.
Inside the box was this genuine Benin Bronze head. It was sold for 10 million pounds to a collector with the help of dealer, Lance Entwistle.