The death of Marilyn Monroe in 1962 aged 36 was a shock to the world. It affected artists who would end up giving her life after she was dead through her image. Fun fact, my sister married into the Mortenson family.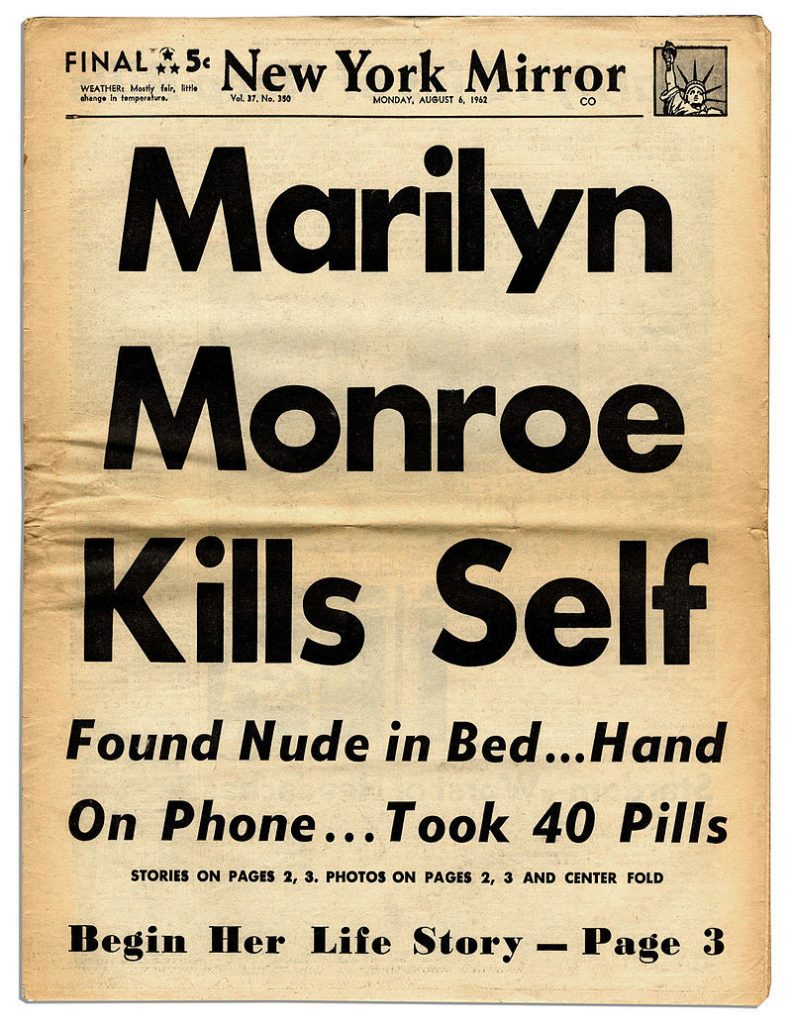 The front page of the New York Daily Mirror published on August 6, 1962
Warhol was the first to make a print in tribute of her, below is the original publicity photograph for Niagara by Frank Powolny. It has the black pen lines where Warhol cropped the photograph and his in studio photographers 'blew it up'.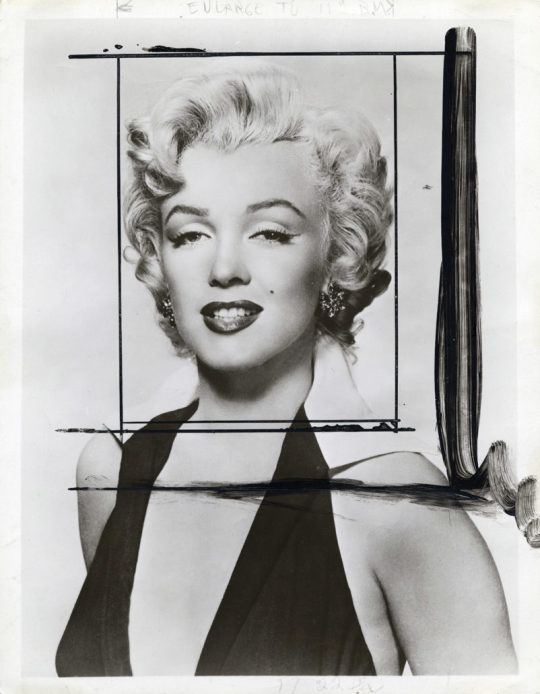 Frank Powolny – Publicity still for the 1953 film Niagara, cropped by Warhol.
The rubber-stamp method I'd been using to repeat images suddenly seemed too homemade; I wanted something stronger that gave more of an assembly-line effect. With silkscreening you pick a photograph, blow it up, transfer it in glue onto silk, and then roll ink across it so the ink goes through the silk but not through the glue. That way you get the same image, slightly different each time. It all sounds so simple—quick and chancy. I was thrilled with it. My first experiments with screens were heads of Troy Donahue and Warren Beatty, and then when Marilyn Monroe happened to die that month, I got the idea to make screens of her beautiful face. †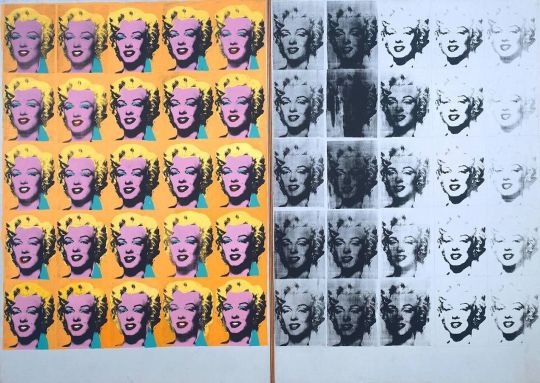 Andy Warhol – Marilyn Diptych, 1962
Richard Hamilton made a print a few years later using a mocked up contact sheet with images crossed out from a series of photographs taken by George Barris in the Summer of 1962.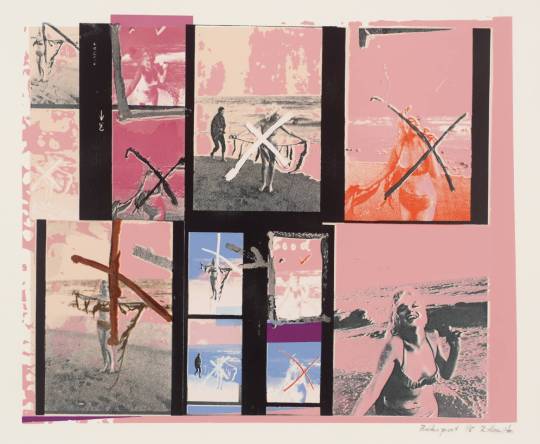 Richard Hamilton – My Marilyn, 1965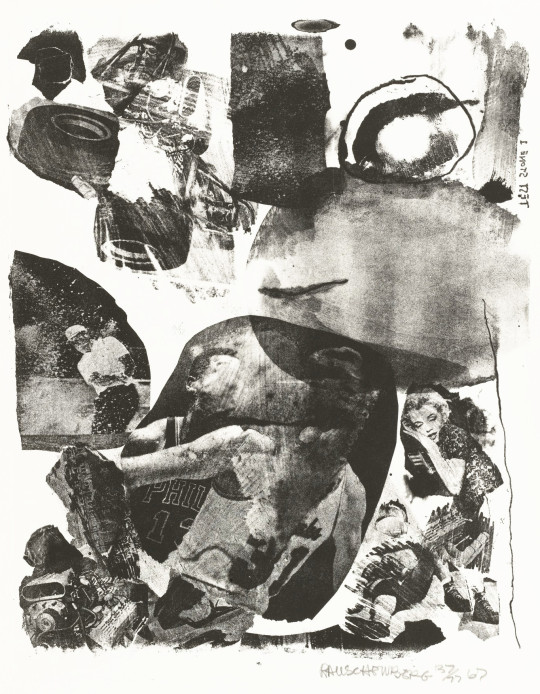 Robert Rauschenberg – Test Stone #1 (Marilyn Monroe), 1967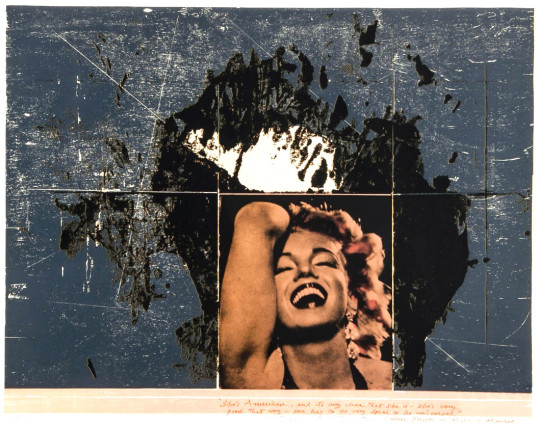 Michael Rothenstein – She's American – Cartier Bresson on Marilyn Monroe, 1977
Rothenstein would use Monroe's image for his prints as well, it was a time when he was using famous starlets like Julie Christie. He juxtaposes them with planks of burnished wood and raw textures. The photographs are screen printed over the woodcut.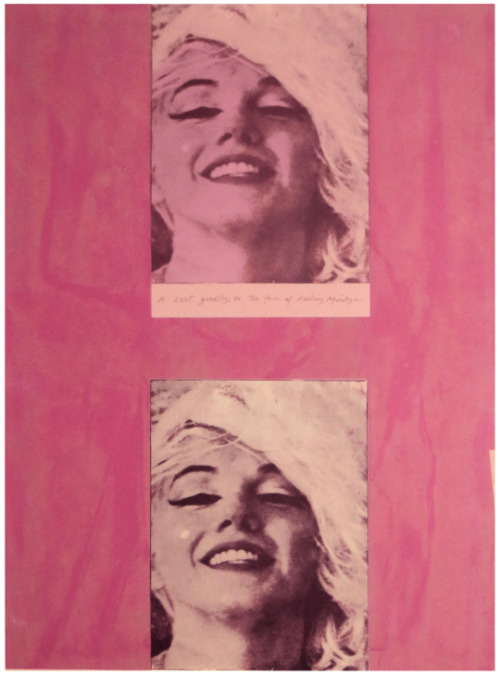 Michael Rothenstein – Marilyn I, 1978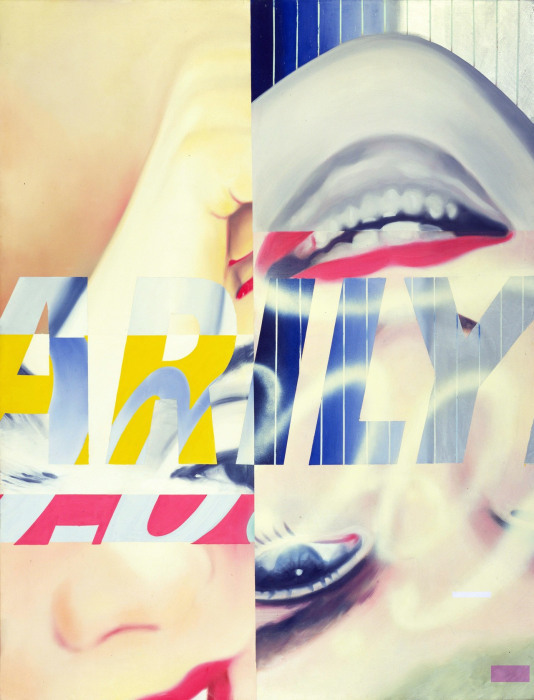 James Rosenquist – Marilyn Monroe, 1962
† Andy Warhol – Popism, 1980