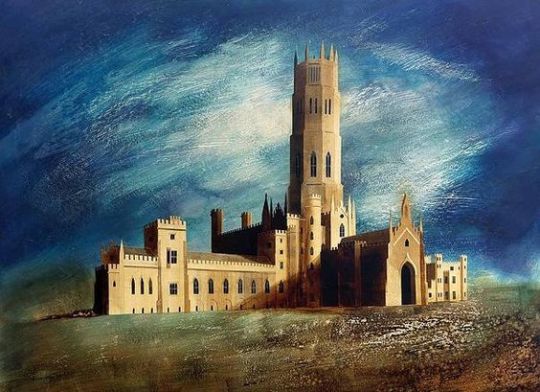 Fonthill Abbey by Ed Kluz.

This is the story of the rise and fall of Fonthill Abbey, the houses before it and the men who changed a house to live in their own ideas of grandeur.
The Father: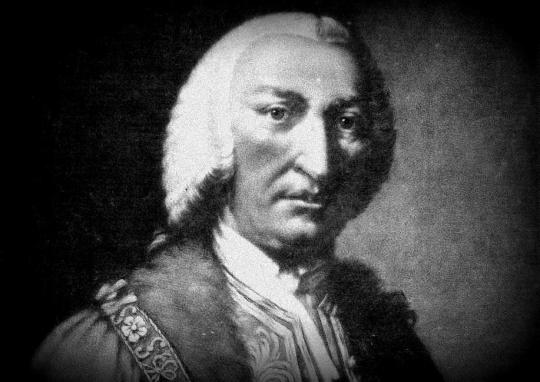 William 'Alderman' Beckford (19 December 1709–21 June 1770)
William 'Alderman' Beckford, born in Jamaica to a plantation family, was sent to England in 1723 to be educated where he studied at Westminster School.
He worked in the trade of Sugar (the family plantation) in the city of London and in 1744 Alderman bought an estate at Fonthill Gifford, near Salisbury called Fonthill Antiquus, pictured above. Pictured below: the estate after some improvements to the house and gardens.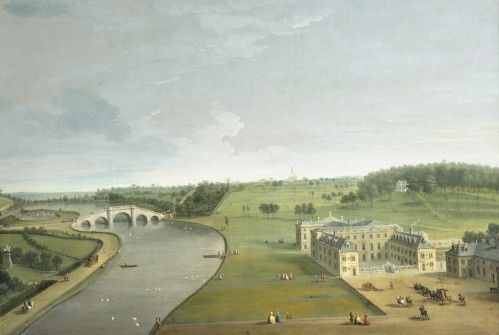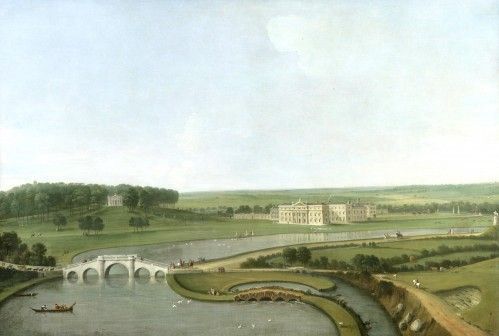 Fonthill Redivivus
Sadly these improvements were of no use as the main house was mostly destroyed by fire in 1755. Announcing that "I have an odd fifty thousand pounds in a drawer: I will build it up again" . Below are the plans for the now Georgian design of the house. He finished the newly named Fonthill Splendens off in the early 1760's.

 Fonthill Splendens
Resented by local gentry for his Caribbean accent, Alderman spent most of his time at 22 Soho Sq – London, his city home, forging his political and sugar interests and collecting art. Laughed at by some for faulty Latin, his wealth and social power obliged people to respect him. He hosted sumptuous feasts, one that cost £10,000 or £1 million pounds in today's money. He died in 1770.
The Son: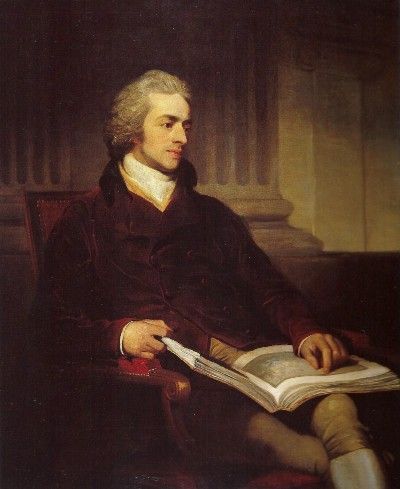 Born in 1760 in the family home at 22 Soho Sq, William Thomas Beckford at the age of ten, inherited a fortune from his father William 'Alderman' Beckford, consisting of £1 million in cash or £117 million as of 2014. 
He was briefly trained in music by Wolfgang Amadeus Mozart, but his drawing master, Alexander Cozens, was a greater influence. At 20 years old he wrote Memoirs of Extraordinary Painters (1780). He then went and journeyed in Italy in 1782 and promptly wrote a book on his travels: Dreams, Waking Thoughts and Incidents (1783).
William Courtenay
On 5 May 1783 he married Lady Margaret Gordon, daughter of the fourth Earl of Aboyne. Beckford was bisexual, "indiscreetly attracted to boys" and had a disastrous affair with William Courtenay, later 9th Earl of Devon. Although the pair met when Courtenay was 10, it is believed the affair started when Courtenay was 13 and Beckford 18. In 1784 with a visit to Powderham Castle, the Courtenay's family home; letters were intercepted by the boy's uncle, who advertised the affair in the newspapers. London newspapers were talking of the "detestable scene lately acted in Wiltshire, by a pair of fashionable male lovers." The scandal blossomed and Beckford retreated to Switzerland with his wife and their baby daughter. In May 1786, in Switzerland, his wife died of puerperal fever after giving birth to a second daughter.
It was at this time Vathek (1786), written originally in French was published; he boasted that it took a single sitting of three days and two nights, though there are letters between Beckford and Samuel Henley that show this to be untrue. At the time of his wife's death, Beckford also learned that Vathek, which he had given to the Reverend Samuel Henley for translation, would be published anonymously, with a preface in which Henley claimed that it had been taken directly from the Arabic. Beckford remained abroad for many years.
The Abbey: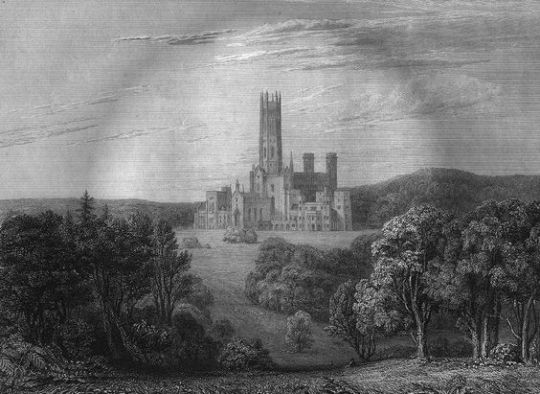 Fonthill Abbey

After a return to England and becoming more reclusive, it was the opportunity to purchase the complete library of Edward Gibbon, author of The History of the Decline and Fall of the Roman Empire that gave Beckford the basis for his own library, and with the architect James Wyatt built Fonthill Abbey in which to house this and Beckford's art collection.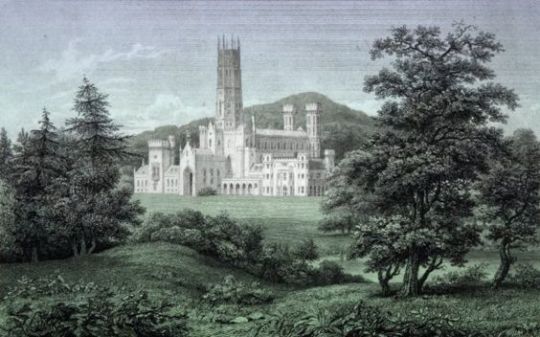 Fonthill Abbey
Fonthill Abbey was built a mile south-west of Fonthill Splendens, in deep woodland and away from public roads. He demolished large parts of Fonthill Splendens for building materials on the Abbey. Building a 12 foot high wall to enclose his new structure and the 524 acres around it.
Wyatt was often accused of spending a good deal of his time on women and drink, causing him to miss many meetings and the overseeing of construction on the Abbey. Beckford thus took it upon himself to direct the construction of the Abbey.
Beckford's 500 labourers worked in day and night shifts. He bribed 450 more from the building of the new royal apartments at Windsor Castle by increasing an ale ration to speed things up. He also commandeered all the local wagons for transportation of building materials. To compensate, Beckford delivered free coal and blankets to the poor in cold weather.
The first part was the tower that reached about 90 metres (300 ft) before it collapsed, apparently from having a large flag upon it, with strong winds. When informed of the mishap, Beckford, merely regretting that he had not seen it fall, gave an immediate order for the construction of another. The new tower was finished six years later, again 90 metres tall. It collapsed as well. Beckford immediately started to build another one, this time with stone, and this work was finished in seven years.
The abbey part was decorated with silver, gold, red and purple. Four long wings radiated from the octagonal central room. Francis Eginton painted many windows in the property with his realistic style of reproducing oil paintings and the front doors were 35 feet (10 m) tall. It was declared finished in 1813. Beckford employed a dwarf as a doorkeeper to those massive doors.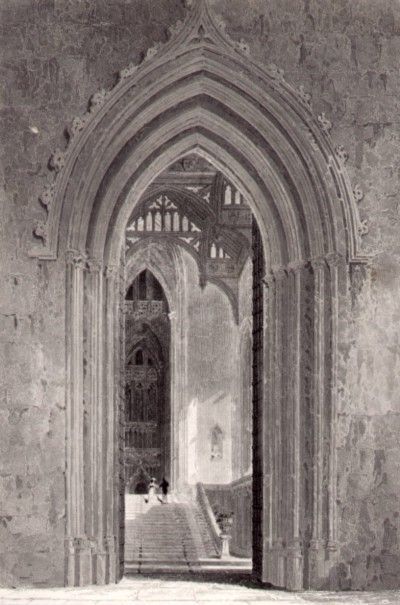 The massive west doorway.
Beckford lived alone in his abbey and used only one of its bedrooms. His kitchens prepared food for 12 every day although he always dined alone and sent other meals away afterwards. Only once, in 1800, did he entertain guests when Rear Admiral Lord Nelson and Emma, Lady Hamilton, visited the Abbey for Christmas.
Once he demanded that he would eat a Christmas dinner only if it would be served from new abbey kitchens and told his workmen to hurry. The kitchens collapsed as soon as the meal was over. In 1822 when he lost two of his Jamaican sugar plantations in a legal action. He was forced to sell the Abbey and it's contents for £330,000 (£25,460,000 in 2014) a year later to John Farquhar, a gunpowder contractor from Bengal, India.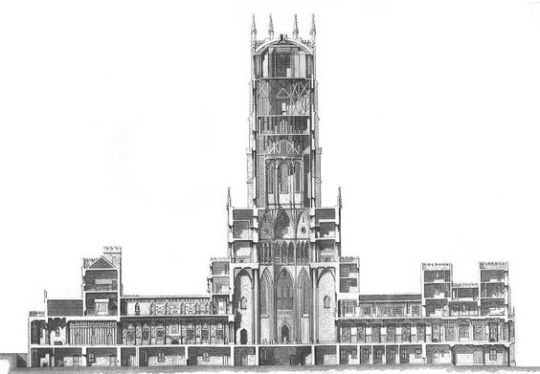 Within 2 years of this sale the tower at Fonthill Abbey fell down for the last time and Farquhar tried to sell all his land but died in 1826 intestate. The rest of the abbey was later demolished. Only a gatehouse and a small remnant of the north wing remained.
The remaining part of Fonthill Splendens was bought by Haberdasher, James Morrison who's family went on to rebuilt, restyle and in 1971 practically erase the recognisable parts. 
Beckford moved to Lansdown Crescent, Bath and began constructing another tower on a hill. Designed by Henry Goodridge and completed in 1827, Beckford used the tower as both a library and a retreat. At 120 feet tall, Beckford's Tower still stands.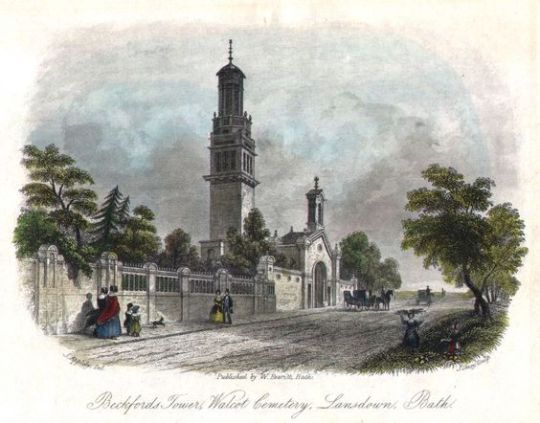 Beckford's Tower