Walter Hoyle is in danger of being one of the forgotten Great Bardfield artists due to the lack of information on him.
Hoyle was born in Rishton, Lancashire in July 1922. Hoyle's artistic
education started at the Beckenham School of Art in 1938,
I persuaded my local art school to accept me, and presented as evidence of my serious intent, a series of drawings much influenced by Walt Disney. †
From Beckenham, Hoyle gained a place at as a student at the Royal College
of Art from 1940-42 and again from 1947-48 after serving in the
Second World War. During Hoyle's time at the RCA one of his tutors was
Edward Bawden, who encouraged him to develop watercolours and
printmaking.
 Walter Hoyle at home in Great Bardfield, NPG, taken by Geoffrey Ireland.
It was 1940, the phoney war was to about to end and the college was evacuated from London to Ambleside in the Lake District, famous for poets rather than artists. It was here that I was first introduced to printmaking – lithography – by a friend called Thistlethwaite, a fellow student from Oswaldtwistle (although these names are true, I mention them only because I like the sound they make). He prepared a litho stone for me with a beautiful finely ground surface and instructed me how to draw in line and wash. †
In 1948, During the RCA Diploma show, a visitor was so impressed by Hoyle's work that he was offered seven months' work in the Byzantine Institute in Istanbul, Hoyle accepted, the work he saw there made a strong impression. Italian art and architecture also influenced him at that time.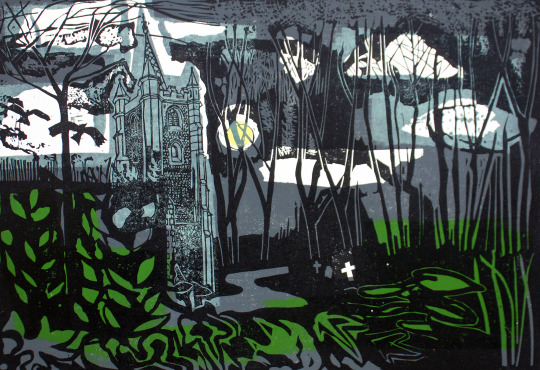 Walter Hoyle – Church Moon, Little Samford (In My Collection) ,1957.

Early in 1951 when Bawden was commissioned by the Festival of Britain to produce a mural for the Lion and Unicorn Pavilion on the South Bank,
it was Hoyle that he chose to assist him on account of his great talent. During that summer Bawden invited Hoyle on a holiday to Sicily.
Edward asked to see my watercolours. He looked very carefully and quizzed me about them, and in general was complimentary and encouraging. I felt I had passed some kind of 'examination. ♠
It was this holiday together that Hoyle would scribe into a limited edition booklet of 10 in 1990 and into a book in 1998 – "To Sicily with Edward Bawden" a limited edition of 350 copies with a forward by Olive Cook.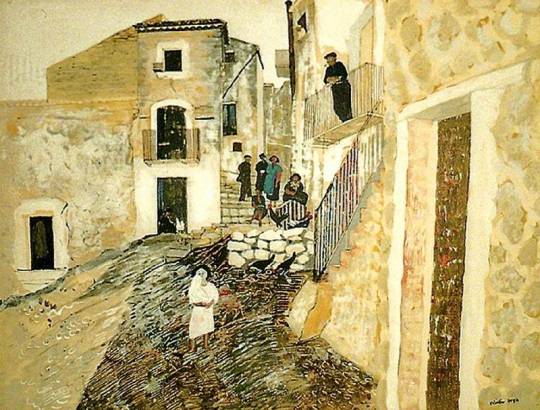 Walter Hoyle – Hill town in Sicily, ex Cambridge City Council, 1951.
In 1952 Hoyle took over the painting of another mural, the dome of St Mary Abchurch, London. The church had been blitzed in September 1940,
and the original mural was being restored by E. W. Tristan, but when Tristan died, Hoyle completed the work. ‡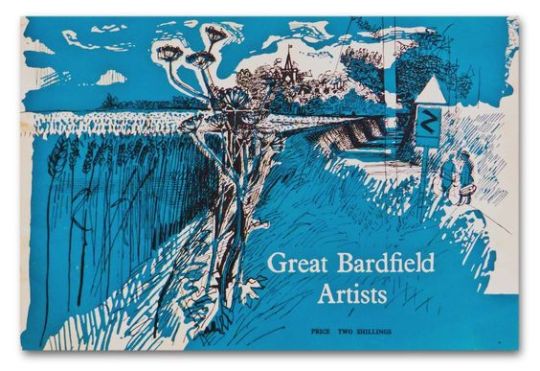 Walter Hoyle – The cover for the Great Bardfield Exhibition booklet.
The move to Great Bardfield:
Hoyle moved first to Great Bardfield in 1952, living for a time in a farm cottage on the outskirts of Bardfield near Great Lodge Farm. He lived and worked in the Great Bardfield area for twenty-two years and exhibited with the Bardfield artists in 1954, 1955 and 1956 when they would open their houses to the public for one weekend a year, rather than relying on London galleries. Hoyle met his wife, the ceramists and poster designer
Denise Hoyle at at one of the Great Bardfield "open house" exhibitions in 1956, when his work was on show at George Chapman's house.
It may have been Edward Bawden's painting classes and lectures at Brick House, or being in the hilly Essex countryside but it around this time that Hoyle became interested in English romantic painting: the work of Turner, Blake and Palmer and also in French art. Like other members of Great Bardfield, Hoyle designed for interiors with wallpapers and fabrics for Coles, Sandersons and the Wallpaper Manufacturers Limited.
One of Hoyle's most popular works for book illustration came with a commission for the Folio Society in 1968 with Shirley by Charlotte Bronte.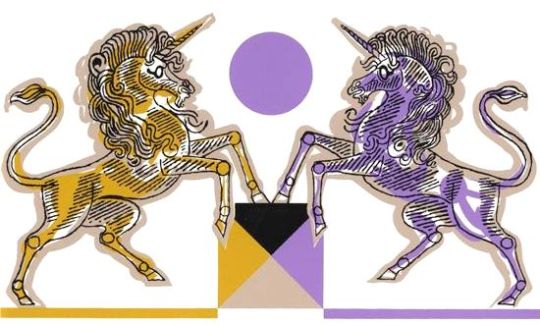 Walter Hoyle Design for Sandersons

Teaching:
Walter Hoyle has taught at various art schools: St. Martin's, London, 1951-60; the Central School of Art, London, 1960-64; and the Cambridge School of Art, 1964-85.
Walter Hoyle left Great Bardfield and moved to Bottisham, Cambridgeshire, to teach at the Cambridge School of Art in their printmaking department. While at Cambridge, he launched the Cambridge Print Editions, publishers of the magazine of the Cambridge School of Art, "Private View" co-edited by Warwick Hutton, which he started and which included interesting extracts from the work of famous artists and writers such as Patrick Heron and Edward Ardizzone, as well as articles by
students and graduates of the school.
Hoyle took over the collection of 'Original Works for Children in Cambridgeshire', an art project for City of Cambridge Committee for Education. Hoyle donated a picture and convinced other artists to give works to the project too. He retired from teaching in 1985 to move to Hastings and Dieppe. Hoyle died in 2000.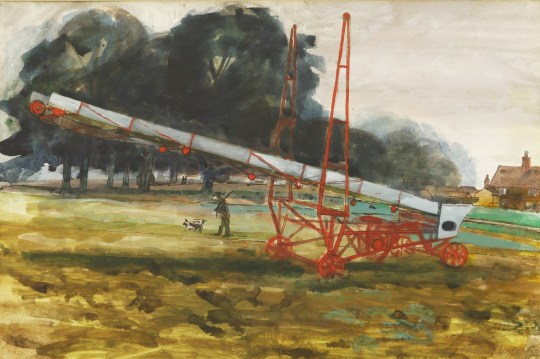 Walter Hoyle – Great Lodge Farm, 1952 (In My Collection)
Exhibitions and Collections:
Hoyle exhibited internationally working outside of the Bardfield set. Exhibitions were not only at the Byzantine Institute Gallery in Paris in 1950, but in 1952 he showed at the Leicester Galleries, London. He was featured in many mixed exhibitions in London and the provinces, including the Royal Academy summer exhibitions and Kettles Yard, Cambridge (1972). Walter Hoyle is represented in many public and private collections, among them the Bibliothéque Nationale, Paris, the Victoria and Albert and the British Museums, the Tate Gallery, the Walker Art Gallery, the Whitworth Art Gallery, the Fitzwilliam Museum, the Sheffield Art Gallery, the Manchester City Art Gallery, Editions Alecto Gallery, London, and the Palace of Westminster and the Fry Art Gallery in Saffron Walden.
He painted murals for the Natural History Museum, for the Jamestown Festival, USA, and for the Sealink ship "St. David".
Editions of his prints have been commissioned by Editions Alecto, Christie's Contemporary Art, Neve International, the British Oxygen Company, the Folio Society and St. Catharine's College, Cambridge.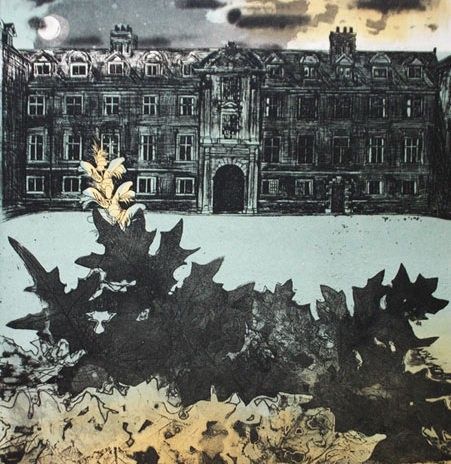 Walter Hoyle – St Catherine's with Acanthus, (In My Collection), 1966
† Printmaking Today, Volume 7, 1998. page 9-10.
‡ https://en.wikipedia.org/wiki/St_Mary_Abchurch
♠ To Sicily with Edward Bawden, Previous Parrot Press, 1998.
The  Great Bardfield  Exhibition  by  Gerald  Marks,  Realism,  August  —
September  1955
♣ http://www.fryartgallery.org/the-collection/search-viewer/691/artist/15/Walter-Hoyle–/22