Ronald Searle was born in Cambridge and studied at the Cambridge School of Art for two years. Aged 19 in April 1939, realising that war was inevitable, he abandoned his art studies to enlist in the Royal Engineers. In January 1942, he was stationed in Singapore. After a month of fighting in Malaya, he was taken prisoner along with his cousin Tom Fordham Searle, when Singapore fell to the Japanese. He spent the rest of the war a prisoner, first in Changi Prison and then in the Kwai jungle, working on the Siam-Burma Death Railway. 
Searle contracted both beri-beri and malaria during his incarceration, which included numerous beatings, and his weight dropped to less than 40 kilograms. He was liberated in late 1945 with the final defeat of the Japanese. After the war in 1961 he worked as a courtroom artist for the Adolf Eichmann trial.
The illustrations here are from Lilliput in 1946. It was the start of a flood of illustration work for Searle in magazines, it was just as he was developing the ideas for the 'St Trinian's' books. Searle's job here is to illustrate is a set of quotes about being ill. The original layout is at the bottom of the post. One signed in full and the other monogrammed RS.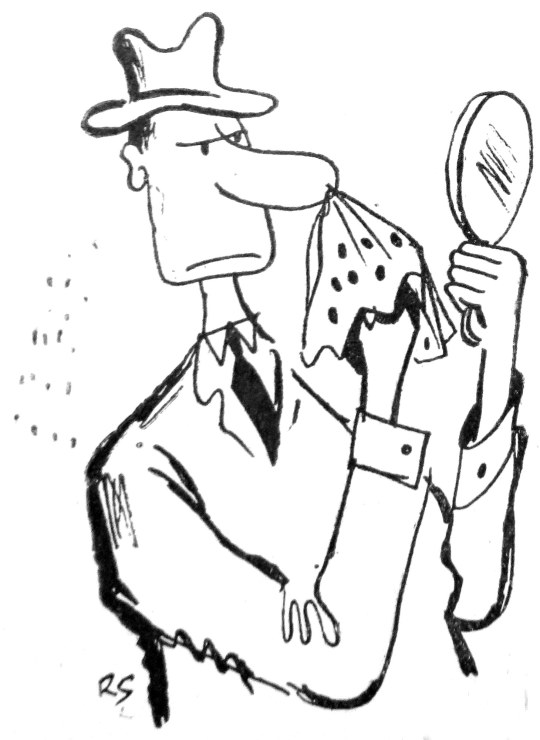 Last Saturday night I came home, and the drab had just washed my room, and my bed-chamber was all wet, and I was forced to go to bed in my own defence, and no fire: I was sick on Sunday, and now have got a swingeing
cold… I detest washing of rooms; cant they wash them in a morning, and make a tire, and leave open the windows? I slept not a wink last night for hawking and spitting: and now everybody has colds. 
– 'The Journal to Stella' by Jonathan Swift. 1711.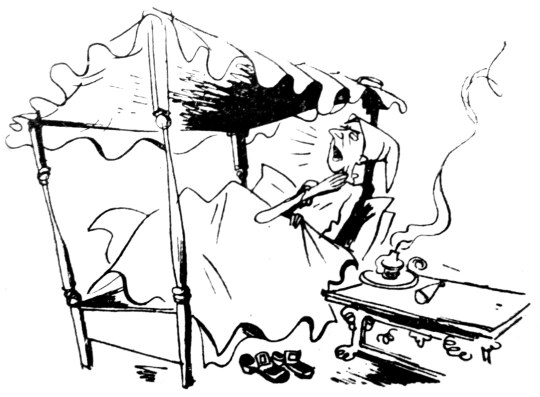 I am at this moment deaf in the ears, hoarse in the throat, red in the nose,
green in the gills, damp in the ,eyes, twitchy in the joints and fractious in
the temper from a most intolerable and oppressive cold, caught the other day, I suspect, at Liverpool, where I got exceedingly wet…
– Charles Dickens to H. Ainswarth. 1843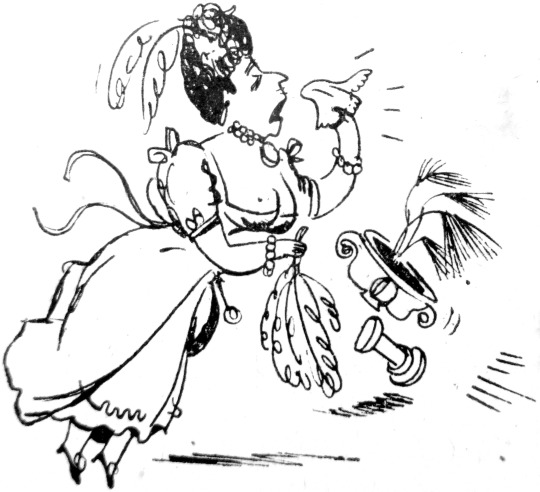 …it seems the Duchess had caught a violent cold by a hair of her own whisker getting up her nose and making her sneeze …"
– Horace Walpole to Lady Harvey. 1758

Afterwards I happened to be alone with this charming Princess, and her sister Elizabeth, in the Queens dressing-room. She then came up to me: Now will you excuse me, Miss Burney, if I ask you the truth of something I have heard about you? … It is such an odd thing, I dont know how to mention it; but I have wished to ask you about it this great while. Pray is it really true that, in your illness last year, you coughed so violently that you broke the whale bone in your stays in two? As nearly true as possible, ma'am; it actually split with the force of the almost convulsive motion of a cough that seemed loud and powerful enough for a giant. I could hardly myself believe it was little I that made so formidable a noise.
– Diary. Frances Burney 1786