Edward Bawden – Press and Books, 1979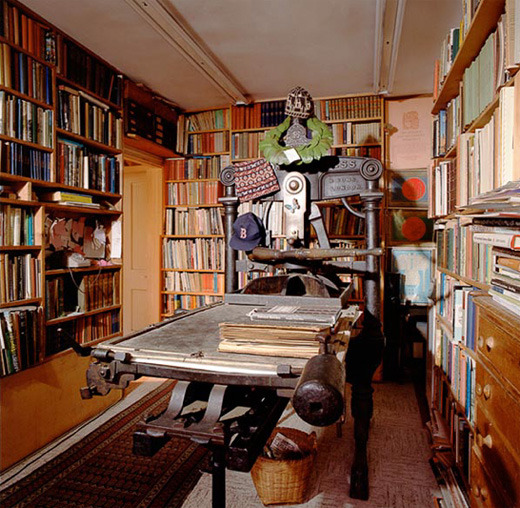 The Print Room – 2 Park Lane, Saffron Walden, 1989
Edward Bawden is best known as one of the Great Bardfield artists in the 1950s, but as the artists either divorced or moved away to other villages and towns, Edward and his wife Charlotte were the only important artists left in the village in the late 1960s, (other than John Aldridge). With health problems and old age, Bawden and his wife decided to move to Saffron Walden. Charlotte sadly died just before moving into 2 Park Lane, Saffron Walden, but Edward honoured the sale and moved alone in 1970.
With the blank canvas of a new house, Bawden set to work decorating the rooms with his own wallpapers and setting up the possessions brought from Brick House into this new home. A studio was built on the back of the property with large windows and a trap door for large works to enter the studio without going through the house.  After ten years living at the property Bawden's health became worse with old age.
For most of the year he was more house-bound than he had ever been and this forced him into new subject areas. In 1986 he began a series of watercolours which depicted his own rooms, his studio, his plants, his glowing oriental carpets, his gas fire, his cat Emma Nelson, and, eventually, this most private of men made his own face the subject of his art.
This focus on home and the cat was becoming obvious when one looks at the exhibition picture list for 'The Private World of Edward Bawden' by the Fine Art Society in 1987.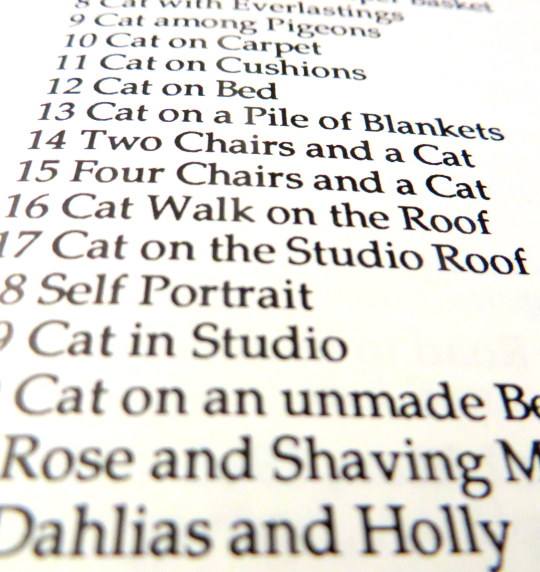 Works list at 'The Private World of Edward Bawden' Exhibition, 1987. †
The Tate now possess two of the pictures from this show, "Emma Nelson by the Fire" and "Roses and Rue", both pictures with the cat in. In the magazine 'House and Garden' (December 1987) Edward Bawden gave an interview about his cat:
No cat will suffer from being lifted up and dropped into an empty space intended for her to occupy; that procedure led inevitably to Emma, tail up, walking away at once, so I had to wait patiently until Emma had enjoyed a good meal of Coley and was ready to choose her daily sleeping place, wherever it might be. I would then spring into action with a colour and colour. ‡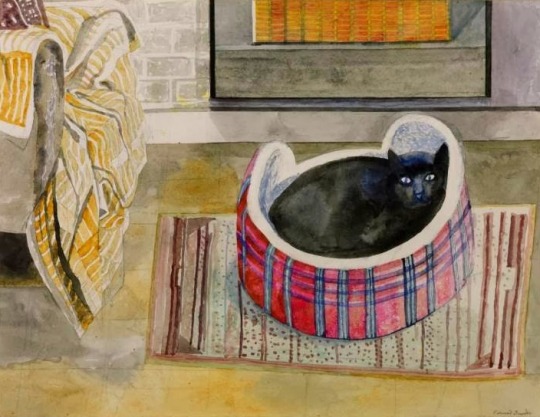 Edward Bawden – Emma Nelson by the Fire, 1987
When the Tate wrote to Richard Bawden for more information on the painting they had acquired (Emma Nelson by the Fire) in 1991 he responded with this letter:
Although the house is covered with his early wallpapers, yellowed by nineteen years of nicotine, his studio being an extension was painted brick and not alas the wallpaper known as Rustication [1938–9] … The nasty tartan fur lined cat 'basket' came from the local charity shop … The rug on the floor used to be in the bathroom at Brick House, Gt. Bardfield, bought by my mother on a trip to Portugal or elsewhere. The curtain draped over the armchair hung in the spare room at Gt. Bardfield, and I am fairly sure must have been designed by Marianne Straub who lived in the cottage directly across the road and who at the time, I mean the late fifties, was chief designer at Warners. The cushion, at a guess because there is not much showing, was probably covered by a piece of hand blocked cotton by Barron & Larcher who had a studio in Painswick until the outbreak of war. The gas fire I cannot help you with, only I think Edward has improved its design. ♠
The letter illustrates a lifetime of collecting and friendships in the possessions Bawden owned. In next week's post I will elaborate more on this theme but I will leave you with some of the many images Bawden painted of his home and of his cat.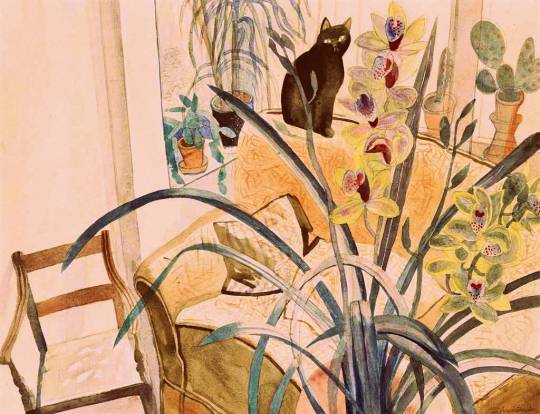 Edward Bawden: Cat and an Orchid, 1987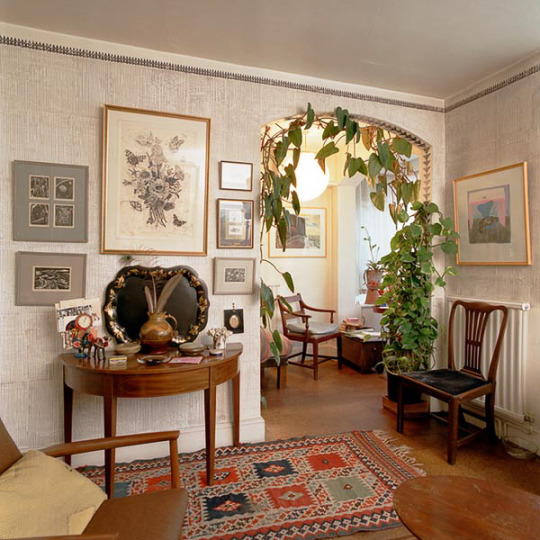 The Living Print Room – 2 Park Lane, Saffron Walden, 1989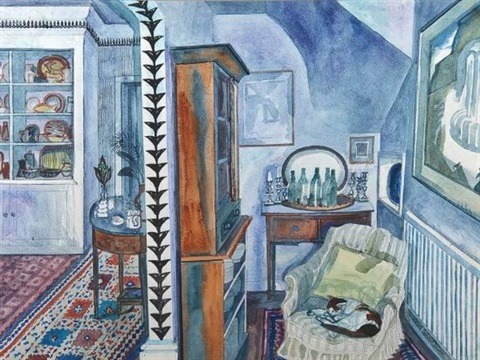 Edward Bawden – Cat on Cushions. 1985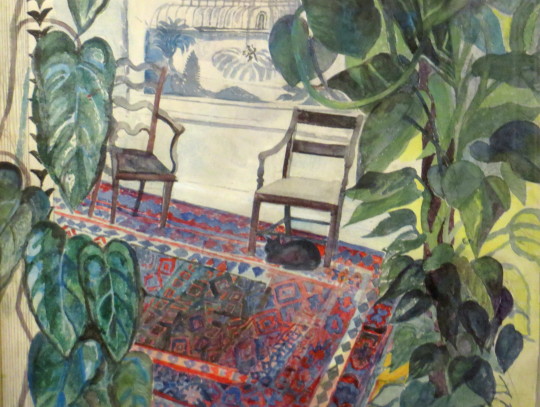 Edward Bawden – The Living Room, 1985 (Featured in the R.A. '85 Summer Exhibition)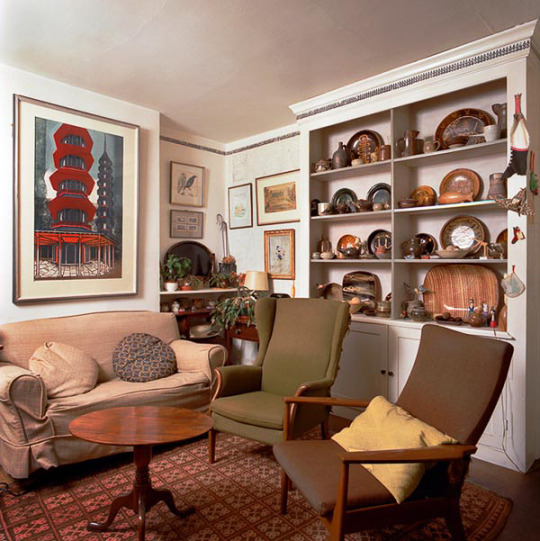 The Living Room – 2 Park Lane, Saffron Walden, 1989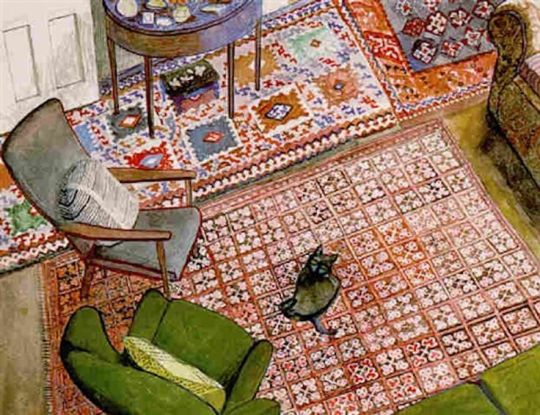 Edward Bawden – Cat on the Carpet, 1987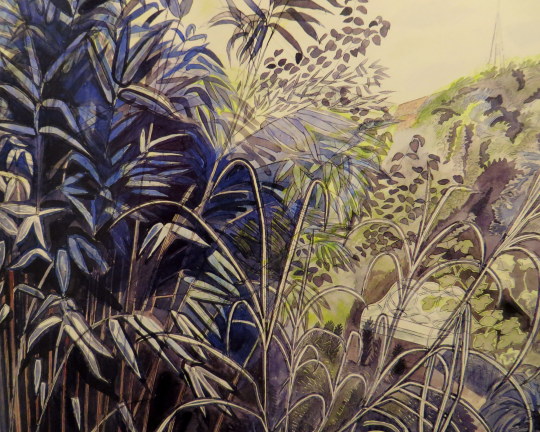 Edward Bawden – Bamboos and Garden Seat, 1979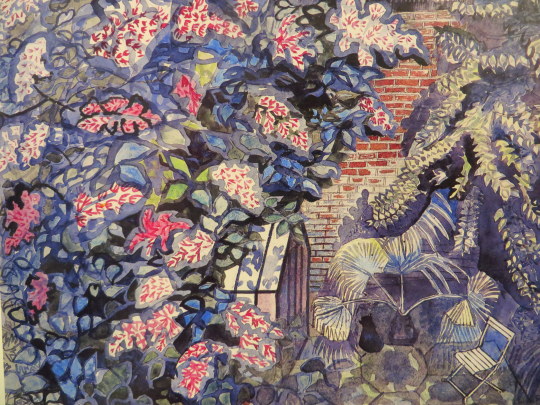 Edward Bawden – Cat and Greenhouse, 1986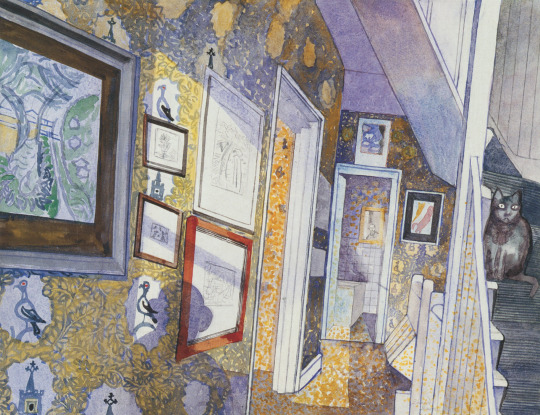 Edward Bawden – Cat Among Pigeons, 1986.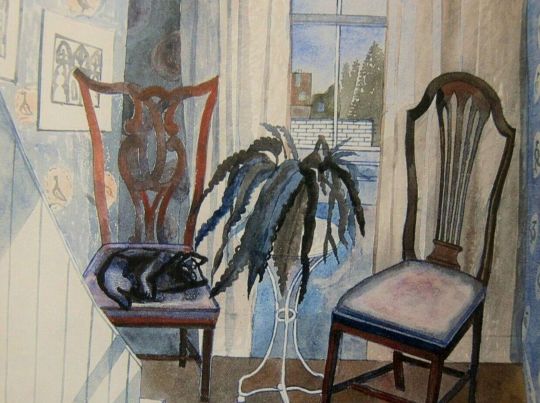 Edward Bawden – Two Chairs and a Cat, 1986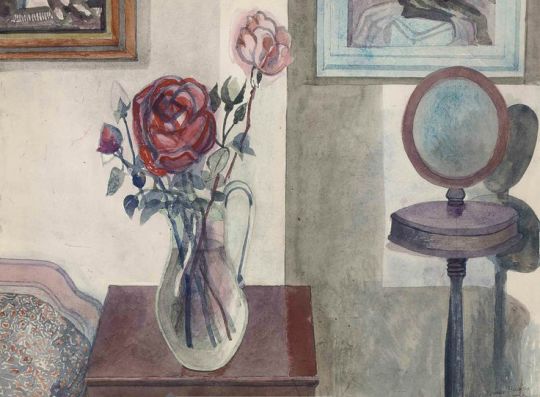 Edward Bawden – Rose and Shaving Mirror, 1987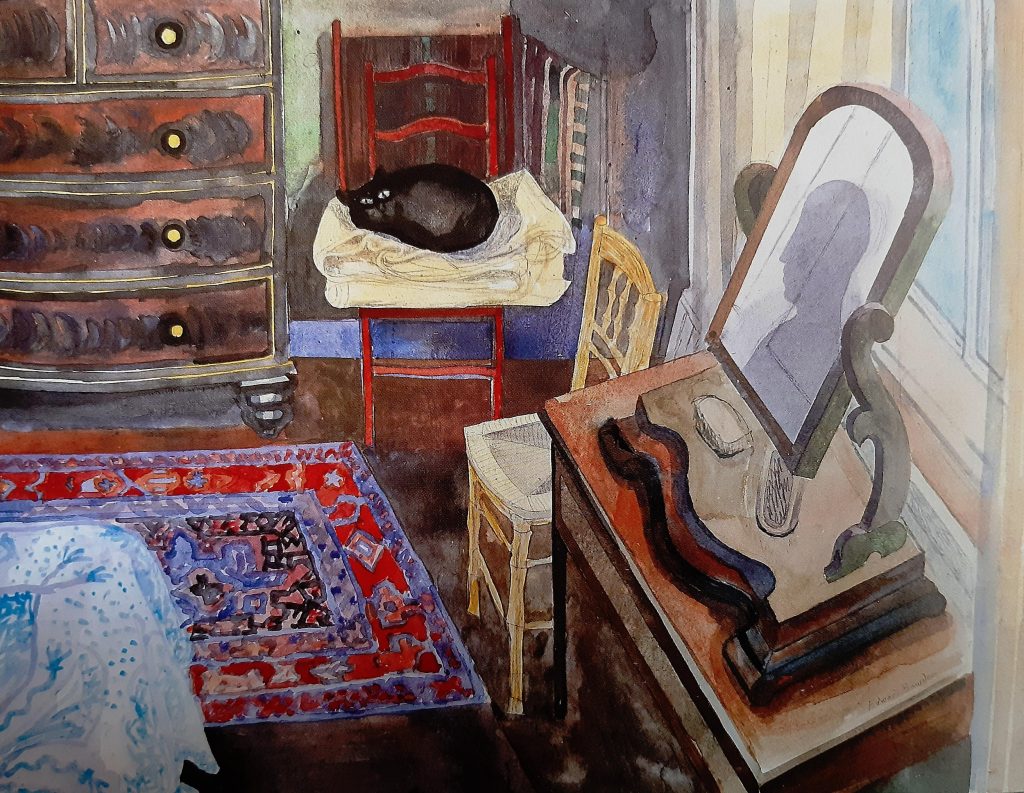 Edward Bawden – Cat on A Pile of Blankets, 1985
d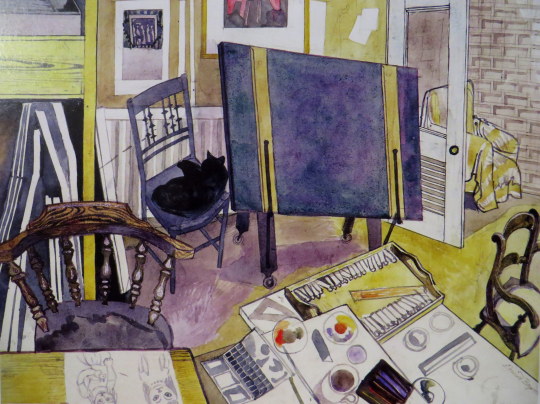 Edward Bawden – Four Chairs and a Cat, 1987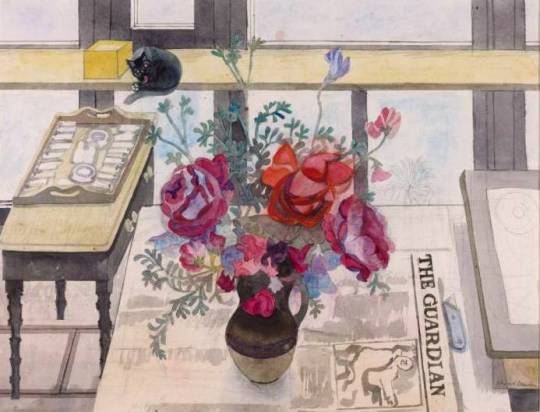 Edward Bawden – Roses and Rue, 1987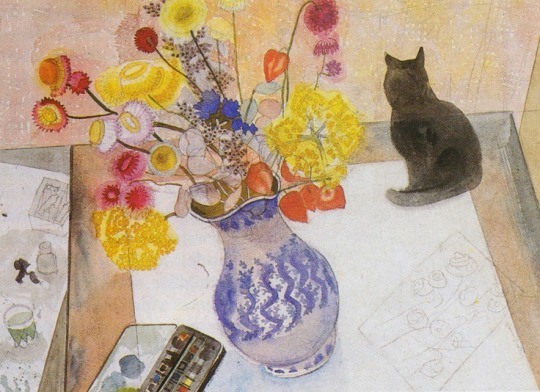 Edward Bawden – Cat with Everlastings, 1987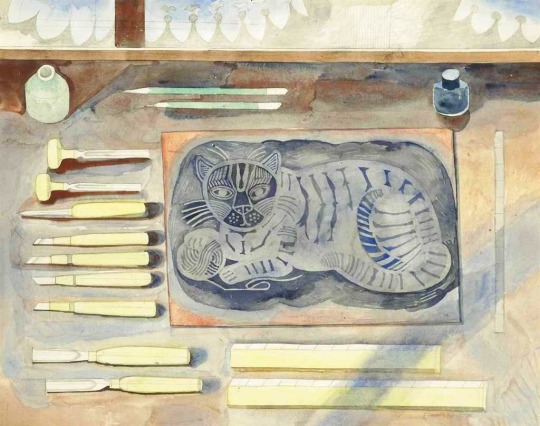 Edward Bawden – Play With Me, 1983
The linocut on the table when finished and editioned was also called Play with Me, now famous for being a Cushion from the Fry Gallery.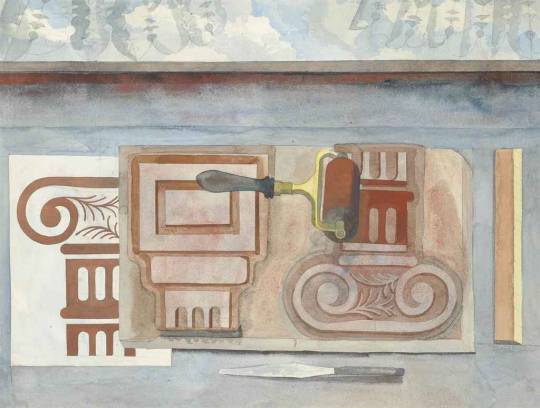 Edward Bawden – Cap and Base, 1983
Bawden printed these designs onto ceramic tiles, presumably for himself.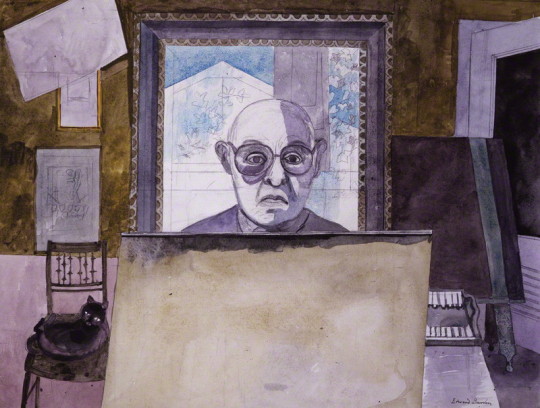 Edward Bawden – Self-Portrait, 1986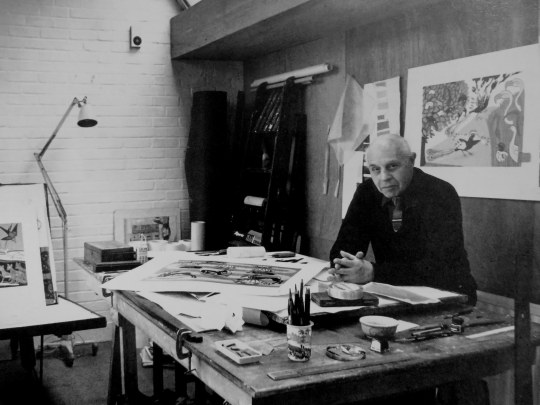 Jorge Lewinski – Edward Bawden in his Studio, 1978.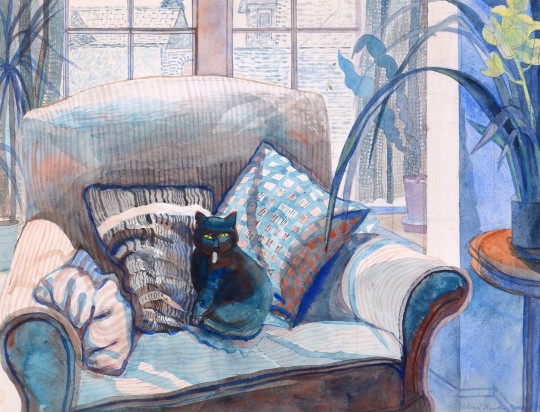 Edward Bawden – Cat on a settee, 1987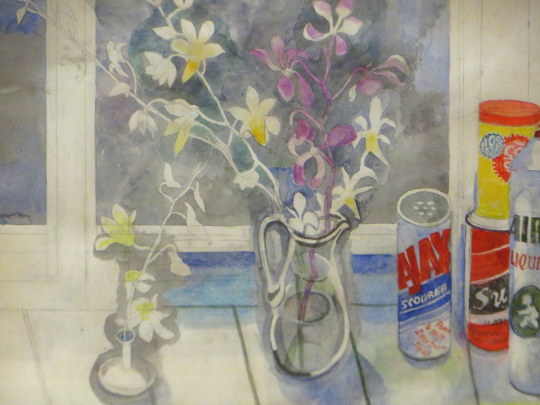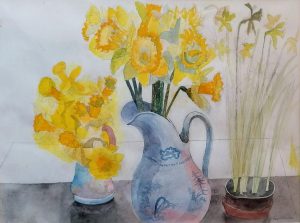 Edward Bawden – Daffodils, 1988
Below is one of the last watercolours Bawden painted and left unfinished and the linocut also unfinished.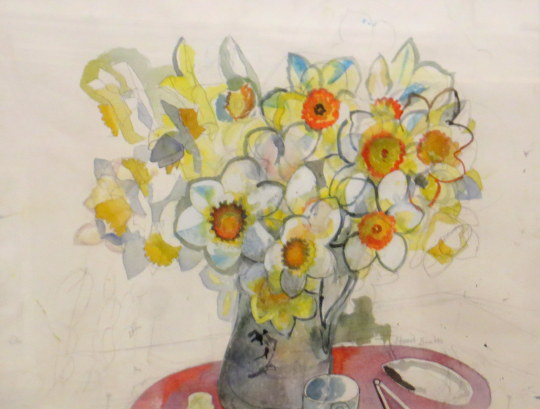 Edward Bawden – Daffodils, Unfinished, 1989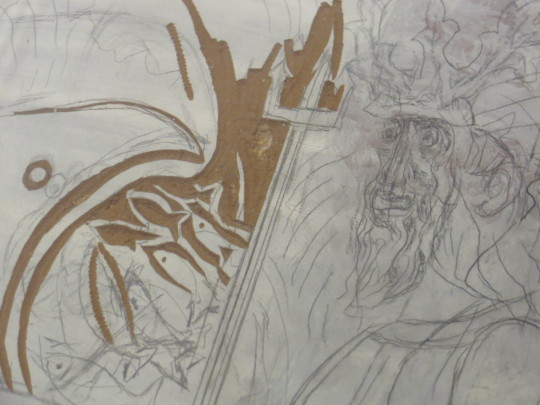 Edward Bawden – Poseidon Linocut, Unfinished 1989
Bawden was working on this linocut on November 21st 1989 before attending for lunch, where he died at table. ♥
† Fine Art Society, The Private World of Edward Bawden' Exhibition Booklet, 6-30 April, 1987
‡ House and Garden' (December 1987) Edward Bawden
♠ Tate Gallery: Illustrated Catalogue of Acquisitions 1986-88, London 1996.
♣ Malcolm Yorke – Edward Bawden and his Circle.
♥ Fry Gallery Label 2018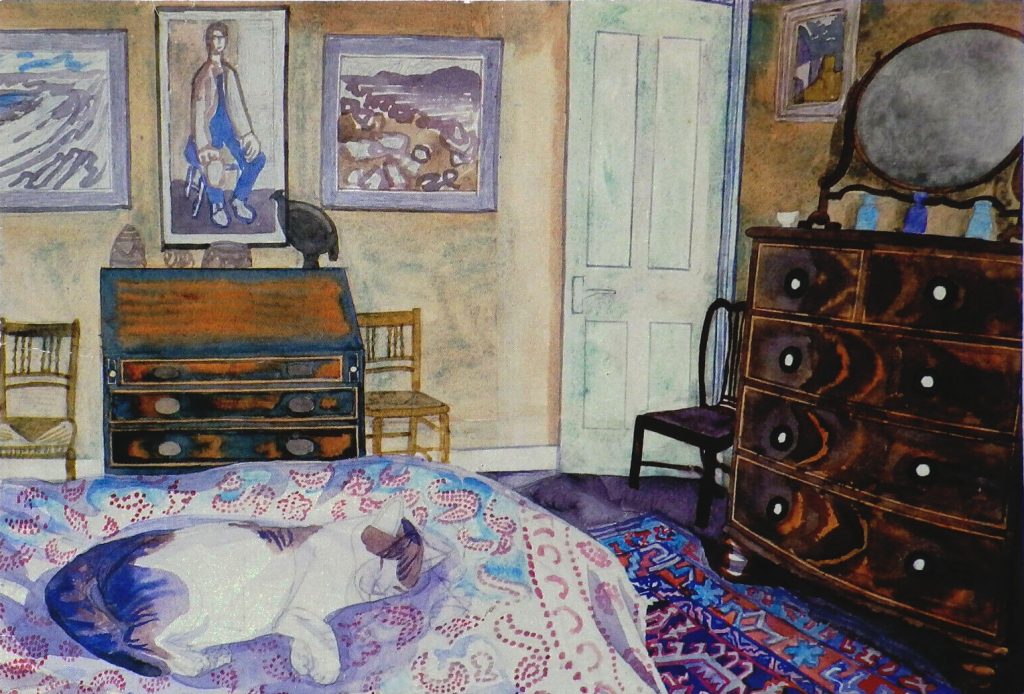 Edward Bawden – His Master's Room, 1984