Between Walton-on-the-Naze and Harwich, is Landermere, a hamlet made up of an old pub and some cottages built next to a quay on the river. In the 16th century it is rumoured to have been a former smugglers' bay due to its close proximity by boat to the North Sea.
This article is a set of biographies of the extraordinary people who have lived in this place with around 15 houses, mostly in the last 100 years. Some of the shining lights of 1950s British art seemed to end up in this tiny place in Essex, rather like Great Bardfield.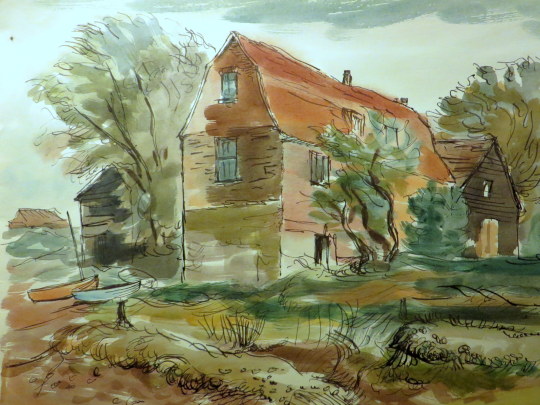 John Hutton – A sketch of Landermere.
Landermere Wharf, a small dock which, as well as being used for hundreds of years to bring in heavy goods, was also once a commercial concern. First used in Elizabethan times, it was sold in 1760 to Richard Rigby who also owned the post at Mistley. The main cargoes were coal, corn and Scandinavian timber.

Remote coastlines have always been a problem for customs men, particularly around inland bays such as Hamford Water where boats carrying contraband could be moored, waiting for a suitable opportunity to approach the wharf and offload. The King's Head pub used to be situated near Landermere Wharf, and reputedly lost its licence in 1913 after a smuggling incident. ♠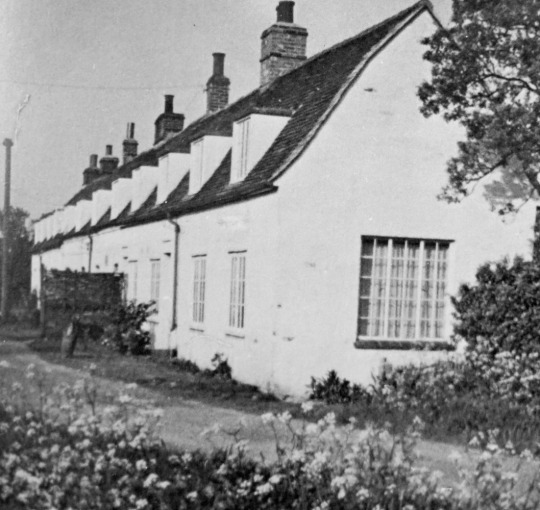 Gull Cottages, Landermere, c1950.
Sir William Withey Gull (Queen Victoria's Doctor – Ripper Suspect)
Adrian and Karin Stephen (Brother of Virginia Woolfe)
Nigel and Judith Henderson (Daughter of Adrian and Karin)
Eduardo Paolozzi (Artist, Murals in Tottenham Court Road Station)
Basil Spence (Architect, Coventry Cathedral)
John Hutton (Artist, Coventry Cathedral)
Sir William Withey Gull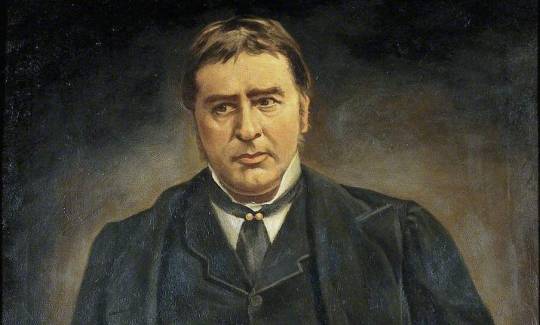 Gull was born in 1816, on the River Colne, aboard a barge called 'The Dove', then moored at St Osyth Mill, Saint Leonards, Colchester.
William's father John Gull was 38 when he was born, he was a barge owner. William's mother was 40. William was the youngest of eight children, two of whom died in infancy. When he was 4 the family moved to Landermere.
His father died when he was 10 years old and is buried at Thorpe-le-Soken. After her husband's death, Elizabeth Gull devoted herself to her children's upbringing on very slender means. She was a woman of character, instilling in her children the proverb "whatever is worth doing is worth doing well." William Gull often said that his real education had been given him by his mother.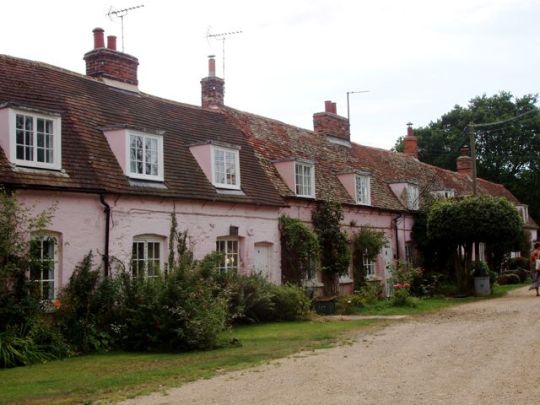 Gull Cottages, Today.
Gull attended a local school kept by the local clergyman. At fifteen he first began to study Latin. The clergyman's teaching, however, seems to have been very limited; and at seventeen William announced that he would not go any longer. Gull became a pupil-teacher in a school kept by a Mr. Abbott at Lewes, Sussex. He lived with the schoolmaster and his family, studying, but also paying his keep by also teaching Latin and Greek to the boys. At this time he became acquainted with Joseph Woods, the author, architect and botanist. He formed an interest in looking for unusual plant life that would remain a lifelong pastime and eventually turned his mind to biological and medical research. Gull was introduced to the director of Guy's Hospital, Benjamin Harrison. Harrison was impressed by Gull's abilities and Gull was given patronage to study and work as apprentice at Guy's Hospital in 1837.
Gull, encouraged by Harrison, determined to make the most of his opportunity, and resolved to try for every prize for which he could compete in the hospital in the course of that year. He succeeded in gaining every one.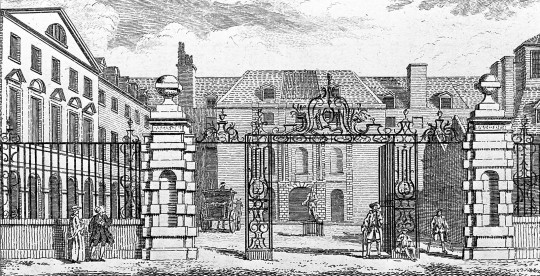 Guy's Hospital in Gull's time.
Aged 26, Gull was appointed to teach Materia Medica at Guy's Hospital. A Year later in 1843, he was appointed Lecturer on Natural Philosophy. He also held at this time the post of Medical Tutor at Guy's and was appointed Medical Superintendent of the wards for lunatics. At 30, he earned his M.D. degree at the University of London, and gained the gold medal. At that time this was the highest honour in medicine which the University was able to confer.
In 1847, Gull was elected Fullerian Professor of Physiology at the Royal Institution of Great Britain, a post which he held for two years, during which time he formed a close friendship with Michael Faraday (at that time Fullerian Professor of Chemistry). In 1848, he was elected a Fellow of the Royal College of Physicians.
In 1887, Sir William Gull suffered the first of several strokes at his Scottish home at Urrard House, Killiecrankie. The attack of hemiplegia and aphasia was caused by a cerebral haemorrhage, of which the only warning had been unexplained haemoptysis a few days earlier.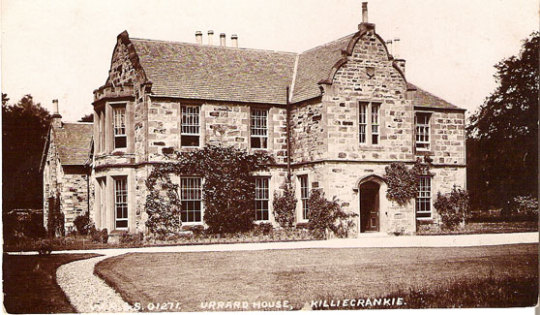 Urrard House, Killiecrankie
He recovered after a few weeks and returned to London; but was under no illusions about the danger to his health, remarking "One arrow had missed its mark, but there are more in the quiver". Over the next two years, Gull lived in London, Reigate and Brighton, suffering several more strokes. The fatal attack came at his home in 74, Brook Street, London on 27 January 1890. He died two days later.
The term anorexia nervosa was first used in 1873 by William Gull to describe this condition.
---
Postscript:
Dr. Thomas E. A. Stowell suggested in a 1970 article in 'The Criminologist' that Sir William Gull, the Royal physician, attempted to certify Prince Albert Victor, Duke of Clarence and Avondale, who was the Ripper.
Stowell claimed that his main source was Gull's daughter Caroline who was married to Theodore Dyke Acland. Having studied under Acland, Stowell referred to him as "one time my beloved Chief". Stowell was an executor of Acland's will.
Stephen Knight, in his 1976 book Jack the Ripper: The Final Solution went even further, claiming that Jack the Ripper was actually a three-man team, with Gull as the actual killer. Knight alleged that Gull was a Freemason and the killings were carried out according to Masonic ritual. Knight claims that Gull afterwards became insane and was certified in an asylum under the name "Thomas Mason" and a sham funeral service carried out in the pretence that he had died. Cited as evidence in support of the theory is the fact that Acland signed his father-in-law's death certificate. While Acland's actions were unusual and were not encouraged, they were not illegal.
Following Stowell's article, Colin Wilson disclosed that ten years before it was published, Stowell invited him to lunch at his club and tried to convince him that they were thinking along the same lines on the Ripper mystery. He told him, "Jack the Ripper was the Duke of Clarence." Later, Wilson said that he contacted Stowell to ask him if he might mention the theory in some articles that he was about to write and although Stowell refused, saying "Her Majesty might not approve", Wilson had the distinct impression that Stowell hoped the he would mention it. He said, "He (Stowell) had been sitting on this thing for 30 years and would have welcomed the chance to test public reaction."
In the 1988 mini-series Jack the Ripper, Acland was played by Richard Morant.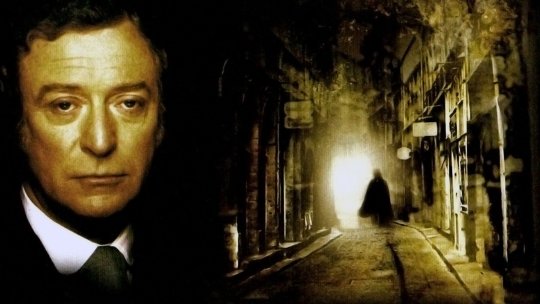 Poster for Jack the Ripper (1988) 
---
Adrian and Karin Stephen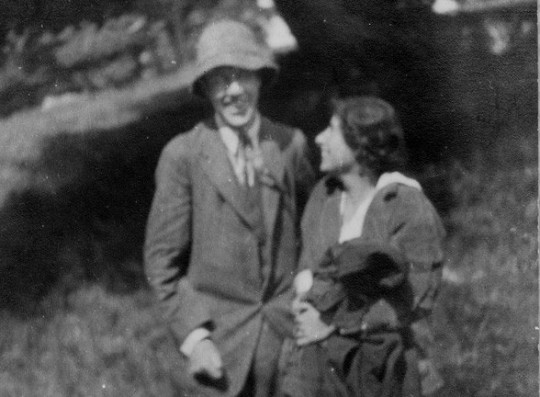 Photograph of Adrian and Karin together in 1914. NPG, London.
Adrian:
Landermere was the former home of Adrian and Karin Stephen. Adrian Stephen (1883–1948) was the younger brother of Thoby Stephen, Virginia Woolf and Vanessa Bell and the brother-in-law of Clive Bell, Duncan Grant and Leonard Sidney Woolf. This naturally forged him as a member of the Bloomsbury Group. By his mother's first marriage, he was also a half-brother of George and Gerald Duckworth of Duckworth Publishers.
Virginia Woolf eventually accused Gerald and George, of having sexually abused her and Vanessa when they were children and teenagers.
One of main highlights to a biographer for Adrian Stephen's life would be the precursor to the Dreadnought Hoax, the Zanzibar Hoax at Cambridge in 1905.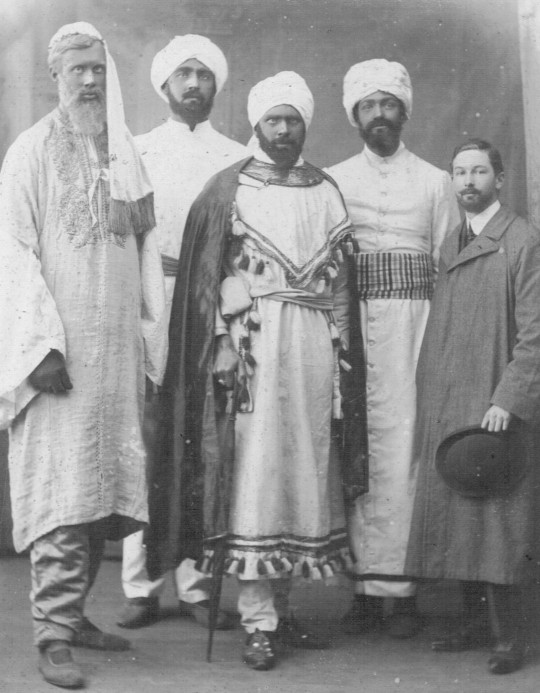 "Prince Musaka Ali and his suite" were in fact students (L-R) Adrian Stephen, Robert Bowen Colthurst, Horace Cole, Leland Buxton and 'Drummer' Howard. In this guise, they hoaxed the Mayor and citizens of Cambridge, 1905.
Adrian was a student at Cambridge University with Horace de Vere Cole at the time when the Sultan of Zanaibar was know to be visiting England. A telegram was sent to the Mayor, ostensibly from a government official.
Cole, Stephen and three other friends then dressed up in robes and turbans and arrived at the railway station where they were met by the Town Clerk who took them to an official reception by the Mayor at the Guildhall. After the reception, charity bazaar and tour of the sights, they were taken back to the station, where they made their escape. The story was then given to the Daily Mail by Cole and became famous. The Mayor wanted the student sent down but was persuaded by the Vice-Chancellor that this would damage his reputation further.
In 1909 Adrian had an affair with Duncan Grant but in 1914 Adrian married Karin Costello, a philosophy graduate of Newnham College, Cambridge. Virginia Woolf once wrote of Karin "A good cob of a woman, but so hearty and without shade or softness. Age will harden her … and her family will coarsen her."
During the World War One, Adrian Stephen, like most of the Bloomsbury men, was a conscientious objector. Through the war years Karin and he worked on a dairy farm in Essex until 1918.
Through Duncan Grant he met Lytton Strachey (Duncan's cousin) and also Lytton's brother, James Strachey. James Strachey and his wife Alix were the first translators of Freud into the English language, and the first professionally qualified and practising psychoanalysts in Britain. Their enthusiasm rubbed off onto Adrian and Karin, and after the war they both decided to become analysts, an ambition fulfilled for Adrian in 1926 after completing a medical degree. They went on to be keen followers of Freud's methods.
With the coming to power of Adolf Hitler and the rise of Nazi Germany and antisemitism, Stephen's pacifist views changed. At the outbreak of the war in 1939, he volunteered to become an army psychiatrist and in 1942 he become an army doctor  at the age of 60. He died in 1948.
---
Karin Stephen:
Karin had a remarkable life at Cambridge University as a student. After a pause in her studies from ear trouble she came back and was awarded a double first in Mental and Moral Science. She was elected a member of the Aristotelian Society. Her tutor was Bertrand Russell and he would later become her uncle by marriage. She wrote 'The Misuse of Mind: A Study of Bergson's Attack on Intellectualism' published in 1922.
After Adrian's death, Karin's health deteriorated. After a life of deafness and manic depression in 1953 Karin committed suicide leaving her daughter Judith the house in Landermere.
---
Judith Stephen and Nigel Henderson.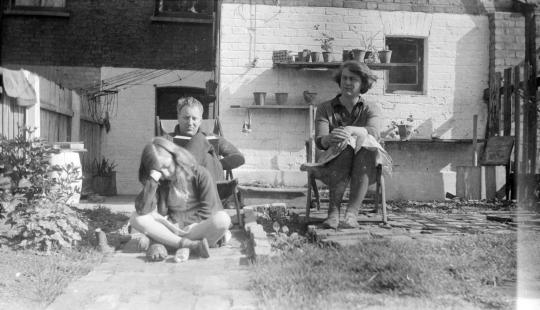 Nigel, Judith and Drusilla 'Jo' Henderson in the garden of 46 Chisenhale Road, Bethnal Green, 1952

Nigel Henderson (1917-1985)
Judith Stephen (1918-1972)
Nigel Henderson's parents divorced when he was young. His mother, Wyn Henderson, creatively inspired him to pursue a career in art though her friends and connections. At the beginning of her career Wyn managed 'The Hours Press' for Nancy Cunard (the first person to publish Samuel Beckett) in Paris and found herself mixing with Surrealist artist and poets. After a quarrel with Cunard, Wyn returned to London to live in Gordon Square, the heart of the Bloomsbury Set. The young Nigel saw an early performance of Virginia Woolf's Freshwater in Vanessa Bell's studio and stayed with Bell and Duncan Grant at Charleston.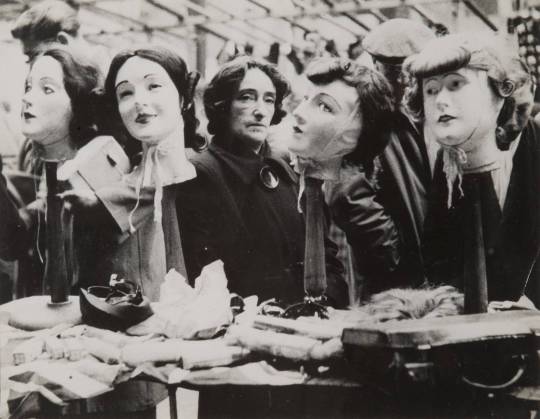 Nigel Henderson – Wig Stall, Petticoat Lane, 1952
Nigel was able to meet Max Ernst on a trip to the south of France in 1932, Ernst inspired him to become a full time artist. At this time in 1938, Wyn was managing Peggy Guggenheim's gallery 'Guggenheim Jeune' at  30 Cork Street, London. Peggy Guggenheim was an airess of the mining
Guggenheim family and her father had died on the RMS Titanic. The
gallery links helped Nigel meet Marcel Duchamp as well as Jean Cocteau
and Wassily Kandinsky.
Nigel studied biology at Chelsea Polytechnic in London from 1935–1936. He then worked as an assistant to Helmut Ruhemann from 1936–1939 restoring old master paintings. In the late 1930s Henderson developed paintings inspired by Yves Tanguy, another of Guggenheim's artists. Nigel displayed two of his collages at the gallery. Peggy Guggenheim closed Guggenheim Jeune with a farewell party on 22 June 1939 having made a loss of £600 in the first year.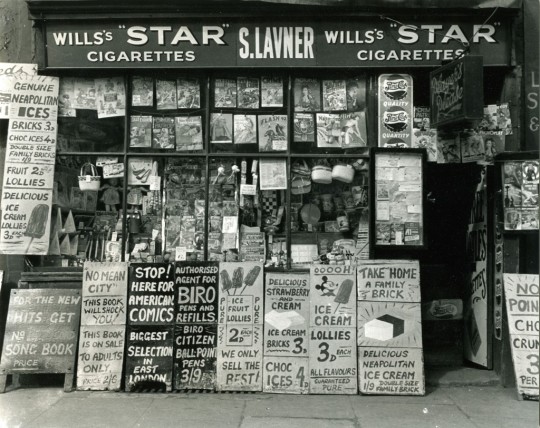 Nigel Henderson, Shop Front, Bethnal Green, 1949-1953.

Henderson put his passion for art aside to join the war effort as a pilot in Coastal Command. In 1943, he married Judith Stephen, daughter of Adrian and Karin Stephen. The niece of Virginia Woolf and Vanessa Bell, Judith had graduated from Cambridge when she met Nigel. She was stationed in Bethnal Green as part of a social anthropology project. Judith's access to the working class and poorer parts of London inspired Nigel to go out and photograph the nearby people and shops. He also continued to experiment with collages and the physicality of photography, he achieved abnormal effects by using various techniques such as altering negatives and placing images on light-sensitive paper to create Photograms.
As a biologist, Henderson was fascinated by the universe revealed by the microscope. As a pilot, he was familiar with landscape perceived from the air. His experiments with cameras, enlargers and developing combine the
two perspectives. What looks like a study of cellular structures turns out to be a photograph composed of bomb debris.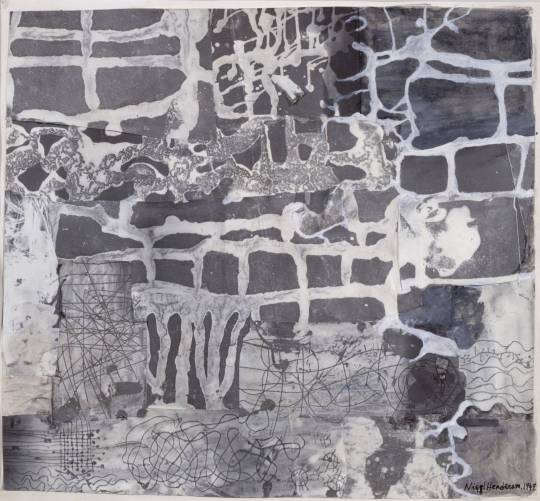 Nigel Henderson – Collage, 1949.
He enrolled at the Slade School of Fine Art in London. At Slade he befriended Eduardo Paolozzi and William Turnbull. With Paolozzi, he formed The Independent Group in 1952. The Independent Group's other main members were Lawrence Alloway, Richard Hamilton, John McHale and Alison & Peter Smithson. They had their meetings at the Institute of
Contemporary Arts in London.
Following the suicide of Judith's mother Karin Stephen in 1953, the couple moved into Judith's Landermere family home in 1954 and bounced between there and London for the rest of their lives. Paolozzi moved across to the road at Gull Cottage in 1955.
From 1965–1968 and from 1972–1982 he headed the photography department at Norwich School of Art while working on independent projects.

 A Christmas letter from Nigel Henderson in Landermere to artist Chris Mullen.
His obituary quotes: "I want to release an energy from trivial data. I feel happiest among discarded things, vituperative fragments cast casually from life, with the fizz of vitality still about them."
Although part of the Independent Group and using 'found objects' to make art, Henderson's photography and design was also more old fashioned and documentary styled than the Pop Art of Paolozzi.
---
Sir Eduardo Paolozzi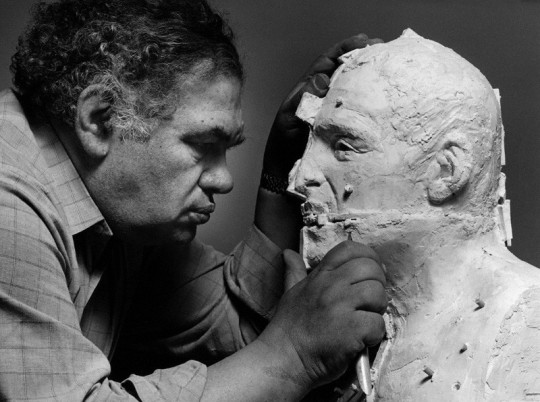 Eduardo Paolozzi taken by Frank Thurston, NPG, 1988
Paolozzi was born in Leith in north Edinburgh and was the eldest son of Italian immigrants. His parents owned an ice-cream cafe in Leith. Paolozzi's father was an admirer of Mussolini and sent Eduardo to a fascist youth camp in Italy every summer where he acquired a liking for badges, uniforms and aeroplanes.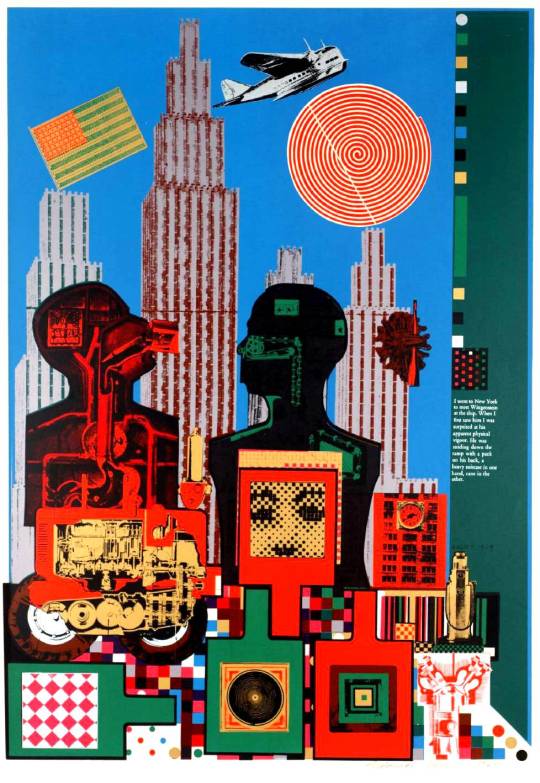 Eduardo Paolozzi – Reality, Tate, 1964
In June 1940, when Italy declared war on Britain, Paolozzi was interned (along with most other Italian men in Britain). His father, uncle and grandfather were among 630 Italian and German internees killed when the ship carrying them to Canada, the SS Arandora Star, was sunk by the German U-Boat, U-47, on 2 July 1940.
Being 16, Eduardo spent three months in Saughton jail, Edinburgh, rather than put on a boat. Upon his release, Paolozzi helped his mother and sister, Yolanda, make and sell ice cream while he attended the Edinburgh College of Art learning calligraphy and lettering.
Moving to London he studied briefly at Saint Martin's School of Art in 1944, and then at the Slade School of Fine Art at University College London from 1944 to 1947. In the post war years of  1947-1949 Paolozzi moved and worked in Paris. Like Henderson, he became acquainted with Alberto Giacometti, Jean Arp, Constantin Brâncuși, Georges Braque and
Fernand Léger.
On moving back to Britain he moved to 9 Paultons Square, Chelsea in London. His studio was full of hundreds of found objects, from toys and books to tools and models. Part of this studio has been re-created in the Scottish National Gallery of Modern Art.
In 1951 he married Freda Elliot, a textile designer. In the mid 1950s
Eduardo Paolozzi moved to Landermere to work and raise his family. He
had followed his friend Nigel Henderson. Paolozzi moved across to the
road at Gull Cottage in 1955.
Together with Nigel Henderson he established Hammer Prints Limited, a design company producing wallpapers, textiles and ceramics that were initially manufactured at Landermere Wharf.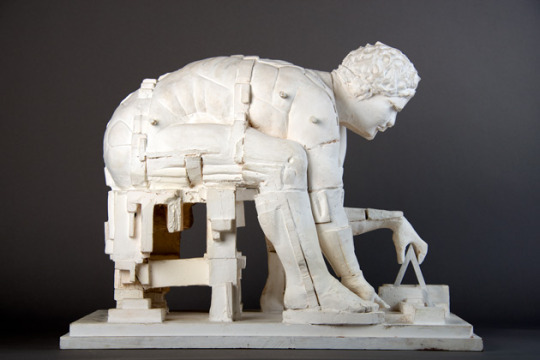 Eduardo Paolozzi – Newton after Blake, 1993–94.

Paolozzi came to public attention in the 1950s by producing a range of striking screenprints and "Art Brut" sculpture. He was a founder of the
Independent Group in 1952, which is regarded as the precursor to the
mid-1950s British and late 1950s American Pop Art movements. His
seminal 1947 collage "I was a Rich Man's Plaything" is considered the earliest standard bearer representing Pop Art.
Paolozzi's graphic work of the 1960s was highly innovative. Using silk screen printing he was able to use and modify the colours of found images in the Pop Art style. The resulting prints are characterised by Pop culture
references and technological imagery. In 1979 he was asked to design a large scale mural in Tottenham Court Road Underground station, London. The mosaic's frenetic design was intended to reflect the station's position adjacent to Tottenham Court Road's large concentration of hi-fi and electronics shops.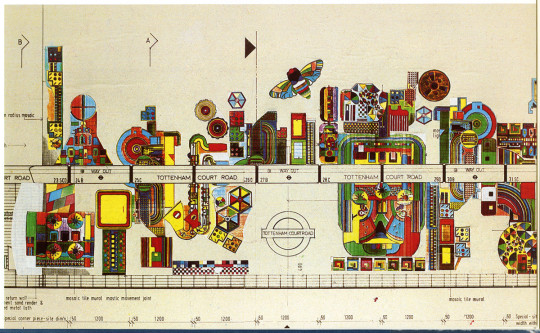 Paolozzi's design for Tottenham Court Road on London Underground 
Some of this mosaic has now been removed in the expansion of the station
for Crossrail. These parts are due to be reconstructed and installed in the University of Edinburgh.
Paolozzi was appointed CBE in 1968 and in 1979 he was elected to the Royal Academy. Paolozzi was knighted by Queen Elizabeth II in 1989 as a
Knight Bachelor.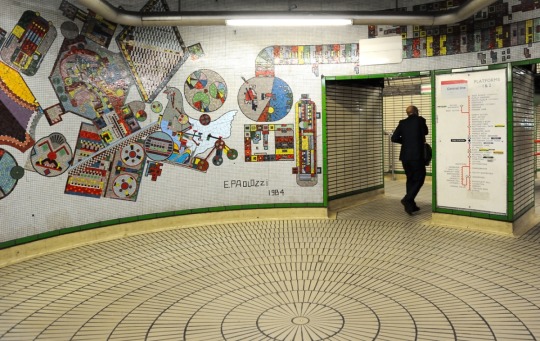 Part of the surviving mosaic in Tottenham Court Road Underground station.
He was promoted to the office of Her Majesty's Sculptor in Ordinary for
Scotland in 1986, which he held until his death. He also received an
Honorary Doctorate from Heriot-Watt University in 1987.
On Desert Island Discs, Paolozzi's luxury item was a Hurdy gurdy.
---
Hammer Prints Limited
In 1954, with Paolozzi, Henderson established Hammer Prints Limited, a design company producing wallpapers, textiles and ceramics that were initially manufactured at Landermere Wharf.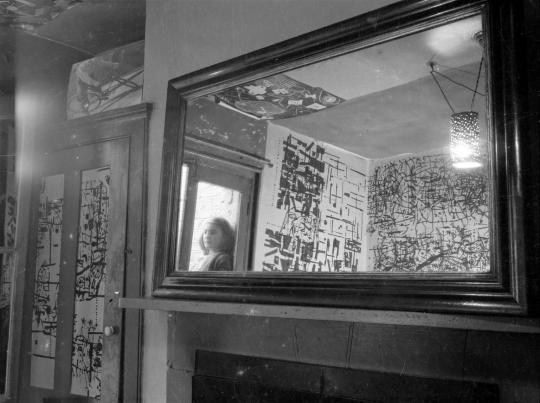 Interior of the Henderson's house at 46 Chisenhale Road, Bow, covered with Hammer Print prototypes.

Henderson and Paolozzi were registered as the company directors along with Judith Henderson who acted as secretary. Working from a studio at the Henderson's home, they developed over eleven designs that were screen printed onto wallpapers, textiles and ready made ceramic products.
It's aim "To purchase, sell, manufacture, hire or act as agents for the sale of textiles, wallpaper, statuary, ceramics, furniture and photographic equipment and materials". Paolozzi's notes stated 'it is the object of Hammer Prints Ltd that an attack be made on the craft field using the silk-screen as the media to be exploited. ♣"
In 1955 the wallpapers were manufactured by Cole and Son (who also printed Edward Bawden and John Aldridge's designs) and their textile designs were
produced by the Lancashire firm Hull Traders from 1958.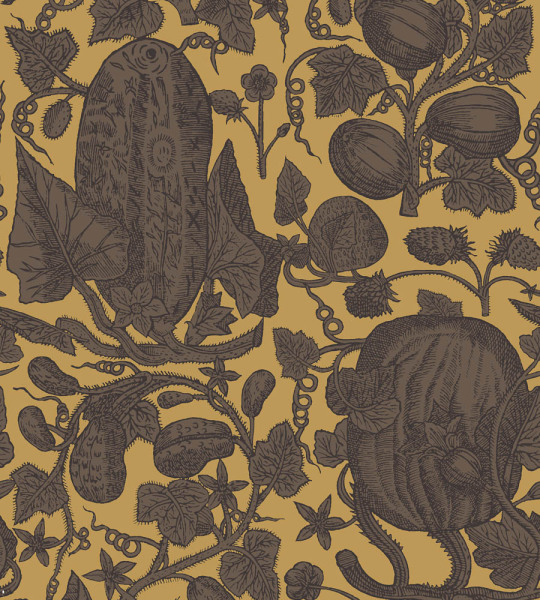 Cowcumber by Hammer Prints, Printed by Cole and Sons, 1955.
Coalface, Cowcumber, Hessian and Sgraffito were the first to become available
from January 1955. Barkcloth, Big Drawings, Newsprint, Portobello and Townscape followed whilst Sea Beasts and Toys were developed for a range of ceramic tiles, lampstands, bowls, trays and furniture.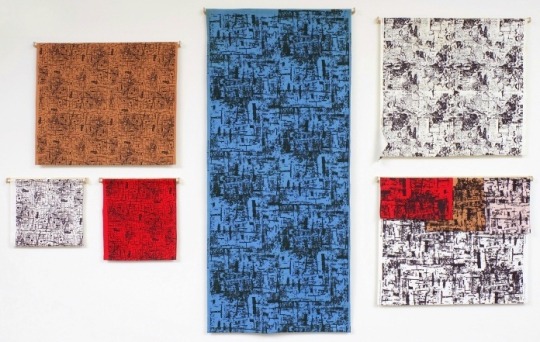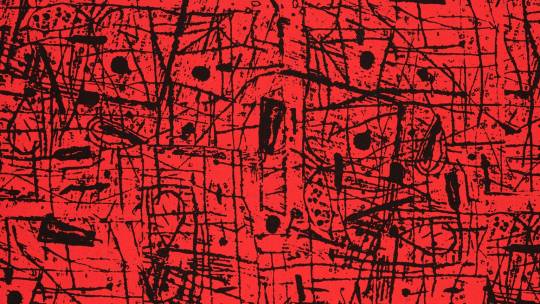 Sgraffito by Hammer Prints, Printed by Cole and Sons, 1955.
Hammer Prints exhibitions were held at the Studio Club on Swallow Street in December 1955 and from 10 December 1956 to 4 January 1957. The Castle Bookshop on Museum Street in Colchester also held an exhibition and sale of bowls, tiles, scarves, textiles and wallpapers from 21 April to 5 May, 1956. The designs were for sale in Liberty and Habitat.
The collaboration between the artists lasted only a few years with Henderson working on designs alone until 1962. The artists continued to receive royalties on their design work from Cole & Son and Hull Traders until the company was dissolved in 1975.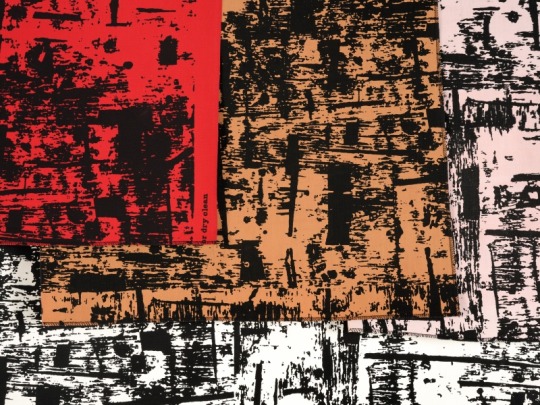 Colour choices for Sgraffito by Hammer Prints, Printed by Cole and Sons, 1955.
---
Basil Spence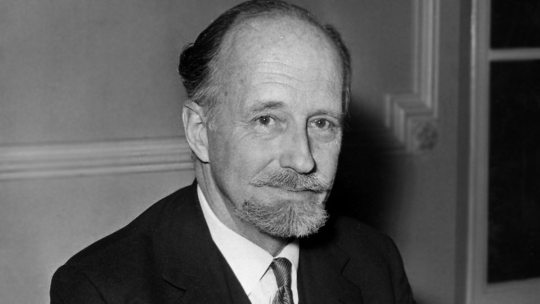 Spence was a Scottish architect, most notably associated with Coventry Cathedral in England and the Beehive in New Zealand, but also responsible for numerous other buildings in the Modernist/Brutalist style.
Basil Spence and his wife Joan took a holiday cottage at the far end of the Gull Cottage row which they used for weekends and holidays.
It was while Basil Spence was laid up with influenza at Landermere that he occupied his time working on designs for the architectural competition for the new Coventry Cathedral – only a part, of course, of months of work on the designs.
But Basil Spence's decision to enter this competition, and his ultimate success against 218 other entries in August 1951, was later to alter beyond recognition the lives of the Spence and Hutton occupants of the cottages at Landermere. Basil Spence wrote of John Hutton: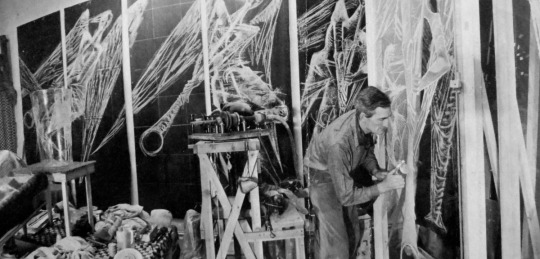 John Hutton in his studio, engraving the Coventry Glass, 1964.
I had no hesitation in recommended John Hutton for the great glass screen as he had worked with me on many exhibitions and I had found him an artist of great quality, a true draughtsman and one who knew the glass engraving technique backwards. Moreover, he was a delight to work with, practical and trustworthy. †
On Desert Island Discs, Spence's luxury item was Spaghetti.
---
John Hutton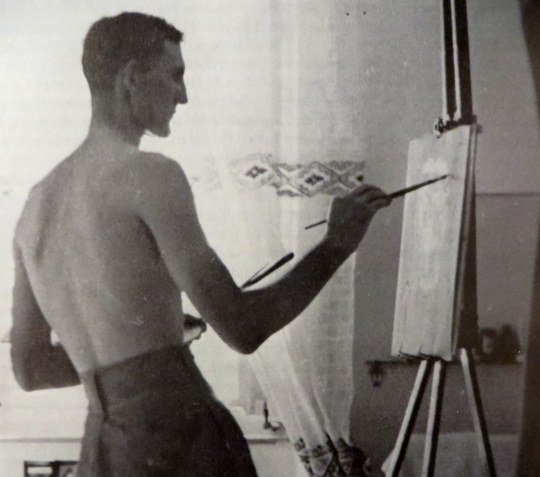 John Hutton – Painting during a spell of sick leave in Tiberias, 1942.
John Hutton was born on the New Zealand and is most famous for his glass engravings on the Great West Screen of Coventry Cathedral. Known as the 'Screen of Saints and Angels' the Coventry work features 66 larger-than-life figures that took ten years of creation, for which he received
instant acclaim in 1962 alongside other artists like John Piper and Graham Sutherland.
He was first married to the artist Helen 'Nell' Hutton (née Blair), an
artist from New Zealand in 1934. Two years later the couple set sail
for Britain to help their artist careers. For John the move gave him
commissions for murals on the S.S. Orcades for Orient Line and later, a large mural design for the Festival of Britain.
The war found Hutton working as a camouflage officer in a unit designing
anything from fabrics for uniforms in different terrains, to ways of concealing airfields runways with paints and chalk to look like fields from above.
He had three children with Helen, all boys: Warwick Hutton, who was an artist, Macaillan Hutton, an architect, Peter Hutton, a teacher.
John and Nell had been invited to a party at the home of Karin Stephen (the widow of Virginia Woolf's brother, Adrian) in order to meet Bertrand Russell. Nell recalls that it was an especially good party – "lots to drink and Bertie Russell very jovial." But the really good thing that emerged from the party was the discovery that Karin Stephen owned a cottage on an Essex estuary which she was prepared to let. It was Landermere Creek, near Thorpe-le-Soken, and perhaps it was the "lots to drink" atmosphere of that party which fostered a swift decision, for on 7 April 1949 the Huttons left London and moved to Essex. The twins (Warwick and Macaillan) were nine years old, and a completely changed life lay before them. ‡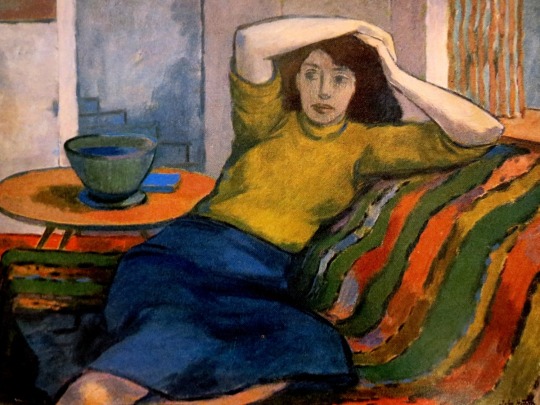 John Hutton – Nell Hutton at Landermere, Private Collection, 1951
The Gull Cottages were coastguard cottages, used more for the policing of smuggling than the saving of lives. When the tide was in the mash land of birds and reeds became wide rivers that went miles inland.
Hutton moved to Landermere in the King's Head to start with, before moving into one of the Gull Cottages where he had a glass studio in the garden. Eduardo Paolozzi used it to make his sculptures in, he described it thus: "a glass shed, which was home-made and always leaking, it had been inhabited formerly by a glass artist much used by Basil Spence called John Hutton… But he seemed to have limited means, and there was a lot of DIY there. ♥"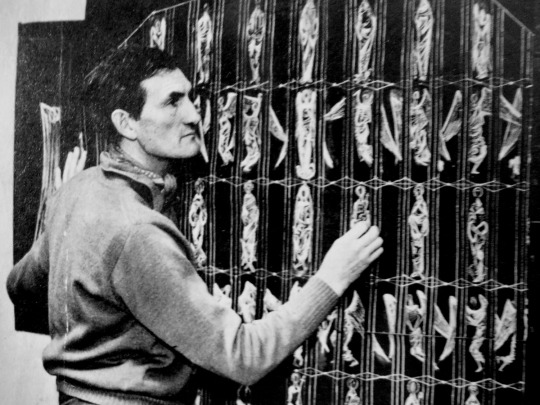 John Hutton – Chalk Plan for the Coventry Window, 1952.
Among Hutton's other public commissions were six larger-than-life Angels for the South and West doors of Guildford Cathedral.
With the opening of the new Shakespeare Centre at Stratford-upon-Avon,
Hutton was commissioned to make life sized etchings of famous actors,
but altered his brief to 'Shakespeare's Characters' and portraits of Ophelia, Macbeth, Romeo and Juliet. Nineteen characters were engraved into glass. Hutton selected the 19 characters based on two main criteria:
1) The character is instantly recognisable to any viewer. (read:
non-scholars)
2) The character can stand alone without any background detail or
overwrought attention to costume.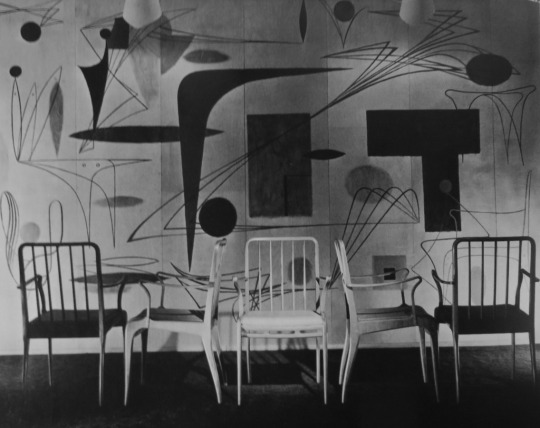 John Hutton – Mural for Furniture Exhibition Stand, British Industries Fair, London, 1949
At the Civic Centre of Newcastle upon Tyne, UK, he created a glass
screen representing some of the great inventions of the city with the
help of his son, Warwick Hutton. 1975 he became first Vice President of the newly founded British Guild of Glass Engravers (Laurence Whistler was first President and Queen Elizabeth, The Queen Mother was its first Patron).
His second marriage was to Marigold Dodson, they had one daughter, Katie Hutton. His windows are in buildings all over the world and his glass engravings, paintings and murals in global national collections.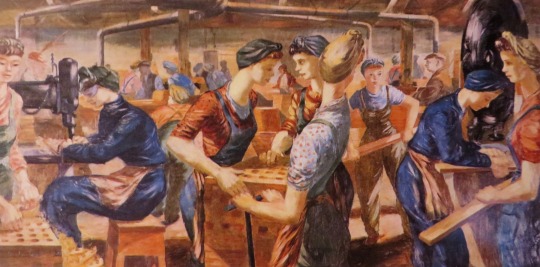 John Hutton – Women At War, Mural for Crosby & Company Ltd, 1946.
References:
† Phoenix at Coventry: the Building of a Cathedral  by Basil Spence, 1962
‡ John Hutton by Margaret Brentnall, 1986
Henderson Letters: Fulltable.com Website
♠ The Essex Coastline, Then and Now by M.P.B. Fautley and J.H. Garon, 2004
♣ Nigel Henderson & Eduardo Paolozzi: Hammer Prints Ltd. 1954 – 75, 2012
♥ Frank Whitford Interviewing Eduardo Paolozzi – Sir Eduardo Paolozzi, Tate Archive C466/17/F4988-A
Nigel Henderson: Parallel of Life and Art by Victoria Walsh, 2001
Eduardo Paolozzi by Judith Collins, 2014