It was at an exhibition at Kettles Yard (before the new extension and when they had wonderful exhibitions about the items in Jim Ede's historic collection) that I thought Ben Nicholson was an insecure fraud, what amazes me is how many people adore him. Though someone I spoke to told me that his white abstracts and etchings are popular because they fit in any room, they become perfect for collectors.
The chameleon of art Ben Nicholson moves from friend to friend like an artistic vampire, sucking up their style and way of painting until his paintings look just like theirs. In my view he did have talent but, no direction for it, and that is where the insecurity is. I just find it confusing why all the artists he was around are now seen to be in his shadow, while he a poor shadow of their work.
Nicholson was born in Denham, Buckinghamshire, and was the son of the artists Sir William Nicholson and Mabel Pryde. He studied at the Slade School of Art, 1910-11. He spent 1912 to 1914 in France and Italy, and was in the United States in 1917-18. He married the artist Winifred Roberts in 1920. Over the next three years they spent winters in Lugano, Switzerland, then divided their time between London and Cumberland. In 1931, Nicholson's relationship with the sculptor Barbara Hepworth resulted in the breakdown of his marriage to Winifred. He and Hepworth married in 1938 and divorced in 1951.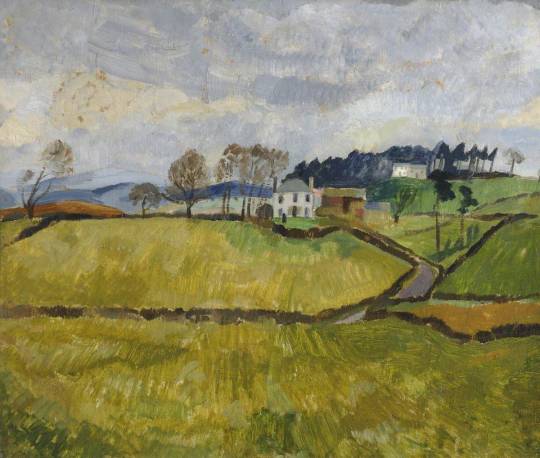 Christopher Wood – Cumberland Landscape, 1928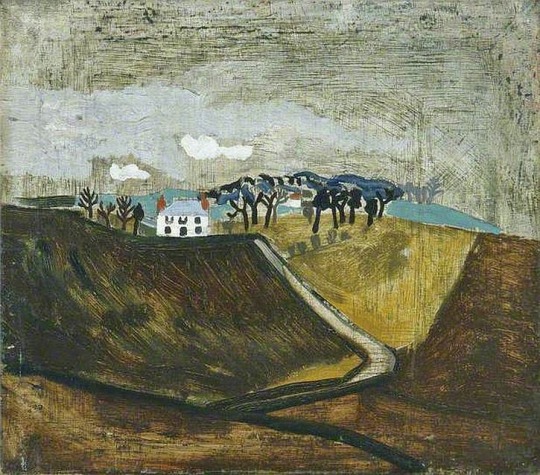 Ben Nicholson – Cumberland Landscape, 1930 
Naturally there are good and bad points about Nicholson, in some ways he was a bully in other ways he was a well connected person who could put artists in contact with dealers. One of those was when Nicholson and Christopher Wood discovered Alfred Wallis, a fisherman who turned shop keeper until his wife died. Wallis had taken up painting as a hobby like many Victorians. Then he would have been called an 'amateur painter', today he would be called an 'outsider artist'. I think both Nicholson and Wood could see a primitive painter who had no desire to paint copies of art he liked (like most Victorian amateur painters) – but painted the life he knew and could see. His paintings sold for two shillings each and Jim Ede was motivating galleries in London to sell his work too.
Wallis was not a rich man, he painted on whatever he could find: Old board, paper and the inside of tins or driftwood. Though highlighting Wallis to the world it could be argued that Nicholson was making himself look more important, I think this is flippant – but what I find more interesting is that Wallis is as natural and shocking to the artwork at that time as one of Duchamp's ready-made objects.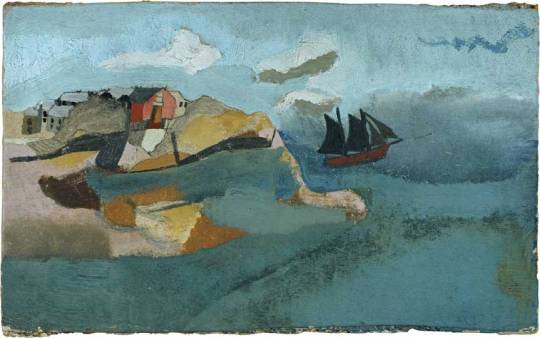 Ben Nicholson – Untitled – Cornish Port, 1930s
The moment I knew I was angry at Nicholson was when I saw his works inspired from being around Alfred Wallis. It isn't the painting, it was the way Nicholson had snapped the corners off to make it look authentically impoverished – that was the moment I knew the man was a shit. He wasn't an artist who was inspired by his contemporaries, he was a vampire to them.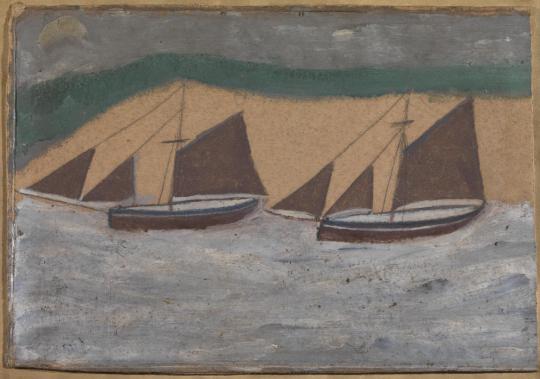 Alfred Wallis – Two Boats', Alfred Wallis, c.1928 
In order to level my argument out – I will say how good it was that Wallis did live to see his work in major galleries. The Metropolitan Museum of New York bought one of his paintings in his lifetime, but he still found it hard to make a living. Nicholson and Wood included him in the Seven & Five Society's exhibition in 1929 as a guest member, but over the next decade his work was only collected by a small circle of other artists and collectors of modern art. He did end up in the workhouse after suffering from delusions and paranoia of his new found fame.
Wallis believed that his neighbours resented his fame, believing him to be secretly rich. In one of his last letters, to Ede, he wrote: i am thinkin of givin up The paints all to gether i have nothin But Persecution and gelecy [jealousy] and if you can com [come] down for an hour or 2 you can take them with you and give what they are worf [worth] afterwards. These drawers and shopes are all jealous of me. ‡
When Wallis was in the workhouse he appealed to Nicholson for money to buy his freedom but he sent him a box of paints to work his way out.
Nicholson, since 1928, had groomed Wallis with gifts, and that patronage and his collection of Wallis paintings brought out his competitive side. (Sven) Berlin succinctly tells us that there were discussions of how they could help Wallis but his suggestion that a collection should be made among artists and writers came to nothing. †
It was Adrian Stokes who organised the grave for Alfred Wallace to be in St Ives Cemetery with a sea-view rather than the Salvation Army and pauper's grave he was given by the workhouse. Bernard Leach made the ceramic tiles that decorate his grave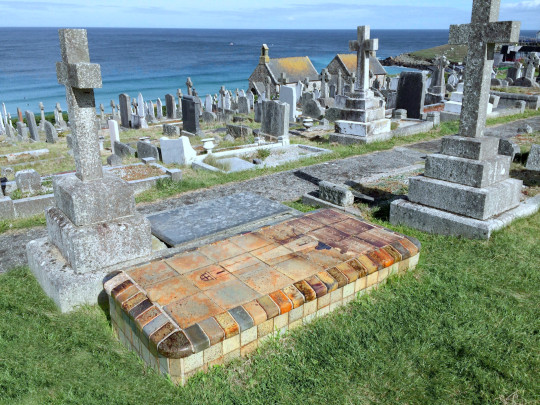 The Grave of Alfred Wallis with lighthouse tile design by Bernard Leach
The confusing state of the 7&5 Society 
The Seven and Five Society was an art group consisting mainly of ex-servicemen who had been art students before the war. Their goal was to exhibit  work rather than have a bold manifesto or be tied to an art style. It was easier to exhibit work in large numbers as the cost would be reduced on mass. The society was set up in 1920 but in 1924 Ben Nicholson was made a member. He more or less became a cuckoo in the nest for the group and elected his friends as members. In 1929 the group added the new members of Christopher Wood, Cedric Morris, Sidney Hunt, William Staite Murray, Frances Hodgkins, Jessica Dismorr, Evie Hone, Edward Wolfe and David Jones, as well as Alfred Wallis as a guest exhibitor. Nicholson voted to change the name to the '7 & 5 Society' to look more modernist but failed to get the group changed to '7 & 5 Abstract Group'.
The old members were confused and angry that their group was being steamrolled into following his way and with his elected friends Nicholson could vote in new rules. One new rule was that exhibitions were to be non-representational and the hanging committee were only empowered to select and hang abstract. This move finally segregated the original members. The reaction was the departure of a number of artists in 1934: Edward Bawden, John Aldridge, Frances Hodgkins, Cedric Morris, Len Lye and Percy Jowett. Replacement members and exhibitors included John Piper, Arthur Jackson and John Cecil Stephenson, all of whom worked in a non-representational manner. After this point the group renamed itself as the 'Seven and Five Abstract Group' in 1935 but only had one show after that point and the group was disbanded.
This post all comes to a division of the man and the art – like the music of Michael Jackson, the architecture of Albert Speer and some of the work of Nicholson, the men in this list are not as worthy as the work.
† David Wilkinson – The Alfred Wallis Factor: Conflict in Post-War St Ives Art, 2017
‡ Wikipedia – Alfred Wallis