The 1939 war has been responsible for a remarkable social experiment in the furniture field. The extreme shortage of timber, much more marked than in the previous war, and the destruction of furniture by bombing led to an unprecedented situation. A rationing system was essential, and this entailed standard specifications and designs. The President of the Board of Trade appointed a Committee to advise him. 
"On diversifications for the prediction of utility furniture of good sound construction in simple buy agreeable designs for sale at reasonable prices, having regard to the necessity for the maximum economy of raw materials and labour."
The interesting feature of the scheme is that there has been a definite and conscious effort to grade up both designs and specification. Through it the public has therefore become accustomed to a much better and simpler type of design than was common before the war. In fact it is true to say that such designs were only obtainable then in the more expensive shops.
This applies not only to the woodwork but to the textiles, some of which reach a surprisingly high standard of design. In view of the immense scope of the scheme, which a range of standard school furniture, it is bound to have a lasting effect, not only on the public but on the trade.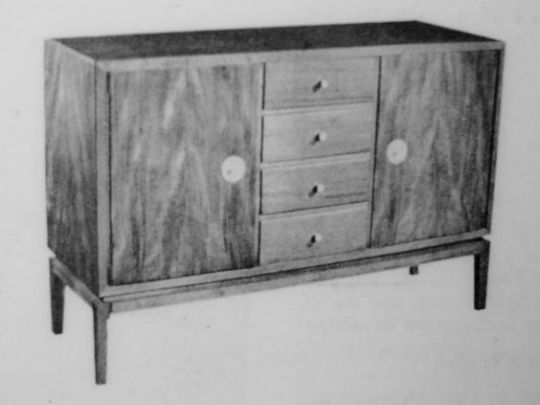 Permanent government control of design in consumer trades is hardly likely to be beneficial, but it may well prove that war-time control, accompanied by a positive urge, at a very formative period, has enabled this whole trade to review its position more freely, since the anxiety of what to make for next autumn and next sprint has for the moment been removed.

From — The things we see. Number Three: Furniture.
By Gordon Russell. Penguin Books — 1947.