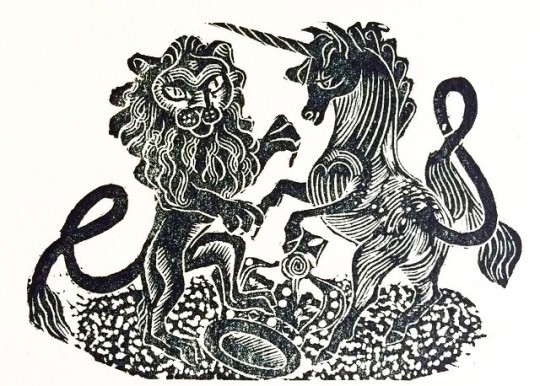 Enid Marx
The Lion and the Unicorn are heraldic symbols of the full Royal coat of arms of the United Kingdom. The lion stands for England and the unicorn for Scotland. The combination dates to 1603, the accession of James I of England who was already James VI of Scotland. The union of the two countries required a new royal coat of arms combining those of England which featured two lions, and Scotland whose coat of arms featured two Unicorns. A compromise was made thus the British coat of arms has one Lion and one Unicorn,
hence "The lion and the unicorn". 
By extension, they have also been used in the Coat of Arms of Canada since 1921.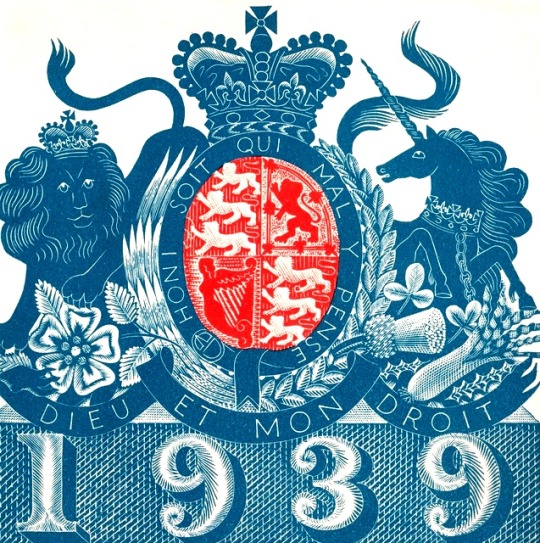 Eric Ravilious
In the art of Heraldry the Lion and the Unicorn are called 'supporters' to the clans device, the Arms. The centre of the Arms depicts the Leopards of England in the first and fourth quarters, the lion of Scotland in the second and the Harp of Ireland in the third quarter. The motto around the centre means: "Evil to him who evil thinks" which relates to the Order of the Garter. The motto at the bottom means: "God and my Right".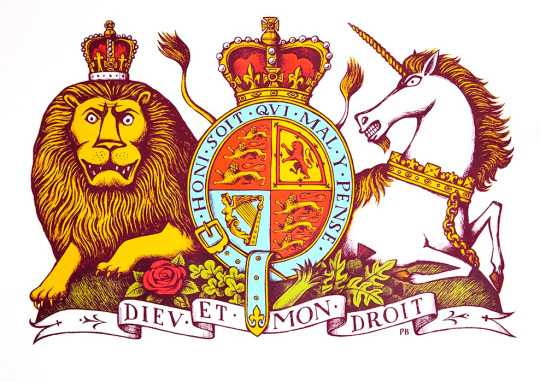 Paul Bommer
In satire the Lion and the unicorn have become many people over time in issues of Punch and other publications they are posed as rivals fighting for the common good of the country. Most famously perhaps in Lewis Carroll's Through the Looking-Glass when the illustrator John Tenniel made them into caricatures of Benjamin Disraeli and William Gladstone.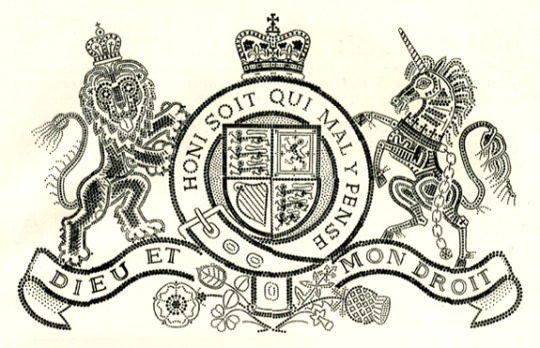 Edward Bawden
The traditional legend of enmity between the two heraldic animals and countries is recorded in a nursery rhyme. It is usually given with the lyrics:
The lion and the unicorn
Were fighting for the crown
The lion beat the unicorn
All around the town.
Some gave them white bread,
And some gave them brown;
Some gave them plum cake
and drummed them out of town.
The legend of the two animals may have been intensified by the Acts of Union 1707 and it was one year later that William King (1663–1712) recorded a verse very similar to the first stanza of the modern rhyme. This seems to have grown to include several other verses. Apart from those above only one survives:
And when he had beat him out,
He beat him in again;
He beat him three times over,
His power to maintain.