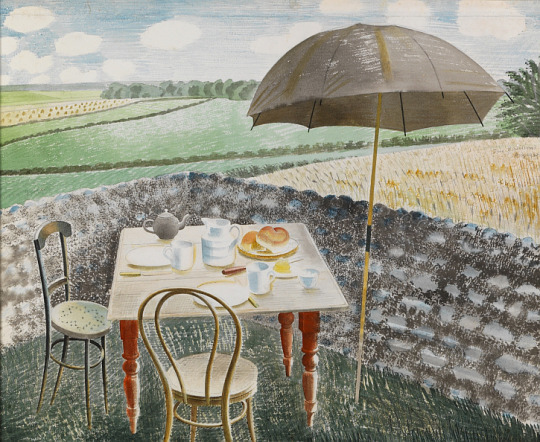 Eric Ravilious – Tea at Furlongs, 1939
From 1933 until the early 1990s, Peggy Angus lived at Furlongs, a cottage on the remote south downs near Beddingham – a stone's throw from Glyndebourne and Charleston. Before the Second World War she entertained many notable artists of the day at Furlongs, including Eric Ravilious and John Piper. The life of Peggy Angus reads from the page like the royalty of the 1930s art world.
Born in Chile on 9 November 1904, in a railway station, the eleventh of thirteen children of a Scottish railway engineer. She spent her first five years in Chile before her family returned to Britain. She grew up in Muswell Hill and became a pupil at the North London Collegiate School. At 17, she entered the Royal College of Art and, later, won a painting and teaching scholarship to Paris.

At the RCA, her contemporaries included the sculptors Henry Moore and Barbara Hepworth, the painters Eric Ravilious and Edward Bawden, and illustrators Barnett Freedman and Enid Marx. Angus wanted to be a painter but soon transferred to the Design School at the RCA, where she was taught by Paul Nash. In order to earn a living, Angus took a teacher training course and began her first teaching post in 1925. Angus travelled to Russia in 1932 for an art teachers' study visit and later urged her students to travel to the Soviet Union. This earned her the nickname "Red Angus."

After her visit to Russia in 1932, she became one of the founding members of Artists' International Association, an organisation born out of social and political conflicts of the 1930s. Between 1938 and 1947, Angus was married to James Maude Richards (author of Castles on the ground, High Street), a young architect and writer, with whom she had a daughter, Victoria, and a son Angus. Later, Richards and Angus divorced. Richards became editor of the Architectural Review and introduced her to many modernist architects. ♥
Eric Ravilious first came to visit Furlongs in 1934. Peggy Angus and her husband J M Richards had a lodger who lived with them in London, it was Helen Binyon, daughter of Laurence Binyon. Helen was a talented wood-engraver. On a trip to Furlongs, Ravilious and Binyon found themselves antiquated themselves with each other.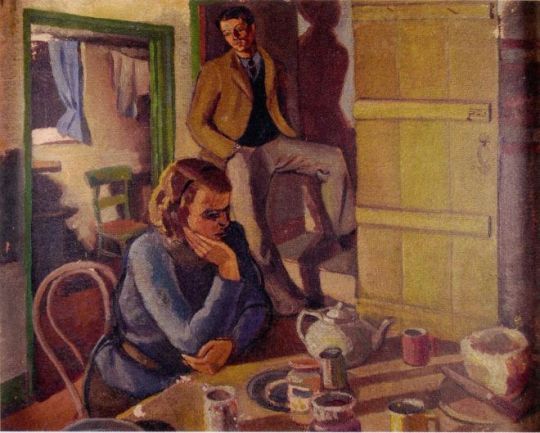 Peggy Angus – Eric Ravilious and Helen Binyon, 1934
Ravilious and Helen Binyon had been students together at the RCA, but lost touch. Peggy Angus brought them back together. Tirzah certainly visited Furlongs in 1934, but Eric's many later visits were made to meet Binyon, with whom he conducted a flaming affair for five years. In 1938 Binyon's concern for Tirzah forced an end to this relationship. ♠
On a local trip Peggy Angus took Ravilious to a cement works that was on the other side of Lewes.
In the cement works close to Furlongs, Ravilious found a miniature landscape complete with dramatic cliffs and deep gorges: a kind of modern, industrial – and in a strange way domesticated – version of the Romantic landscapes painted by Cozens and Towne. ♣
Peggy Angus took Ravilious to see a recently opened cement works, where miniature 'Dolly' engines ran on curving tracks, a few miles away across the hills. As Binyon recalls, the manager 'was surprised but pleased to meet two artists who could see beauty in his works and said they were welcome to come and draw there; he had been pained to find, when the works were started, that he was considered a desecrator of the countryside and an object of abuse from the locals. ♦
In a letter Tirzah Ravilious wrote:
There were two cement works nearby, one called Greta and the other called Garbo, and Eric was delighted with them and the funny little engines which drove the trucks. He was very happy there and did a series of cement works pictures. †
Angus and Ravilious would paint together, Angus using oil paints and Ravilious watercolours. Both produced lively works, but with Eric's works being more simple and abstracted to the eye and Angus's being nearer to how a photograph would see it.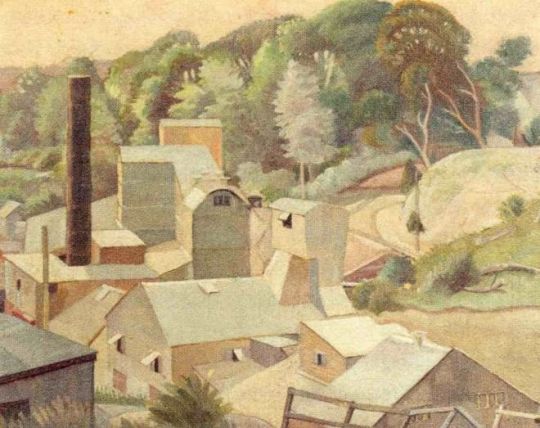 Peggy Angus – Asham Cement Works, 1934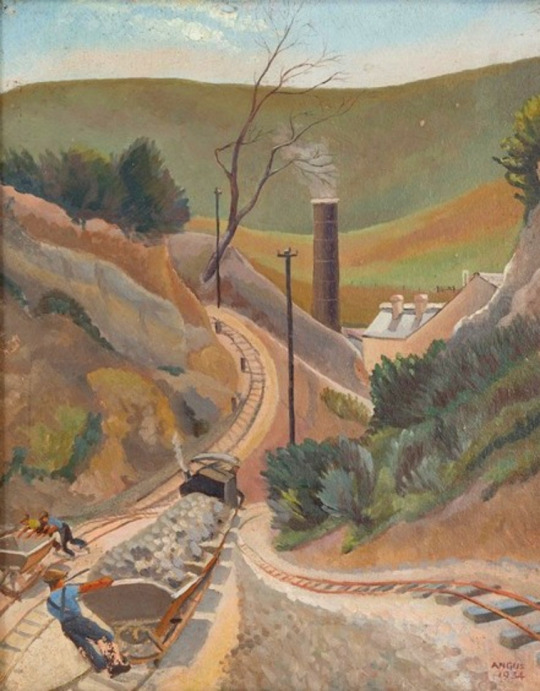 Peggy Angus – Asham Cement Works, 1934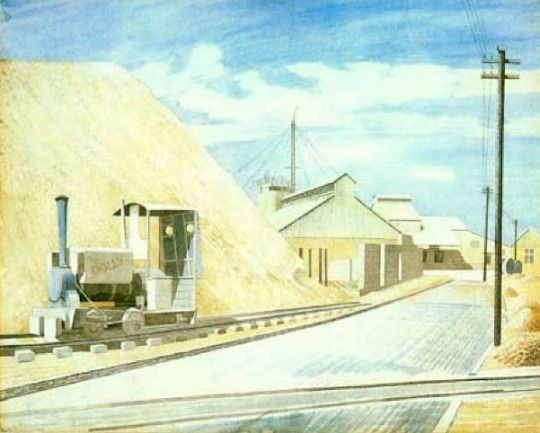 Eric Ravilious – Alpha Cement Works, 1934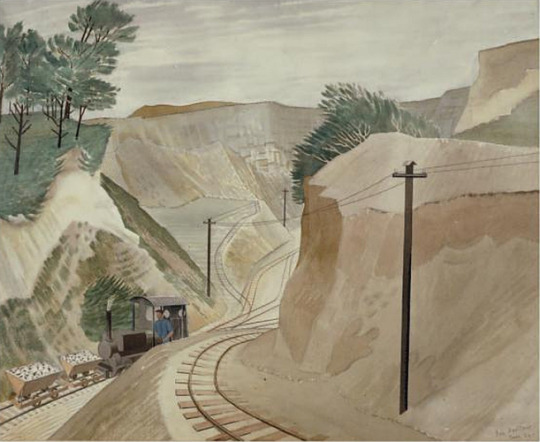 Eric Ravilious – The Cement Pit I, 1934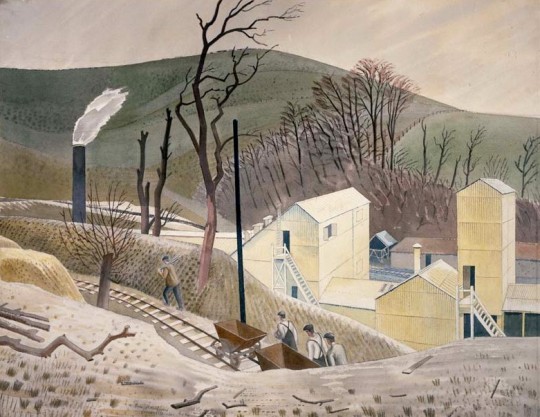 Eric Ravilious – Cement Works II, 1934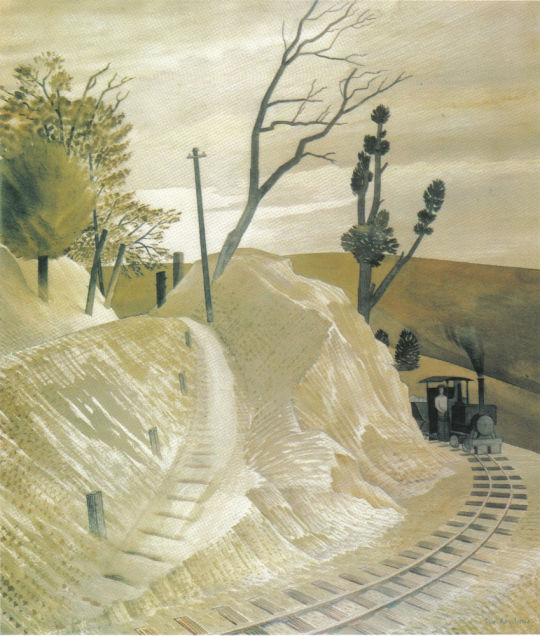 Eric Ravilious, Dolly Engine, 1934
Below is a letter from Angus to Ravilious, noting how he sent them an Optimus lamp and noting that she has finished one of her oil paintings of the cement works. The drawing below has Peggy's address has a haystack, like Eric would paint the next year (pictured under the letter).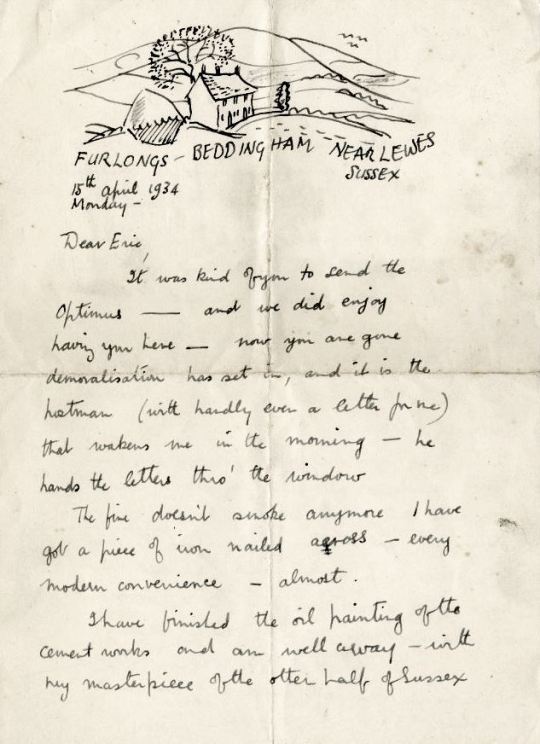 Letter from Peggy Angus to Eric Ravilious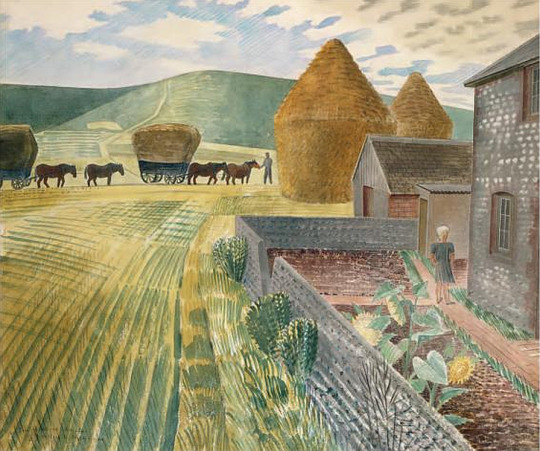 Eric Ravilious – Furlongs, 1935
In order to do more work at Furlongs and likely to have time away from Tirzah, and more time with Helen, Eric bought two old Caravans that had been used as mobile pest houses.
 Eric Ravilious – Caravans, 1936
When Peggy and Eric were walking home from the cement works, and had just crossed the Newhaven road, they noticed what seemed to be an old track below the side of the lane they were on, and underneath its overgrown vegetation they saw bits of what seemed to be two odd-looking vehicles. They crawled round them but could not make out what they were. When they asked Mr Wilson at the cement works about them, he said they were fever wagons from the Boer War; after the war they had been shipped back to Newhaven. He thought they might have been used by the first prospectors for the cement works and then been dumped where they were now. He had no use for them and offered to sell them for 15 shillings each. ‡
Ravilious rooted out two abandoned horse-drawn Crimean War fever wagons from local ditches, then arranged for them to be secreted in undergrowth near Furlongs. One was fitted up as a bedroom, the other as a studio. ♠

We know when Ravilious's wife Tirzah came on a visit to Furlongs that she decorated the bedroom caravan. She also accepted his trips to Sussex painting, leaving her at home in Essex as he was producing enough paintings to furnish one of his art shows at Zwemmer Galleries. He had connected with the landscape and was turning out many colourful works.
Ravilious would also use Furlongs as a base to explore away from the house. He would paint Newhaven starting out from Furlongs to meet Edward Bawden and both staying in at the Hope Inn.
The second time the Raviliouses came they brought with them more painting materials and Tirzah's marbling apparatus and sheets of Michallet paper. She set all this up and was soon making charming patterned papers; some of the plum-coloured ones she used to paper the wall in the Furlongs kitchen. ‡
While Tirzah awaited the birth of their second child, James, in Eastbourne. Peggy Angus was there, also expecting a baby, and there were other visits and visitors.One evening was spent at Bentley Wood with architect Serge Chermayeff, and another drinking claret with Diana Low in the garden at Furlongs. In the resulting paintings, particularly Tea at Furlongs and Interior at Furlongs. †
Ravilious returned to Furlongs for the last time in August 1939.
† James Russell – Ravilious: The Watercolours, 2015
‡ Helen Binyon  – Eric Ravilious: Memoir of an Artist, 1983
♠ Ian Carter – Railways and Culture in Britain: The Epitome of Modernity, 2001
♣ Eric Ravilious – Dulwich Picture Gallery Guide, 2015
♥ Wikipedia – Peggy Angus
♦ Eric Ravilious: Imagined Realities, 2004