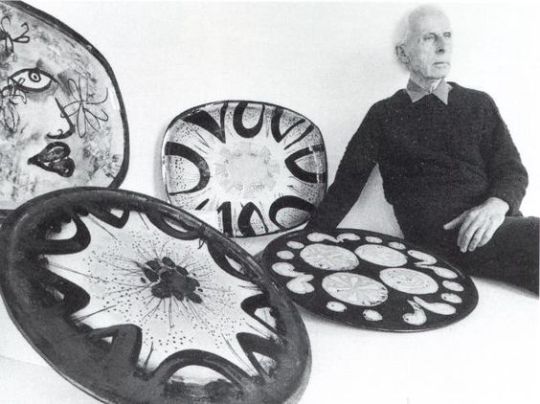 John Piper, most famous for his stormy skies and paintings of bombed Coventry. Here are some quotes on his designs for pottery:
John Piper — Tate Gallery
Pottery decorated by Piper was first seen publicly in Marlborough Fine Art in 1972, when a considerable number and variety of pieces was included in an exhibition of large paintings and gouaches.

They are a collaboration between decorator and potter, and began when the opportunity arose for Piper to work with Geoffrey Eastop, who made earthenware to his design and taught him the techniques of moulding and glazing.

These decorations were mostly heads or decorative abstract designs, but another large group made in 1982 in association with the Fulham Pottery included landscape variations after old masters, some of them on obelisks and candlesticks, The playful mood of the decorations recalls at times English slipware, Renaissance maiolica Picasso's painted ceramics.
John Piper — Tate Gallery p137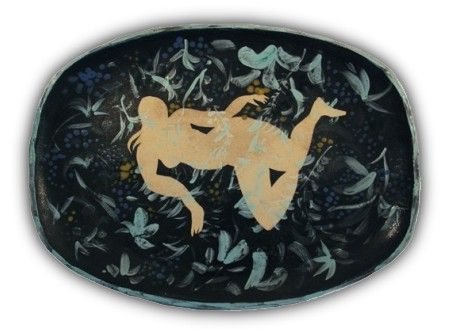 From: John Piper: The Robert and Rena Lewin Gift to the Ashmolean
The opportunity for Piper to decorate ceramics came from his meeting with the potter Geoffrey Eastop, who agreed to set up a pottery next to his house in 1969. Eastop worked independently and with Piper. He had also been a painter, and was interested like Piper in modern French art, though from the point of view of a generation younger, and not for his own ceramics.

Piper designed and decorated plates, jugs, vases and obelisks. The body of the pots was made by assistants, and Eastop always advised and worked with him.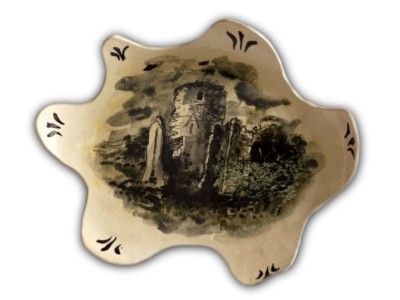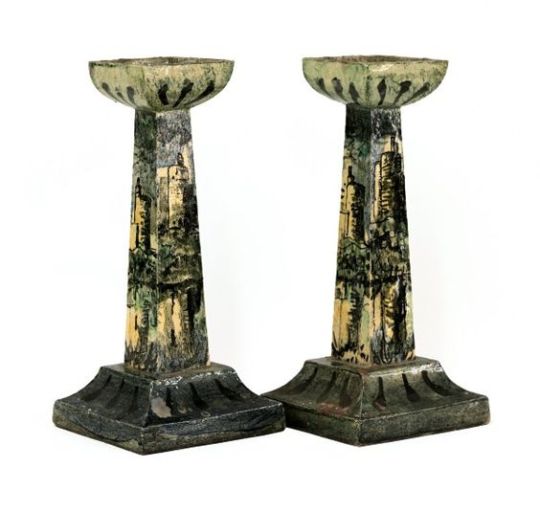 Piper's attitude was that of a painter — impulsive, intolerant of technical limitations and extreme in colour. As with the making of stained glass and screenprints, his designs set a challenge to his collaborator, which he was left free to interpret. John Piper: The Robert and Rena Lewin Gift to the Ashmolean — 1992 — David Fraser Jenkins p20