The school had no formal curriculum and students studied what and when they wished
The Grosvenor School of Modern Art sounds like it was a liberal progressive place, but what I have always wondered was, what was the teaching like? I find it a curious place in how much of the teachers hand has been passed on to the pupils.
In Wood:
The Grosvenor School of Modern Art was a private British art school. It was founded in 1925 by the Scottish wood engraver Iain Macnab in his house at 33 Warwick Square in Pimlico, London. From 1925 to 1930 Claude Flight ran it with him.
The influence of the teaching of Iain MacNab is a strange one. I have noticed that many of his pupils at the
Grosvenor School of Modern Art made prints under his direction with a Spanish flare to them, mostly in the buildings. It is a signature look for MacNab, so I can't help wondering if he was such a dominant presence that he got his pupils to mimic his work? Was it a way to succeed under him? Were the pupils expected to pick up a style and mimic it in the same way old masters like Rembrandt used to with their pupils?
The main characteristic is the buildings have have a roof that slopes down with no central pitch. I wonder how many of the pupils travelled to Spain in the late 30s or were they showing a solidarity towards the Spanish Civil War? This post is full of questions I have no answers for.
I do know that Macnab did travel to France, Spain and Corsica himself. Many of his later works in the 50s were of such landscapes. The Grosvenor School was closed in the Second World War.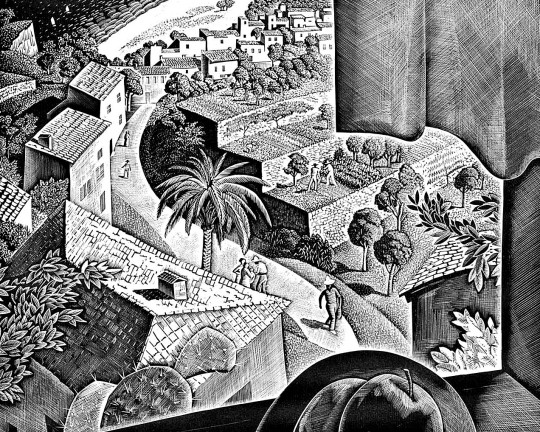 Iain MacNab – A Southern Landscape, 1941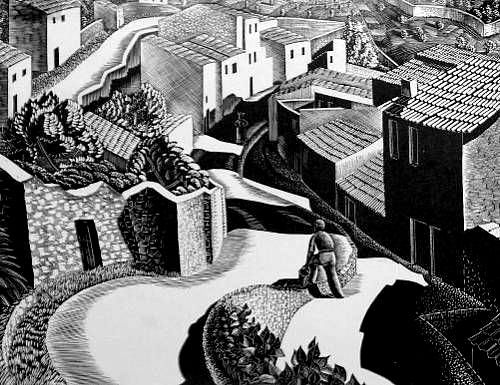 Peter Barker Mill –  Spanish Lane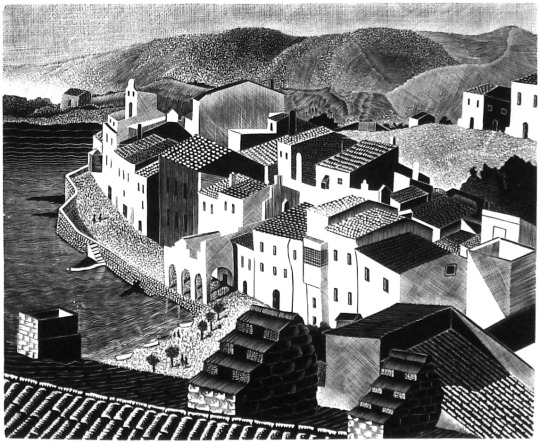 Tom Chadwick – Unknown, c1930s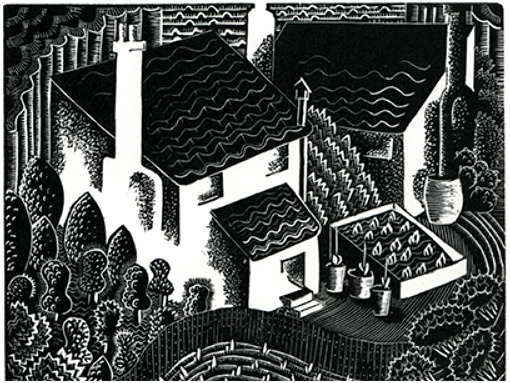 Suzanne Cooper – Back Gardens, c1930s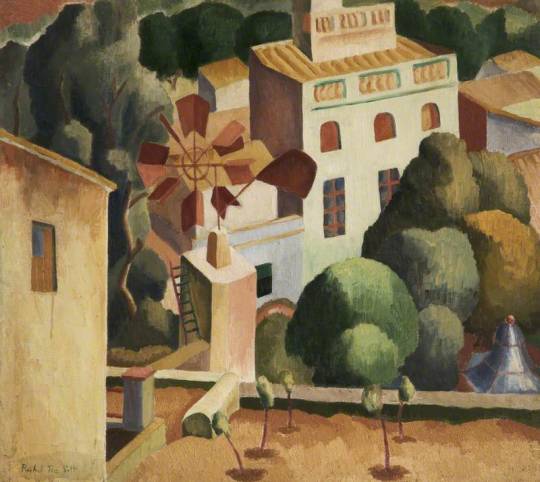 Rachel Reckitt – The Farm or House in Catalonia, c1930s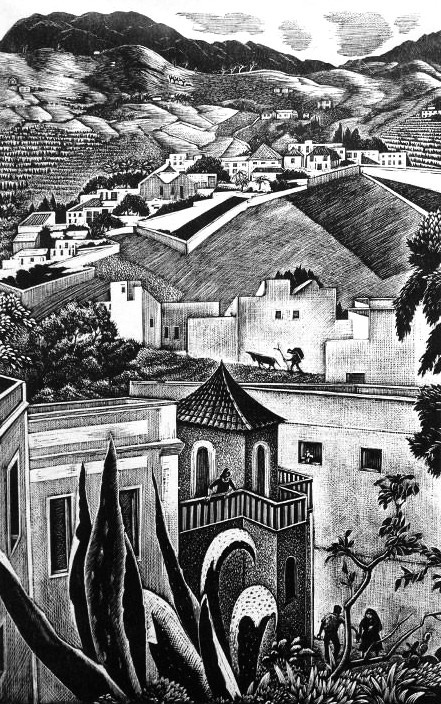 Guy Malet – Gran Canaria, 1939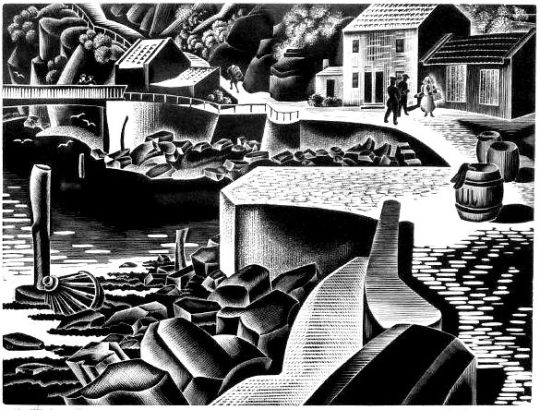 Alison Mckenzie – Staithes
In Lino
When it came to Linocut, in the School they followed the external fashions of Futurism. A movement that started publicly in 1909 it inspired many British artists in the First World War, mostly C R W Nevinson. But these prints are much later from the 1930s. So maybe they are post-futurist? The mechanical features, repeating patterns and graphic devices made a beautiful set of prints. Ending up looking so similar to each other I still find it hard to know what is Power and
Spowers.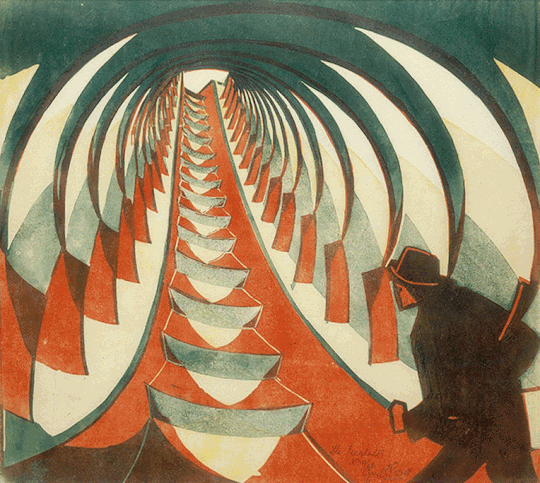 Cyril Power – The Escalator Print, 1929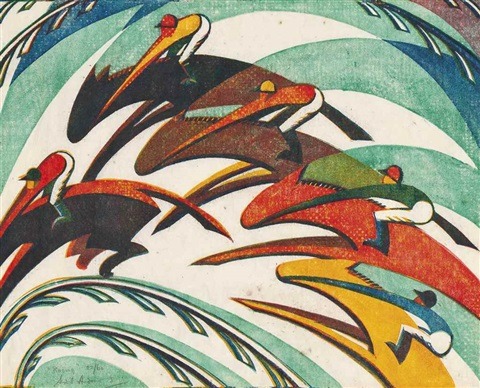 Sybil Andrews – Racing, 1934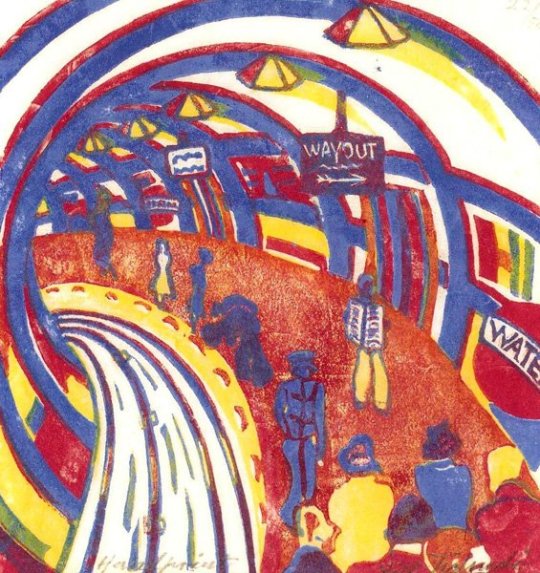 Lill Tschudi – Underground, 1930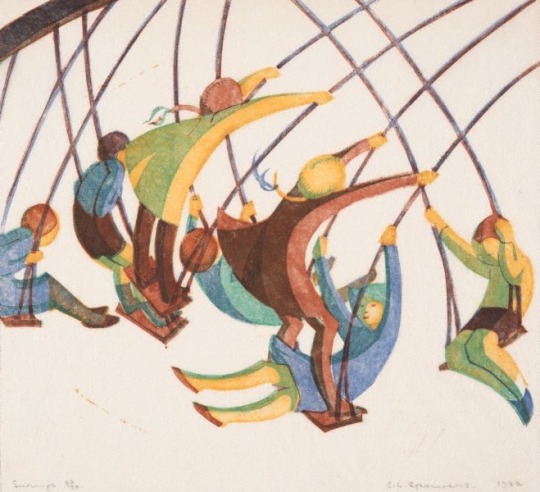 Ethel Spowers – Swings, 1932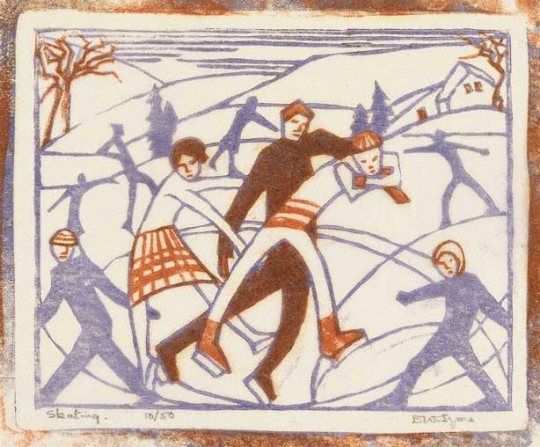 Eveline Syme – Skating, c1930