Paul Nash's book 'Places – 7 Prints' has some curious works you might think were only made for the book. It is a rare book to find, being printed in 255 editions (55 of those a folio copy).
Many of the woodcuts also came with a poem following them. It was 1922 and a great time for poetry; it was just after the First World War and the Georgian Poets series of books published by Edward Marsh were popular. I can't help but feel personally that Nash was only interested in poetry because Marsh made it fashionable and he was also a great patron of young artists. Marsh did go on to buy one of the pictures in this post, Tench Pond in a Gale in 1922 (Before the war Marsh wanted to publish a book of young artists work called Georgian Drawings, it never happened).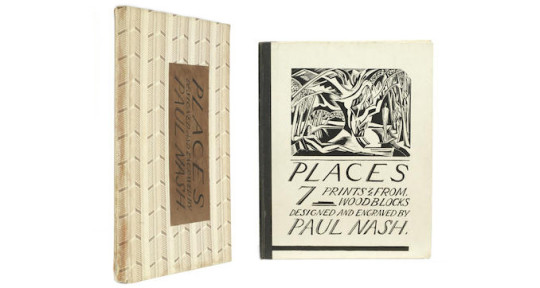 The cover features a woodcut 'Meeting Place' of two naked swimmers by a tree lined pond, printed in 1922.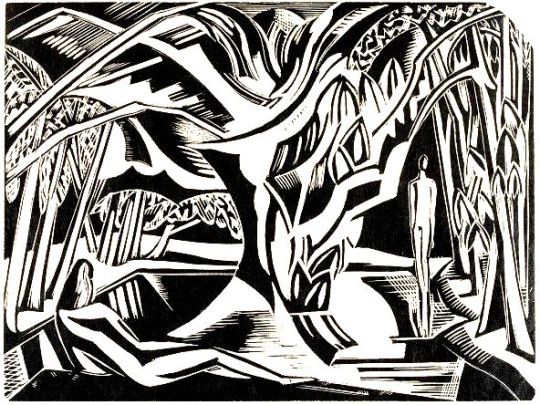 Paul Nash – Meeting Place, 1922 (Woodblock)

Rather like what I have found with Eric Ravilious, many works are recycled from a sketch, to a woodcut and then a painting. It is all part of a long process – one at the time that would be new, 'commercial art' and in tow, printmaking; by this I mean that a woodblock printed book is more 'mass production' in the same way a limited edition print of 250 is.
It is nice to pin the location down to reality. The pond was in the garden of Claud Lovat Fraser's parents' home at Buntingford, Hertfordshire.
In preparation for the oil Nash wrote to the present works first owner, Desmond Coke, requesting 'The Chestnut Waters I really do want photographed very badly because I am doing a large painting of that design for the show.'. †
He wrote again to Coke stating that the oil 'is the best of the lot and nearest to being an achievement I think' †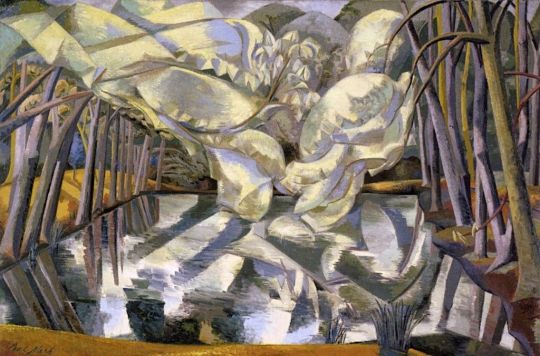 Paul Nash – Chestnut Waters, 1923 (Oil)
A year before the oil was made, Nash made a watercolour of the same location. What I always took to be a tree in the middle of the woodcut, appears in the Oil and watercolour to be heavy branches, laden down over the pond and the reflections. I rather think the oil painting is lovely in that Cézanne cubist style of colour shading light-to-dark. But the watercolour to me has a lightness more like a cathedral interior.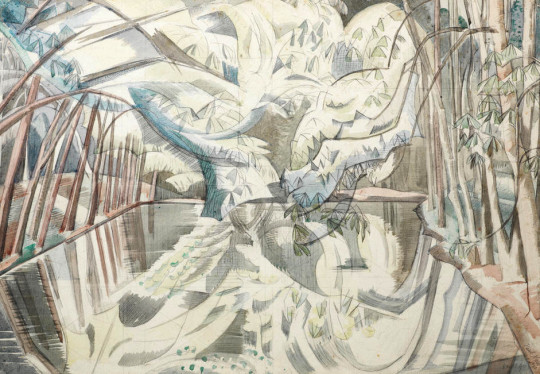 Paul Nash – Chestnut Waters, 1922 (Watercolour)
Below is an undated landscape in the Fitzwilliam, from what I can tell of the notes it is the back of another painting and so, likely unfinished. We can never say it is a relation of the paintings above, but there is a squared off pond lined with trees and could well be the plein air version made in the garden before working 'Chestnut Waters' up in his studio.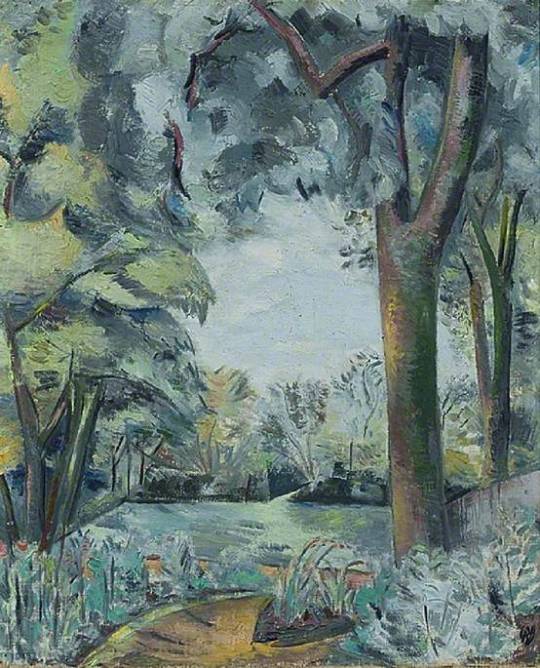 Paul Nash – Landscape, The Fitzwilliam Museum

The year before in Iden, Sussex, Nash drew one of his more famous works, Tench Pond in a Gale (Below). Is it a painting that puts to use all Nash's wonderful skills of drawing trees but gives them a drama and movement unlike his other works.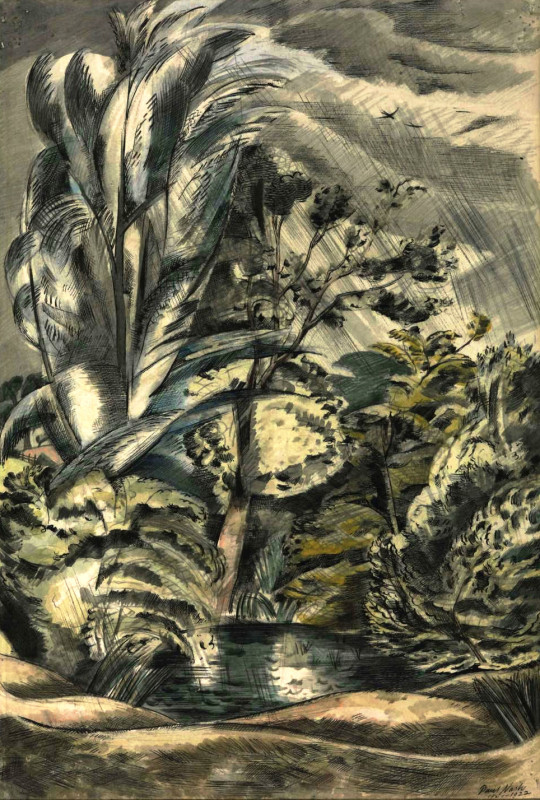 Paul Nash – Tench Pond in a Gale, 1921–2
Below is another woodcut from the 7 Places book. Not unlike the Tench Pond in a Gale picture, but not like it enough either.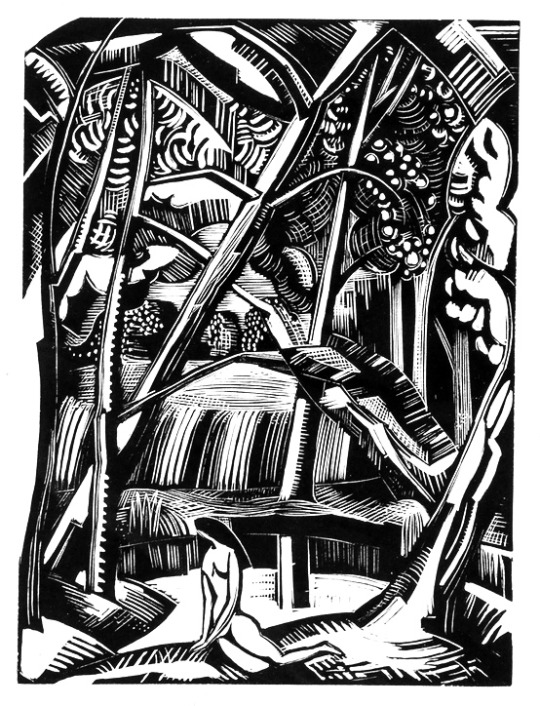 Paul Nash – Black Poplar Pond, 1922 
Most of the illustrations in 7 Places came with a poem by Nash. The poems here are not amazing and may be why they have been forgotten.
Paul Nash – Black Poplar Pond
Black Poplars shudder in the sun. Erect or slanting, their whorled shafts project a glinting shower into the crowded scaffolding of trees. Blunt shards of pine absorb the falling beams which polished leaf and rounded bole reflect in myriad facets of fierce light. With height of noon floods of cool wind pass over the fields, shattering quiet. The corn stalks bend, boughs swing their burdens to and fro. Dark waters image changes in grimace. The choir of leaves opens its song.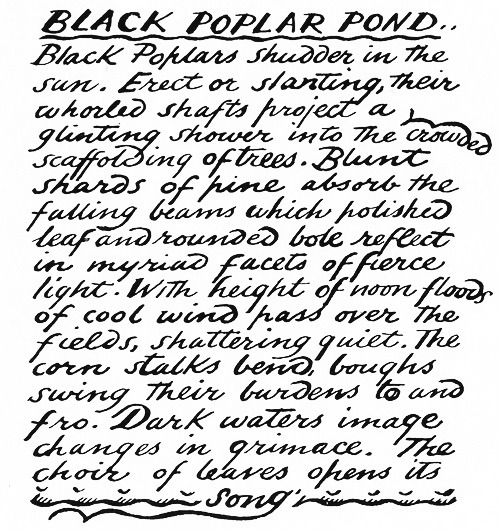 Ponds were clearly an inspiration to Nash in his 7 Places, there are many examples of pond works from 1921 – 1922. The one below is a wonderful example with the textures in his trees.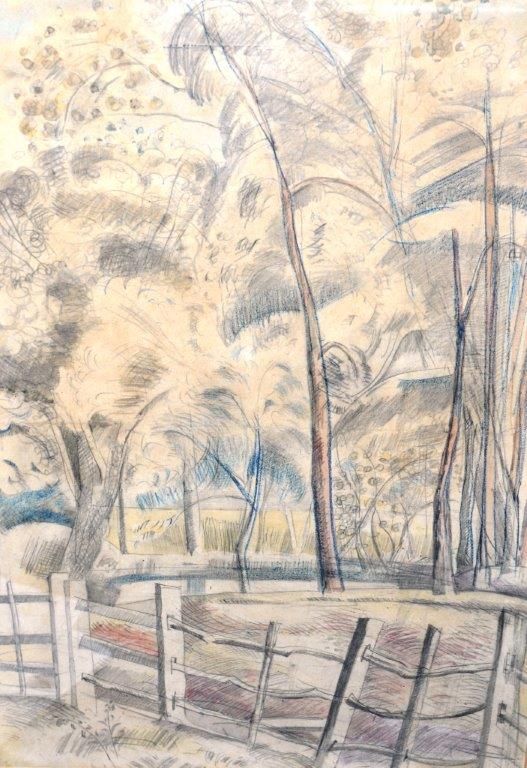 Paul Nash – Landscape in pale tones, 1921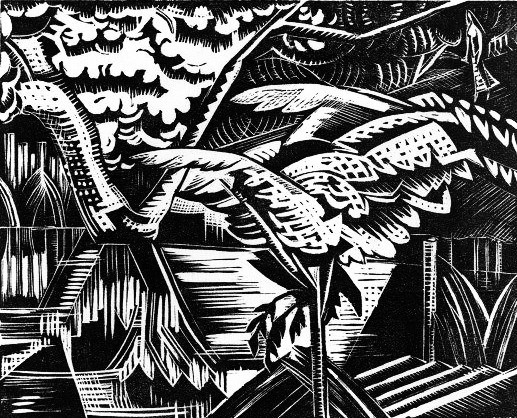 Paul Nash – Garden Pond, 1922
Paul Nash – Garden Pond
With silence force the sun hurles down light, With no disturbance, with no sound it falls upon the trees, the grass, the waters of the pond. Noiselessly, without movement, light mutilates the trees, the grass, beats upon the waters. No tumult comes. There is no cry, no moan. The leaves glitter, the grass is shining, the waters flash in the still pond.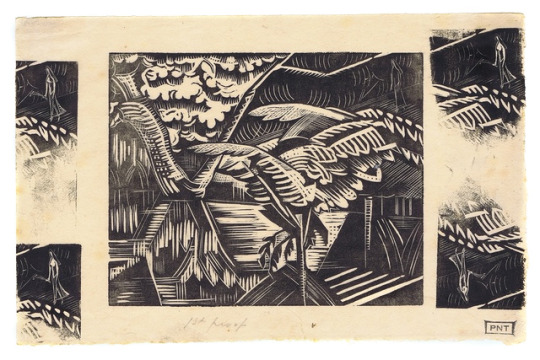 Paul Nash – Garden Pond, 1st Proof with studies to the sides, 1922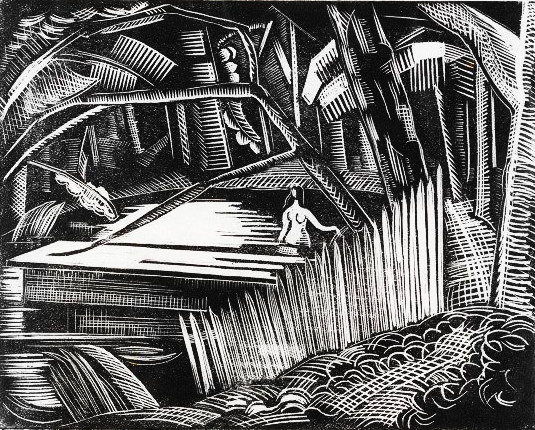 Paul Nash – Dark Lake, 1922
Paul Nash – Dark Lake
In a black pine wood is a lake, an inscrutable, dark face, staring up at the sun or into the moon's face or at the stars peering down. Above, the pines in tall columns and mighty domes and great arches stand nearly motionless. At the water's edge rushes and irises mass their slender swords. The grey teeth of an old fence look ghostly against dark waters. Beyond a platform jutting out, a woman, naked gleams in this shadowy place.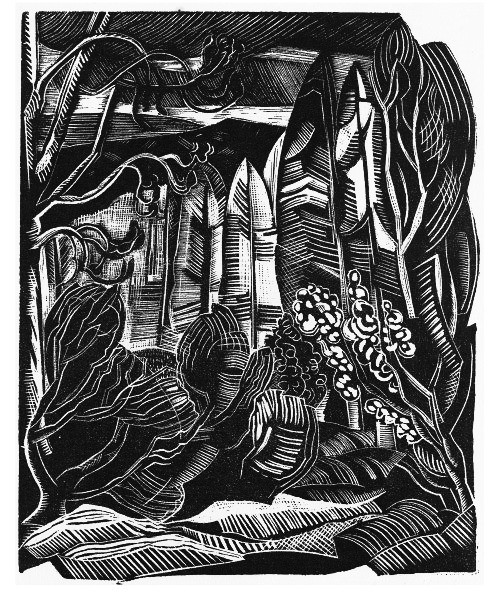 Paul Nash – Winter, 1922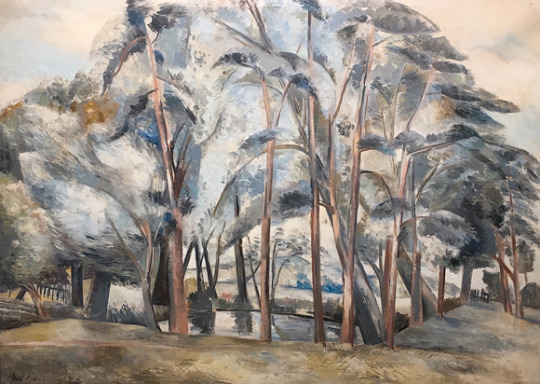 Paul Nash – Pond in the Fields, 1927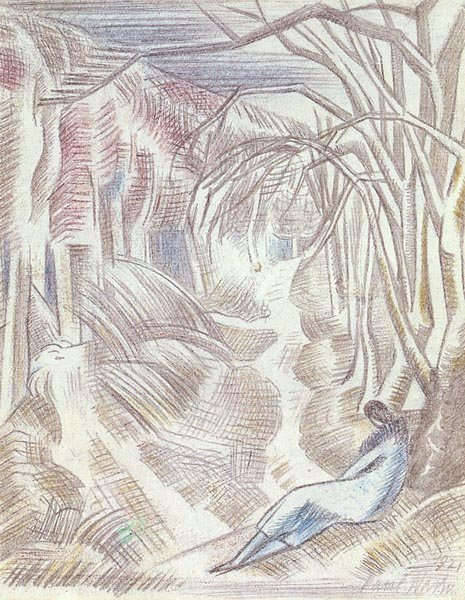 Paul Nash – Study for Paths into the wood, 1922
Above is a drawing dated 1921, dedicated to William Rothenstein from Paul Nash as a Christmas card in 1923.
Being the drawing that would have been used to carve a woodcut, the woodcut is in reverse and printed below. The figure is harder to see below in the woodcut.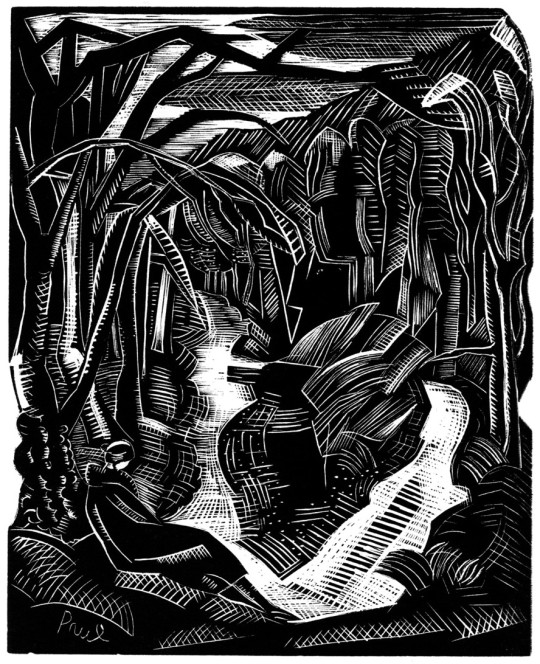 Paul Nash – Paths into the wood, 1922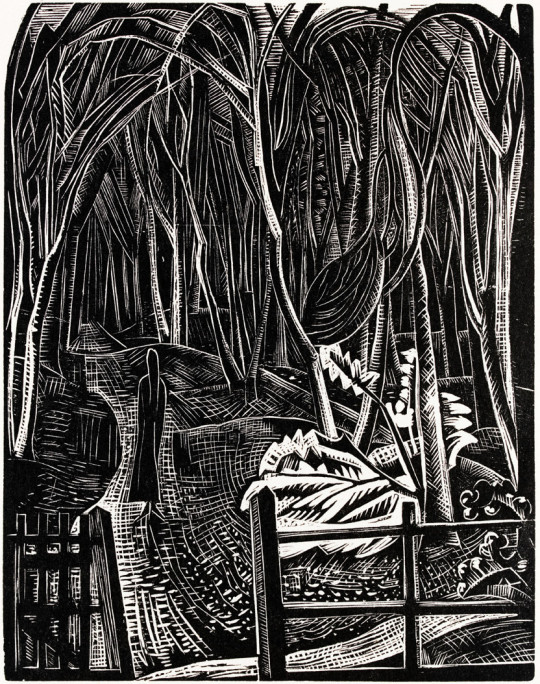 Paul Nash – Winter Wood, 1922
† Paul Nash by Andrew Causey, p378, 1980