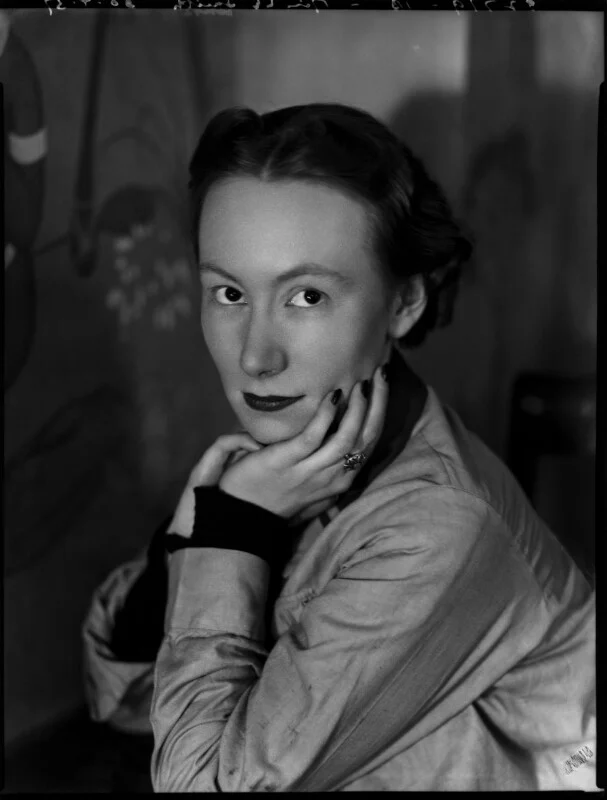 There is so much not explored about the Festival of Britain. There are many books but with so many artists a lot of names get forgotten. One of them is Eleanor Esmonde-White (1914-2007). Her work for the festival is at the bottom of this post.
She was a South African artist born in Dundee in Kwa-Zulu Natal. She Studied fine art at the University of Natal in 1932 and was a scholarship to spend a year studying in London at the Royal College of Art alongside Le Roux Smith Le Roux (1914–1963). In order to be awarded the scholarship she had to agree not to marry before the age of 26, the government not wanting to waste money on a women who might drop out of the education or risk getting pregnant.
A few weeks into the first semester the renowned British architect, Sir Herbert Baker, announced that he was offering a scholarship to the two top South African art students to study at the Royal College of Art (RCA) in London. Baker had been commissioned to design South Africa House on Trafalgar Square in London as the headquarters of the South African High Commissioner.

According to Eleanor, Sir Herbert propagated the practice of decorating public buildings with murals and tapestries and aspired to establish a school in South Africa where artists would learn the skill of mural painting.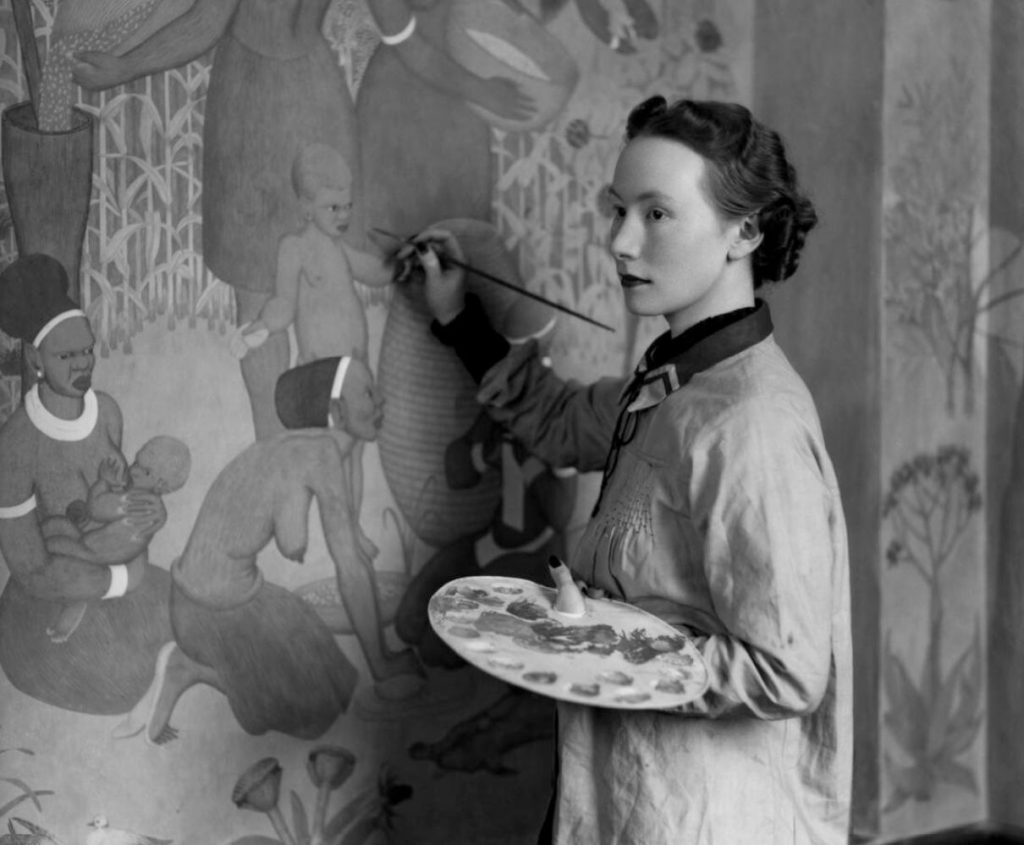 The murals took four years for them to complete. The caucasian world of the diplomatic service at that time were amazed when Esmonde-White told them of her plans to depict the tribes of South Africa, from the farmers to the Amazulus. The Amazulu mural was of a traditional ceremony that predated the white settlement of the country.
After apartheid in 1994, many of these were due to be painted over by a new wave of diplomats, with some of the scenes considered racist at the time. However their artistic merit was recognised and they were simply boarded over until 2012, when they were restored, 'after it was decided they were not as offensive as first appeared' with the project headed by Lorna de Smidt, a South African political scientist and art historian who said 'We had to acknowledge the past, and accept that it is there. You can't just airbrush things out of history and pretend they didn't exist'.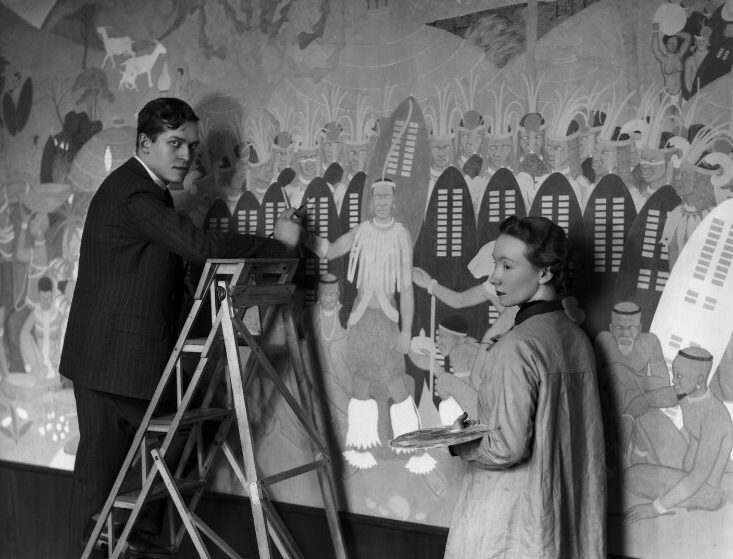 The murals in 1936 were considered a great success and they both won scholarships to study mural design at the Royal College of Art for a year.
After the murals were completed Esmonde-White had a studio in South Africa House so she could work on murals for buildings in her homeland. She worked on a series of murals in London during the Second World War, with them being shipped off to South Africa, but the fashions of London for scantily clad figures were not received well and the murals was placed in the basement of a government office.
In 1945, the death of her father, a heavy workload and the war took their toll on her and she had a breakdown. Her mother who was in London took her to a farm in Wales to recuperate. After this she made a large war mural for the Canadian forces for the Brookwood Military Cemetery. She worked for architects in London making murals and in 1949 returned back to South Africa.
In 1949 Esmonde-White established the department of Design at the Michaelis School of Art at the University of Cape Town.
While teaching at the school she got an offer by Hugh Casson to design a large mural for the Festival of Britain. It was completed in 1951 and was a massive mosaic mural for the Dome of Discovery. There are very few records of her work on this and I can only find this one image.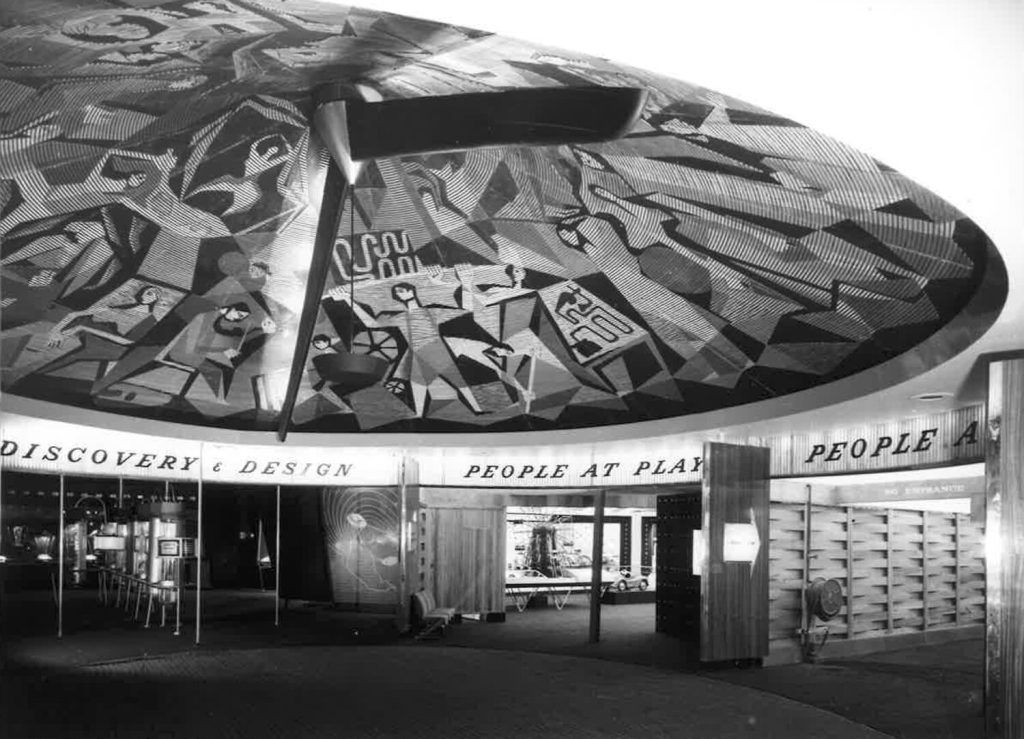 Staying in South Africa, she continued to work and build up a legacy as a teacher and an artist in her own right. Her paintings are held in major collections in her homeland.