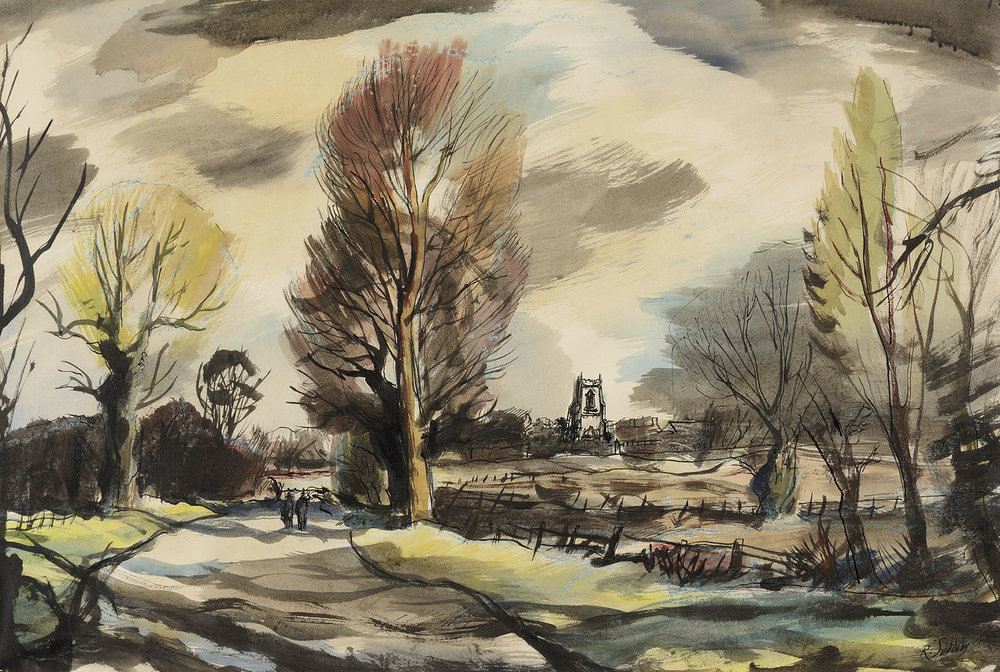 Suddaby was born in Yorkshire and studied at the Sheffield College of Art from 1926 on a scholarship. He moved to London and for four years painting still lifes, local views and ones of Cornwall, but he didn't have a solo exhibition until he was offered an exhibition at Lucy Carrington Wertheim's Gallery in 1935. The next year he had a solo show at the Redfern Gallery.
In 1937 he moved to Sudbury, Suffolk and his work became almost totally East Anglian, of flooded fields and tree lined lanes. He took part in the Recording Britain scheme. He became a founding member of the Colchester Art Society, designed a poster for Shell and later became the curator of Gainsborough's House museum.
This is a short little elegy to Rowland Suddaby by his friend Michael Webber, from the East Anglian Magazine, January 1973
---
Visits to East Anglia will never be quite the same. Whenever we could, my family and | always tried ' to travel via Sudbury so that -we could visit Gainsborough's House and meet the curator, Rowland Suddaby. Now he has gone and though the house and the works of the master remain we shall never again enjoy the company of a man who was not only a fine artist but also a person of immense charm, kindness and honesty.
He was marvellous with children – my own daughters were as saddened to hear of his passing as I was myself – and this could be seen In the delight with which he showed us round the house when the local schools were exhibiting their work.
His own work was seen far too infrequently. His watercolours were among the most powerful and brilliant landscapes painted in this country in our time, dashing, incisive works which owed much to the best French traditions of Maurice de Vlaminck and André Dunoyer de Segonzac but which never lost that solid observation of nature which seemed so natural to a Yorkshireman who came to live in Constable's country. His oil paintings, too, showed a delight in colour and pigment which made for exciting and satisfying viewing. There is no doubt that through his art he will live on.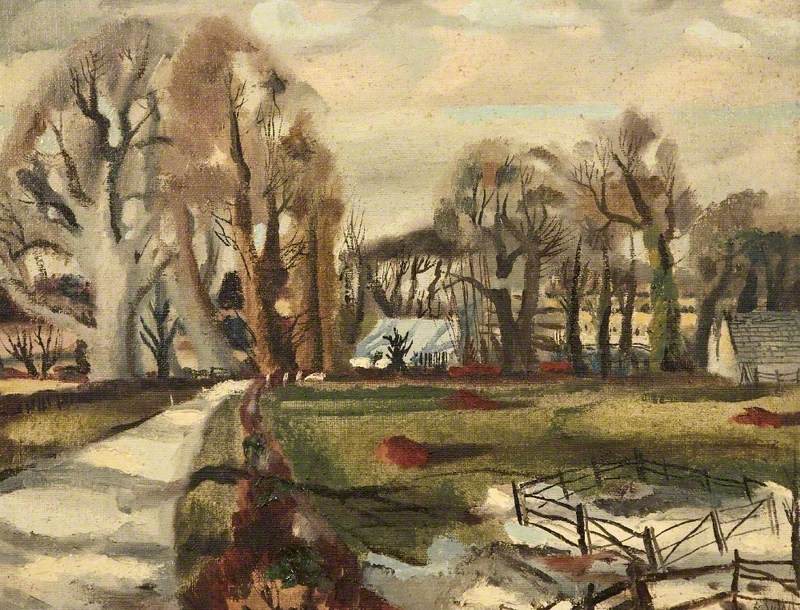 Equally his name will be long remembered through the tremendous work he did for Gainsborough's House. He brought new life to an already successful institution and developed it into a centre of East Anglian art worthy of the man whose name it bears. He will be a hard man to replace for as Roy Turner Durrant said, in an eloquent letter to the East Anglian Daily Times, "he was a kind man and artists are not always kind". East Anglia is indeed fortunate in that artists like Suddaby and Cavendish Morton give so freely of their time in order that we can benefit.