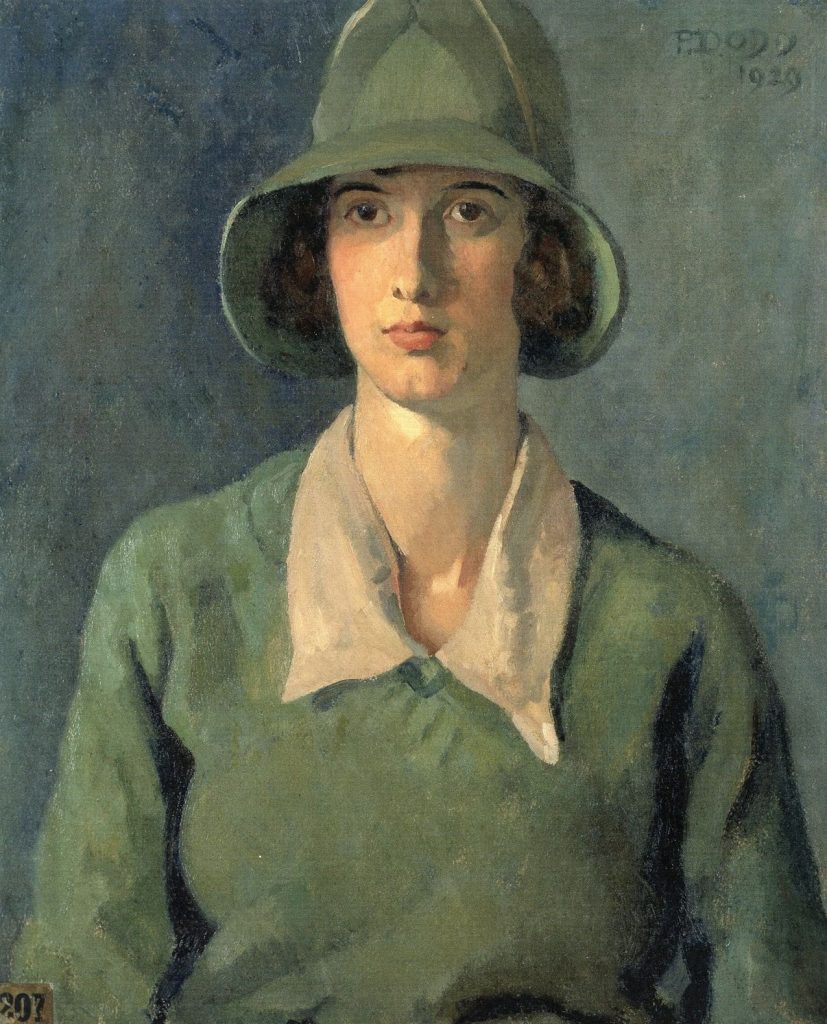 Phyllis Dodd – Tirzah Garwood, 1929
This is a magazine cutting about the Tirzah Garwood memorial exhibition of Tirzah Garwood at the Towner Art Gallery.
Eillen Lucy Garwood – a memorial exhibition of whose work will be held at the Towner Art Gallery, Eastbourne, from 12th April to 11th May – was the third child of the late Lieut-Col. F.S. Garwood, of Upperton, Eastbourne, hence her name, from Tertia. When she died in March 1951, after a long and painful illness, she was not quite 42; yet in that brief span she had borne three children to one of England's leading watercolourists and designers, Eric Ravilious, also an Eastbourne man, whom she met while a student at the School of Art; and she had made a personal contribution as an artist in her own right, which the author of this memoir is not alone in considering unique among women. A small selection of her work appeared earlier in the year in London, and one painting formed the cover of The Listener for 17th January.
Her career was curiously personal. When 21, she sent two wood-cuts to the annual exhibition of the Society of Wood-Engravers, and they were good enough to be noticed by the critics of The Times and the New Statesman, along with the work of artists already famous, or destined to achieve fame soon. The cuts were the fruit of work which at the time consisted mainly of satires on middle-class society: shoppers in Kensington, the inmates of hotels, family circles of varying degrees of horror (although her own was happy), a study of Crufts in which animal and human relations were traced with a not loving hand, a macabre study of a middle-aged woman yawning. The occasional children, on the other hand, were always drawn more kindly.
The eclarity and the finish of these works were masterful, and she received a number of commissions from patrons who included the BBC. For them she designed the first coat of arms used in official publications, and various illustrations for plays and booklets, that incidentally showed up her weakness in imagining scenes not immediately beneath her austere and merciless eye.
This early success was destined to be her one and only public appearance for many years. She was discouraged by adverse criticism of her imaginative work; and she had married. Occasionally, she helped her husband, as in the decoration of a hotel at Morecambe Bay. Later, with Charlotte Bawden, she revived the craft of marble papers, of which rather an indifferent example may be seen in the endpapers of the modern Everyman; but only the Japanese seem to have taken official notice, although the designs enjoyed a success among limited aesthetic circles, locally in Essex, where she was living, and in London.
She also made about 45 pencil sketches of her children, and the familiar village scene, of unexampled accuracy and delicacy, in drawing books characteristically later given up to childish scribbling. It was only after the death of her husband on active service as a war artist that she slowly resumed more ambitious work, mainly in the form of paper "models" of houses, mounted in frames, which, year by year, headed the poll of the exhibitions organised for children by the movements for Education in Art. Beside paper, she employed various other materials, like velvet and stuff retrieve from drawers and cupboards, as children would have done, and do, but with a clarity and skill of hand that far exceeded any child's.
Her subjects were first the small farms of Essex, and streets in the market towns. Later, she ranged farther afield, improving her technique all the time, to produce a child actually swinging beside a romantic villa in Walton, or a blue and white house in the Vale of Heath, in Hampstead, to which she moved. An amateur bull on the shutter of a butcher's shop in Islington attracted her attention, and she executed it in depth, with meat and butchers made of pyruma, and a shutter that could be pulled up and down. She often said that her last year was the happiest of her life, for then, when she was largely bed-ridden, and often in pain, she was able to concentrate almost exclusively on her work, which now took the form of paintings in oil. She completed twenty, to add to those she had already painted sporadically; and they form her most considerable work. In them she returned largely to her first love, birds and beasts and flowers, done with affection but without a trace of sentiment, in the firm hand that could draw a straight line much straighter than many can rule it.
All the subjects needed to be copied but the copies were related in terms of her imagination. With the flowers, she often associated objects of the new industrial age. Thus, an early Stephenson toy train in her possession stands in red and yellow, against the downs near Lewes, dun and earthy, farmhouse and stacks and fifty individual sheep in the background, on a base of poppies and corn. Georgian toy horses, very red and white, stand in front of a manger, hanging like a poem by de la Mare in a field of poppies that overtop the roof.
A picture of orchids hunters in Brazil illustrates the working of her imagination; for we learn from diaries that the subject had probably lain in her main for sixteen years, since someone reported a conversation with a gardener on Lord Gage's estate at Firle. With one exception, the pictures that she painted show nothing at all of the fear of death, but only this simple delight in the thing in itself: flowers from friends, a cluster of mares tails, a cinnabar moth and bees, a tortoise and toad, her cat returning triumphant in the dawn, an early aeroplane (taken from a period Eastbourne postcard) hovering like a mosquito over a lintel of spring flowers. The solitary exception was a grey Spanish water jug, self coloured, in the form of a tall lady in the sprigged costume of the late nineteenth century, whoes colour in any case demanded the dun and deep blue landscape of owls and mysterious stars and palest daffodils. Tirzah Garwood was a rare spirit, absolutely clear, humorous, sometimes cruel, always herself with a gift of peach rare in this generation, only achieved by ruthless disciplining of a naturally passionate nature. Her art, limited though it is, is of the highest possible quality. One of her paintings, of a house at Canna in the Hebrides, hangs in juxtaposition to a Picasso and a Henry Moore; although totally different in every respect, it is not diminished in that company.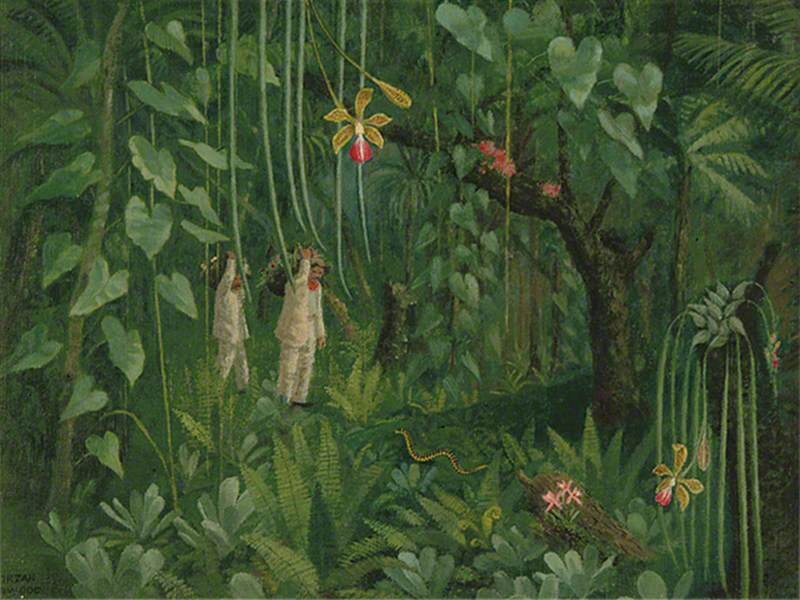 Tirzah Garwood – Orchid Hunters in Brazil, 1950