This post is a light introduction into Edward Bawden's early war work and paintings, before he was stationed to the Middle-East.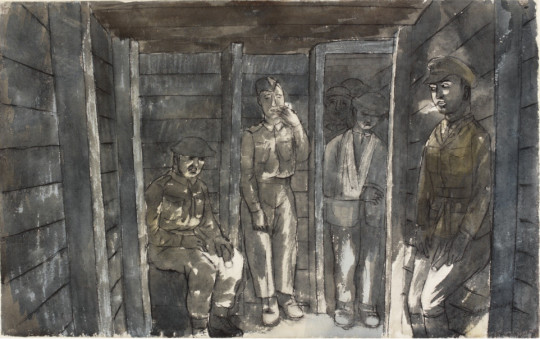 Edward Bawden – In an Air Raid Shelter, Dunkirk – Bombs are dropping, 1940.
On Thursday, 7th March, 1940, three days before his 37th birthday, it was announced in the British papers that Edward Bawden and Barnett Freeman were to become Official War Artists on behalf of the British War Office.

 Newspaper with the small announcement under 'War Artists'.
In the first days of April, Ardizzone (Edward) and Bawden took rooms for a while in the hotel Commerce in Arras, fussed over by a shared batman. They enjoyed the local wine and hospitality, before being billeted separately. Arras was dour, small and grey, It was also the GHQ for the British Army in France. †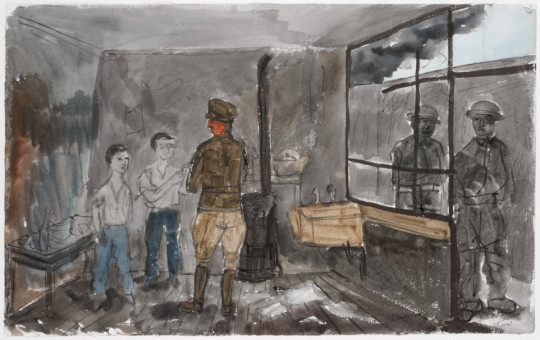 Edward Bawden – Boys Serving Coffee, Dunkirk, 1940.
From the outset Edward Bawden had wanted to be close to the action: 'Mr Bawden … would like to get to the front and live in close touch with the RAF.' In the event he began his time in France with the 2nd Northampton Regiment, rather than the air force.The Northamptons, he found, were 'nice, simple fellows … who tear about wagging their tails, fetching sticks and retrieving balls.'  †
The war artists found themselves being toured around by a Conducting Officer, who would choose the suitable sites and subjects. Once, Bawden was placed under arrest as he was painstakingly drawing a gun. On another occasion he was able to sit in on a court martial and sketch. †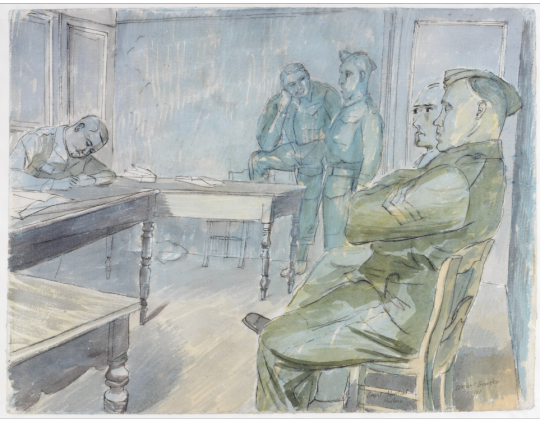 Edward Bawden – A Court-Martial, Halluin, 1940.
On his way to Dunkirk, Bawden has rolled up his paintings in a cylindrical tin which he clutched under his arm. †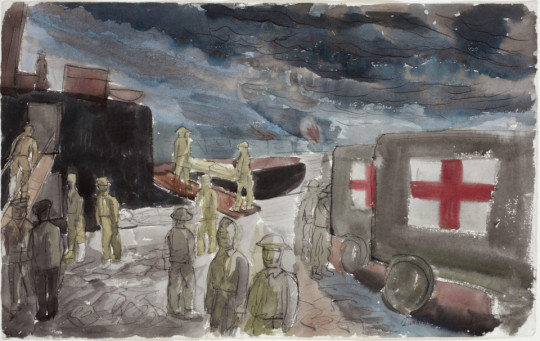 Edward Bawden – Embarkation of Wounded, May, 1940.
Approaching the port, he ditched all his equipment except his art materials (what would the Germans have done with them?) Marching into the town, they ran the gauntlet of ragged French soldiers jeering them. It discomforted him, as did the looters sweeping like locusts through abandoned houses. †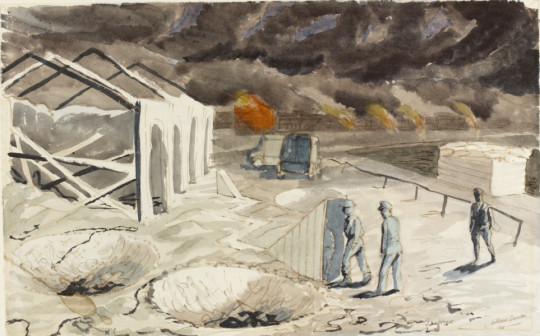 Edward Bawden – The Quay at Dunkirk, 1940.
He reached the quayside in the company of a Canadian major, and they watched with dismay the frantic self-preservation of a group of British generals on the Dunkirk quayside, the swagger sticks pointing at likely boats bound for England. He turned to the major, with a wry smile. 'Rats always go first' he said. †
Edward Bawden – Embarkation of Wounded, Dunkirk, May, 1940 
After Dunkirk, Bawden found himself off to Iran and Iraq in 1943. The War Artists Advisory Committee (WAAC) found itself in review mid-war, with the pay and styles of the war artists coming into dispute. It was taken over by F.H.Dowden.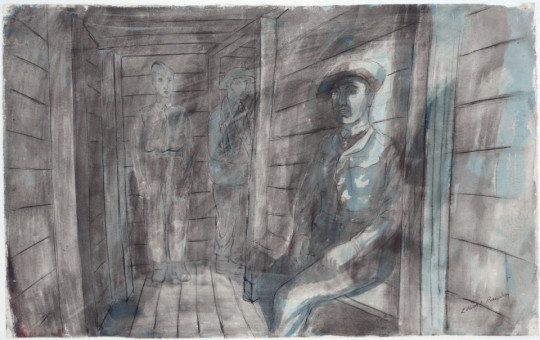 Edward Bawden – The Entrance to an Air Raid Shelter, Dunkirk, 1940
Dowden has previously been an art inspector with the Board of Education (war art otherwise had almost nothing to do with the Home Division), but those credentials did little to facilitate a happy fit between the WAAC and its new minder. Among other things, he vetoed the allocation of funds to pay for the depiction of themes that seemed to him superfluous. 'There is too much repetition of subjects which are historically unimportant,' he objected, 'and it may quite well be that the Committee are more concerned with finding work for artists in whom they are interested, than they are about making a record of the progress of the war.' As a result of Dowden's interference the WAAC's decision to send Edward Bawden to Ian and/or Iraq in 1943 earned Home Office agreement only with difficulty, while a plan to give Stephen Bone an open contract to record subjects of his own choosing was rejected as an irresponsible use of public funds. ‡
Below is one of the paintings from Bawden's time in Iraq. It was editioned as a print by the Curwen Press in 2008 in a limited number of 145.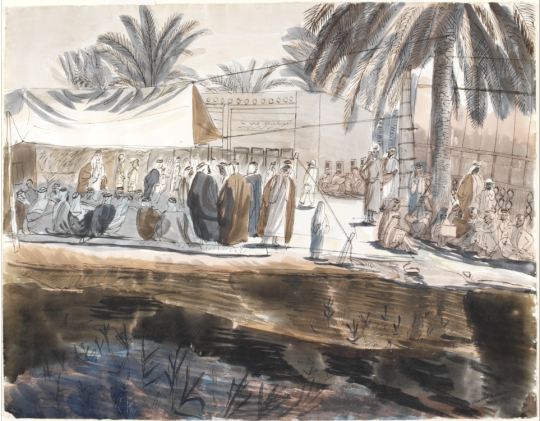 Edward Bawden – Preparing to Entertain, 1944
† The Sketchbook War by Richard Knott, 2013
978-0752489230
‡ War Paint: Art, War, State and Identity in Britain by Brian Foss, 2007. 978-0300108903 p168.
◦ Images c/o the Imperial War Museum, London.