I was in a shop looking at the picture frames they had for sale last week when, on top of the bookcase I noticed one picture loose and getting crushed by other things put on top of it. I dusted it down and bought it.
It was an oil painting on board. The back had writing in Russian and I tried to translate it with google and failed, as it came back gibberish. So I posted it to Facebook and my friend Paul Bommer helped me translate the text. The first line is: Биткин or in English, Bitkin E. P.
The rest of the text was the name of the picture 'Evening on the Volkhov' and the date 1961. That enabled me to search online. I found it went up for auction in 2009 in Russia, so between then and now I wonder how it ended up in Cambridgeshire?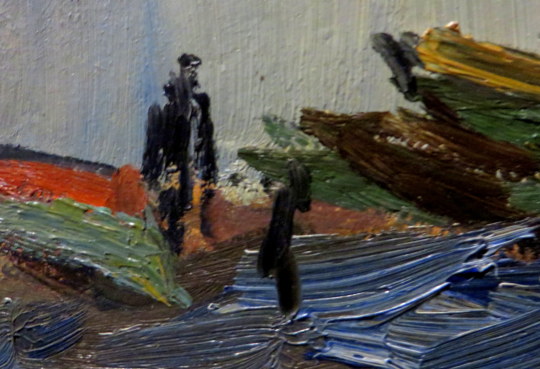 Eugene P Bitkin was born in 1932 in Moscow. In 1958 he graduated from the Moscow State School Art of Industrial, is member of the MOSSH – the Moscow Union of Artists. His sketches and paintings in the 1960s of places like the Volga and the Northern landscapes or the Moscow streets and yards are notes of the epic in the style of expression inspired from Impressionism.
Bitkin regularly participates in the Russian All-Union shows and international exhibitions. His work are found in museums and collections, not only Russia, but also France, Italy, USA, Germany, Japan, Norway.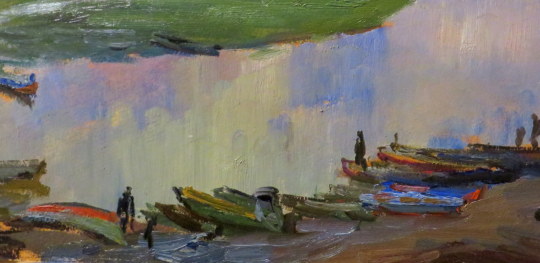 I found from reading online that two pictures were painted that week in 1961 and underneath is the sister picture with more of a view of Saint Petersburg in the distance.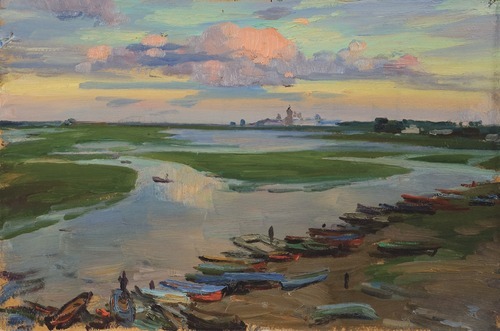 Below are a few of Bitkin's other works.