This is a press piece by Valentine Dobree some years after the suicide of Mark Gertler and on the eve of a retrospective at Leicester Galleries. Gertler gassed himself in his London studio in 1939. He was suffering at the time from increasing financial difficulties, his wife had recently left him, he had held a critically derided exhibition at the Lefevre Gallery, he was still depressed over the death of his mother and Carrington's own suicide (both in 1932), and he was filled with fear over the imminent world war.
Valentine Dobrée was born Gladys May Mabel Brooke-Pechell in India. She studied art under Andre Derain but had no further formal education in art. In 1913 she married Bonamy Dobrée. From April 1914 until the outbreak of the War they lived in Florence. Returning to England she led a Bohemian life – she had an affair with Mark Gertler, who painted her portrait in 1919 and 1920, and became a close friend of Roland Penrose and Dora Carrington. In 1920 she exhibited with the London Group. Between 1921-25 the Dobrées lived in a French village in the Pyrenees. She published many books, the first novel was 'Your Cuckoo Sings by Kind'. This was followed in 1929 by a second novel 'The Emperor's Tigers'. In the same year the Dobrées returned to England, settling at Mendham Priory, Harleston, Norfolk, near Diss. In her literary capacity, Dobrée was admired by T. S. Eliot and Graham Greene, she died in 1974.
The Works of Mark Gertler
The Leicester Galleries are holding a comprehensive exhibition of Mark Gertler's painting. Even a year or two may help one to get a better perspective often artist's work, and see him against the background of his time; especially now when the time of entre deux guerres has by the present violence been shunted to a premature past. The people who lived and worked in it, made it, and no longer seem its victims. All have become part of the continuity, and questions of development, experiments, influences seem to vanish as a mirage, for it is a very new past. Some of these questions don't seem very important in Gerder's work. He is a lonely figure, and followed his own way and was not often_ tempted to leave it. Because he was so highly individual, one cannot help thinking it will take some time before he is really appreciated. It is the penalty for not being in any particular movement ; the field is wide with no others to plot out or strike their claim in this or that area. But since he was an artist of great integrity, and since he made no easy communications, it might be worth while to examine one aspect of this integrity.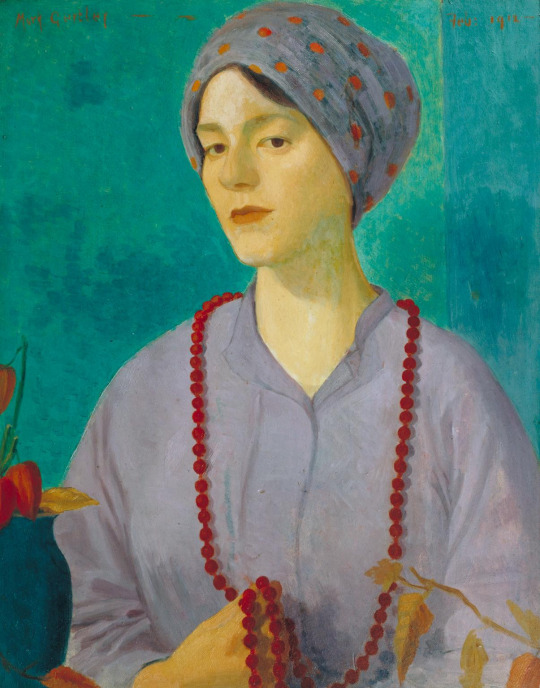 Mark Gertler – Portrait of a Girl, 1912

Christian Zervos reports that Picasso, in conversation, said: 'It is my misfortune and perhaps my joy that I give things their place according to my love for them. What an unhappy plight for a painter who loves blonde women, but who feels himself forbidden to put them in the picture because they don't go with the basket of fruit! What misery for a painter who detests apples to feel obliged to use them always because they go with the table-cloth. I put in my pictures all the things that I love. Tant pis pour les chases, they just have to settle it between themselves'.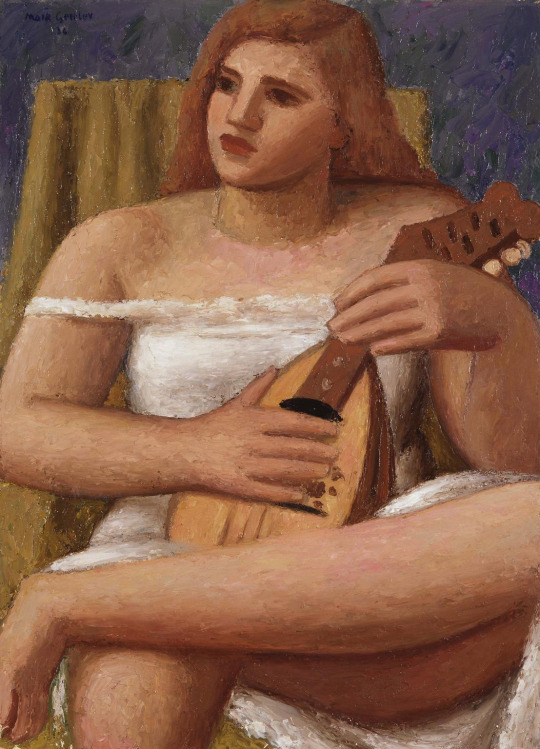 Mark Gertler – Mandolinist, 1934.

There is one of the roots of integrity, and if Gertler could speak now, and look back with us on his life's work, that might very well be what he would say, 'I put in my pictures all the things that I love'. And as is so often the way, the things that he loved were the things of his youth: the interior, the lace-veiled front room, with its ornaments, the bright ruched cushions, the slightly dusty artificial flowers, all a little crowded, and presided over by the monumental figure of his mother. The grandeur, the scale, were those a child sees. Anyone, who knew him at the time, will remember his delighted discovery, when he felt that he could discard the unpractical, because fleeting, real flower for the artificial one, which would always be there. Practical? Yes. His technique was evolved from a long and careful study of the object, and he nearly always painted from life.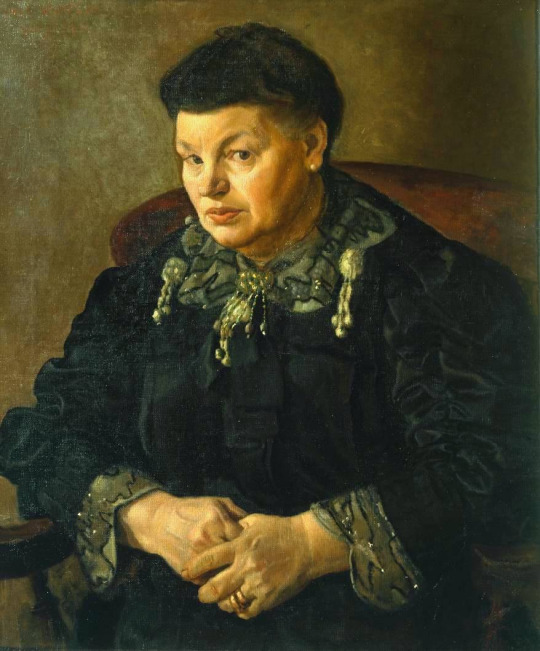 Mark Gertler – The Artist's Mother, 1911.

But also something more than practical; he painted those cotton roses and tulips with zest. This zest too is evident in his best portraits: those of simple people, the little servant girl, the Scots nursemaid, and above all his mother. The same bias is shown in some of his' landscapes; the most successful being when the scene itself collaborated, and was as still as an interior. Looking at the present exhibition, it seems that here is an interesting and powerful link with the Victorian age. Fin de siécle sounds a curious word 'to use for such a vigorous painter, yet in one sense it fits very aptly: in the sense that the glory had passed, and artificial silk had come on the market. One feels, here is a man who loved permanence; permanence in the way a Victorian would have understood it; the permanence achieved by making as complete a statement as possible. Nearly all his pictures are highly wrought.' 
Genius is an infinite capacity for taking pains, comes. into one's mind, and with it all the mockery that has been aimed at the first rate swotter. Yet, if the taking pains is fortified by a constant and enduring passion, this is certainly the right description. This constant and enduring passion of Gertler showed itself in his refusal to be lured away by movements or fashions. It shows itself in one of those last magnificent still-lives: the work of a man who is prepared to take every step of the way, and who has held back nothing. Success opened to him the doors of London the metropolis , at heart, though, he remained the provincial Londoner. He accepted what was often intractable material, he had no agility in avoiding problems , but he had wisdom, for he knew that the artist is the most fated of mortals. He must remain faithful to the first imprint, retain his innocence. The pattern may refine, develop, extend, but in an artist of integrity, and there are no others, the pattern is not distorted or blurred; such as it is, it shines out.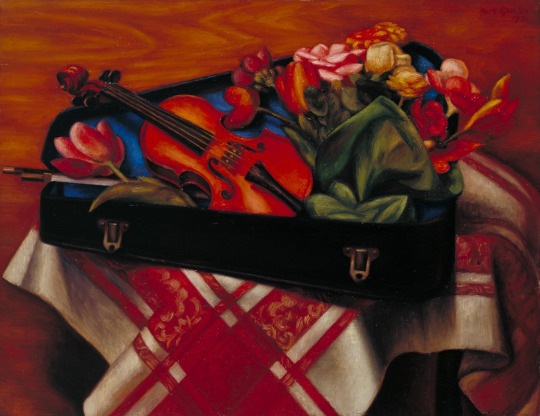 Mark Gertler – Violin Case and Flowers, 1930.

The Listener, 15th May 1941.
Wikipedia – Mark Gertler
Valentine Dobree – Liss Fine Art