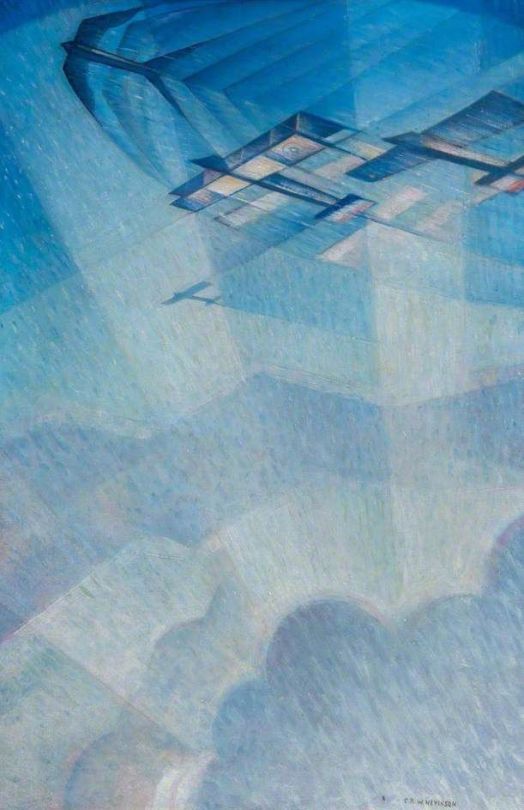 C.R.W Nevinson – Pursuing a Taube, 1915
Christopher Richard Wynne Nevinson started the First World War working for the Red Cross. His work as an ambulance driver took him to the epicentre of the carnage and it's effects of the war. His time was spent in France working in a disused goods shed converted to a make-shift hospital for up to 3000 men off the railway station in Dunkirk.
Nevinson contracted rheumatic fever in January of 1915 and returned to Britain to recover. During his recovery he started to paint from his sketches and studies made in France on the front lines and trenches for an exhibitions at the Grafton Galleries in March 1916 and then at the Leicester Galleries in September.
By 1915 the theory that art and war could thrive together seemed to convert convincingly into practice as C. R. W. Nevinson, England's only Futurist disciple and coauthor (with Marinetti) of Viral English Art, advocated upon his return from the front (from a ghastly experience as a medical orderly in Belgium). 

"All artists should go to the front to strengthen their art by a worship of physical and moral courage and a fearless desire of adventure, risk and daring and free themselves from the canker of professors, archaeologists, cicerones, antiquaries and beauty worshippers".

War and art, Nevinson felt. were going to thrive together. Marinettian philosophy had proved an admirable apprenticeship, and here was the perfect subject. Writing in the 1970s, William Wees saw that progression as entirely logical, noting. "The metaphorical implications of avant garde turned art movements into battles. advances and retreats, victories and defeats," to the point that, years later, Nevinson would look back and declare,

"The war did not take the modern artist by surprise. I think it can be said that modern artists have been at war since 1912…. They were in love with the glory of violence. Some say that artists have lagged behind the war, I should say not! They were miles ahead of it." †
By 1917, Nevinson was made an official war artist. The Black and White etchings from this period are from the 'Britain's Efforts and Ideals' series published in 1917 in an edition of 200 by the Ministry of Information. Other artists involved where Frank Brangwyn, Muirhead Bone and William Rothenstein.
The contributing artists were paid well, each receiving £210 (about £10,000 today) with the possibility of further royalties from sales. The prints were a limited edition of two hundred. The 'Efforts' were sold for £2 2s 0d (£100) each and the 'Ideals' for £10 10s 0d (£500). ‡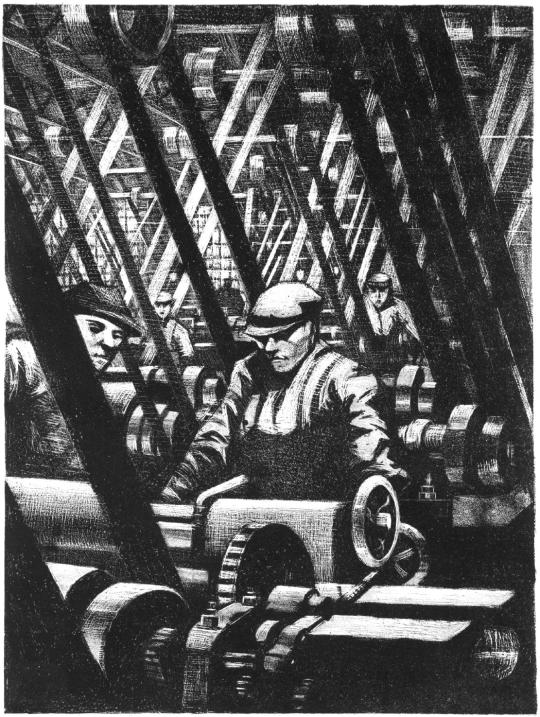 C.R.W Nevinson – Making the Engine, 1917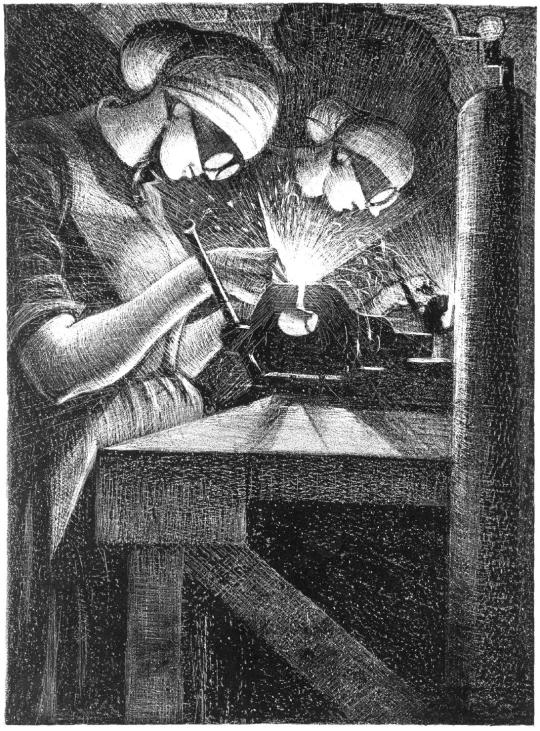 C.R.W Nevinson – Acetylene Welding, 1917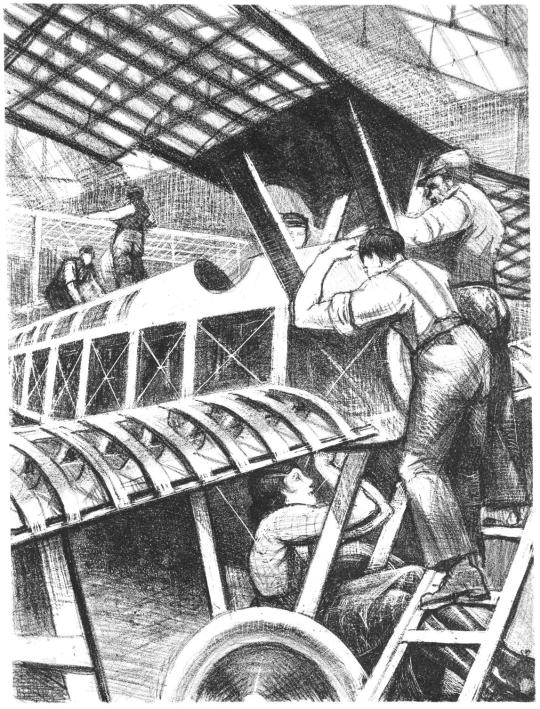 C.R.W Nevinson – Assembling Parts, 1917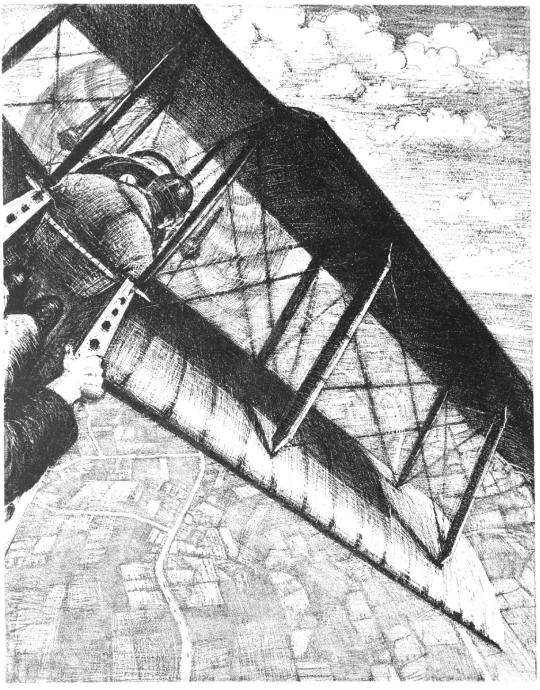 C.R.W Nevinson – Banking at 4000 Feet, 1917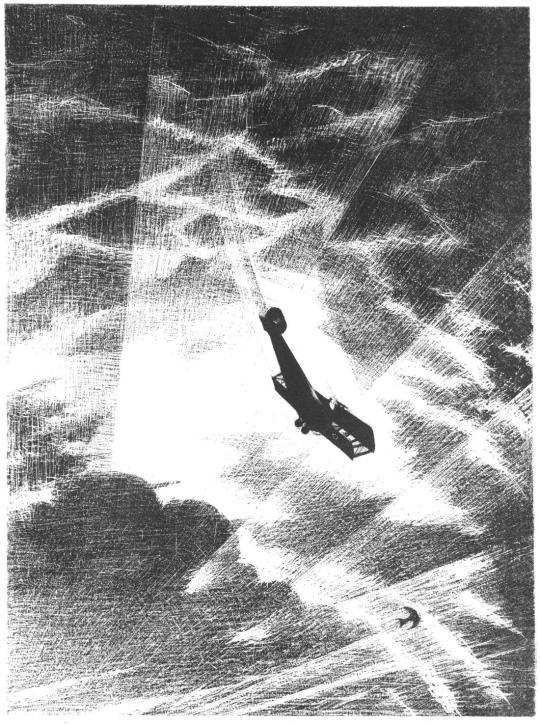 C.R.W Nevinson – Sweeping Down on a Taube, 1917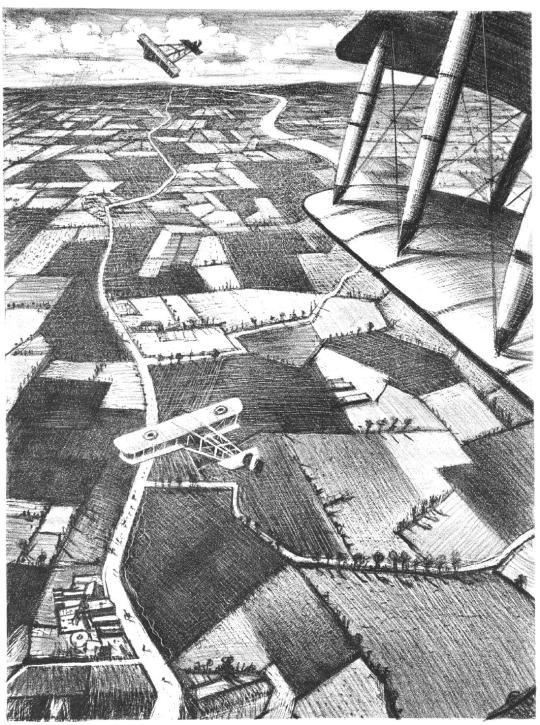 C.R.W Nevinson – In the Air, 1917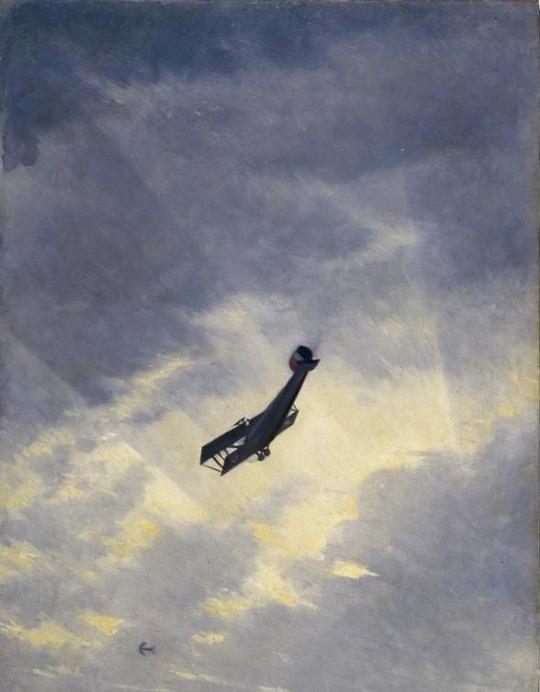 C.R.W Nevinson – Swooping Down on a Hostile Plane, 1917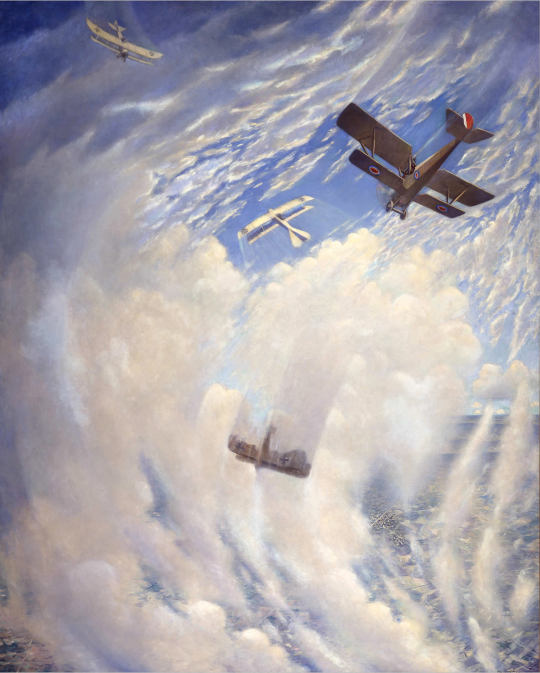 C.R.W Nevinson – War in the Air, 1918 
'War in the Air' was produced as a very rare lithograph by the Ministry of Information for the Canadian War Memorial Fund in 1919.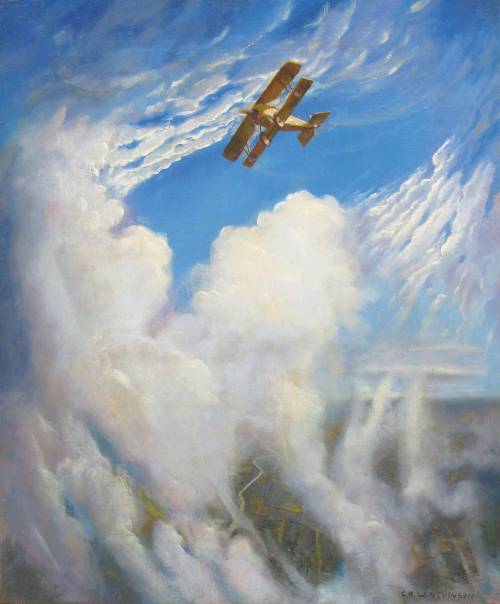 C.R.W Nevinson – War in the Air, 1917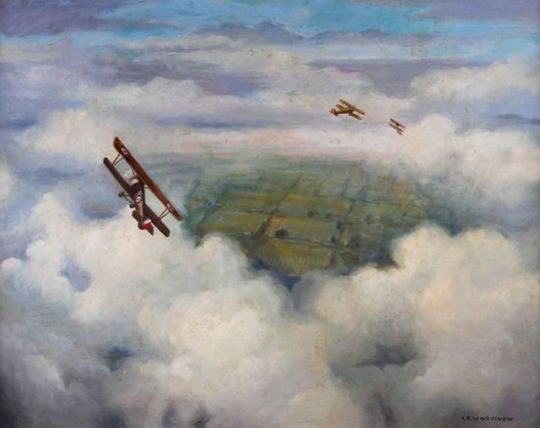 C.R.W Nevinson – Three British WWI Bi-Planes, 1917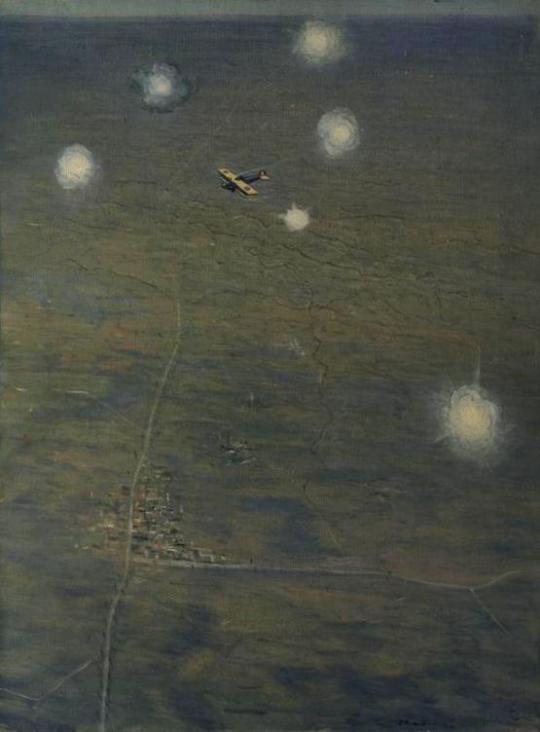 C.R.W Nevinson – Over the Lines, 1917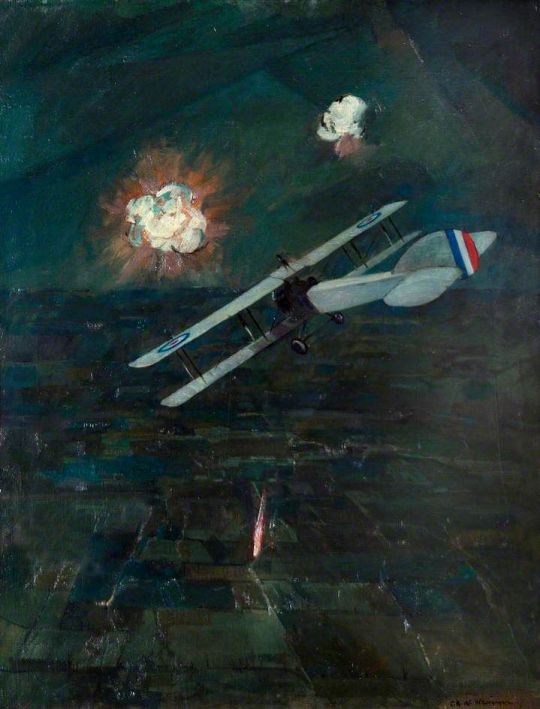 C.R.W Nevinson – Night Raid, 1917
† Nanette Norris – Great War Modernism: Artistic Response in the Context of War, 1914-1918, p27-28, 2015.
‡ The Great War: Britain's Efforts and Ideals, Online
C.R.W. Nevinson 1889 – 1946 Retrospective Exhibition Of Paintings, Drawings And Prints: Kettle's Yard Gallery 1988